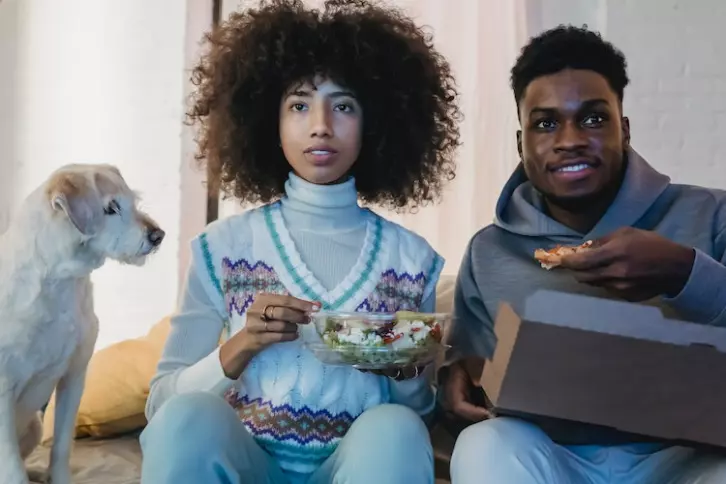 How to write an evaluation essay: detailed guide & topics
Imagine that you need to craft a good evaluation essay. Where will you start, and what criteria will be most important to you? Do you know the basic sequence of actions? For many first-year students, these questions are comparable to a tsunami regarding stress levels. Do you feel stuck at the very beginning and see no way out without the qualified assistance of a
fast paper writer
? Can't think of any exciting evaluation essay topics without receiving timely
paper help
to get the ball rolling? Let us help! Check out our list of perfect topics and writing guide. 
What is an evaluation essay?
An evaluation essay is an academic paper that offers value judgments about a particular subject according to criteria. In addition, the purpose of such an assignment is to present an opinion or viewpoint on a subject. As a student, you must create an evaluation essay outline and remember the well-structured argument to present a point of view supported with examples and evidence.
What is the purpose of an evaluation essay?
An evaluation essay aims to provide readers with an objective assessment of a specific subject or topic. It's similar to when you ask someone to "
rewrite my paper
," but in this case, you're doing a thorough critique, revealing both strengths and weaknesses.
6 steps to craft an outstanding evaluation essay
Most first-year students want to understand how to write an evaluation essay like a pro. Luckily, you don't have to spend half your life mastering all the tricks of writing. Instead, here are six key steps to help you quickly craft a good evaluation essay.
You can talk anyone's ears off about all the things wrong with Avengers, and spend hours waxing poetic about The Game Of Thrones. Writing an evaluation essay is very similar. Define the parameters of your evaluation, showcase both positive and negative aspects and provide a general recommendation. That's it! 
And the best thing is that every other comes with an evaluation essay sample. So you can get inspired and model your paper according to the best essays in our massive database. Let's roll!
Pick your paper topic
A good topic will allow you to quickly
craft your personal statement
and collect important information to start your writing activity. Do not take a broad or narrow idea, so as not to face the difficult process of finding relevant information. You probably don't want to spend much time analyzing research or academic papers. Instead, choose an interesting topic or ask your professor. Perhaps you can get an evaluation essay sample or prompt to get the ball rolling.
Tip from SpeedyPaper:
Choose your topic carefully and look for good paper examples before you start writing.
Craft a thesis statement
And here is another step that will allow you to craft a good evaluation essay. Create your thesis statement, as this is a key springboard for starting your writing activity. What are you going to write about? What aspects of the evaluation essay do you want to cover? Think about this stage and focus on the idea that you like the most.
Determine the evaluation criteria
An evaluation essay is a paper that cannot exist without clear judgments. Choose the type of criteria that resonate with your area of research and get to work. Perhaps you should choose a specific benchmark to be your starting point when writing an evaluation essay. In any case, this approach will simplify your work as a student.
Find the supporting evidence
And now it's time to answer the question, "What is an evaluation essay?" It is an assignment that cannot exist without supporting evidence. You have a certain position and ideas about the chosen topic, so you must provide clues to advocate your judgments. Try to do detailed research before crafting your evaluation essay. Make a detailed list of evidence that your ideas are solid.
Write your raw draft
Now that the preparation stage is officially over, you should start writing activities. An evaluation essay is tricky, so create a raw draft with the main ideas and research for further polishing. Your task is to craft all the paragraphs and generate ideas.
Tip from SpeedyPaper:
Try to describe each idea in detail for your paragraphs. Sometimes you should write more and remove unnecessary sentences during the editing process.
Review, edit & proofread
And here is the final stage. An evaluation essay is almost ready, and you only have a couple of final steps left. Surely you are confident in a job well done. But it would help if you started the editing and proofreading stage. Check every sentence and eliminate all grammar and spelling mistakes. As a rule, students often make mistakes or typos, so you can polish your evaluation essay like a pro.
Evaluation essay: criteria, judgments & evidence
Criteria
Since you need to cover your topic, you should start an evaluation essay by looking for good criteria. Criteria are a demonstration of a certain ideal and your expectations. Consider the best possible example of your research object and make a detailed list. Your goal is to create a clear list of parameters to help you create your paragraphs.
Judgments
Your judgments are critical to creating a solid evaluation essay. What information do you rely on? The judgment aspect establishes whether or not the benchmarks have been met. Follow your topic idea and look for relevant judgments; otherwise, you won't be able to create a good paper.
Evidence
All students must provide clues to advocate their judgments. Your evidence should support your ideas and point of view. For example, if you show untruthfulness or weakness in any academic aspect, you need evidence and solid facts. An evaluation essay cannot be completed without good judgment, and you should be aware of this.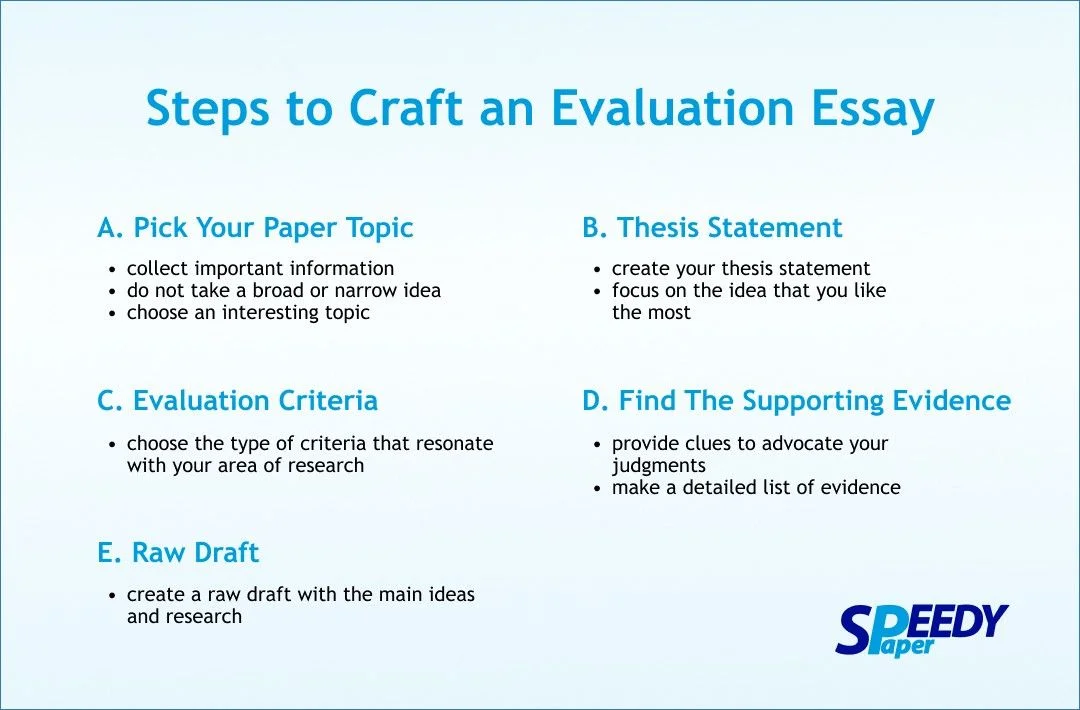 Evaluation essay outline: things you need to know
Intro
The first paragraph of your evaluation essay is meant to introduce your subject. For example, you can overview the subject, discussing its influence on people and why it is worth evaluating. You can also establish the criteria to be called upon to prove your position. An evaluation essay should also begin with your thesis statement. And don't forget about the overall judgment and the supporting reasons.
Tip from SpeedyPaper:

Start with a catchy sentence. You need some kind of hook to grab the reader's attention.
Body paragraphs
Regardless of your evaluation essay topics, you need to craft 3-4 body paragraphs. Then, add at least three reasons to become a springboard for your judgments and evidence.
First reason
Start with a topic sentence and your judgment of the first criterion. Support the first reason and provide valid information like quotes, examples, or expert testimonials. You also need to address any objections and reflect on them. Use only strong arguments to make your ideas look solid.
Tip from SpeedyPaper:

Always look for solid reasons and judgments. All your quotes, examples, or expert testimonials must be taken from trusted academic sources.
Second reason
Now you need to provide your judgment of the second criterion, support the second reason, address any objections and refute them. The second reason has the same structure as the second one. An evaluation essay requires consistency, so you should follow the instructions.
Third reason
Your third reason has the same structure as the previous ones. However, it would help if you switched to judgments in order of increasing importance. Don't forget to support the third reason, address any objections and refute them. Perhaps you should even check the evaluation essay examples to understand your actions' purpose.
Conclusion
And here is the final part of your work, which should restate your thesis statement and the general purpose of your essay. Visualize the work, focus on the results, and leave a strong recommendation. Such a final paragraph will surely please your professor.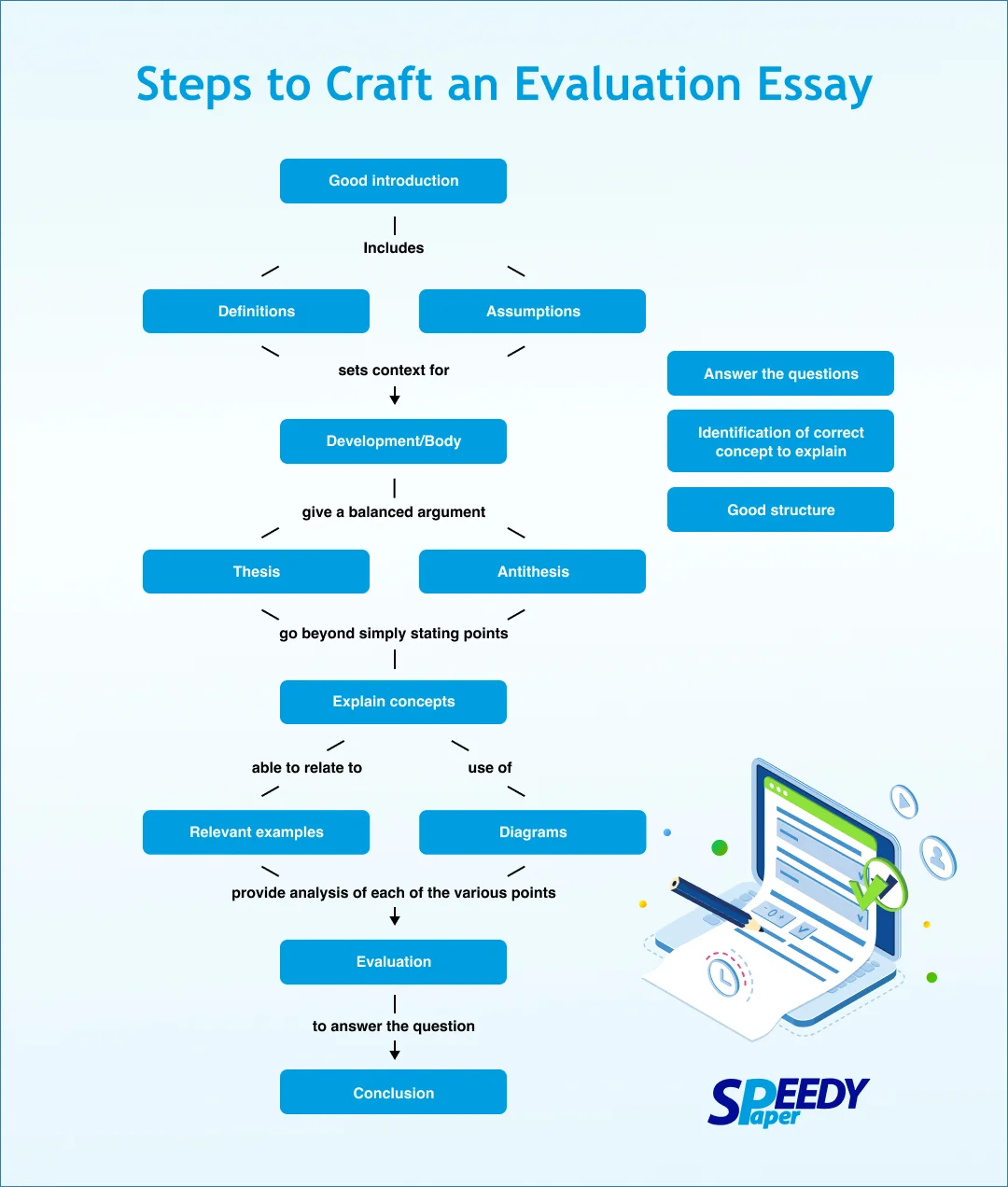 Where to find an evaluation essay example?
Surely you are already enthusiastic about finding a good paper example and want to start looking. Luckily, you don't have to dig deep; you'll find good paper examples here. Check out the examples, and you will understand where you need to start writing activities.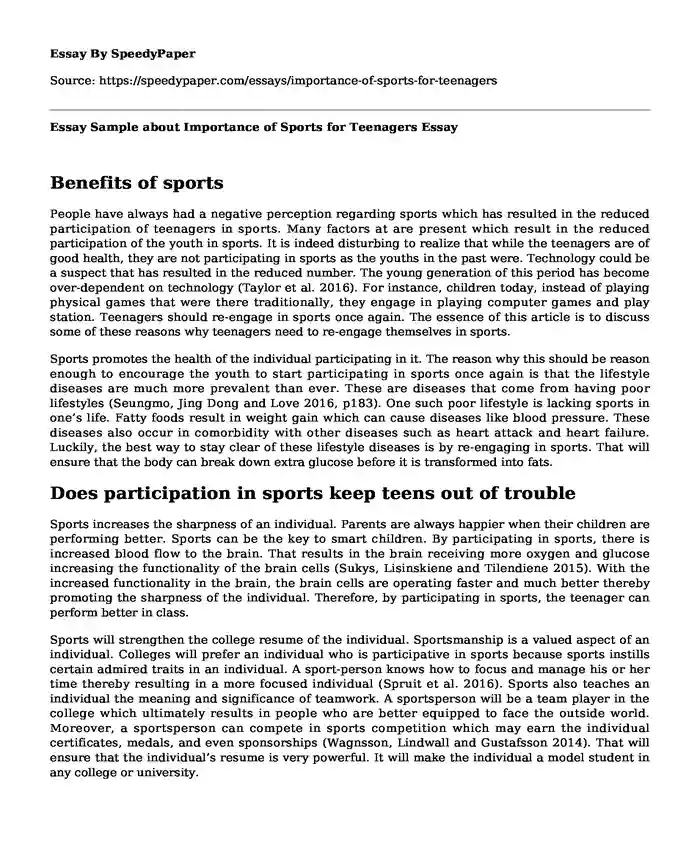 Good evaluation essay topics for students
Evaluation essay topics on books & literature
The efficacy of self-improvement books.
The book that began the genre.
Study social problems through literature.
Which book shook you to the core?
The best book to depict historical events.
Movie evaluation essay samples
Is the remake better than the classic?
Is "V for Vendetta" the best political movie?
Who is the best James Bond?
The lessons taught through animation.
The movie that ruined the book.
Evaluation argument essay topics on music
Evaluating your favorite Broadway show.
What Is your dad's favorite band?
The Rock Legend's impact assessment.
Which song is better than chocolate for you?
Evaluation paper on food
The pros and cons of processed foods.
The worst takeout service you know.
Walk a mile in a food critic's shoes.
Can frozen meals be considered edible?
Evaluation argument essay topics on sports
General assessment of any sport.
Are sports dangerous, rather than healthy?
The ever-present threat of doping.
How does running affect the cardio system?
Evaluation essay topics on technology
The consequences of Internet.
The qualities of a good app.
Is Google making us stupid?
Is Tesla making our life easier?
The latest flagship smartphone review.
The technology's negative impact on society.
Evaluation argument essay topics on education
Who is the best professor?
Is a business degree worth it?
The most useless class you have ever taken.
Should college tuition be affordable?
Research proposal evaluation.
Evaluation argument essay topics on economic
Evaluation argument essay topics on nursing
Evaluation of nurses' handover practice in an acute outpatient dialysis unit.
Evaluation argument essay topics on politics & career growth
Interesting evaluation argument essay topics
Challenging evaluation argument essay topics
Easy evaluation argument essay topics
College easy evaluation argument essay topics
Conclusion
As you can see, the devil is not as black as he is painted. This guide lets you craft your essay and find interesting topics and other instructions. Even your personal statement will no longer be a problem for you as soon as you visit SpeedyPaper! And do not forget that you can always contact us for help if something goes wrong. We have a team of qualified experts with Masters' and Ph.D. degrees! In addition, we adhere to all instructions and deadlines, so you can jump on the bandwagon at the last minute and expect good results.