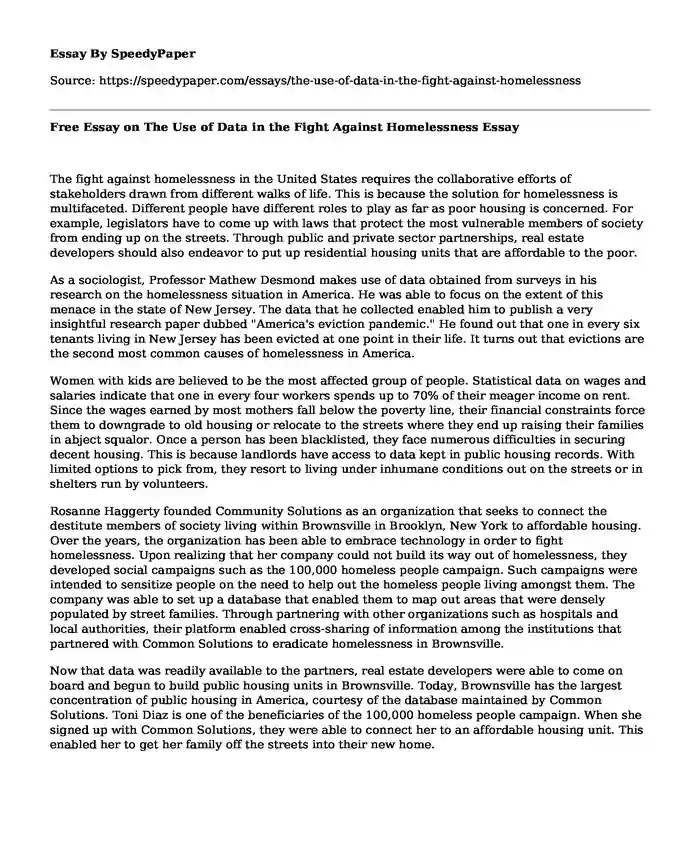 The fight against homelessness in the United States requires the collaborative efforts of stakeholders drawn from different walks of life. This is because the solution for homelessness is multifaceted. Different people have different roles to play as far as poor housing is concerned. For example, legislators have to come up with laws that protect the most vulnerable members of society from ending up on the streets. Through public and private sector partnerships, real estate developers should also endeavor to put up residential housing units that are affordable to the poor.
As a sociologist, Professor Mathew Desmond makes use of data obtained from surveys in his research on the homelessness situation in America. He was able to focus on the extent of this menace in the state of New Jersey. The data that he collected enabled him to publish a very insightful research paper dubbed "America's eviction pandemic." He found out that one in every six tenants living in New Jersey has been evicted at one point in their life. It turns out that evictions are the second most common causes of homelessness in America.
Women with kids are believed to be the most affected group of people. Statistical data on wages and salaries indicate that one in every four workers spends up to 70% of their meager income on rent. Since the wages earned by most mothers fall below the poverty line, their financial constraints force them to downgrade to old housing or relocate to the streets where they end up raising their families in abject squalor. Once a person has been blacklisted, they face numerous difficulties in securing decent housing. This is because landlords have access to data kept in public housing records. With limited options to pick from, they resort to living under inhumane conditions out on the streets or in shelters run by volunteers.
Rosanne Haggerty founded Community Solutions as an organization that seeks to connect the destitute members of society living within Brownsville in Brooklyn, New York to affordable housing. Over the years, the organization has been able to embrace technology in order to fight homelessness. Upon realizing that her company could not build its way out of homelessness, they developed social campaigns such as the 100,000 homeless people campaign. Such campaigns were intended to sensitize people on the need to help out the homeless people living amongst them. The company was able to set up a database that enabled them to map out areas that were densely populated by street families. Through partnering with other organizations such as hospitals and local authorities, their platform enabled cross-sharing of information among the institutions that partnered with Common Solutions to eradicate homelessness in Brownsville.
Now that data was readily available to the partners, real estate developers were able to come on board and begun to build public housing units in Brownsville. Today, Brownsville has the largest concentration of public housing in America, courtesy of the database maintained by Common Solutions. Toni Diaz is one of the beneficiaries of the 100,000 homeless people campaign. When she signed up with Common Solutions, they were able to connect her to an affordable housing unit. This enabled her to get her family off the streets into their new home.
Cite this page
Free Essay on The Use of Data in the Fight Against Homelessness. (2022, Nov 24). Retrieved from https://speedypaper.com/essays/the-use-of-data-in-the-fight-against-homelessness
Request Removal
If you are the original author of this essay and no longer wish to have it published on the SpeedyPaper website, please click below to request its removal: