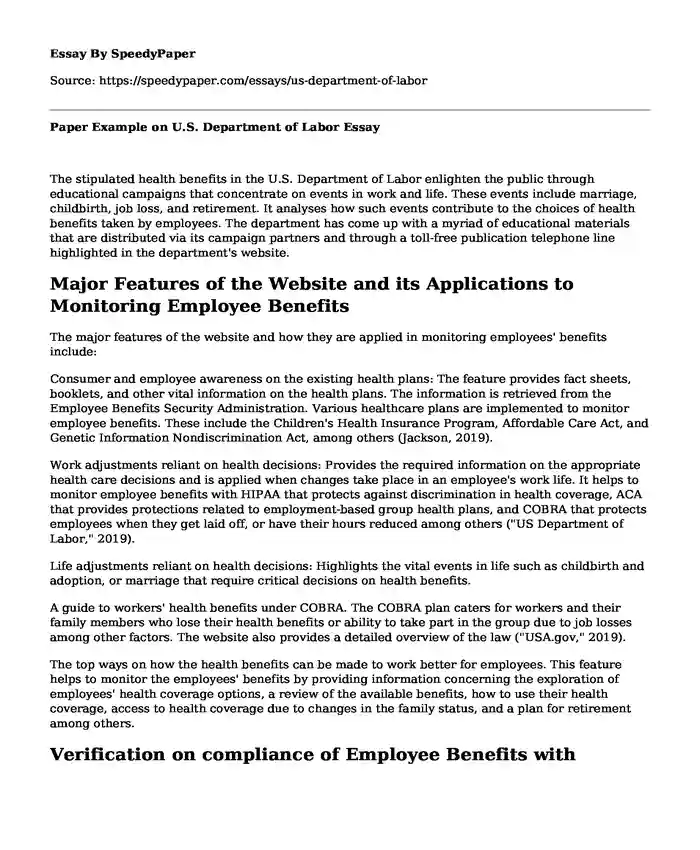 The stipulated health benefits in the U.S. Department of Labor enlighten the public through educational campaigns that concentrate on events in work and life. These events include marriage, childbirth, job loss, and retirement. It analyses how such events contribute to the choices of health benefits taken by employees. The department has come up with a myriad of educational materials that are distributed via its campaign partners and through a toll-free publication telephone line highlighted in the department's website.
Major Features of the Website and its Applications to Monitoring Employee Benefits
The major features of the website and how they are applied in monitoring employees' benefits include:
Consumer and employee awareness on the existing health plans: The feature provides fact sheets, booklets, and other vital information on the health plans. The information is retrieved from the Employee Benefits Security Administration. Various healthcare plans are implemented to monitor employee benefits. These include the Children's Health Insurance Program, Affordable Care Act, and Genetic Information Nondiscrimination Act, among others (Jackson, 2019).
Work adjustments reliant on health decisions: Provides the required information on the appropriate health care decisions and is applied when changes take place in an employee's work life. It helps to monitor employee benefits with HIPAA that protects against discrimination in health coverage, ACA that provides protections related to employment-based group health plans, and COBRA that protects employees when they get laid off, or have their hours reduced among others ("US Department of Labor," 2019).
Life adjustments reliant on health decisions: Highlights the vital events in life such as childbirth and adoption, or marriage that require critical decisions on health benefits.
A guide to workers' health benefits under COBRA. The COBRA plan caters for workers and their family members who lose their health benefits or ability to take part in the group due to job losses among other factors. The website also provides a detailed overview of the law ("USA.gov," 2019).
The top ways on how the health benefits can be made to work better for employees. This feature helps to monitor the employees' benefits by providing information concerning the exploration of employees' health coverage options, a review of the available benefits, how to use their health coverage, access to health coverage due to changes in the family status, and a plan for retirement among others.
Verification on compliance of Employee Benefits with Federal Laws by Employers
Employers may apply various steps to ensure that they comply with the HR federal laws and the required procedures. These include:
Familiarizing themselves with the state and federal laws to ensure that the business practices and employee benefits are in line with the employee rights as stipulated on the website. These include analysis of acts such as the Affordable Care Act (ACA) that imposes various requirements on employers regarding their healthcare coverage (Bassen & Cole, 2019). Organizations that fail to comply with the ACA stand to face substantial penalties, hence the need for employers to understand the requirements.
They can utilize a self-compliance tool to plan for sponsors, group health plans, insurance issuers, administrators, and other parties to determine whether their health plan is in accordance with some of the provisions stipulated in Part 7 of ERISA (Bassen & Cole, 2019). The requirements presented in Part 7 of the tool applies to group health plans and health insurance from issuers. Examples include the Affordable Care Act that allows for group health plans with various benefits and protections for consumers. This method ensures that employers provide proper transition provisions, safe harbors, and grace periods, among other policies to enhance the smooth transition to new positions while minimizing any disruption to the existing plans and practices.
Employers can also use websites that are advisor interactive to enhance their understanding and compliance with the laws of the health plans as highlighted in the federal group. The role of the Advisor is to stipulate the requirements of issuers of group health plans and insurance. They ensure that their employee health insurance plans comply with the Advisor's laws. Examples of these laws include the Consolidated Omnibus Budget Reconciliation Act (COBRA), Mental Health parity and Addiction Equity Act (MHPAEA) and Mental Health Parity Act (MHPA), Health Insurance Portability and Accountability Act (HIPAA), Women's Health and Cancer Rights Act (WHCRA), Michelle's Law, and Genetic Information Nondiscrimination Act (GINA) ("U.S. Department of Labor," 2019). Compliance with the Advisor would also ensure that the employees are provided with explanations of the required legislation, regulations, and statutes.
Employers should report and disclose the healthcare benefit requirements in line with the requirements stipulated under the ERISA. This will ensure that the health plans and benefits offered to comply with the Pension Insurance Premiums (for both covered multiemployer defined benefit plans and single-employer benefit plans), Standard Terminations (for covered single-employer defined benefit plans), Distress Terminations (in the case of a covered single-employer defined benefit plans), and reportable events among other reports (the case of a covered single-employer defined benefit plans) ("U.S. Department of Labor," 2019).
Employers should also ensure that they understand and operation in line with their fiduciary responsibilities within a group health plan. In this case, the plan should be written and describe the benefit structure that provides guidance to their day-to-day operations, be a trust fund that holds the assets of the plan, contain documents that provide information to the participating employees and the government concerning the plan, and be a recordkeeping system that would track down the payments of contribution and benefits, while maintaining their beneficiary and participant information while accurately preparing their reporting documents ("U.S. Department of Labor," 2019).
Utilization of this Information by Employees to Ensure Protection of their Benefit Rights
The information obtained from these sites have to be properly utilized by employees for ultimate protection of their benefit rights. They can do this by:
Understanding their rights under COBRA as a temporary extension of the group health coverage that is provided by the employer, i.e., the Cobra continuation coverage. This will enable them to have a general view of their COBRA rights and responsibilities, understand the COBRA rules that the group health plans follow, and their rights and benefits while they receive the COBRA continuation coverage ("USA.gov," 2019).
Understanding the work changes that warrant an adjustment in their health choices to protect their rights. This arises because opportunities and setbacks form part of life, including the workplace ("USA.gov," 2019). It is, therefore, vital for employees to understand how changes in their employment status are likely to affect their health coverage. They should know their rights and exercise their options. Employees can therefore, utilize this information when enrolling in their first job to know the appropriate health benefit schemes to enroll into, in the event of a job loss or when their health care coverage ends, when looking for a new job or before switching jobs to understand the premium they should pay for the new plan, and in the event of a retirement or before retiring to understand the documents that govern their health care plan.
Employees can also utilize the information by understanding the changes in life that would warrant an adjustment in their health choices and benefit options to ensure that their rights are fully protected. By understanding their benefit options, they will be able to better protect themselves and their dependents ("USA.gov," 2019). They will also ensure that they have the health care coverage that they need at every stage of their lives. The information can be implemented in critical stages such as marriage to add the new spouse and children to the employer's plan, and for special enrolment into the employer's plan, under the HIPAA; pregnancy, adoption, and childbirth to enroll to the Patient Protection and ACA that includes benefits for pregnancy, newborn care and childbirth; when the employee's child is no longer dependent to make the necessary changes, i.e., in the COBRA plan, and during events like death, legal separation, and divorce for them to reconsider their options for health coverage, i.e., a need to purchase extended healthcare coverage under COBRA ("US Department of Labor," 2019).
Outline of the Website for Regulatory Compliance
The core components of the website include:
Introduction: The U.S. Department of Labor has developed various educational materials that are distributed through its campaign partners and on the department's website.
Information on Consumer Health Plans: Provides the fact sheets, and other information on the major and necessary consumer health plans.
Compliance Assistance: enables employers and employee benefit plans and practitioners to understand and comply with the ERISA requirements.
Adjustments at work that require health decisions: Avail information for making health care decisions with reference to changes in work life.
Life adjustments that require health decisions: Provides vital information during life changing events that opt for adjustments in health benefit decisions.
The top ways in which health benefits can work for an employee: Lists the ten tips to enable an employee to take on health benefits that work better for them.
COBRA as a guide to Employees' Health Benefits: Enables employees and their family members to decide to proceed with the appropriate group benefits once they lose their health benefits.
Tax Release: Provides notice of the changes under HIPAA to COBRA while continuing with the coverage under group health plans. It explains the changes incorporated into COBRA under the Health Insurance Portability and Accountability Act (HIPAA).
Assistance Guide to Compliance: Stipulates the benefits of health coverage as stipulated by the federal law. It also provides questions and answers that align with the self-compliance tool.
Questions and Answers on the HIPAA Nondiscriminatory Requirements: Provides answers to the questions that are frequently asked concerning the HIPAA nondiscriminatory requirements.
Cancer Rights and Women's Health Act of 1998: Provides questions, answers and general guidance about the provisions of the Women's Health Act that amended the ERISA.
Your Employer's Bankruptcy: Avails information on bankruptcy and its effects on group health plans and retirement plans,
Filing a claim for disability benefits: Provides information on the process of filing a claim for disability benefits.
Filing a claim for health benefits: Provides information the process of filing a claim for health benefits.
References
Bassen, N. and Cole, N. (2019). Employment & Labour Law 2019 | USA | ICLG. International Comparative Legal Guides International Business Reports. Retrieved from https://iclg.com/practice-areas/employment-and-labour-laws-and-regulations/usa
Jackson, P. (2019). ERISA compliance - How to make sure your employee benefit plans are in compliance with federal law | Ohio Manufacturers' Association. Ohiomfg.com. Retrieved from https://www.ohiomfg.com/communities/human-resources/erisa-compliance/
"U.S. Department of Labor," 2019). Health Plans & Benefits: Health Benefits Education | U.S. Department of Labor. Dol.gov. Retrieved from https:...
Cite this page
Paper Example on U.S. Department of Labor. (2023, Mar 01). Retrieved from https://speedypaper.com/essays/us-department-of-labor
Request Removal
If you are the original author of this essay and no longer wish to have it published on the SpeedyPaper website, please click below to request its removal: