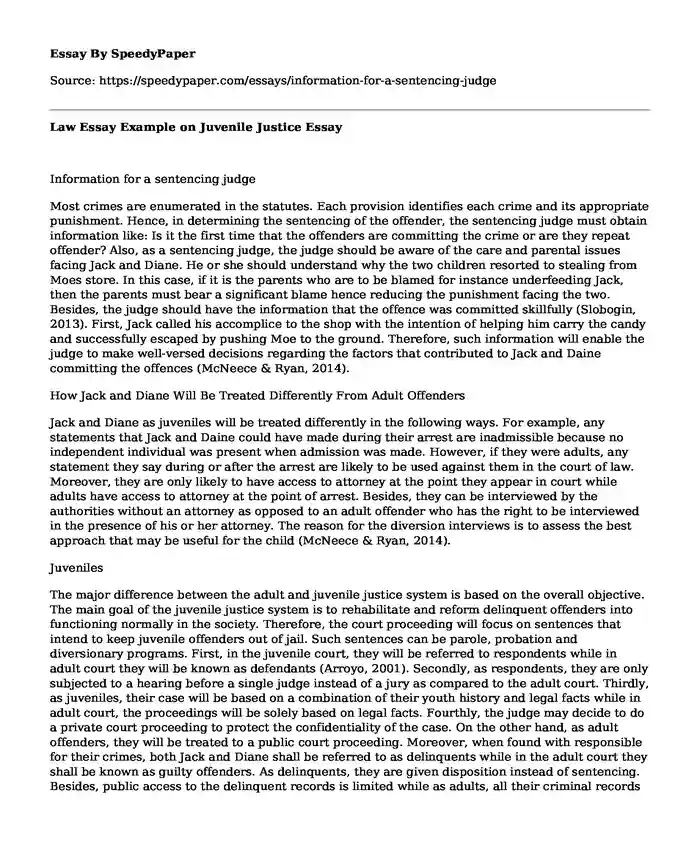 Information for a sentencing judge
Most crimes are enumerated in the statutes. Each provision identifies each crime and its appropriate punishment. Hence, in determining the sentencing of the offender, the sentencing judge must obtain information like: Is it the first time that the offenders are committing the crime or are they repeat offender? Also, as a sentencing judge, the judge should be aware of the care and parental issues facing Jack and Diane. He or she should understand why the two children resorted to stealing from Moes store. In this case, if it is the parents who are to be blamed for instance underfeeding Jack, then the parents must bear a significant blame hence reducing the punishment facing the two. Besides, the judge should have the information that the offence was committed skillfully (Slobogin, 2013). First, Jack called his accomplice to the shop with the intention of helping him carry the candy and successfully escaped by pushing Moe to the ground. Therefore, such information will enable the judge to make well-versed decisions regarding the factors that contributed to Jack and Daine committing the offences (McNeece & Ryan, 2014).
How Jack and Diane Will Be Treated Differently From Adult Offenders
Jack and Diane as juveniles will be treated differently in the following ways. For example, any statements that Jack and Daine could have made during their arrest are inadmissible because no independent individual was present when admission was made. However, if they were adults, any statement they say during or after the arrest are likely to be used against them in the court of law. Moreover, they are only likely to have access to attorney at the point they appear in court while adults have access to attorney at the point of arrest. Besides, they can be interviewed by the authorities without an attorney as opposed to an adult offender who has the right to be interviewed in the presence of his or her attorney. The reason for the diversion interviews is to assess the best approach that may be useful for the child (McNeece & Ryan, 2014).
Juveniles
The major difference between the adult and juvenile justice system is based on the overall objective. The main goal of the juvenile justice system is to rehabilitate and reform delinquent offenders into functioning normally in the society. Therefore, the court proceeding will focus on sentences that intend to keep juvenile offenders out of jail. Such sentences can be parole, probation and diversionary programs. First, in the juvenile court, they will be referred to respondents while in adult court they will be known as defendants (Arroyo, 2001). Secondly, as respondents, they are only subjected to a hearing before a single judge instead of a jury as compared to the adult court. Thirdly, as juveniles, their case will be based on a combination of their youth history and legal facts while in adult court, the proceedings will be solely based on legal facts. Fourthly, the judge may decide to do a private court proceeding to protect the confidentiality of the case. On the other hand, as adult offenders, they will be treated to a public court proceeding. Moreover, when found with responsible for their crimes, both Jack and Diane shall be referred to as delinquents while in the adult court they shall be known as guilty offenders. As delinquents, they are given disposition instead of sentencing. Besides, public access to the delinquent records is limited while as adults, all their criminal records are expunged (Gensing, 2011).
The reason for treating juveniles differently is because as young offenders below the majority age, they have low level of thought process, decision making, maturity and wisdom as compared to adult offenders. Secondly, as juvenile offenders, they are unlikely to appreciate the consequences of their criminal act. Moreover, there is a very high chance that they will change their behavior (Slobogin, 2013).
Historical Treatment of Juveniles
After adopting the English common laws on child criminals, between 1825 and 1899 reforms were initiated towards changing the treatment of juvenile offenders. New York Legislation of 1824 created a House of Refuge whose purpose was to separate juvenile offenders from adult criminals. Its goal was to separate pre-delinquents from becoming offenders while reforming other juvenile delinquents. At the time, judges had the discretion to determine juvenile offenders who were likely to benefit from House of Refuge. Those juveniles who were unlikely to reform were taken to adult prisons. The early courts focused more on the child than the nature of his or her offence. Also, their indeterminate sentences always exceeded that given to adult criminals. However, in 1970s it became apparent that informal procedures and discretion powers handed to the court judges resulted to unfair treatment against juveniles (Friedman, 2010). Hence, it was determined by the Supreme Court in Gault case that juveniles should be entitled to the court process under the Fourth Amendment. They are to be given notice of charges against them, a right to attorney, examination and confront their accusers and also privilege against self-incrimination (Friedman, 2010).
The Due Process Rights
Jack and Daine have due process rights that just like the ones afforded to adult offenders. They have the right to attorney; to notice of what crime they have been charged for, the right to cross-examination and against self-incrimination. Also, they have the right have their offences proven beyond reasonable doubt. Moreover, because they are both below the age of 14 years, their custodial statements cannot be included as evidence. It should be noted that the due process rights affordable to juveniles began to evolve in 1966 when the Supreme Court realized that juveniles were not accorded same right as the adult offenders. That is, the Bill of Rights was only limited to adults. Hence, its evolution was solely based on the Courts principle of juvenile rehabilitation (Soulier & Scott, 2010).
Court Ordered Options
There are court ordered options after the hearing. One, the court may decide that both Jack and Daine are not delinquents if that was the first time they are committing such an offence. It is because the judge may require multiple theft acts from the two kids to warrant punishment. The second option is to impose probation on Jack who was the main actor during the theft. He exercised skills when stealing and proceeded to insist that he had done nothing wrong. He also committed a simple assault which is an evidence of violent behavior. With the evidence of theft pointing at them, it will be proper for Jack to be placed under probation for a period of three months. He shall report to the court counsellor twice every week and his behaviors must be monitored. The aim is to rehabilitate him. Meanwhile, Jane who had been coarse into committing the crime will and vehemently admitted her crime shall not be regarded as a delinquent but undisciplined. However, like Jack, she will face probation and monitored by a court counselor (Arroyo, 2001).
It is important to note that in the case of a cruel offence, a first time offender is unlikely to escape harsh punishment. It only gives the judge a perception that the offender is a good person. However, he or she may have just committed the offence out of circumstantial situation. Hence, lesser offence may be instigated by a fact that the offender was not in his rightful mind or he was not the main offender. However, the cruelty of his crime may make the mentioned rationale inconsequential for lesser sentencing.
References
Arroyo, W. (2001). PTSD in children and adolescents in the juvenile justice system. PTSD in Children and Adolescents, 20, 59-86.
Friedman, B. E. (2010). Protecting truth: An argument for juvenile rights and a return to In re Gault. UCLA L. Rev. Discourse, 58, 165.
Gensing, A. (2011). Jurisdiction and characteristics of juvenile criminal procedure in Europe. In Juvenile Justice Systems in EuropeCurrent Situation and Reform Developments, segunda edicion (Monchengladbach, Forum Verlag Godesberg) (pp. 1607-1648).
McNeece, C. A., & Ryan, T. (2014). Juvenile justice policy. Juvenile justice sourcebook, 37.Slobogin, C. (2013). Treating juveniles like juveniles: Getting rid of transfer and expanded adult court jurisdiction. Texas Tech Law Review, 46, 13-37.
Soulier, M. F., & Scott, C. L. (2010). Juveniles in court. Harvard review of psychiatry, 18(6), 317-325.
Cite this page
Law Essay Example on Juvenile Justice. (2019, Oct 28). Retrieved from https://speedypaper.com/essays/information-for-a-sentencing-judge
Request Removal
If you are the original author of this essay and no longer wish to have it published on the SpeedyPaper website, please click below to request its removal: