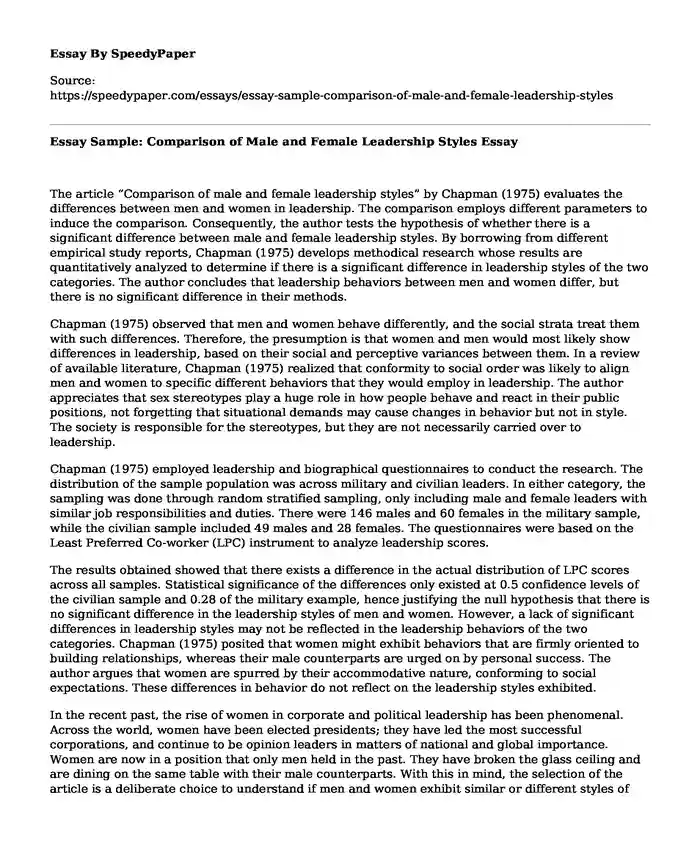 The article "Comparison of male and female leadership styles" by Chapman (1975) evaluates the differences between men and women in leadership. The comparison employs different parameters to induce the comparison. Consequently, the author tests the hypothesis of whether there is a significant difference between male and female leadership styles. By borrowing from different empirical study reports, Chapman (1975) develops methodical research whose results are quantitatively analyzed to determine if there is a significant difference in leadership styles of the two categories. The author concludes that leadership behaviors between men and women differ, but there is no significant difference in their methods.
Chapman (1975) observed that men and women behave differently, and the social strata treat them with such differences. Therefore, the presumption is that women and men would most likely show differences in leadership, based on their social and perceptive variances between them. In a review of available literature, Chapman (1975) realized that conformity to social order was likely to align men and women to specific different behaviors that they would employ in leadership. The author appreciates that sex stereotypes play a huge role in how people behave and react in their public positions, not forgetting that situational demands may cause changes in behavior but not in style. The society is responsible for the stereotypes, but they are not necessarily carried over to leadership.
Chapman (1975) employed leadership and biographical questionnaires to conduct the research. The distribution of the sample population was across military and civilian leaders. In either category, the sampling was done through random stratified sampling, only including male and female leaders with similar job responsibilities and duties. There were 146 males and 60 females in the military sample, while the civilian sample included 49 males and 28 females. The questionnaires were based on the Least Preferred Co-worker (LPC) instrument to analyze leadership scores.
The results obtained showed that there exists a difference in the actual distribution of LPC scores across all samples. Statistical significance of the differences only existed at 0.5 confidence levels of the civilian sample and 0.28 of the military example, hence justifying the null hypothesis that there is no significant difference in the leadership styles of men and women. However, a lack of significant differences in leadership styles may not be reflected in the leadership behaviors of the two categories. Chapman (1975) posited that women might exhibit behaviors that are firmly oriented to building relationships, whereas their male counterparts are urged on by personal success. The author argues that women are spurred by their accommodative nature, conforming to social expectations. These differences in behavior do not reflect on the leadership styles exhibited.
In the recent past, the rise of women in corporate and political leadership has been phenomenal. Across the world, women have been elected presidents; they have led the most successful corporations, and continue to be opinion leaders in matters of national and global importance. Women are now in a position that only men held in the past. They have broken the glass ceiling and are dining on the same table with their male counterparts. With this in mind, the selection of the article is a deliberate choice to understand if men and women exhibit similar or different styles of leadership when at the top. It is a definite social order that women and men behave differently, and society treats them as such. Therefore, the article would help one understand if the perceptions and variances in the real lives of the two groups exist when they hold positions of leadership.
There is a lot that I have learned from the article. First, women are better team players than men. They are focused on team success, and their guidance when in leadership is inclined towards ensuring success for all. Further, Chapman (1975) teaches me that behavior and leadership styles are two different things. Behavior may influence the course of decisions, but it does not change the leadership approach of the involved person. Therefore, one should not use behavior as the primary determinant of a person's leadership style in any situation. The article tries to teach everyone that, in real leadership positions, gender is not a significant factor determining style.
Leadership in business environments is determined by a variety of factors. Accordingly, one must not use a singular situation and circumstance to determine the style of their leader. In any circumstance, one must take an overall outlook of different conditions and scenarios to correctly assess the style of leadership of a person. Whatever was traditionally male or female has now become unisex. Roles and duties entrusted on either gender have crossed into the territory of the other. Therefore, when assessing leadership, gender roles should not be a key indicator. Chapman (1975) proved as much that leadership is not a case of gender; instead, it is a matter of personality and character. Leadership transcends the conventional view of society.
Societal expectations and beliefs about gender have significantly shifted over the last few decades. Expectations are no longer placed on gender; rather, they are based on personality and responsibilities bestowed among people. Women may not have entirely come out of the shadows of men, but they have mapped their paths and become their person. Women no longer require male validation to succeed; instead, they use their personality and qualities to advance their leadership agenda. The society's view of women has significantly changed, explaining the reason why they are trooping leadership positions in drones. Behavior notwithstanding, women can employ leadership styles that squarely match those of their male counterparts.
Reference
Chapman, J. (1975). Comparison of male and female leadership styles. Academy Of Management Journal, 18(3), 645-650. https://doi.org/10.5465/255695
Cite this page
Essay Sample: Comparison of Male and Female Leadership Styles. (2023, Sep 17). Retrieved from https://speedypaper.com/essays/essay-sample-comparison-of-male-and-female-leadership-styles
Request Removal
If you are the original author of this essay and no longer wish to have it published on the SpeedyPaper website, please click below to request its removal: