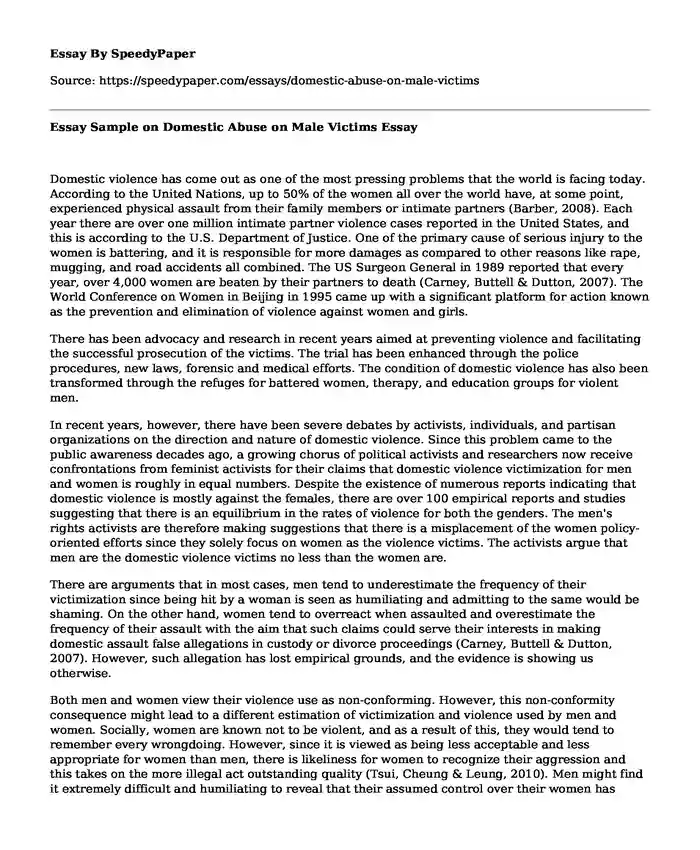 Domestic violence has come out as one of the most pressing problems that the world is facing today. According to the United Nations, up to 50% of the women all over the world have, at some point, experienced physical assault from their family members or intimate partners (Barber, 2008). Each year there are over one million intimate partner violence cases reported in the United States, and this is according to the U.S. Department of Justice. One of the primary cause of serious injury to the women is battering, and it is responsible for more damages as compared to other reasons like rape, mugging, and road accidents all combined. The US Surgeon General in 1989 reported that every year, over 4,000 women are beaten by their partners to death (Carney, Buttell & Dutton, 2007). The World Conference on Women in Beijing in 1995 came up with a significant platform for action known as the prevention and elimination of violence against women and girls.
There has been advocacy and research in recent years aimed at preventing violence and facilitating the successful prosecution of the victims. The trial has been enhanced through the police procedures, new laws, forensic and medical efforts. The condition of domestic violence has also been transformed through the refuges for battered women, therapy, and education groups for violent men.
In recent years, however, there have been severe debates by activists, individuals, and partisan organizations on the direction and nature of domestic violence. Since this problem came to the public awareness decades ago, a growing chorus of political activists and researchers now receive confrontations from feminist activists for their claims that domestic violence victimization for men and women is roughly in equal numbers. Despite the existence of numerous reports indicating that domestic violence is mostly against the females, there are over 100 empirical reports and studies suggesting that there is an equilibrium in the rates of violence for both the genders. The men's rights activists are therefore making suggestions that there is a misplacement of the women policy-oriented efforts since they solely focus on women as the violence victims. The activists argue that men are the domestic violence victims no less than the women are.
There are arguments that in most cases, men tend to underestimate the frequency of their victimization since being hit by a woman is seen as humiliating and admitting to the same would be shaming. On the other hand, women tend to overreact when assaulted and overestimate the frequency of their assault with the aim that such claims could serve their interests in making domestic assault false allegations in custody or divorce proceedings (Carney, Buttell & Dutton, 2007). However, such allegation has lost empirical grounds, and the evidence is showing us otherwise.
Both men and women view their violence use as non-conforming. However, this non-conformity consequence might lead to a different estimation of victimization and violence used by men and women. Socially, women are known not to be violent, and as a result of this, they would tend to remember every wrongdoing. However, since it is viewed as being less acceptable and less appropriate for women than men, there is likeliness for women to recognize their aggression and this takes on the more illegal act outstanding quality (Tsui, Cheung & Leung, 2010). Men might find it extremely difficult and humiliating to reveal that their assumed control over their women has become powerless and that they are forced to use violence to maintain or keep their women in line. They find it extremely difficult admitting that they are overwhelmed by handling their women. As a result, the men are likely to under-estimate their violence while at the same time, the women tend to overestimate theirs.
There is a tendency by men to over-estimate their violence due to the norms of masculinity. The American men believe that there are conditions under which violence become legitimate, and this includes when force is used to retaliate for an already committed abuse (Tsui, Cheung & Leung, 2010). Such an expression finds its origin after the Civil War when the young southern white boys would place a piece of wood on their shoulders and dare anyone to know the wood down to find a reason for legitimately fighting them and proving their manhood. It is not legitimate to start violence, but it is legal to retaliate with violence. As a result, women will always tend to underestimate their victimization while men, on the other hand, will tend to overestimate theirs.
Abuse on males occur much beyond most of us would expect, both in same-sex and heterosexual relationships. Abused men may also face a lack of understanding from family and friends, a shortage of resources, and legal obstacles, mostly when attempting to retrieve their children from the abusive wife. Men in abusive and overestimate relationships should know that they are not alone and that this happens to all the men from all the walks of life despite their culture, occupation, age, or sexual orientation. Statistics show that males form over 33% of the total victims of domestic violence (Barber, 2008).
People are still retrograded about husband abuse. Men who get hit by their girlfriends or wives and dare to reveal the same are still considered cowards, ridiculed, and doubted. Most of the women who fail to report abusive husbands do so in the attempt to protect their partners, while for the heterosexual male victims, there is a particular stigma of domestic assault. For a man to be cowed by a violent woman, society still sees that is being emasculated (Mugford, 2017).
The position of a silent population of abused and stigmatized men is fraught. Most of the people advocate for female abuse as they believe that advocating for the men would destruct the attention from the women. They think the women are still endangered by violence from their male partners and who are likely to receive repeated assault, injured, and even killed by their partners who they believe are stronger and strike harder as compared to the women (Drijber Reijnders & Ceelen, 2013). Men's rights activists, on the other hand, believe that the public discourse has seen, and they complain that shelter and support programs are predominantly geared towards the abused women.
The major institutions responsible for determining the fate of domestic violence victims are the police, social services, and the courts. These institutions could welcome more people to report domestic violence cases by adopting the impartial or welcoming attitude. However, this has become extremely difficult for the men due to the unwelcoming attitude of these departments towards the men. In most cases, empirical data are suggesting that the police do not get to recognize the abuse that men face. For all the abuse involving men as the victims, the Scottish police could only discover 9% of the cases (Carney, Buttell & Dutton, 2007). Men fear to report to the police with the fear that the police would ridicule them. A study by Mugford (2017) shows that there are cases where the police had laughed at men who reported that they had been abused (Mugford, 2017). Again, a significant attribution to this could be the categorization of men as aggressors and women as victims, or still, the misconception that that woman cannot hurt a man. In line with this is the study by Macklin where she argues that many most of the male victims may not want to involve the police since they do not have faith in the police who have proven to be impartial and their lack of ability to recognize men as victims of domestic abuse.
Another fear by men is that the victim shelters for domestic violence do not help them. Most of the agencies formed to help the victims of domestic violence are centered towards women only, and this is evident starting from their names and their policies (Drijber Reijnders & Ceelen, 2013). Another barrier is that domestic violence laws are stacked against men. However, regardless of gender, a domestic violence victim is always a victim. Men need to take violence against them seriously since being ignorant of the little things could cultivate into more significant and dangerous situations. It is essential to exercise self-restraint, and one should be sure to control their physical actions and emotions, especially in those countries where the chances of one party getting arrested due to domestic violence are high when there is a call. In most cases, the police will arrest the primary attacker who may not or may be the one who began the abuse.
References
Barber, C. F. (2008). Domestic violence against men. Nursing Standard (through 2013), 22(51), 35. http://search.proquest.com/openview/dd3f457235b1b4c95e40d4aa107b3c42/1?pq-origsite=gscholar&cbl=30130
Carney, M., Buttell, F., & Dutton, D. (2007). Women who perpetrate intimate partner violence: A review of the literature with recommendations for treatment. Aggression and Violent Behavior, 12(1), 108-115. https://www.sciencedirect.com/science/article/pii/S1359178906000474
Drijber, B. C., Reijnders, U. J., & Ceelen, M. (2013). Male victims of domestic violence. Journal of Family Violence, 28(2), 173-178. https://link.springer.com/article/10.1007/s10896-012-9482-9
Mugford, J. (2017, November). Domestic violence in Australia: policies, practices and politics. In conference of the American Society for Criminology, Baltimore. https://www.ncjrs.gov/App/Publications/abstract.aspx?ID=126719
Tsui, V., Cheung, M., & Leung, P. (2010). Helpseeking among male victims of partner abuse: Men's hard times. Journal of community psychology, 38(6), 769-780. https://onlinelibrary.wiley.com/doi/abs/10.1002/jcop.20394
Cite this page
Essay Sample on Domestic Abuse on Male Victims. (2023, Jan 09). Retrieved from https://speedypaper.com/essays/domestic-abuse-on-male-victims
Request Removal
If you are the original author of this essay and no longer wish to have it published on the SpeedyPaper website, please click below to request its removal: