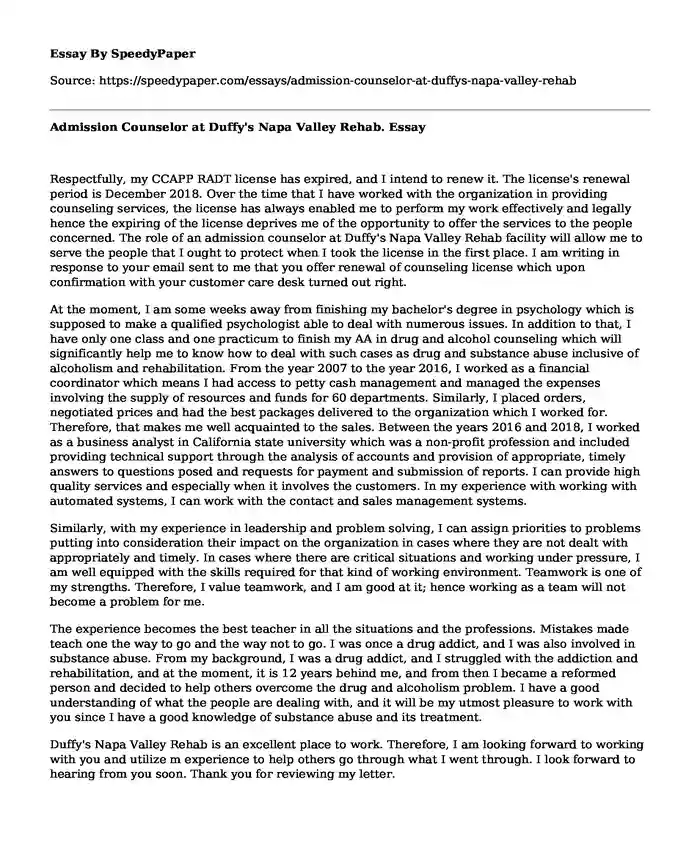 Respectfully, my CCAPP RADT license has expired, and I intend to renew it. The license's renewal period is December 2018. Over the time that I have worked with the organization in providing counseling services, the license has always enabled me to perform my work effectively and legally hence the expiring of the license deprives me of the opportunity to offer the services to the people concerned. The role of an admission counselor at Duffy's Napa Valley Rehab facility will allow me to serve the people that I ought to protect when I took the license in the first place. I am writing in response to your email sent to me that you offer renewal of counseling license which upon confirmation with your customer care desk turned out right.
At the moment, I am some weeks away from finishing my bachelor's degree in psychology which is supposed to make a qualified psychologist able to deal with numerous issues. In addition to that, I have only one class and one practicum to finish my AA in drug and alcohol counseling which will significantly help me to know how to deal with such cases as drug and substance abuse inclusive of alcoholism and rehabilitation. From the year 2007 to the year 2016, I worked as a financial coordinator which means I had access to petty cash management and managed the expenses involving the supply of resources and funds for 60 departments. Similarly, I placed orders, negotiated prices and had the best packages delivered to the organization which I worked for. Therefore, that makes me well acquainted to the sales. Between the years 2016 and 2018, I worked as a business analyst in California state university which was a non-profit profession and included providing technical support through the analysis of accounts and provision of appropriate, timely answers to questions posed and requests for payment and submission of reports. I can provide high quality services and especially when it involves the customers. In my experience with working with automated systems, I can work with the contact and sales management systems.
Similarly, with my experience in leadership and problem solving, I can assign priorities to problems putting into consideration their impact on the organization in cases where they are not dealt with appropriately and timely. In cases where there are critical situations and working under pressure, I am well equipped with the skills required for that kind of working environment. Teamwork is one of my strengths. Therefore, I value teamwork, and I am good at it; hence working as a team will not become a problem for me.
The experience becomes the best teacher in all the situations and the professions. Mistakes made teach one the way to go and the way not to go. I was once a drug addict, and I was also involved in substance abuse. From my background, I was a drug addict, and I struggled with the addiction and rehabilitation, and at the moment, it is 12 years behind me, and from then I became a reformed person and decided to help others overcome the drug and alcoholism problem. I have a good understanding of what the people are dealing with, and it will be my utmost pleasure to work with you since I have a good knowledge of substance abuse and its treatment.
Duffy's Napa Valley Rehab is an excellent place to work. Therefore, I am looking forward to working with you and utilize m experience to help others go through what I went through. I look forward to hearing from you soon. Thank you for reviewing my letter.
Cite this page
Admission Counselor at Duffy's Napa Valley Rehab.. (2023, Jan 05). Retrieved from https://speedypaper.com/essays/admission-counselor-at-duffys-napa-valley-rehab
Request Removal
If you are the original author of this essay and no longer wish to have it published on the SpeedyPaper website, please click below to request its removal: