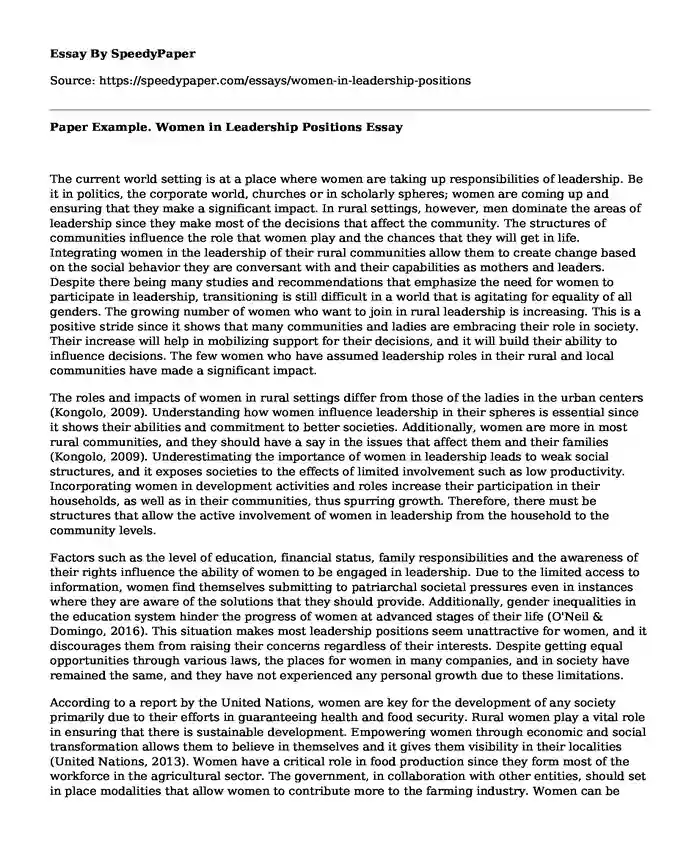 The current world setting is at a place where women are taking up responsibilities of leadership. Be it in politics, the corporate world, churches or in scholarly spheres; women are coming up and ensuring that they make a significant impact. In rural settings, however, men dominate the areas of leadership since they make most of the decisions that affect the community. The structures of communities influence the role that women play and the chances that they will get in life. Integrating women in the leadership of their rural communities allow them to create change based on the social behavior they are conversant with and their capabilities as mothers and leaders. Despite there being many studies and recommendations that emphasize the need for women to participate in leadership, transitioning is still difficult in a world that is agitating for equality of all genders. The growing number of women who want to join in rural leadership is increasing. This is a positive stride since it shows that many communities and ladies are embracing their role in society. Their increase will help in mobilizing support for their decisions, and it will build their ability to influence decisions. The few women who have assumed leadership roles in their rural and local communities have made a significant impact.
The roles and impacts of women in rural settings differ from those of the ladies in the urban centers (Kongolo, 2009). Understanding how women influence leadership in their spheres is essential since it shows their abilities and commitment to better societies. Additionally, women are more in most rural communities, and they should have a say in the issues that affect them and their families (Kongolo, 2009). Underestimating the importance of women in leadership leads to weak social structures, and it exposes societies to the effects of limited involvement such as low productivity. Incorporating women in development activities and roles increase their participation in their households, as well as in their communities, thus spurring growth. Therefore, there must be structures that allow the active involvement of women in leadership from the household to the community levels.
Factors such as the level of education, financial status, family responsibilities and the awareness of their rights influence the ability of women to be engaged in leadership. Due to the limited access to information, women find themselves submitting to patriarchal societal pressures even in instances where they are aware of the solutions that they should provide. Additionally, gender inequalities in the education system hinder the progress of women at advanced stages of their life (O'Neil & Domingo, 2016). This situation makes most leadership positions seem unattractive for women, and it discourages them from raising their concerns regardless of their interests. Despite getting equal opportunities through various laws, the places for women in many companies, and in society have remained the same, and they have not experienced any personal growth due to these limitations.
According to a report by the United Nations, women are key for the development of any society primarily due to their efforts in guaranteeing health and food security. Rural women play a vital role in ensuring that there is sustainable development. Empowering women through economic and social transformation allows them to believe in themselves and it gives them visibility in their localities (United Nations, 2013). Women have a critical role in food production since they form most of the workforce in the agricultural sector. The government, in collaboration with other entities, should set in place modalities that allow women to contribute more to the farming industry. Women can be spurred to leadership once they have been made aware of their rights regarding land and participation in their rural economies (United Nations, 2013). This will activate their involvement, and it will enable their communities to have confidence in their abilities.
Reports by the United Nations postulate that most of the poor people in the world are women in rural areas. They live under one dollar per day. However, these figures have continued to narrow down with the new policies being set in place (United Nations, 2013). Organizations are incorporating women in their rural empowerment and economic integration programs. Ensuring that women participate in lawmaking policies for their communities is one of the ways of involving them in leadership, and it allows them to create environments where they can be successful. Empowering women to take leadership positions helps in improving their incomes, and it gives them the ability to actively participate in the investment decisions of their families and their communities (United Nations, 2013)... Therefore, economically empowering women is one of the ways of ensuring that they take up leadership roles.
In rural settings, women in leadership positions have invested in adult education and training to ensure that they are up to date with the events happening around the globe. Since the lack of training has caused many women to be excluded from many programs, adult education is now the avenue to ensure that they develop socially, economically and politically (Bokoyeibo, 2018). Ensuring that women are taking part in activities and forums that directly affect their lives helps them in taking charge of their future and that of upcoming female leaders. Hence, for women to be actively involved in leadership, they have to undergo training and education to obtain the relevant skills for the advancement of their leadership.
For women in leadership positions in rural communities to make an impact, they must create social groups that mentor their colleagues. Since social growth is synonymous with governance, women must be aware of the challenges that they are facing and ways that they can address the same issues. When women are made aware of their problems and how to solve them, they become active in community activities, and it allows them to hold those in leadership accountable. Through showing an interest in the events happening in their rural communities, women show responsibility, and it creates an opening for them to assume leadership roles. Thus, social groups can be used to groom women for leadership in their communities since they are avenues for understanding and finding solutions for the challenges in a community.
Women are suitable for leadership in rural areas since they are practical and amicable. The cooperation of various organizations and women has been instrumental in ensuring that women have a voice in the matters that affect them. Sustaining the leadership of women in rural areas requires the collective effort of every member of society. This is what determines how women will be integrated into the dynamics of the community, and it will create leeway for societal change. Various organizations have come together to ensure that communities create spaces for women to showcase their leadership abilities. Additionally, the success of women depends on the ability of populations to believe in them and how they manage the relationship between themselves and their communities. Essentially, managing societal expectations allows women in leadership to work well with their communities.
Hora, in her article, notes that the roles of women have been undermined due to the socio-cultural attitudes that revolve around them. In most rural setups, it is believed that the role of women is to reproduce and engage in farm work. This makes them hold uninfluential positions in their communities. As a result of this, they continue to experience discrimination and unequal opportunities (Hora, 2014). Gaining power is essential for women in leadership positions to prosper. Good governance from women affects the entire society and it determines if other young leaders will be inspired to pursue leadership. Therefore, rural settings ought to recognize the roles of women in social settings and create platforms for them to be involved in economic and political spheres.
Conclusively, it would suffice to conclude that the cultural background, education and financial stability determine the role and position of women in leadership. In most communities, women have been sidelined from most decision making roles. However, organizations like the United Nations have stepped in to ensure that women have a voice by empowering them. One of the sectors which women have been empowered includes the agricultural field where women can improve their economic and social capabilities. Additionally, investing in adult education and social groups is critical since it will show the significance of allowing women to take part in the governance of rural communities. Therefore, for women to succeed in the leadership in rural settings, there must be constant community engagement to ensure that the changes made achieve sustainable impact.
References
Bokoyeibo, A. (2018, February 28). >> 5 Ways to Empower Rural Women. Retrieved April 25, 2019, from https://atlascorps.org/5-ways-empower-rural-women/
Hora, E. A. (2014). Factors that affect women participation in leadership and decision-making position. Asian Journal of Humanity, Art and Literature, 1(2).
Kongolo, M. (2009). Factors Limiting Women's Involvement in Development: Lesson from Ithuseng, South Africa. African Research Review, 3(4).
O'Neil, T., & Domingo, P. (2016, February). Women and power: overcoming barriers to leadership and influence. Retrieved April 25, 2019, from https://www.odi.org/publications/10309-women-and-power-overcoming-barriers-leadership-and-influence
United Nations. (2013). The role of women in rural development, food production and poverty eradication 2013. Retrieved April 25, 2019, from http://www.unwomen.org/en/news/in-focus/rural-women-day/2013
Cite this page
Paper Example. Women in Leadership Positions. (2023, Jan 04). Retrieved from https://speedypaper.com/essays/women-in-leadership-positions
Request Removal
If you are the original author of this essay and no longer wish to have it published on the SpeedyPaper website, please click below to request its removal: