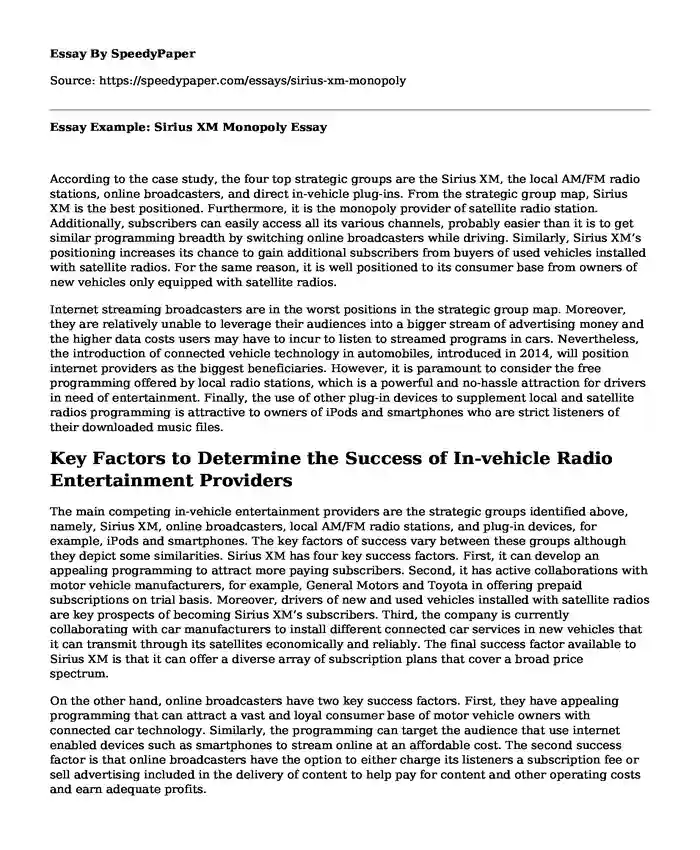 According to the case study, the four top strategic groups are the Sirius XM, the local AM/FM radio stations, online broadcasters, and direct in-vehicle plug-ins. From the strategic group map, Sirius XM is the best positioned. Furthermore, it is the monopoly provider of satellite radio station. Additionally, subscribers can easily access all its various channels, probably easier than it is to get similar programming breadth by switching online broadcasters while driving. Similarly, Sirius XM's positioning increases its chance to gain additional subscribers from buyers of used vehicles installed with satellite radios. For the same reason, it is well positioned to its consumer base from owners of new vehicles only equipped with satellite radios.
Internet streaming broadcasters are in the worst positions in the strategic group map. Moreover, they are relatively unable to leverage their audiences into a bigger stream of advertising money and the higher data costs users may have to incur to listen to streamed programs in cars. Nevertheless, the introduction of connected vehicle technology in automobiles, introduced in 2014, will position internet providers as the biggest beneficiaries. However, it is paramount to consider the free programming offered by local radio stations, which is a powerful and no-hassle attraction for drivers in need of entertainment. Finally, the use of other plug-in devices to supplement local and satellite radios programming is attractive to owners of iPods and smartphones who are strict listeners of their downloaded music files.
Key Factors to Determine the Success of In-vehicle Radio Entertainment Providers
The main competing in-vehicle entertainment providers are the strategic groups identified above, namely, Sirius XM, online broadcasters, local AM/FM radio stations, and plug-in devices, for example, iPods and smartphones. The key factors of success vary between these groups although they depict some similarities. Sirius XM has four key success factors. First, it can develop an appealing programming to attract more paying subscribers. Second, it has active collaborations with motor vehicle manufacturers, for example, General Motors and Toyota in offering prepaid subscriptions on trial basis. Moreover, drivers of new and used vehicles installed with satellite radios are key prospects of becoming Sirius XM's subscribers. Third, the company is currently collaborating with car manufacturers to install different connected car services in new vehicles that it can transmit through its satellites economically and reliably. The final success factor available to Sirius XM is that it can offer a diverse array of subscription plans that cover a broad price spectrum.
On the other hand, online broadcasters have two key success factors. First, they have appealing programming that can attract a vast and loyal consumer base of motor vehicle owners with connected car technology. Similarly, the programming can target the audience that use internet enabled devices such as smartphones to stream online at an affordable cost. The second success factor is that online broadcasters have the option to either charge its listeners a subscription fee or sell advertising included in the delivery of content to help pay for content and other operating costs and earn adequate profits.
Similarly, local radio stations have two success factors too, namely, an appealing programming that can attract a sizeable audience that is appealing to advertisers and the ability to sell ads to marketers striving to reach the stations' audience at attractive rates. However, the growing uses of plug-in devices as an in-vehicle entertainment source have slightly different key success factors. They include the availability of a plug-in power supply, which is readily available in many current vehicle models. An actual driver preference for listening to downloaded music files as opposed to traditional or satellite radio shows or online programs comprises the second success factor.
Sirius XM SWOT Analysis
A company's SWOT analysis includes its strengths, weaknesses, opportunities and threats. According to the case study, Sirius XM has the following advantages. It has a diverse and appealing lineup of channels and programs available at a variety of affordable subscription rates. Similarly, it has great longstanding partnerships with car assemblers, manufacturers, and retailers of satellite radios. In addition, it has good working relationships with over 11,000 vehicle dealers who promote and sell Sirius XM's subscriptions. Additionally, it has a fleet of 10 orbiting satellites that avail clear transmission in almost all over North America. Similarly, Sirius XM has a new capability to develop a connected vehicle platform following its acquisition of Agero Inc. Already; it has negotiated with the leading vehicle manufacturers, for example, BMW, Nissan, Lexus, and Toyota to begin delivering connected car services.
Nevertheless, Sirius XM has two significant weaknesses that can limit its attractiveness. First, it has an outstanding long-term debt of $3 billion as shown in Exhibit 2. Second, it is still investing heavily in subsidies and incentives to the main players in the industry, for example, radio and vehicle manufacturers, radio distributors and retailers, and owners of copyrighted content.
There are various market opportunities available to Sirius XM. First, it has the chance to expand the proportion of owners vehicles equipped with satellite radio. Second, it has an opportunity to create a connected car platform, which is likely to become a primary source of income growth. Finally, Sirius XM has the chance to expand into other markets outside the United States and Canada. Nevertheless, looming threats can inhibit its future well-being. Among these threats, Sirius XM might lose to competitors in availing connected car technology to car manufacturers. Additionally, the growing number of vehicle owners may shift their taste for in-vehicle entertainment from satellite radio to other providers with a wide library of downloadable entertainment options.
According to this SWOT analysis, Sirius XM's current situation is attractive. It has the potential to win new subscribers that will increase its profits and widen its market share. Additionally, the enterprise is rectifying its weaknesses, has many market opportunities to sustain growth, and seems capable of curbing the external threats to its future sustainability.
Elements of Sirius XM current Strategy
In 2014, Sirius XM developed a strategic objective to acquire more subscribers as quickly as possible. The procedure was straightforward, and it had the following aspects. First, it set to update and expand the entity's programming lineup. The company followed subscribers' preferences to make these improvements, information they gathered through e-mails. Second, the strategy aimed at eliminating duplicate programming costs for XM and Sirius channels. Third, the company sought to expand its online programming to enhance the appeal of subscribing to SiriusXM On Demand online radio. Subscribers accessed the service at no extra cost. Additionally, Sirius sought to continue bargaining hard for lower programming costs to minimize its overall operational costs.
Currently, Sirius XM is pursuing a broad differentiation strategy, one of the five competitive strategies discussed in Chapter 5. Indeed, this strategy is working well. Furthermore, no other provider of in-vehicle entertainment technology can match the diversity and extent to Sirius XM's programming. Therefore, one can say that Sirius has a competitive edge in this industry. Additionally, this strategy is increasing the number of paying subscribers, which is boosting the enterprise's financial performance. Indeed, Sirius XM's differentiation strategy is yielding good results.
Sirius XM Financial Performance
| | | | | |
| --- | --- | --- | --- | --- |
| | 2010 | 2011 | 2012 | 2013 |
| Royalties and revenue sharing payments as % of total income | 15.5% | 15.6% | 16.2% | 17.8% |
| Programming and content expenses as a % of total income | 10.9% | 9.3% | 8.2% | 7.6% |
| Customer service and billing costs as a % of total revenue | 10.4% | 8.6% | 8.7% | 8.4% |
| Satellite and transmission costs as a % of total revenue | 2.9% | 2.5% | 2.1% | 2.1% |
| Cost of equipment as a % of total income | 1.3% | 1.1% | 0.9% | 0.7% |
| Subscriber acquisition costs as a % of total income | 14.7% | 14.4% | 14% | 13.0% |
| Sales and marketing costs as a % of total revenues | 7.6% | 7.4% | 7.3% | 7.7% |
| Engineering and developmental costs as a % of total income | 1.6% | 1.8% | 1.4% | 1.5% |
| General and administration costs as a % of total income | 8.6% | 7.9% | 7.7% | 6.9% |
| Operating profit margin | 16.5% | 22.4% | 25.6% | 27.5% |
| Net profit margin | 1.5% | 14.2% | 12.1% | 9.9% |
| Return on Equity | 20.7% | 60.6% | 86% | 13.7% |
| Return on Assets | 0.6% | 5.7% | 38.4% | 4.3% |
| Debt-to-Assets Ratio | 40.9% | 40.2% | 26.8% | 35% |
One can draw several key conclusions from these calculations. First, the royalty and revenue-sharing costs are increasing over the years following the rising royalty rates on broadcasting various music categories. Second, the programming and content costs are declining, which is reflecting good management strategy of cutting down on exaggerated content costs. Third, the subscriber acquisition costs are reducing, which shows that the expenditure is gaining new subscribers efficiently. Fourth, the general and administration expenses and operating profit margin have improved over the years. Indeed, Sirius XM's financial performance has improved since 2010. Consequently, the future seems bright since it has the financial ability to grow its subscriber base and build a strong competitive advantage in car-connected technology.
Decline in the number of Subscribers
According to Exhibit 5 in the case study, there was a drop in the number of customers by 22,756 in the fourth quarter of 2013. Apparently, several factors contributed to this fall. First, Sirius XM lowered its subsidy rates per satellite-radio-installed vehicle paid to automakers. Consequently, the subscriber acquisition costs dropped to 12% of the total revenue, approximately $124 million, and the lowest proportion in the enterprise's history. Second, a major motor vehicle manufacturer shifted to unpaid trial subscription in this quarter, which accounted for the 434,240 decrease in paid promotional subscriptions. Finally, as depicted in Exhibit 3, the new vehicle conversion rate from trial to self-pay was 42% in this quarter compared to 45-46% conversion measured between 2010 and 2012. Notably, this shift was alarming because such a decline indicated Sirius XM's lower performance in the in-vehicle entertainment industry.
Recommendations to improve Sirius XM
First, the senior management should revisit the issue on subsidies to car manufacturers for installing radios in new vehicles. Apparently, only one automaker was upset enough to respond by lowering its participation in the company's prepaid trial subscription program. However, if no other manufacturer drops out of the program, then Sirius should probably retain the subsidy cut. Second, the senior management should be cautious about increasing subscription costs, as it will affect its consumer base. Third, the administration should stick to the same strategies that aim at making aggressive efforts to become a major provider of connected car technology and that it secures more subscribers than before.
References
Dornier, R., Selmi, N., & Delécolle, T. (2012). Strategic groups structure, positioning of the firm and performance: A review of literature. International Business Research, 5(2), 27.
Cite this page
Essay Example: Sirius XM Monopoly. (2017, Dec 27). Retrieved from https://speedypaper.com/essays/sirius-xm-monopoly
Request Removal
If you are the original author of this essay and no longer wish to have it published on the SpeedyPaper website, please click below to request its removal: