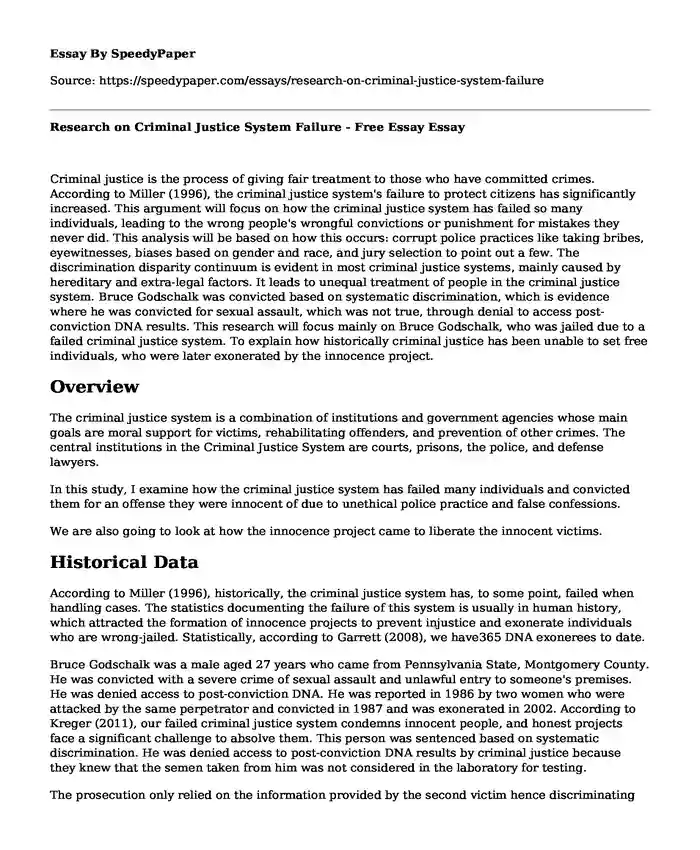 Criminal justice is the process of giving fair treatment to those who have committed crimes. According to Miller (1996), the criminal justice system's failure to protect citizens has significantly increased. This argument will focus on how the criminal justice system has failed so many individuals, leading to the wrong people's wrongful convictions or punishment for mistakes they never did. This analysis will be based on how this occurs: corrupt police practices like taking bribes, eyewitnesses, biases based on gender and race, and jury selection to point out a few. The discrimination disparity continuum is evident in most criminal justice systems, mainly caused by hereditary and extra-legal factors. It leads to unequal treatment of people in the criminal justice system. Bruce Godschalk was convicted based on systematic discrimination, which is evidence where he was convicted for sexual assault, which was not true, through denial to access post-conviction DNA results. This research will focus mainly on Bruce Godschalk, who was jailed due to a failed criminal justice system. To explain how historically criminal justice has been unable to set free individuals, who were later exonerated by the innocence project.
Overview
The criminal justice system is a combination of institutions and government agencies whose main goals are moral support for victims, rehabilitating offenders, and prevention of other crimes. The central institutions in the Criminal Justice System are courts, prisons, the police, and defense lawyers.
In this study, I examine how the criminal justice system has failed many individuals and convicted them for an offense they were innocent of due to unethical police practice and false confessions.
We are also going to look at how the innocence project came to liberate the innocent victims.
Historical Data
According to Miller (1996), historically, the criminal justice system has, to some point, failed when handling cases. The statistics documenting the failure of this system is usually in human history, which attracted the formation of innocence projects to prevent injustice and exonerate individuals who are wrong-jailed. Statistically, according to Garrett (2008), we have365 DNA exonerees to date.
Bruce Godschalk was a male aged 27 years who came from Pennsylvania State, Montgomery County. He was convicted with a severe crime of sexual assault and unlawful entry to someone's premises. He was denied access to post-conviction DNA. He was reported in 1986 by two women who were attacked by the same perpetrator and convicted in 1987 and was exonerated in 2002. According to Kreger (2011), our failed criminal justice system condemns innocent people, and honest projects face a significant challenge to absolve them. This person was sentenced based on systematic discrimination. He was denied access to post-conviction DNA results by criminal justice because they knew that the semen taken from him was not considered in the laboratory for testing.
The prosecution only relied on the information provided by the second victim hence discriminating the Godschalk to prove himself not guilty. He stayed 15 years in jail awaiting trials. He was 27 years old during conviction. Both his race and that of his defendant was Caucasian. He was not serving a death row. Bruce Godschalk was convicted of rape. The sport played a role in discriminating against the victim, where the wrong witness was used. Forensic science was used, and Bruce Godschalk had a private lawyer; after release, he was compensated to point out some of his details.
Systematic discrimination is based on how Godschalk was prevented from accessing his DNA result. All his appeals were denied until he contacted the innocence project possible to get the tap of confession, but it was denied until 1999. The tape was sent to experts and clearly showed that Godschalk had falsely confessed. And the District Attorney refused to provide biological evidence until later in 2000 when the innocence projects filed a civil rights complaint seeking access to the evidence.
According to Collins and Jarvis (2009), the wrongful conviction of forensic science strikes me because it brings to my attention and those of the project innocence that the prosecutors reported that no results of Godschalk result were obtained in the laboratory. Later in 2002, the evidence from both cases was tested at Forensic Science Associates showing that Godschalk was innocent, and the same perpetrator committed both crimes. Then after he maintained his innocence, he was freed on February 14, 2002. Innocence project exonerated his freedom despite the criminal justice system failures. According to Kreimer (2004), the light and dark sides of accuracy in criminal justice equips me with well understanding of where in the criminal justice failed Godschalk.
The following factors contributed to the failure of criminal justice in Godschalk's case.
First, mistaken witness- in this case, two women in one apartment were raped by the same person, where only one of the two women was able to recognize Bruce Godschalk. But the other one was later used by the police to sketch the suspect, who was then placed in all media. On December 30, 1986, the police were informed that the man in the sketch resembled Godschalk, where he was convicted using this information.
Secondly, corrupt police practice is where police officers participate in activities that are against the official duties, such as tampering with evidence. In the case of Godschalk its evident that the police officer who was entrusted to take the evidence of the sample carpet never made it to the laboratory for Forensic to be conducted to validate the criminal actions of the victim. The same police officer did not remove the carpet from the crime scene.
Thirdly, False accusation- considered as untrue claims, Bruce Godschalk was accused of forced rape and burglary, which was later proved to be wrong after the forensic science test was done. But despite this truth, the District Attorney General officer did not release him, claiming that the evidence might have tampered.
Fourth, Perjury- this is where one tells untruth information or where one makes a misrepresentation before oath. In this case, we see that the information that was considered as facts were presented to the District Attorney was incorrect, this us saw where the claims were that Godschalk semen were sent to the laboratory, but the truth was that the carpet sample was not significant hence that's why it was not introduced to the court as a shred of evidence. These made Perjury since the carpet was from the second victim's home that could not identify Godschalk and was used to convict him.
Firth, False confessions which, might be caused by various reasons such as forced confession. For so many years, commentators doubted that a crime suspect would falsely confess. In our case, Godschalk made a false confession of a rape case that was obtained by a police officer whose content information remains not displayed to the public.
Failure in the Criminal Justice System.
Laberge and Morin (1995) examined the overuse of criminal justice dispositions and the failure of diversionary policies to manage criminal systems. The perpetrator of the crime was identified after forensic science was done. But due to the failure of diversion policies in the management of criminal systems, Godschalk spent 15yeasrs in prison and the other seven years fighting for the DNA test.
In this research, we considered this type of criminal justice system failure as systematic discrimination. It occurs at all stages of the criminal justice system just from the arrest stage, prosecution stage up to the sentencing stage. In this case, we see that at the arrest stage, Godschalk was arrested because of a mistaken witness identity with false evidence from a second rape victim. At the prosecution stage, Mr. Bruce Godschalk was prosecuted due to a false confession from jailhouse snitch that was said that Bruce had given suggesting statement which he was prosecuted before knowing whether it is true. At the sentencing stage, even though Bruce asked for an appeal, he was denied despite him been found innocent. The district attorney general office refused to release him with claims that the evidence might have tampered. In this case, no racial or ethical discrimination was involved, but with the evidence stipulate their clearly show how the criminal justice system failed systematically.
Reforms Enacted as a Result of This Injustice.
According to Cooley (2004), articulating reforms by changing the forensic science community to avert the ultimate injustice. Several reforms were enacted as a result of this injustice.
First, access to post-conviction DNA tests by the victims since, according to Despotes (2009), the victim has a constitutional right to access his DNA evidence, focusing on my arguments Bruce was denied to access his DNA test, despite him appealing for it in seven years. Later after the intervention by the innocence projects, his DNA test was given, showing that he was innocent. Afterward, Pennsylvania made a rule to allow the victim to access his post-conviction DNA test. The reason was that it was evident that victims were excluded once the DNA testing was in more than 25% of cases in a National Institute of Justice study conducted during the investigation.
Secondly, unethical police habits such as arresting the innocent have been dealt with reduced. On Friday, June 12, New York Governor Andrew Cuomo signed the introduction of 50-a into law, the bill that passed the legislature to allow law enforcement to impact police misconduct records from the public. These records will now be publicly disclosed, hence reducing corrupt police officers by facilitating accountability and transparency since police violence will be addressed in our communities. Also, considering our case, the violence police officers and the laboratory facilitators were fired due to their misleading information about Bruce's DNA. She was an excellent reform since others will ensure transparency and accountability to avoid been fired.
Thirdly, according to Kassin and kiechel (1996), an experiment demonstrated that false incriminating evidence could lead people guilty for a crime they did not commit subjects in a fast- or- slow-paced reaction. This statement is evident in our research since Bruce made a piece of false incriminating evidence due to police targeting him through false witnesses. He was not given a chance to express himself, and he was denied access to his evidence. The reform that was enacted is that the researchers are coming up with accurate ways to improve the confession evidence and how it is evaluated in the courtroom to ensure that the evidence is based on accountability and transparency.
Fourthly, Perjury, based on Rieger (1985) argument, has not yet proposed an entirely satisfactory solution to the dilemma faced by a lawyer confronted with client perjury in criminal cases. The courthouse presented misappropriate information concerning our victim, but it did not practice accountability and transparency as it is supposed to do ending up ruling in injustice way. But a significant reform has been enacted to solve the dilemma faced by lawyers confronted with client perjury by ensuring the information provided about the client is real and honest. Secondly, diffusion of responsibility among the official people such as police and judges has been delegated. In the case of Bruce Godschalk, we see that he tried to make a guilty plea, but the District Attorney's office denied him. Bruce Godschalk and the defendant were both mentally stable.
Cite this page
Research on Criminal Justice System Failure - Free Essay. (2023, Aug 30). Retrieved from https://speedypaper.com/essays/research-on-criminal-justice-system-failure
Request Removal
If you are the original author of this essay and no longer wish to have it published on the SpeedyPaper website, please click below to request its removal: