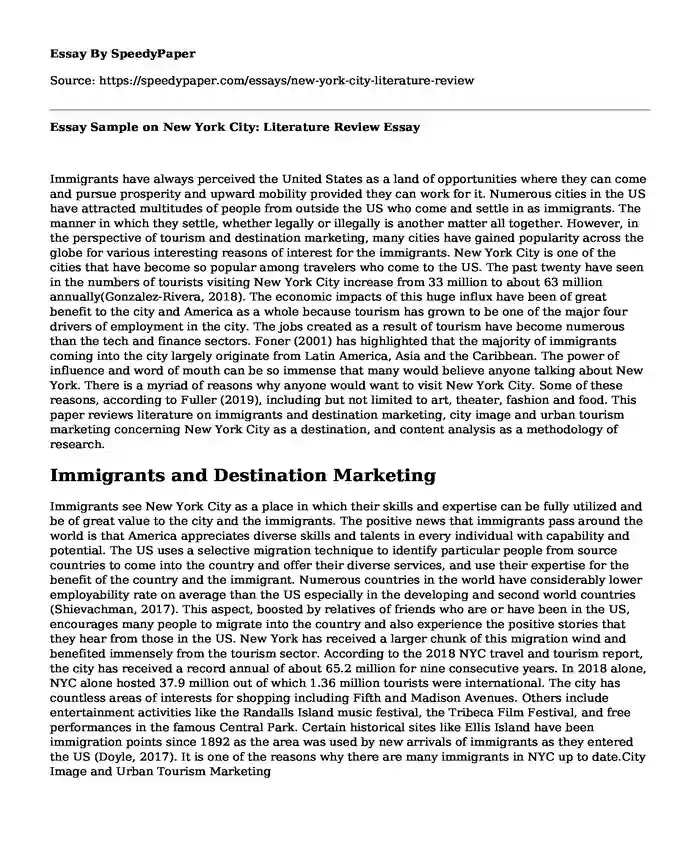 Immigrants have always perceived the United States as a land of opportunities where they can come and pursue prosperity and upward mobility provided they can work for it. Numerous cities in the US have attracted multitudes of people from outside the US who come and settle in as immigrants. The manner in which they settle, whether legally or illegally is another matter all together. However, in the perspective of tourism and destination marketing, many cities have gained popularity across the globe for various interesting reasons of interest for the immigrants. New York City is one of the cities that have become so popular among travelers who come to the US. The past twenty have seen in the numbers of tourists visiting New York City increase from 33 million to about 63 million annually(Gonzalez-Rivera, 2018). The economic impacts of this huge influx have been of great benefit to the city and America as a whole because tourism has grown to be one of the major four drivers of employment in the city. The jobs created as a result of tourism have become numerous than the tech and finance sectors. Foner (2001) has highlighted that the majority of immigrants coming into the city largely originate from Latin America, Asia and the Caribbean. The power of influence and word of mouth can be so immense that many would believe anyone talking about New York. There is a myriad of reasons why anyone would want to visit New York City. Some of these reasons, according to Fuller (2019), including but not limited to art, theater, fashion and food. This paper reviews literature on immigrants and destination marketing, city image and urban tourism marketing concerning New York City as a destination, and content analysis as a methodology of research.
Immigrants and Destination Marketing
Immigrants see New York City as a place in which their skills and expertise can be fully utilized and be of great value to the city and the immigrants. The positive news that immigrants pass around the world is that America appreciates diverse skills and talents in every individual with capability and potential. The US uses a selective migration technique to identify particular people from source countries to come into the country and offer their diverse services, and use their expertise for the benefit of the country and the immigrant. Numerous countries in the world have considerably lower employability rate on average than the US especially in the developing and second world countries (Shievachman, 2017). This aspect, boosted by relatives of friends who are or have been in the US, encourages many people to migrate into the country and also experience the positive stories that they hear from those in the US. New York has received a larger chunk of this migration wind and benefited immensely from the tourism sector. According to the 2018 NYC travel and tourism report, the city has received a record annual of about 65.2 million for nine consecutive years. In 2018 alone, NYC alone hosted 37.9 million out of which 1.36 million tourists were international. The city has countless areas of interests for shopping including Fifth and Madison Avenues. Others include entertainment activities like the Randalls Island music festival, the Tribeca Film Festival, and free performances in the famous Central Park. Certain historical sites like Ellis Island have been immigration points since 1892 as the area was used by new arrivals of immigrants as they entered the US (Doyle, 2017). It is one of the reasons why there are many immigrants in NYC up to date.City Image and Urban Tourism Marketing
City branding and the urban image of any city have become common phenomena gaining significant interests in tourism as many countries compete for tourists globally. Branding a city as an attractive place can lead to the attraction of not only tourists but also an investment and extraordinary talents in any fields from art, entertainment, engineering, and technology among others. The concepts of branding, according to Jojic (2018), have been borrowed from the commercial aspect, and applied to the urban development, quality of life and regeneration of cities, including New York City. City Branding raises the status of any place positioning as a favorable touristic destination where people cannot only move to for sight-seeing but also reside in and conduct business. Urban tourism is fast developing as a segment of the worldwide tourism market as many cities compete to have a share of the benefits referential destinations around the world.
The pillars of branding and image for NYC include the fact that the city is paraded, and rightly so, as a 'Portrait of boom' due to the various impacts of tourism on the city's economy. Another angle that drives tourists to flock NYC is that it is considered largely as a new engine of middle class growth of jobs. In 2017, NYC's Mayor launched an ambitious plan that sought to create 100,000 jobs in the next decade in the city. Central to this plan was tourism as the global tourism market was anchored around tourism as it created more jobs than any other industry within NYC. Through this angle, it makes economic sense to say that the city is well branded to attract people and create more jobs. The third selling point of the image of NYC as an urban setting is that it is a point of entry to endless opportunities to all who come in. One notable area for consideration is the portrayal of NYC in films. Most visual media like movies present NYC as an admirable destination that anyone should visit even if once for a lifetime. The report written by Gonzalez-Rivera (2018) portrays NYC as a future tourism hub with an annual increase in tourists from all over the globe. The city has a well-laid out plan that will benefit small tech companies, as well as small businesses, to take advantage of the rapidly growing markets. However, certain possible challenges still stand in the way of what could potentially become a utopian city stormed by visitors from all over the globe. Such underpinnings include future congestion, undesirable experiences at the airports, and subway delays among others. When these challenges are addressed according to the current plans, then nothing stands in the way of NYC in becoming the future tourism hub. The connection between New Yorkers and certain social and cultural norms are also integral in projecting the city's image to potential tourists and investors (Orleck, 2001). For instance, there is a reason why many people who come to NYC prefer to stay in the metropolitan area of the city. The entrepreneurial types, the computer wizards and other skilled individuals prefer the metropolitan areas because they can best leave their imprints there than anywhere else.
Content Analysis as Research Methodology
Content analysis refers to a research technique used by researchers to identify the existence of particular words, concepts or themes within certain given qualitative data or text. Researchers can utilize this tool to quantify as well as to conduct analyses on the presence, meanings and associations or relationships of such themes, words or concepts (Nikolychuk & Abbott, 2008). Once this is done, they can the researchers can then make meaningful inferences concerning the messages retrieved from the analyzed texts. They can deduct the author's perspective and direct the audience's understanding of the texts or qualitative data that has been deduced from the text. It is of great importance to remember that the data sources can be diverse including but not limited to interviews, field research notes, open-ended questions, conversations, or any other form or media. Ideally, in content analysis tool the analysis of text begins from coding or breaking down the text into smaller categories known as codes, which are further broken down into code categories for further data summary (White & Marsh, 2006). Content analysis is used by researchers to describe behavioral or attitudinal responses to various forms of communication. This methology can also be utilized to determine the focus, intentions or trends of communication of an individual, institution or group. Conceptual and relational analyses are the two major types of content analysis. While conceptual analysis identifies conceptual existence and frequency of certain elements in a text, relational analysis breaks down the concepts further to determine relationships among textual elements (Dincer, 2018). Examining literature to find the concept of tourism marketing and city branding is complemented by finding how tourism is connected to other concepts like immigration and urban development.
Conclusion
In conclusion, immigrants contribute greatly to marketing tourist destinations to others. The word of mouth and revelations from travelers are widely trusted by fellow travelers who would be willing to not only travel but also settle and invest for the good of any city, including NYC. The image of the city and its branding techniques are crucial in how it is perceived by others as a tourist destination. Content analysis is a crucial research methodology applicable when finding important themes or concepts in texts and how certain elements therein relate with each other.
References
Abramitzky, R., & Boustan, L. (2017). Immigration in American Economic History. Journal Of Economic Literature, 55(4), 1311-1345. https://doi.org/10.1257/jel.20151189
Dincer, S. (2018). Content Analysis in Scientific Research: Meta-Analysis, Meta-Synthesis, and Descriptive Content Analysis. Bartin Universitesi Egitim Fakultesi Dergisi, 176-190. https://doi.org/10.14686/buefad.363159
Doyle, A. (2017). New York City Again Sets Tourism Record as It Roars Into 2019 | Northstar Meetings Group. Northstarmeetingsgroup.com. Retrieved 19 March 2020, from https://www.northstarmeetingsgroup.com/news/industry/new-york-city-2018-tourism-statistics-record.

Foner, N. (Ed.). (2001). New Immigrants in New York. New York: Columbia University Press. doi:10.7312/fone12414
Fuller, G. (2019). 15 Reasons Why You Should Visit New York City at Least Once in Your Lifetime. Culture Trip. Retrieved 19 March 2020, from https://theculturetrip.com/north-america/usa/new-york/new-york-city/articles/16-reasons-why-you-should-visit-new-york-city-at-least-once-in-your-lifetime-2/.

Jojic, S. (2018). City Branding and the Tourist Gaze: City Branding for Tourism Development. European Journal Of Social Science Education And Research, 5(3), 150-160. https://doi.org/10.26417/ejser.v5i3.p150-160
Nikolychuk, L., & Abbott, P. (2008). In Defense of Content Analysis Methodology. SSRN Electronic Journal. https://doi.org/10.2139/ssrn.1089446
Orleck, A. (2001). Soviet Jews: The City's Newest Immigrants Transform New York Jewish Life. In Foner N. (Ed.), New Immigrants in New York (pp. 111-140). New York: Columbia University Press. doi:10.7312/fone12414.7
Shievachman, A. (2017). How Gentrification Powers New York City's Tourism Industry. Skift.com. Retrieved 19 March 2020, from https://skift.com/new-york-city-tourism-and-gentrification/

White, M., & Marsh, E. (2006). Content Analysis: A Flexible Methodology. Library Trends, 55(1), 22-45. https://doi.org/10.1353/lib.2006.0053
Cite this page
Essay Sample on New York City: Literature Review. (2023, Apr 24). Retrieved from https://speedypaper.com/essays/new-york-city-literature-review
Request Removal
If you are the original author of this essay and no longer wish to have it published on the SpeedyPaper website, please click below to request its removal: