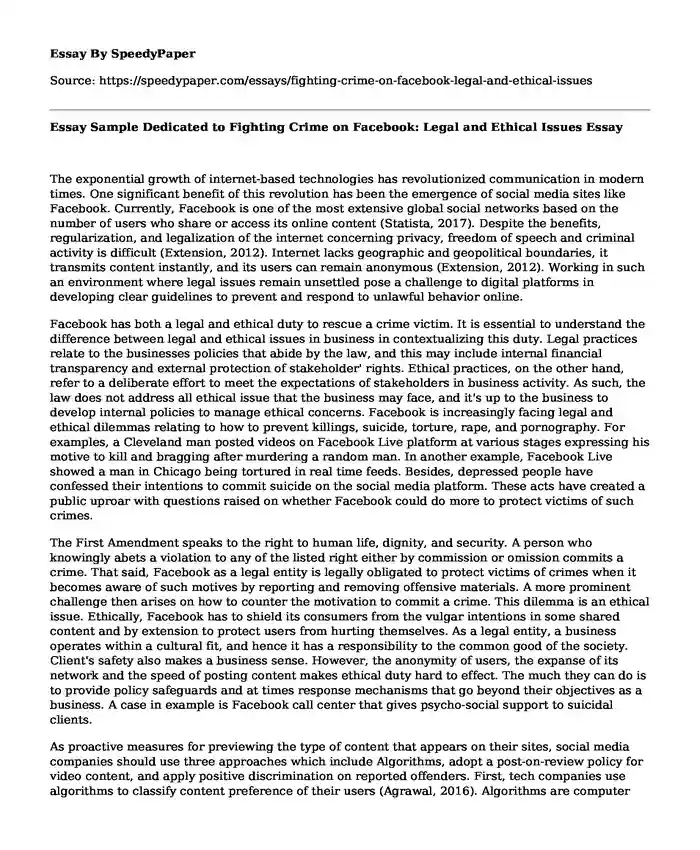 The exponential growth of internet-based technologies has revolutionized communication in modern times. One significant benefit of this revolution has been the emergence of social media sites like Facebook. Currently, Facebook is one of the most extensive global social networks based on the number of users who share or access its online content (Statista, 2017). Despite the benefits, regularization, and legalization of the internet concerning privacy, freedom of speech and criminal activity is difficult (Extension, 2012). Internet lacks geographic and geopolitical boundaries, it transmits content instantly, and its users can remain anonymous (Extension, 2012). Working in such an environment where legal issues remain unsettled pose a challenge to digital platforms in developing clear guidelines to prevent and respond to unlawful behavior online.
Facebook has both a legal and ethical duty to rescue a crime victim. It is essential to understand the difference between legal and ethical issues in business in contextualizing this duty. Legal practices relate to the businesses policies that abide by the law, and this may include internal financial transparency and external protection of stakeholder' rights. Ethical practices, on the other hand, refer to a deliberate effort to meet the expectations of stakeholders in business activity. As such, the law does not address all ethical issue that the business may face, and it's up to the business to develop internal policies to manage ethical concerns. Facebook is increasingly facing legal and ethical dilemmas relating to how to prevent killings, suicide, torture, rape, and pornography. For examples, a Cleveland man posted videos on Facebook Live platform at various stages expressing his motive to kill and bragging after murdering a random man. In another example, Facebook Live showed a man in Chicago being tortured in real time feeds. Besides, depressed people have confessed their intentions to commit suicide on the social media platform. These acts have created a public uproar with questions raised on whether Facebook could do more to protect victims of such crimes.
The First Amendment speaks to the right to human life, dignity, and security. A person who knowingly abets a violation to any of the listed right either by commission or omission commits a crime. That said, Facebook as a legal entity is legally obligated to protect victims of crimes when it becomes aware of such motives by reporting and removing offensive materials. A more prominent challenge then arises on how to counter the motivation to commit a crime. This dilemma is an ethical issue. Ethically, Facebook has to shield its consumers from the vulgar intentions in some shared content and by extension to protect users from hurting themselves. As a legal entity, a business operates within a cultural fit, and hence it has a responsibility to the common good of the society. Client's safety also makes a business sense. However, the anonymity of users, the expanse of its network and the speed of posting content makes ethical duty hard to effect. The much they can do is to provide policy safeguards and at times response mechanisms that go beyond their objectives as a business. A case in example is Facebook call center that gives psycho-social support to suicidal clients.
As proactive measures for previewing the type of content that appears on their sites, social media companies should use three approaches which include Algorithms, adopt a post-on-review policy for video content, and apply positive discrimination on reported offenders. First, tech companies use algorithms to classify content preference of their users (Agrawal, 2016). Algorithms are computer programing systems that can infer meaning based on how often particular words apply. This technology has enabled social media platforms to profile their customers depending on how often they interact with a specific post, hide or share the post. Through programming, digital platforms can use the system to detect the use of specific words that speak to a content they wish to preview. Such words may include crime words such as kill, torture, and shoot and sexist words like rape, nude and strip. According to Newcomb (2017), any post with such words are flagged and reviewed, and this provides insights on content. Secondly, the firms can adopt a post-on-review policy for audio-visual resources. Such a strategy essentially means that any audio or video file uploaded is first previewed and then approved for publishing. The disadvantage is that it creates a time lag and it may be a tedious task for the company. Next, the media channels can deliberately target any user who has violated the agreed terms of use. Using this method, gross and repeat offenders should have their accounts deactivated. For, example Facebook policy disables any reported account within two hours. (Newcomb, 2017). By extension, any reported account is put on an algorithm-based screening system that would flag particular content.
There are various safeguards that Facebook can use to prevent acts of violence from being shared. The firm can build a feature that would allow other users to not only report undesirable content but also to freeze the posting account. The vast number of users and posts means that administrators take time to notice offensive content which trends quickly. As such, allowing other users to take action maybe help prevent a post from becoming a broadcast. Afterwards, the admins can verify any eternally generated deactivation and review its merits. Malicious deactivations can attract a penalty. This feature can be augmented by a second safeguard involving the creation of an online policing community. By the last quarter of 2017, Facebook had a total of 2.2 billion monthly active users (Statista, 2017). The service provider can transform these numbers into active online policing communities. The clubs can be organized according to regions or thematic to issues. With their numbers, they can efficiently scavenge for offensive content and sanction timely reaction.
Though Facebook does not have a Chief Ethics officer, it has Ethics and Policy Committee. The Committee was created in response to accusations of unprofessional conduct that included the use of its platform to spread hate speech, fake news, and significantly the Contagion scandal in 2014 (Hoffmann, 2017). In regards to the scandal, the firm was accused of conducting unethical research on its users without their knowledge by manipulating their manner of posting. The Committee ordinarily researches on ethical issues facing the company and formulates policy. For example, it researched on the Emotional Contagion scandal and published a report. The committee has also developed various tools to effect an ethical culture for its users, these include the suicide prevention and support tools. Hoffmann (2017) argues that having a chief ethics officer is not a valid approach for big and expansive companies since it creates the illusion that one person can solve all the organization moral problems. Again it makes tech companies a monument that ignores internal criticisms and views of external experts. This view by Hoffman (2017) supports Facebook CEO's ongoing decision not to hire a Chief Ethics officer. The organization solution is outward looking involving external collaborations with academia and incorporating existing ethical ideas in its ethics committee.
To promote ethical use of its platform, Facebook should initiate a strict user's identification process. Currently, one only needs a name and a phone number to open a Facebook account. The simplicity means that it is even possible to have multiple accounts. Once you open the account, one is free to change the username and opt for an alias. The corporation should thus initiate a comprehensive accounts verification process where users will be required to prove their identity by uploading State issued identification cards and physical addresses. While this is complicated to clients, it will nevertheless deter misuse of the social media platform. To conclude, the social media giant should play a more educative role in sensitizing its subscribers on the ethical use of a shared online space. This would involve the creation and sharing of digital content like videos with a message that counters violence and humiliation
Aligning ethical issues with the commercial interest is a challenging but necessary duty for social media corporations. This requires the establishment of a dedicated workforce that handles ethical problems proactively. Businesses can use technology tools such as algorithms and human policing to deter and respond to offensive online content. Companies will continuously play a balancing act between promoting the right to life and security of people and their freedom to speech.
References
Agrawal, A. (Apr 20, 2016). What Do Social Media Algorithms Mean For You? Forbes. Retrieved from https://www.forbes.com/sites/ajagrawal/2016/04/20/what-do-social-media-algorithms-mean-for-you/#546f2cf8a515
Extension. (January 10, 2012). Internet Legal and Ethical Issues.Extension. Retrieved from http://articles.extension.org/pages/62093/internet-legal-and-ethical-issues
Hoffmann, L. (January, 2017). Facebook Doesn't Need a Chief Ethics Officer. Future Tense. Slate. Retrieved from http://www.slate.com/articles/technology/future_tense/2017/01/a_chief_ethics_officer_won_t_fix_facebook_s_problems.html
Newcomb, A. (April, 2017). Cleveland Shooting Highlights Facebook's Responsibility in Policing Depraved Videos. NBCNews. Retrieved from https://www.nbcnews.com/tech/social-media/cleveland-shooting-highlights-facebook-s-responsibility-policing-depraved-videos-n747306
Statista. (2017). Number of monthly active Facebook users worldwide as of 4th quarter 2017 (in millions. Statista. Retrieved from https://www.statista.com/statistics/264810/number-of-monthly-active-facebook-users-worldwide/
Cite this page
Essay Sample Dedicated to Fighting Crime on Facebook: Legal and Ethical Issues. (2022, Mar 11). Retrieved from https://speedypaper.com/essays/fighting-crime-on-facebook-legal-and-ethical-issues
Request Removal
If you are the original author of this essay and no longer wish to have it published on the SpeedyPaper website, please click below to request its removal: