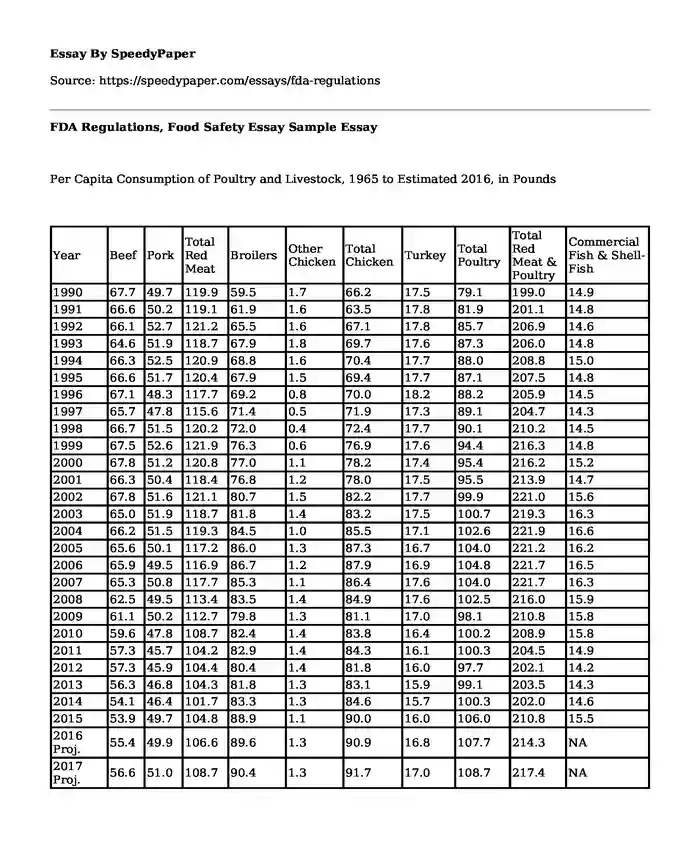 Per Capita Consumption of Poultry and Livestock, 1965 to Estimated 2016, in Pounds
| | | | | | | | | | | |
| --- | --- | --- | --- | --- | --- | --- | --- | --- | --- | --- |
| Year | Beef | Pork | Total Red Meat | Broilers | Other Chicken | Total Chicken | Turkey | Total Poultry | Total Red Meat & Poultry | Commercial Fish & Shell-Fish |
| 1990 | 67.7 | 49.7 | 119.9 | 59.5 | 1.7 | 66.2 | 17.5 | 79.1 | 199.0 | 14.9 |
| 1991 | 66.6 | 50.2 | 119.1 | 61.9 | 1.6 | 63.5 | 17.8 | 81.9 | 201.1 | 14.8 |
| 1992 | 66.1 | 52.7 | 121.2 | 65.5 | 1.6 | 67.1 | 17.8 | 85.7 | 206.9 | 14.6 |
| 1993 | 64.6 | 51.9 | 118.7 | 67.9 | 1.8 | 69.7 | 17.6 | 87.3 | 206.0 | 14.8 |
| 1994 | 66.3 | 52.5 | 120.9 | 68.8 | 1.6 | 70.4 | 17.7 | 88.0 | 208.8 | 15.0 |
| 1995 | 66.6 | 51.7 | 120.4 | 67.9 | 1.5 | 69.4 | 17.7 | 87.1 | 207.5 | 14.8 |
| 1996 | 67.1 | 48.3 | 117.7 | 69.2 | 0.8 | 70.0 | 18.2 | 88.2 | 205.9 | 14.5 |
| 1997 | 65.7 | 47.8 | 115.6 | 71.4 | 0.5 | 71.9 | 17.3 | 89.1 | 204.7 | 14.3 |
| 1998 | 66.7 | 51.5 | 120.2 | 72.0 | 0.4 | 72.4 | 17.7 | 90.1 | 210.2 | 14.5 |
| 1999 | 67.5 | 52.6 | 121.9 | 76.3 | 0.6 | 76.9 | 17.6 | 94.4 | 216.3 | 14.8 |
| 2000 | 67.8 | 51.2 | 120.8 | 77.0 | 1.1 | 78.2 | 17.4 | 95.4 | 216.2 | 15.2 |
| 2001 | 66.3 | 50.4 | 118.4 | 76.8 | 1.2 | 78.0 | 17.5 | 95.5 | 213.9 | 14.7 |
| 2002 | 67.8 | 51.6 | 121.1 | 80.7 | 1.5 | 82.2 | 17.7 | 99.9 | 221.0 | 15.6 |
| 2003 | 65.0 | 51.9 | 118.7 | 81.8 | 1.4 | 83.2 | 17.5 | 100.7 | 219.3 | 16.3 |
| 2004 | 66.2 | 51.5 | 119.3 | 84.5 | 1.0 | 85.5 | 17.1 | 102.6 | 221.9 | 16.6 |
| 2005 | 65.6 | 50.1 | 117.2 | 86.0 | 1.3 | 87.3 | 16.7 | 104.0 | 221.2 | 16.2 |
| 2006 | 65.9 | 49.5 | 116.9 | 86.7 | 1.2 | 87.9 | 16.9 | 104.8 | 221.7 | 16.5 |
| 2007 | 65.3 | 50.8 | 117.7 | 85.3 | 1.1 | 86.4 | 17.6 | 104.0 | 221.7 | 16.3 |
| 2008 | 62.5 | 49.5 | 113.4 | 83.5 | 1.4 | 84.9 | 17.6 | 102.5 | 216.0 | 15.9 |
| 2009 | 61.1 | 50.2 | 112.7 | 79.8 | 1.3 | 81.1 | 17.0 | 98.1 | 210.8 | 15.8 |
| 2010 | 59.6 | 47.8 | 108.7 | 82.4 | 1.4 | 83.8 | 16.4 | 100.2 | 208.9 | 15.8 |
| 2011 | 57.3 | 45.7 | 104.2 | 82.9 | 1.4 | 84.3 | 16.1 | 100.3 | 204.5 | 14.9 |
| 2012 | 57.3 | 45.9 | 104.4 | 80.4 | 1.4 | 81.8 | 16.0 | 97.7 | 202.1 | 14.2 |
| 2013 | 56.3 | 46.8 | 104.3 | 81.8 | 1.3 | 83.1 | 15.9 | 99.1 | 203.5 | 14.3 |
| 2014 | 54.1 | 46.4 | 101.7 | 83.3 | 1.3 | 84.6 | 15.7 | 100.3 | 202.0 | 14.6 |
| 2015 | 53.9 | 49.7 | 104.8 | 88.9 | 1.1 | 90.0 | 16.0 | 106.0 | 210.8 | 15.5 |
| 2016 Proj. | 55.4 | 49.9 | 106.6 | 89.6 | 1.3 | 90.9 | 16.8 | 107.7 | 214.3 | NA |
| 2017 Proj. | 56.6 | 51.0 | 108.7 | 90.4 | 1.3 | 91.7 | 17.0 | 108.7 | 217.4 | NA |
1/ Includes beef, pork, veal, and mutton/lamb, but excludes edible offals.
2/ Estimated by USDA
Note: All poultry and livestock products are on a retail weight basis, except "other chicken" and "turkey" which are reported by USDA on a carcass-weight basis.
Fish/shellfish is reported by The National Marine Fisheries Service on an edible weight basis.
Source: USDA
Last updated September 21, 2016.
The nature of foodborne diseases and food has significantly changed in the United States in America in the last century or so. This is mainly tied to the rapidly changing world as a result of technological advancements in this field whereby new practices of handling food have been introduced. These includes food canning and pasteurizations, in as much as these advances are said to be significant to a certain extent, they have been associated with the outbreak of new causes food borne illnesses.
It is in this regard however that the US and the world, in general, are faced with this devastating scenario. Research has shown that presently, food borne illness in the United States in the primary cause of preventive disease, personal distress and even death of not addressed at an early stage as well as an unavoidable burden to the economy of the country. Each year, approximately of the 48 million illnesses are caused by foodborne diseases, there have been 128000 cases of hospitalization and at least 3000 deaths as a result of consumption of unfit food by the public.
Table 2--Populations susceptible to food borne
disease in the United States, 1993
Category Number of individuals
Elderly (over age 65) 29,400,000
Pregnant women 5,657,900
Neonates 4,002,000
Cancer patients 2,411,000
Non-hospitalized residents in nursing homes 1,553,000
Organ transplant patients 110,270
HIV/AIDS patients 135,000
Source: Council for Agricultural Science and Technology, 1994.
Suspend registrations if food from a certain facility is said to possibly be hazardous
Demands for more detailed record keeping policies from any facilities that process or manufacture high risks food and finally track where the US and imported from foreign countries come from by the use of highly improved Both the FDA and FSMA work together to ensure a healthy nation. The FDA possesses the power to regulate all the aspects of the industries concerned with making food products.
Some of the regulations instituted by the FDA include the following:
• In response to the many outbreaks as a result of contaminated food, Senator Kirsten Gillibrand who is the chair of the Agriculture Subcommittee on Dairy, Livestock and poultry introduced the safe meat and poultry Act.
• This is in response to the changing trend in terms of illnesses as per the recently released report by Centers for Disease Control whereby they argued that it is likely that at least six Americans will suffer foodborne illness per year and also that approximately 128,000 Americans that are hospitalized as a result of food borne diseases, 3000 are likely to die.
• Costs in the treatment of food borne diseases in Florida are likely to rise by $14 million for 14 disease-causing pathogens. As a result of these releases, the industry of poultry and meat is said to lose approximately over $ 500 million due to the recall of their imported products as a result of not meeting the required provisions by the FDA.
Rules and regulations on Red Meat Industries by FDA, and FSMA
Some of the key highlights of this new implemented Act include the following:
• Fair Packaging and Labeling Act and Federal Food Drug and Cosmetic Act (FFDCA). These regulations required a standard labeling system.
• Providing better penalties as well as including criminal sanctions for any individual or company that intentionally puts products that are our fare for consumption in the market, as well as increasing enforcement action for any bad actors that have a continuous history of failures in ensuring food safety.
• Improving notifications to the consumers for recalls of products that are contaminated, providing a safeguard of the borders so that unsafe food or ant adulterated foreign poultry and meat can be prevented from entering the country by ensuring that there is regular audits and inspections by the Food Safety and Inspection Service, increase the consideration given to occupational safety and health so as to make sure that there is a safe and sustainable environment within which products can be produced, inspected as well as passed for the sake of safety and ensuring that the public is getting quality products. The final provision of the Act is to ensure that there is an increased emphasis on prevention in the whole food safety system also including on substances such as chemical residues, pathogens, and potential contamination.
• This quick decision was made because of the long awaited updates from USDA's food safety regulations, which were never formulated, be since the year 1906.
• Ensuring that there are uniform standards for the retail food so as to ensure compliance as well as reduce complexity, remove superfluous processes for establishing food criteria,
• Reduces risks within establishments of foods. To protect consumers from illness caused by consumption of contaminated food and finally create a more standardized approach to food establishment audits and inspections.
Cite this page
FDA Regulations, Food Safety Essay Sample. (2018, Jan 26). Retrieved from https://speedypaper.com/essays/fda-regulations
Request Removal
If you are the original author of this essay and no longer wish to have it published on the SpeedyPaper website, please click below to request its removal: