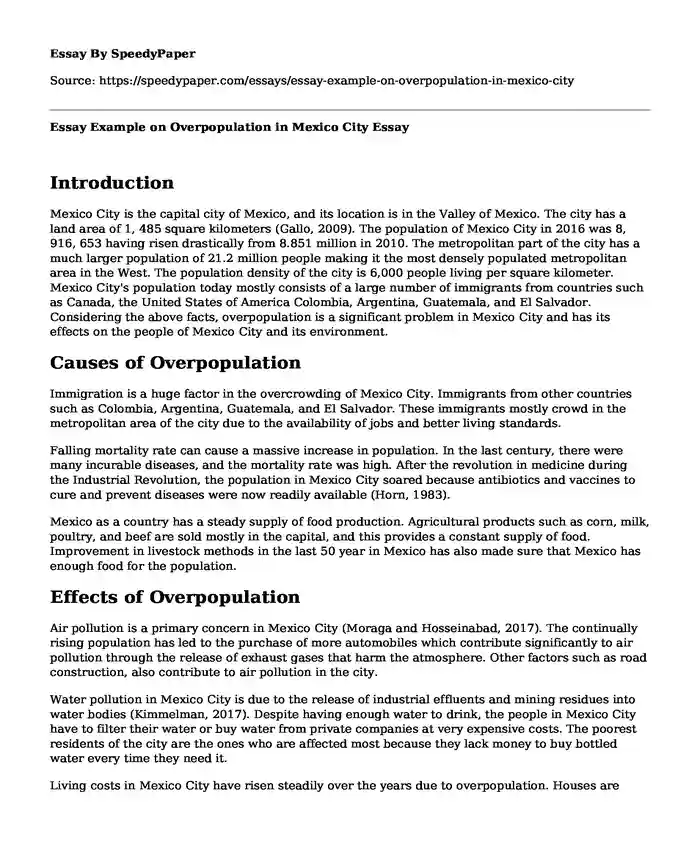 Introduction
Mexico City is the capital city of Mexico, and its location is in the Valley of Mexico. The city has a land area of 1, 485 square kilometers (Gallo, 2009). The population of Mexico City in 2016 was 8, 916, 653 having risen drastically from 8.851 million in 2010. The metropolitan part of the city has a much larger population of 21.2 million people making it the most densely populated metropolitan area in the West. The population density of the city is 6,000 people living per square kilometer. Mexico City's population today mostly consists of a large number of immigrants from countries such as Canada, the United States of America Colombia, Argentina, Guatemala, and El Salvador. Considering the above facts, overpopulation is a significant problem in Mexico City and has its effects on the people of Mexico City and its environment.
Causes of Overpopulation
Immigration is a huge factor in the overcrowding of Mexico City. Immigrants from other countries such as Colombia, Argentina, Guatemala, and El Salvador. These immigrants mostly crowd in the metropolitan area of the city due to the availability of jobs and better living standards.
Falling mortality rate can cause a massive increase in population. In the last century, there were many incurable diseases, and the mortality rate was high. After the revolution in medicine during the Industrial Revolution, the population in Mexico City soared because antibiotics and vaccines to cure and prevent diseases were now readily available (Horn, 1983).
Mexico as a country has a steady supply of food production. Agricultural products such as corn, milk, poultry, and beef are sold mostly in the capital, and this provides a constant supply of food. Improvement in livestock methods in the last 50 year in Mexico has also made sure that Mexico has enough food for the population.
Effects of Overpopulation
Air pollution is a primary concern in Mexico City (Moraga and Hosseinabad, 2017). The continually rising population has led to the purchase of more automobiles which contribute significantly to air pollution through the release of exhaust gases that harm the atmosphere. Other factors such as road construction, also contribute to air pollution in the city.
Water pollution in Mexico City is due to the release of industrial effluents and mining residues into water bodies (Kimmelman, 2017). Despite having enough water to drink, the people in Mexico City have to filter their water or buy water from private companies at very expensive costs. The poorest residents of the city are the ones who are affected most because they lack money to buy bottled water every time they need it.
Living costs in Mexico City have risen steadily over the years due to overpopulation. Houses are expensive to live in and maintain, and the fact that there is overcrowding adds to the costs of living
Most immigrants living in Mexico City are jobless (Stavrides, 2017). There are too many workers for little job vacancies. This leads to crime and rebellions against the administration in the city.
Mexico City has a lot of smog in the atmosphere (Rappengluck et al., 2018). This is caused by cold air from the mountains sitting on top of the warmer air in the city which prevents the city's air pollution from escaping. This leads to respiratory health problems when people breathe in the polluted air.
Measures Taken to Solve the Problem of Overpopulation
The government of Mexico should work to put in place stricter immigration laws to reduce the number of immigrants pouring in into the country and settling in Mexico City.
The government should also establish programs that provide work for immigrants in rural areas to reduce the population in Mexico City. Programs that offer jobs in the agricultural sector
Conclusion
Mexico City is a clear example that overpopulation is a real problem that needs to be addressed and solved permanently, for the safety of all the people on earth.
References
Gallo, R. (Ed.). (2009). The Mexico City Reader. Univ of Wisconsin Press.
Horn, J. J. (1983). The Mexican revolution and health care, or the health of the Mexican revolution. Latin American Perspectives, 10(4), 24-39.
Kimmelman, M. (2017). Mexico City, parched and sinking, faces a water crisis. The New York Times, 17. http://www.globalwarming-sowhat.com/mexico-city-parched-and.rtf
Moraga, R., & Rabiei Hosseinabad, E. (2017). A System Dynamics Approach in Air Pollution Mitigation of Metropolitan Areas with Sustainable Development Perspective: A Case Study of Mexico City. Journal of Applied Environmental and Biological Sciences, 7(12), 164-174. https://www.researchgate.net/profile/Emad_Rabiei_Hosseinabad/publication/321698370_A_System_Dynamics_Approach_in_Air_Pollution_Mitigation_of_Metropolitan_Areas_with_Sustainable_Development_Perspective_A_Case_Study_of_Mexico_City/links/5a2b841645851552ae7a9aa6/A-System-Dynamics-Approach-in-Air-Pollution-Mitigation-of-Metropolitan-Areas-with-Sustainable-Development-Perspective-A-Case-Study-of-Mexico-City.pdf
Osornio-Vargas, A. R., Bonner, J. C., Alfaro-Moreno, E., Martinez, L., Garcia-Cuellar, C., Ponce-de-Leon Rosales, S., ... & Rosas, I. (2003). Proinflammatory and cytotoxic effects of Mexico City air pollution particulate matter in vitro are dependent on particle size and composition. Environmental health perspectives, 111(10), 1289-1293. https://ehp.niehs.nih.gov/doi/full/10.1289/ehp.5913
Rappengluck, B., Osibanjo, O., Retama, A., & Jaimes-Palomera, M. (2018, April). The severe ozone smog episode in Mexico-City in March 2016. In EGU General Assembly Conference Abstracts (Vol. 20, p. 18493).
Stavrides, S. (2017). Urban Commoning in Autonomous Neighborhoods of Mexico City. In RC21 Conference, Leeds.
Cite this page
Essay Example on Overpopulation in Mexico City. (2022, Dec 26). Retrieved from https://speedypaper.com/essays/essay-example-on-overpopulation-in-mexico-city
Request Removal
If you are the original author of this essay and no longer wish to have it published on the SpeedyPaper website, please click below to request its removal: