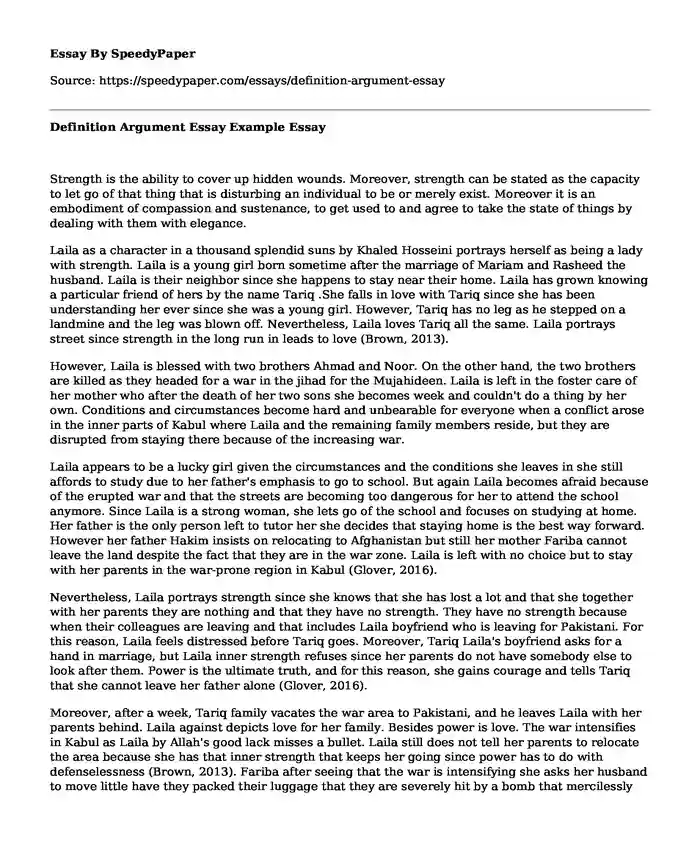 | | |
| --- | --- |
| Type of paper:  | Essay |
| Categories: | Personality |
| Pages: | 5 |
| Wordcount: | 1239 words |
Strength is the ability to cover up hidden wounds. Moreover, strength can be stated as the capacity to let go of that thing that is disturbing an individual to be or merely exist. Moreover it is an embodiment of compassion and sustenance, to get used to and agree to take the state of things by dealing with them with elegance.
Laila as a character in a thousand splendid suns by Khaled Hosseini portrays herself as being a lady with strength. Laila is a young girl born sometime after the marriage of Mariam and Rasheed the husband. Laila is their neighbor since she happens to stay near their home. Laila has grown knowing a particular friend of hers by the name Tariq .She falls in love with Tariq since she has been understanding her ever since she was a young girl. However, Tariq has no leg as he stepped on a landmine and the leg was blown off. Nevertheless, Laila loves Tariq all the same. Laila portrays street since strength in the long run in leads to love (Brown, 2013).
However, Laila is blessed with two brothers Ahmad and Noor. On the other hand, the two brothers are killed as they headed for a war in the jihad for the Mujahideen. Laila is left in the foster care of her mother who after the death of her two sons she becomes week and couldn't do a thing by her own. Conditions and circumstances become hard and unbearable for everyone when a conflict arose in the inner parts of Kabul where Laila and the remaining family members reside, but they are disrupted from staying there because of the increasing war.
Laila appears to be a lucky girl given the circumstances and the conditions she leaves in she still affords to study due to her father's emphasis to go to school. But again Laila becomes afraid because of the erupted war and that the streets are becoming too dangerous for her to attend the school anymore. Since Laila is a strong woman, she lets go of the school and focuses on studying at home. Her father is the only person left to tutor her she decides that staying home is the best way forward. However her father Hakim insists on relocating to Afghanistan but still her mother Fariba cannot leave the land despite the fact that they are in the war zone. Laila is left with no choice but to stay with her parents in the war-prone region in Kabul (Glover, 2016).
Nevertheless, Laila portrays strength since she knows that she has lost a lot and that she together with her parents they are nothing and that they have no strength. They have no strength because when their colleagues are leaving and that includes Laila boyfriend who is leaving for Pakistani. For this reason, Laila feels distressed before Tariq goes. Moreover, Tariq Laila's boyfriend asks for a hand in marriage, but Laila inner strength refuses since her parents do not have somebody else to look after them. Power is the ultimate truth, and for this reason, she gains courage and tells Tariq that she cannot leave her father alone (Glover, 2016).
Moreover, after a week, Tariq family vacates the war area to Pakistani, and he leaves Laila with her parents behind. Laila against depicts love for her family. Besides power is love. The war intensifies in Kabul as Laila by Allah's good lack misses a bullet. Laila still does not tell her parents to relocate the area because she has that inner strength that keeps her going since power has to do with defenselessness (Brown, 2013). Fariba after seeing that the war is intensifying she asks her husband to move little have they packed their luggage that they are severely hit by a bomb that mercilessly kills Laila's parents, and she is left with minor injuries. Laila receives terrible news that Tariq died and she feels devastated once more. Tariq and Laila had got intimate before he went and for this reason, Laila was pregnant. She agrees to be married to Rashid canceling the fact that she is pregnant (Brown, 2013).
More so, Rasheed wants a baby boy, but Laila gives him a girl. Rasheed rejects the baby and demands for sex, but Laila refuses to create enmity between Mariam and Rasheed as he tries to beat her but Laila blocks. Hunger hits Laila, and it forces her to send her girl Aziza to an orphanage. She gives birth to Zalmai a boy child who adores his father and often reports her when she sees Tariq who had allegedly been falsely killed by Rashid. Further, Laila receives blows from her husband, but Mariam kills the husband. Laila is a strong woman she has undergone a lot of hardship, but there is always light at the end of the tunnel. She meets her first lover, and they settle together, and she gets pregnant in Kabul their mother land.
Oppression
This is a situation whereby the individual is governed unfairly and cruelly. Also, they are prevented from having opportunities and freedom.
Mariam as a character in a thousand splendid sun portrays various way she is mishandled and used as an object. Mariam mother was chased away to the shacks by Jalil, her father whom her mother used to work for in a cinema hall. Jalil away from Mariam for a week and comes to visit them once, with no food. Mariam waits for Jalil to take her to the cinema, but jail does not turn up. As a result, Mariam sleeps in the cold. After she is driven home by Jalil driver, she finds her mother has died by hanging herself (Hodge, 2014 ) Jamil's wife tells him that Mariam is to be married by a shoe shiner, but Mariam refuses but to no avail. Mariam gets pregnant several times, but she does not keep them due to health problems. For this reason Rasheed the husband becomes abusive by beating and abusing her (Hodge, 2014 ).
However, after they have settled in Kabul Rasheed continued to be violent as he mercilessly beat her up. Moreover, due to the continuous war that was taking place, Mariam was not spared either since she was harassed by the militants and frequent bomb attacks that scared her. She had initially refused to get married to Rasheed, and it is because of this marriage that she ended up in Kabul (Chatelain, 2015).
Mariam barely got no food to eat since the husband was not fending enough besides there came a time when Rasheed married Laila, and they bore a baby boy. Rasheed could only fend for his only son. Besides, they were living on debts. Mariam is later on apprehended after trying to defend herself and killed Rasheed. However, the judge sentenced her to death and publicly seized. Mariam plays an oppression scenario well of what Muslim women undergo and how their husbands do not value them leave alone the jurisdiction and the legislature (Chatelain, 2015).
References
Brown, S. (2013). She Was Fine When She Left Here: Polysemy, Patriarchy, and Personification in BrandTitanic's Birthplace. Psychology & Marketing, 31(1), 93-102. doi:10.1002/mar.20678
Chatelain, M. (2015). Conclusion. South Side Girls, 167-173. doi:10.1215/9780822375708-006
Glover, M. (2016). A Professional Path That Leads ... Home. ASHA Leader, 21(8), 88. doi:10.1044/leader.fplp.21082016.88
Hodge, P. (2014). 'Governed freedom' in Oceania: AusAID, subjectivation and the practice of critique in studies of governmentality. Asia Pacific Viewpoint, 55(3), 292-305. doi:10.1111/apv.12070
Cite this page
Definition Argument Essay Example. (2022, Apr 27). Retrieved from https://speedypaper.com/essays/definition-argument-essay
Request Removal
If you are the original author of this essay and no longer wish to have it published on the SpeedyPaper website, please click below to request its removal: