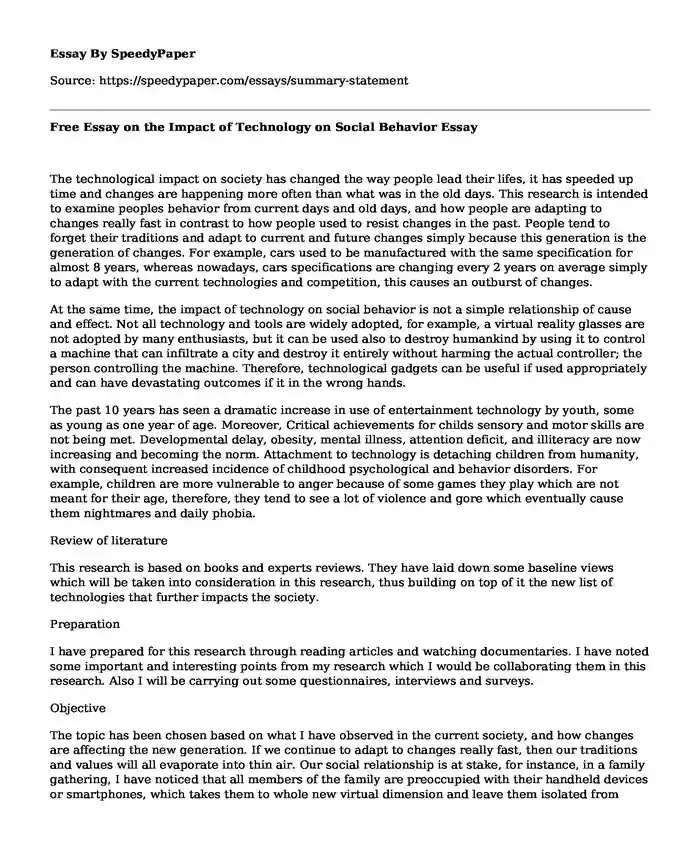 The technological impact on society has changed the way people lead their lifes, it has speeded up time and changes are happening more often than what was in the old days. This research is intended to examine peoples behavior from current days and old days, and how people are adapting to changes really fast in contrast to how people used to resist changes in the past. People tend to forget their traditions and adapt to current and future changes simply because this generation is the generation of changes. For example, cars used to be manufactured with the same specification for almost 8 years, whereas nowadays, cars specifications are changing every 2 years on average simply to adapt with the current technologies and competition, this causes an outburst of changes.
At the same time, the impact of technology on social behavior is not a simple relationship of cause and effect. Not all technology and tools are widely adopted, for example, a virtual reality glasses are not adopted by many enthusiasts, but it can be used also to destroy humankind by using it to control a machine that can infiltrate a city and destroy it entirely without harming the actual controller; the person controlling the machine. Therefore, technological gadgets can be useful if used appropriately and can have devastating outcomes if it in the wrong hands.
The past 10 years has seen a dramatic increase in use of entertainment technology by youth, some as young as one year of age. Moreover, Critical achievements for childs sensory and motor skills are not being met. Developmental delay, obesity, mental illness, attention deficit, and illiteracy are now increasing and becoming the norm. Attachment to technology is detaching children from humanity, with consequent increased incidence of childhood psychological and behavior disorders. For example, children are more vulnerable to anger because of some games they play which are not meant for their age, therefore, they tend to see a lot of violence and gore which eventually cause them nightmares and daily phobia.
Review of literature
This research is based on books and experts reviews. They have laid down some baseline views which will be taken into consideration in this research, thus building on top of it the new list of technologies that further impacts the society.
Preparation
I have prepared for this research through reading articles and watching documentaries. I have noted some important and interesting points from my research which I would be collaborating them in this research. Also I will be carrying out some questionnaires, interviews and surveys.
Objective
The topic has been chosen based on what I have observed in the current society, and how changes are affecting the new generation. If we continue to adapt to changes really fast, then our traditions and values will all evaporate into thin air. Our social relationship is at stake, for instance, in a family gathering, I have noticed that all members of the family are preoccupied with their handheld devices or smartphones, which takes them to whole new virtual dimension and leave them isolated from society.
Outline
The paper will focus on the following:
Introduction - this is where the discussion will center on the basics of the changes and the impact that has been seen in the society. In this section, the basics of technology will be done and focused on. It will highlight the issues that have been covered in the society.
Time table
The research will be done through the following timetable
Item Duration Start End
Topic discussion with supervisor 1 week April 18 April 22
Literature review 2 weeks April 25 May 9
Methodology 1 week May 10 May 14
Compilation of the paper 2 weeks May 16 May 30
Bibliography
Bess, M. (2003). The light-green society: Ecology and technological modernity in France, 1960-2000. University of Chicago Press.
Crowley, D., & Heyer, P. (2015). Communication in history: Technology, culture, society. Routledge.
Feenberg, A., & Callon, M. (2010). Between reason and experience: Essays in technology and modernity. MIT Press.
Johnson, B. B., & Covello, V. T. (Eds.). (2012). The social and cultural construction of risk: Essays on risk selection and perception (Vol. 3). Springer Science & Business Media.
Lastra, J. (2000). Sound technology and the American cinema: Perception, representation, modernity. Columbia University Press.
Matei, S. A. (2005). From counterculture to cyberculture: Virtual community discourse and the dilemma of modernity. Journal of ComputerMediated Communication, 10(3), 00-00.
Morley, D. (2006). Media, modernity and technology: The geography of the new. Routledge.
Reich, Z. (2013). The impact of technology on news reporting a longitudinal perspective. Journalism & Mass Communication Quarterly, 90(3), 417-434.
Rieger, B. (2005). Technology and the Culture of Modernity in Britain and Germany, 1890-1945. Cambridge University Press.
Siemens, G. (2014). Connectivism: A learning theory for the digital age.
Wyatt, S. (2008). Technological determinism is dead; long live technological determinism. The handbook of science and technology studies, 165-180.
Personal Information
Name : Nuha Taiseer Khader
Marital status : Married
Nationality : Jordan
Age : 27
Place of Birth : Sharjah
mobile 050 - 755 - 3169
Languages
English -Read, Write & speak fluently (excellent communication skills)
Arabic (Mother Tongue)-Read, Write & Speak
Objective
Im an ambitious and focused person, Im able to use my own initiative to comfortably work in a busy office environment. Im able to ensure that an office runs smoothly by combining hard work and dedication with a sense of humor and fun. Right now Im looking for suitable position with a company that offers a friendly and supportive environment and an excellent professional development opportunity.
Academic Background
Hamdan Bin Mohammed Smart University HBMSU (2013 - Present)
Business Quality Management Under-Graduate.
National Charity School (1995 - 2004)
Graduate as a high school Diploma.
Skills & Applications
Leadership skills; ability to convince and influence a designated group.
Able to work under constant pressure.
Accurately typing information into computer databases
Strong written and oral communication skills
experience with MS Office (Word, Excel, PowerPoint)
Professional telephone manners.
Excellent grammatical and spelling skills.
Reliable and punctual, will always turn up to work on time.
High level of focus and attention to detail and accuracy in a repetitive environment.
Cite this page
Free Essay on the Impact of Technology on Social Behavior. (2019, Sep 06). Retrieved from https://speedypaper.com/essays/summary-statement
Request Removal
If you are the original author of this essay and no longer wish to have it published on the SpeedyPaper website, please click below to request its removal: