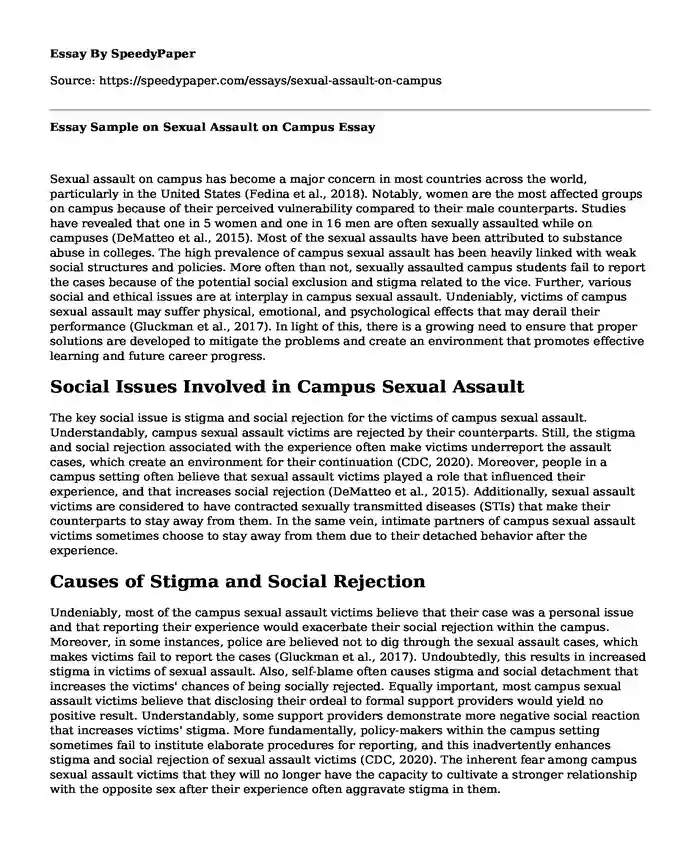 Sexual assault on campus has become a major concern in most countries across the world, particularly in the United States (Fedina et al., 2018). Notably, women are the most affected groups on campus because of their perceived vulnerability compared to their male counterparts. Studies have revealed that one in 5 women and one in 16 men are often sexually assaulted while on campuses (DeMatteo et al., 2015). Most of the sexual assaults have been attributed to substance abuse in colleges. The high prevalence of campus sexual assault has been heavily linked with weak social structures and policies. More often than not, sexually assaulted campus students fail to report the cases because of the potential social exclusion and stigma related to the vice. Further, various social and ethical issues are at interplay in campus sexual assault. Undeniably, victims of campus sexual assault may suffer physical, emotional, and psychological effects that may derail their performance (Gluckman et al., 2017). In light of this, there is a growing need to ensure that proper solutions are developed to mitigate the problems and create an environment that promotes effective learning and future career progress.
Social Issues Involved in Campus Sexual Assault
The key social issue is stigma and social rejection for the victims of campus sexual assault. Understandably, campus sexual assault victims are rejected by their counterparts. Still, the stigma and social rejection associated with the experience often make victims underreport the assault cases, which create an environment for their continuation (CDC, 2020). Moreover, people in a campus setting often believe that sexual assault victims played a role that influenced their experience, and that increases social rejection (DeMatteo et al., 2015). Additionally, sexual assault victims are considered to have contracted sexually transmitted diseases (STIs) that make their counterparts to stay away from them. In the same vein, intimate partners of campus sexual assault victims sometimes choose to stay away from them due to their detached behavior after the experience.
Causes of Stigma and Social Rejection
Undeniably, most of the campus sexual assault victims believe that their case was a personal issue and that reporting their experience would exacerbate their social rejection within the campus. Moreover, in some instances, police are believed not to dig through the sexual assault cases, which makes victims fail to report the cases (Gluckman et al., 2017). Undoubtedly, this results in increased stigma in victims of sexual assault. Also, self-blame often causes stigma and social detachment that increases the victims' chances of being socially rejected. Equally important, most campus sexual assault victims believe that disclosing their ordeal to formal support providers would yield no positive result. Understandably, some support providers demonstrate more negative social reaction that increases victims' stigma. More fundamentally, policy-makers within the campus setting sometimes fail to institute elaborate procedures for reporting, and this inadvertently enhances stigma and social rejection of sexual assault victims (CDC, 2020). The inherent fear among campus sexual assault victims that they will no longer have the capacity to cultivate a stronger relationship with the opposite sex after their experience often aggravate stigma in them.
Ethical Issues Involved in Campus Sexual Assault
The ethical issue associated with campus sexual assault is establishing policies and procedures that will ensure that perpetrators are apprehended, and victims are subjected to programs that will alleviate adverse effects (Fedina et al., 2018). It should be noted that there is a high rise of sexual assault cases within campus due to a lack of ethical considerations geared towards eliminating the vice. Ethical case of sexual assault is further grounded on victims' failure to report the cases to provide an environment where they can be assisted by the underlying negative effects (Roseberg, 2018). Moreover, campuses often fail to institute effective social norms and practices that prevent the vice from occurring.
Causes of the Ethical Issue
It is worth noting that the causes of the ethical issue are hinged on a lack of proactive measures that will guide the formulation of policies and laws that discourage sexual assault within and without campuses. Additionally, the fear that cases on sexual assault will not yield desirable results often plays to the increase of the ethical issue as the victims will have less incentive to seek legal redress. More significantly, the inhuman nature of perpetrators of campus sexual assault always adds to ethical problems since they hardly value the sexual integrity of their victims (DeMatteo et al., 2015). Moreover, campuses sometimes fail to impose strict measures regarding a sexual relationship, and this subsequently results in loose morals that promote sexual assault in their institutions of learning. In the same vein, most campuses have not created programs that teach students about the adverse effects of sexual assaults and the importance of reporting. Consequently, this exacerbates the prevalence of sexual assault cases in learning institutions. Most of the sexual assault incidents are perpetrated by intimate partners and college mates (Gluckman et al., 2017). The moral decadence depicted by most students often contributes significantly to the rise of campus sexual assault cases.
Solutions to Social and Ethical Issues
Concerning stigma and social rejection, which is a social issue, every individual within the campus should ensure that victims are embraced and reintegrated into the social setting to curb the negative feeling. Also, sexual assault should play a key role in reporting cases of sexual assault to eliminate the stigma that will undoubtedly affect their performance. More importantly, support providers should desist from the negative social reactions when victims approach them, limiting stigma. The campus fraternity and the community, in general, should show empathy to the victims as that will assist them in redefining their lives. Equally important, campuses should create social programs to address the feeling of rejection among sexual assault victims. Still, students should provide adequate information on their location to alleviate the problem. Desisting from self-blame will be integral for victims because it will guarantee non-aggravation of stigma after their ordeal. Sexual assault victims should seek counseling from on-site counselors to help them regain a positive view of their lives in general.
Regarding ethical issues, some of the proposed solutions will be to develop adequate and comprehensive measures to holistically curb the problem. Moreover, victims should avoid the misconception that reporting cases will yield no positive result, and be at the forefront in seeking solutions through relevant channels. Additionally, sexual assault victims should press charges on perpetrators irrespective of their relationship within the campus. Campuses should hire security guards to ensure that ethical standards are maintained to reduce risks of sexual assault. The development of educational programs will be instrumental in imparting students and other stakeholders with knowledge on the adverse effects of sexual assault. Still, campuses and the community, in general, should promote the adoption of social norms and ethical practices to mitigate campus sexual assault. More fundamentally, students should be encouraged to explore various online resources relating to campus sexual assault to educate them on the importance of observing moral standards.
Conclusion
It is worth noting that campus sexual assault often impedes effective learning for students. The problem of sexual assault is always increased by the failure of victims to report their ordeal to the relevant authorities. Also, people in a leadership position on campuses have failed to create intervention measures on the problem to provide a better learning environment. Professional-led programs should be rolled out on campuses to influence students' behavioral patterns and change their belief about infringing on victims' sexual integrity. Moreover, since women are the main target of sexual assault, they should be empowered and provided with modern digital gadgets that they can use to alert relevant authority when under threat of sexual assault. Still, establishing respectful social interaction will help cultivate a better relationship that discourages the commission of campus sexual assault. More importantly, campuses should collaborate with other reputable bodies to research effective ways to assist in the prevention of sexual assault. Equally important, prevention measures should consider equity issues when dealing with campus sexual assault.
References
DeMatteo, D., Galloway, M., Arnold, S., & Patel, U. (2015). Sexual assault on college campuses: A 50-state survey of criminal sexual assault statutes and their relevance to campus sexual assault. Psychology, Public Policy, and Law, 21(3), 227.
https://psycnet.apa.org/fulltext/2015-32413-001.htmlCenters for Disease Control and Prevention (CDC), (2020). Sexual Violence is Preventable. CDC
https://www.cdc.gov/injury/features/sexual-violence/index.htmlFedina, L., Holmes, J. L., & Backes, B. L. (2018). Campus sexual assault: A systematic review of prevalence research from 2000 to 2015. Trauma, violence, & abuse, 19(1), 76-93.
https://journals.sagepub.com/doi/full/10.1177/1524838016631129

Gluckman, N., Read, B., Mangan, K., Quilantan, B. (2017). Sexual Harassment and Assault in Higher Ed: What's Happened Since Weistein. The Chronicle of Higher Education.
https://www.chronicle.com/article/Sexual-HarassmentAssault/241757Roseberg, T. (2018). Equipping Women to Stop Campus Rape. The New York Times.
https://www.nytimes.com/2018/05/30/opinion/women-stop-campus-rape.html
Cite this page
Essay Sample on Sexual Assault on Campus. (2023, Aug 29). Retrieved from https://speedypaper.com/essays/sexual-assault-on-campus
Request Removal
If you are the original author of this essay and no longer wish to have it published on the SpeedyPaper website, please click below to request its removal: