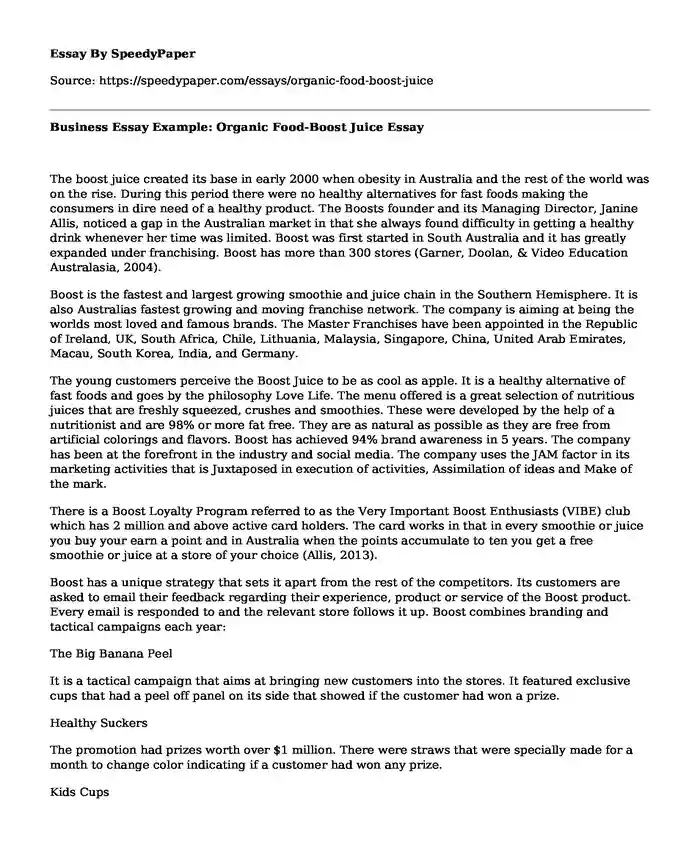 The boost juice created its base in early 2000 when obesity in Australia and the rest of the world was on the rise. During this period there were no healthy alternatives for fast foods making the consumers in dire need of a healthy product. The Boosts founder and its Managing Director, Janine Allis, noticed a gap in the Australian market in that she always found difficulty in getting a healthy drink whenever her time was limited. Boost was first started in South Australia and it has greatly expanded under franchising. Boost has more than 300 stores (Garner, Doolan, & Video Education Australasia, 2004).
Boost is the fastest and largest growing smoothie and juice chain in the Southern Hemisphere. It is also Australias fastest growing and moving franchise network. The company is aiming at being the worlds most loved and famous brands. The Master Franchises have been appointed in the Republic of Ireland, UK, South Africa, Chile, Lithuania, Malaysia, Singapore, China, United Arab Emirates, Macau, South Korea, India, and Germany.
The young customers perceive the Boost Juice to be as cool as apple. It is a healthy alternative of fast foods and goes by the philosophy Love Life. The menu offered is a great selection of nutritious juices that are freshly squeezed, crushes and smoothies. These were developed by the help of a nutritionist and are 98% or more fat free. They are as natural as possible as they are free from artificial colorings and flavors. Boost has achieved 94% brand awareness in 5 years. The company has been at the forefront in the industry and social media. The company uses the JAM factor in its marketing activities that is Juxtaposed in execution of activities, Assimilation of ideas and Make of the mark.
There is a Boost Loyalty Program referred to as the Very Important Boost Enthusiasts (VIBE) club which has 2 million and above active card holders. The card works in that in every smoothie or juice you buy your earn a point and in Australia when the points accumulate to ten you get a free smoothie or juice at a store of your choice (Allis, 2013).
Boost has a unique strategy that sets it apart from the rest of the competitors. Its customers are asked to email their feedback regarding their experience, product or service of the Boost product. Every email is responded to and the relevant store follows it up. Boost combines branding and tactical campaigns each year:
The Big Banana Peel
It is a tactical campaign that aims at bringing new customers into the stores. It featured exclusive cups that had a peel off panel on its side that showed if the customer had won a prize.
Healthy Suckers
The promotion had prizes worth over $1 million. There were straws that were specially made for a month to change color indicating if a customer had won any prize.
Kids Cups
This promotion has been used by Boost as a regular fixture in its marketing calendar. The most recent campaigns have been Toy Story 3, Ben 10, Mr Men, Superheroes and Dora the Explorer.
Whats Ya Name GameThe promotion ran for three weeks whereby two random names were announced every day and any person with the name was entitled to get a free smoothie or juice.
The international uniformity has a number of advantages. This is because in whichever part of the world you might be you will get the same product with the same level of quality. The product is undifferentiated regardless of the location. The company has a core product range of a total of 6 smoothies because local markets tend to produce products that suit their local needs.
There is always a new level of excitement every time a new Boost Juice Bar is opened. The venturing out is specifically done in order to get a Boost. This is because the offering is totally unique. Boosts flexibility and ability to fit in small areas are its greatest benefits. The stalls range from 14sqm(150 sq ft) to 100sqm (1070 sq ft).
The designs of the different kiosks are made in such a way that they do not interrupt other tenants sight lines as well as not to interfere with the normal centers flow of traffic. In marketing and design Boost is the globals brand leader. There is a level of standard that the company has which other retailers try to achieve. In most kiosk design Boost is incorporated and featured by landlord brochures (Menzies & Orr, 2014).
There is a level of atmosphere, fun and color created by Boost in a shop, strip or shopping center. The fun with fruit integration brings about freshness and fun in the stores as it uses bright and vibrant colors.
The international marketing in Boost knows different customers have different customs, values media habits and purchasing power. They also understand the relevance of a consistent global branding. The persuasion of the messages in the home country is as strong as in other countries.
The work of Boost and partners in other regions is combined to determine on how far to localize or adapt the marketing mix for every individual market. However hard this element might be it is really important whenever there is a launch in a foreign market. There is a need of maintaining the brands original integrity.
The Boost Brands core is fun, love and health for life which needs to remain as focused, simple and pure as possible. The whole Boost experience starts when a customer enters a store which is usually a combination of a great product that is served by energetic and positive people who serve you with utmost politeness. You will be the focus of the service enough for them to refer to you by your first name. This is done in a colorful and bright environment and there is usually good soothing music to match it all (Menzies & Orr, 2014).
References
Allis, J. (2013). The secrets of my success: The story of boost juice, juicy bits and all. Milton, Qld: Wiley.
Garner, S., Doolan, K., & Video Education Australasia. (2004). Boost Juice: A franchise case study. Bendigo, Vic: Video Education Australasia.
Menzies, J. L., & Orr, S. C. (2014). Internationalization of Boost Juice to Malaysia. Asian Case Research Journal, 18(01), 175-197. doi:10.1142/s0218927514500072
Menzies, J. L., & Orr, S. C. (2014). Internationalization of Boost Juice to Malaysia. Asian Case Research Journal, 18(01), 175-197. doi:10.1142/s0218927514500072
Cite this page
Business Essay Example: Organic Food-Boost Juice. (2019, Oct 31). Retrieved from https://speedypaper.com/essays/organic-food-boost-juice
Request Removal
If you are the original author of this essay and no longer wish to have it published on the SpeedyPaper website, please click below to request its removal: