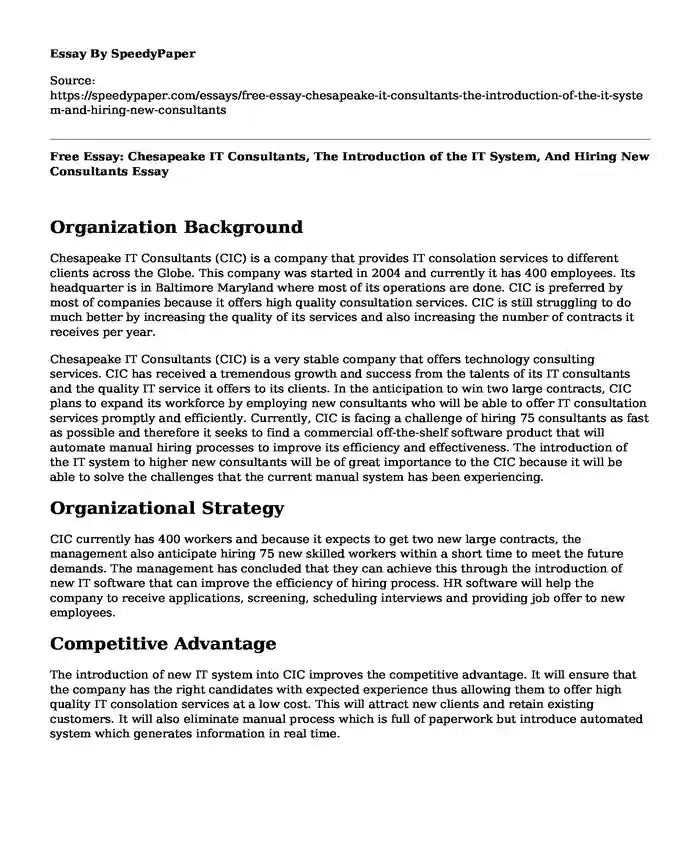 Organization Background
Chesapeake IT Consultants (CIC) is a company that provides IT consolation services to different clients across the Globe. This company was started in 2004 and currently it has 400 employees. Its headquarter is in Baltimore Maryland where most of its operations are done. CIC is preferred by most of companies because it offers high quality consultation services. CIC is still struggling to do much better by increasing the quality of its services and also increasing the number of contracts it receives per year.
Chesapeake IT Consultants (CIC) is a very stable company that offers technology consulting services. CIC has received a tremendous growth and success from the talents of its IT consultants and the quality IT service it offers to its clients. In the anticipation to win two large contracts, CIC plans to expand its workforce by employing new consultants who will be able to offer IT consultation services promptly and efficiently. Currently, CIC is facing a challenge of hiring 75 consultants as fast as possible and therefore it seeks to find a commercial off-the-shelf software product that will automate manual hiring processes to improve its efficiency and effectiveness. The introduction of the IT system to higher new consultants will be of great importance to the CIC because it will be able to solve the challenges that the current manual system has been experiencing.
Organizational Strategy
CIC currently has 400 workers and because it expects to get two new large contracts, the management also anticipate hiring 75 new skilled workers within a short time to meet the future demands. The management has concluded that they can achieve this through the introduction of new IT software that can improve the efficiency of hiring process. HR software will help the company to receive applications, screening, scheduling interviews and providing job offer to new employees.
Competitive Advantage
The introduction of new IT system into CIC improves the competitive advantage. It will ensure that the company has the right candidates with expected experience thus allowing them to offer high quality IT consolation services at a low cost. This will attract new clients and retain existing customers. It will also eliminate manual process which is full of paperwork but introduce automated system which generates information in real time.
Outcomes
Strategic Goal
(from case study) Objective
(clear, measurable and time-bound) Explanation
(2-3 sentences)
Increase CIC Business Development by winning new contracts in the areas of IT Consulting Build a cadre of consultants internationally to provide remote research and analysis support to CIC's onsite teams in the U. S.
Increase international recruiting efforts and employ 5 research analysts in the next 12 months. The new hiring system would allow applicants from around the world to apply online, increasing the number of international applicants. It would enable the recruiters to carefully monitor the applications for these positions, identify the necessary research and analysis skills needed, and screen resumes for these key skills. Recruiters could quickly view the number of applicants and identify when additional recruiting efforts are needed to meet the objective.
Continue to increase CIC's ability to quickly provide high quality consultants to awarded contracts to best serve the clients' needs Increase CIC's competitive advantage in the IT consulting marketplace by increasing its reputation for having IT consultants who are highly skilled in leading edge technologies and innovative solutions for its clients
CIC's prime business objective is to provide its clients with the best IT solutions and technical support possible. provide a continuously high level of expertise Expertise to paying customers CIC must hire only the most qualified applicants for all projects current and future.
Strategic Goal/Objective 1:
The primary objective of CIC is to offer high quality IT solution to its clients. This can only be achieved through recruiting new staffs that has the capacity to meet a wide range of IT consultation services and technical support.
Strategic Goal/ Objective 2:
CIC also has an objective of generating high profit margin at the end of every financial year. It can only achieve this through the attraction of new clients and retaining the existing ones. This can only happen when it implement new IT system which is able to streamline the hiring process to recruit qualified workers that can offer best services within a short duration of time (Investopedia, 2016).
Strategic Goal/Objective 3:
Because there is high competition in technology, it must offer best quality tech and IT services in order to become a market leader. It can only achieve this when it has the capacity to deliver high quality services than all its competitors. This will increase customer loyalty and prevent them from switching to competitors (Amadeo, 2017).
Decision Making
The introduction of new IT system will ensure that the management of CIC makes decision in real time. It will help the management of CIC to make strategic decision by employing new IT to process data and evaluate employment data before selecting new employees.
Role Level Example of Possible Decision Supported by Hiring System.
Senior/Executive Managers
(Decisions made by the CEO and the CFO at CIC supported by the hiring system.) Executive CEO supports rapid growth in company by hiring additional talented staff to deliver services to clients.
CEO ensures reputation is upheld and dependent upon knowledgeable staff.
CFO ensures the right people are in place to fulfill the company's objective and consistent goals.
Implementing a tracking system of skills and certifications.
Middle Managers
(Decisions made by the Director of HR and the Manager of Recruiting supported by the hiring system.) Mid-Level Submitting resumes of applicants that match job descriptions to fulfill the HR need.
Screening applicants and identifying the most qualified candidates and finalizing a job offer.
Operational Managers
(Decisions made by the line managers in the organization who are hiring for their projects supported by the hiring system.) Low Route applications and resumes via interoffice mail to the department hiring manager and receive their feedback on the potential interviewees.
Scheduling of interviews based of interviewers and potential candidate's availability.
Gather feedback from the group and update each recruiter on the candidate's status.
Coordinate new hire paperwork with HR, payroll and Administrative Assistant.
Hiring Processes
CIC offer high quality IT consultation services in different countries. Currently it has grown significantly because of the nature of workers it has. Its employees have high proficiency in IT and this makes them to offer high quality services. For CIC to get new contracts it has to hire new workers that have the potential of meeting the demands of new clients. The main problem that CIC face is how to hire 75 workers in real time and therefore it has the obligation to buy commercial off the shelf software product that will increase the speed of hiring process. It will be of greater benefits to CIC because it is a solution to the current challenges that this company face (Dimitrios, Sakas, & Vlachos, 2013). It is necessary for CIC to change its hiring process from manual to IT supported hiring process. Below is the hiring process using IT system
The hiring process of CIC
As-is process Responsible CIC position To process. How the system will support the new process Business benefits of improved process
1.Recruiter receives an application from graduates through the post office Recruiter Receive application via online submission through CIC employment website and store in the application database Efficient submission process decreases the time needed to receive and begin processing applications. This will present a positive image to potential employees and help CIC complete for top IT talent
2. Screening applications which have been received in the database Recruiters Route applications and resumes via interoffice mail to the respective functional/hiring manager receive their feedback on who they would like to interview and who should be involved in the interviews Improves the quality of screening process of the applicant's applications to identify the candidate that has the right qualification and experience for the job. It also reduces the amount of time used to screen the applications
3. Scheduling interviews to allocate dates, resources and time for the interview Administrative assistant The interview dates, time, activities and resources are arranged by human resource managers Reduce scheduling time and also itemize all the activities required when conducting the interview within a short time.
4.Identifying the best-qualified applicants Hiring managers Process the application of the candidates using the IT software package to select the ideal candidates Increase the efficiency and effectiveness of the identification of the best-qualified candidates based on their applications.
5. Getting a job offer HR Coordinate the paperwork for the new hire with HR and Payroll to ensure everything is ready to go on the first day. HR contact the selected candidates via the phone or post the candidates on the CIC website The process increases the speed at which the selected candidates receive information about their new job offer. It also reduces the cost of communicating with the candidates who have received the job offer
Cite this page
Free Essay: Chesapeake IT Consultants, The Introduction of the IT System, And Hiring New Consultants. (2022, May 06). Retrieved from https://speedypaper.com/essays/free-essay-chesapeake-it-consultants-the-introduction-of-the-it-system-and-hiring-new-consultants
Request Removal
If you are the original author of this essay and no longer wish to have it published on the SpeedyPaper website, please click below to request its removal: