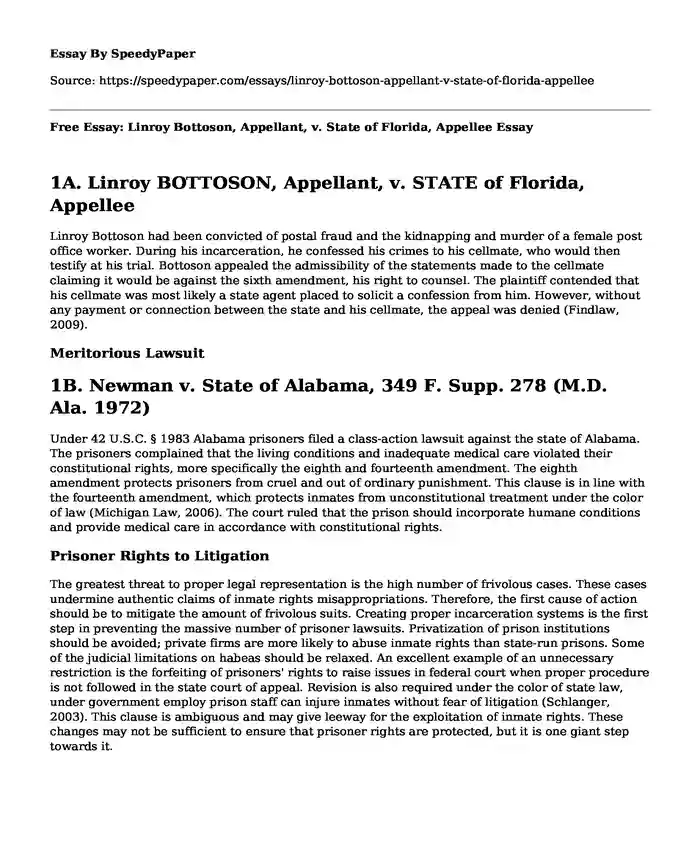 1A. Linroy BOTTOSON, Appellant, v. STATE of Florida, Appellee
Linroy Bottoson had been convicted of postal fraud and the kidnapping and murder of a female post office worker. During his incarceration, he confessed his crimes to his cellmate, who would then testify at his trial. Bottoson appealed the admissibility of the statements made to the cellmate claiming it would be against the sixth amendment, his right to counsel. The plaintiff contended that his cellmate was most likely a state agent placed to solicit a confession from him. However, without any payment or connection between the state and his cellmate, the appeal was denied (Findlaw, 2009).
Meritorious Lawsuit
1B. Newman v. State of Alabama, 349 F. Supp. 278 (M.D. Ala. 1972)
Under 42 U.S.C. § 1983 Alabama prisoners filed a class-action lawsuit against the state of Alabama. The prisoners complained that the living conditions and inadequate medical care violated their constitutional rights, more specifically the eighth and fourteenth amendment. The eighth amendment protects prisoners from cruel and out of ordinary punishment. This clause is in line with the fourteenth amendment, which protects inmates from unconstitutional treatment under the color of law (Michigan Law, 2006). The court ruled that the prison should incorporate humane conditions and provide medical care in accordance with constitutional rights.
Prisoner Rights to Litigation
The greatest threat to proper legal representation is the high number of frivolous cases. These cases undermine authentic claims of inmate rights misappropriations. Therefore, the first cause of action should be to mitigate the amount of frivolous suits. Creating proper incarceration systems is the first step in preventing the massive number of prisoner lawsuits. Privatization of prison institutions should be avoided; private firms are more likely to abuse inmate rights than state-run prisons. Some of the judicial limitations on habeas should be relaxed. An excellent example of an unnecessary restriction is the forfeiting of prisoners' rights to raise issues in federal court when proper procedure is not followed in the state court of appeal. Revision is also required under the color of state law, under government employ prison staff can injure inmates without fear of litigation (Schlanger, 2003). This clause is ambiguous and may give leeway for the exploitation of inmate rights. These changes may not be sufficient to ensure that prisoner rights are protected, but it is one giant step towards it.
References
Findlaw. (2009). FindLaw's Supreme Court of Florida case and opinions. Findlaw. https://caselaw.findlaw.com/fl-supreme-court/1194032.html.
Michigan Law. (2006). Newman v. Alabama: Civil Rights Litigation Clearinghouse. Newman v. Alabama | Civil Rights Litigation Clearinghouse. https://www.clearinghouse.net/detail.php?id=544.
Schlanger, M. (2003). Inmate litigation. Harvard Law Review, 116(6), 1555. https://doi.org/10.2307/1342709
Cite this page
Free Essay: Linroy Bottoson, Appellant, v. State of Florida, Appellee. (2023, Sep 03). Retrieved from https://speedypaper.com/essays/linroy-bottoson-appellant-v-state-of-florida-appellee
Request Removal
If you are the original author of this essay and no longer wish to have it published on the SpeedyPaper website, please click below to request its removal: