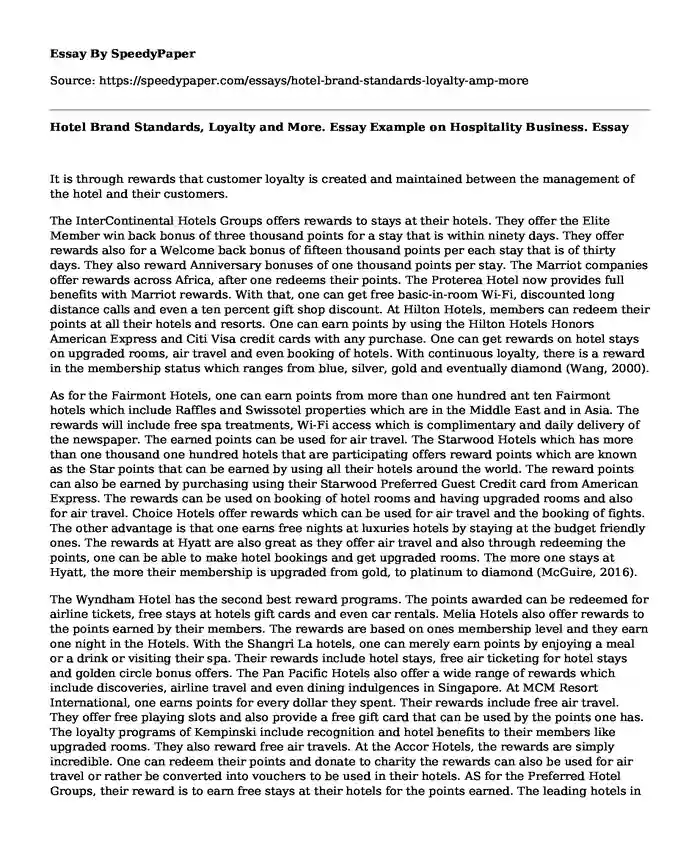 It is through rewards that customer loyalty is created and maintained between the management of the hotel and their customers.
The InterContinental Hotels Groups offers rewards to stays at their hotels. They offer the Elite Member win back bonus of three thousand points for a stay that is within ninety days. They offer rewards also for a Welcome back bonus of fifteen thousand points per each stay that is of thirty days. They also reward Anniversary bonuses of one thousand points per stay. The Marriot companies offer rewards across Africa, after one redeems their points. The Proterea Hotel now provides full benefits with Marriot rewards. With that, one can get free basic-in-room Wi-Fi, discounted long distance calls and even a ten percent gift shop discount. At Hilton Hotels, members can redeem their points at all their hotels and resorts. One can earn points by using the Hilton Hotels Honors American Express and Citi Visa credit cards with any purchase. One can get rewards on hotel stays on upgraded rooms, air travel and even booking of hotels. With continuous loyalty, there is a reward in the membership status which ranges from blue, silver, gold and eventually diamond (Wang, 2000).
As for the Fairmont Hotels, one can earn points from more than one hundred ant ten Fairmont hotels which include Raffles and Swissotel properties which are in the Middle East and in Asia. The rewards will include free spa treatments, Wi-Fi access which is complimentary and daily delivery of the newspaper. The earned points can be used for air travel. The Starwood Hotels which has more than one thousand one hundred hotels that are participating offers reward points which are known as the Star points that can be earned by using all their hotels around the world. The reward points can also be earned by purchasing using their Starwood Preferred Guest Credit card from American Express. The rewards can be used on booking of hotel rooms and having upgraded rooms and also for air travel. Choice Hotels offer rewards which can be used for air travel and the booking of fights. The other advantage is that one earns free nights at luxuries hotels by staying at the budget friendly ones. The rewards at Hyatt are also great as they offer air travel and also through redeeming the points, one can be able to make hotel bookings and get upgraded rooms. The more one stays at Hyatt, the more their membership is upgraded from gold, to platinum to diamond (McGuire, 2016).
The Wyndham Hotel has the second best reward programs. The points awarded can be redeemed for airline tickets, free stays at hotels gift cards and even car rentals. Melia Hotels also offer rewards to the points earned by their members. The rewards are based on ones membership level and they earn one night in the Hotels. With the Shangri La hotels, one can merely earn points by enjoying a meal or a drink or visiting their spa. Their rewards include hotel stays, free air ticketing for hotel stays and golden circle bonus offers. The Pan Pacific Hotels also offer a wide range of rewards which include discoveries, airline travel and even dining indulgences in Singapore. At MCM Resort International, one earns points for every dollar they spent. Their rewards include free air travel. They offer free playing slots and also provide a free gift card that can be used by the points one has. The loyalty programs of Kempinski include recognition and hotel benefits to their members like upgraded rooms. They also reward free air travels. At the Accor Hotels, the rewards are simply incredible. One can redeem their points and donate to charity the rewards can also be used for air travel or rather be converted into vouchers to be used in their hotels. AS for the Preferred Hotel Groups, their reward is to earn free stays at their hotels for the points earned. The leading hotels in the World also offer rewards to their members. The one main one is free nights at the hotel for the points earned. For an independent hotel like the Safari park hotel, they offer rewards of free night stays for the points earned (Riscinto-Kozub, 2000).
The most interesting loyalty program is the membership levels. They range from silver to diamond. A level is earned through the number of nights which are spending as it is the exact criteria which is used to earn the points. The more one stays in the hotel, the more their points increase and the more their membership level increases too.Famous hoteliers have built hotel brands. Jack Deboer has built the Water Walk Hotel apartments. Robert Kuok built the famous Shangri-La. John Jacob Astor IV built the Starwood Hotel and resort in conjunction with Berry Sternlitch who also was involved in the Intercontinental Hotels. Hyatt Gold Hotels were built by Jay Pritzker. The Edition hotels all over the world were built by Ian Schrager. Jasmetti Tata built the Taj Group of Hotels. Ishadore Sharpe built the Four Seasons Hotels and Resorts. Kemmons Wilson build the Holiday Inn, The Kempinski Hotels were built by Cesar Ritz. Biki Oberoi built the Oberoi Hotel and resorts. Conrad Hilton built the Hilton Hotels. Paul Dubrule and Gerard Pellison build the Accor Hotels. William Becker and Paul Green built the Motel 6. The Wyndham Hotels and Resorts were built by Trammel Crow. Ron Rivett & Dennis Brown built the Super 8 Motels. The Dunfey family built the Dunfey Bed and Breakfast Parson (Turkel, 2009).
Conrad Hilton quoted Success seems to be connected to action. Successful people keep moving. They make mistakes, but they dont quit. This quote is meaningful as it encourages me.
Cesar quoted Never say no when a client asks for something, even if it is the moon. You can always try, and anyhow there is plenty of time afterwards to explain that it was not possible. The quote guides me
Trammell Crow quoted There's as much risk in doing nothing as in doing something. This is motivational.
Robert Kuok quoted that the optimist thinks this is the best of all possible worlds. The pessimist fears it is true this encourages me to improve my performances.
Barry quoted It is very important that a leader in the hotel industry be both creative and compassionate this encourages me to have these qualities (Inghilleri, 2010).
Conrad Hilton entered the hotel business while he was in Cisco Texas. He was on his way to buy a bank but instead he purchased the Mobley, which was a local hotel in 1919. All through the years, Hilton built more and more Hotels and Resorts all over the world. As of today, they are very stylish and classy. On the other hand the Starwood Hotels and resorts started as a capital partner of real estate acquisitions in 1991. They bought the first hotel in 1993. In 1997 they purchased the Westin Hotels and Resorts and since then, they have launched their hotels in many parts of the world (Sandoval-Strausz, 2008).
Shangri-La is the hotel which was named by James Hilton after a fictions city in 1933 as Lost Horizon
The Mandarin Oriental Hotel Group is the hotel based in Hong Kong that as a fan as its logo.
The Fairmont Hotels and resort were previously known as Canadian Pacific Hotel.
According to J.D Power, The North America Hotel was ranked the highest in guest satisfaction.
The Stanley Hotel is the hotel which Stephen King based his novel The Shinning
The Million Donkey Hotel is a rural hotel in Italy which was designed by Feld 72 where guest can actually sleep on a metal cage which has been suspended on the air.
Hilton Corp owns the major private equity of the Blackstone. The Hilton Corp rows all the Hilton Hotels and Resorts worldwide.
Holiday InnShangri-La
SheratonWestin Intercontinental FourSeasons Sun Beach Hotel
MarriotRitz Carlton
MGM GrandEmbassy Suits Hotels Hilton Hotels Double Tree Hotel
Your employee could be your best selling feature. Employees are a competitive advantage for any sales tem and through them they give a competitive edge in the market. It is important to maintain proper employee relations for them to be able to reflect it on their performance.
In addition to that, a human connection WITH YOUR TEAM will make the difference. This is important because, a good relationship between the management and the employees is a good basis for business. Hereby, employee can be able to contribute to the general development and performance of the firm.
Personally what makes me different is the fact that I serve with a smile and a happy attitude. This makes the customers feel warm, just like they are home. I ensure that I ask for their comments in regard to each service in order to know what they like and did not like and what they would like to be done. I engage with the children, for those who have them and create a friendly basis that we can interact upon. Being in the hotel industry, I would recommend the best foods that go with the health status of an individual to make them feel like they are given the care they need. After all, I would ensure I get backup information from the customer to check if they are enjoying the services.
References
Inghilleri, L., & Solomon, M. (2010). Exceptional service, exceptional profit: The secrets of Building a five-star customer service organization. New York: American Management Association.
McGuire, K. A. (2016). Hotel pricing in a social world: Driving value in the digital economy.
Riscinto-Kozub, K. A. (2000). The effects of service recovery satisfaction on customer loyalty And future behavioral intentions: An exploratory study in the luxury hotel industry.
Auburn: Auburn University.
Sandoval-Strausz, A. K. (2008). Hotel: An American history. New Haven, Conn: Yale University Press.
Turkel, S. (2009). Great American hoteliers: Pioneers of the hotel industry. Bloomington, IN: Author House.
Wang, R. (2000). Relationship, loyalty, and marketing---A correlation study of Taiwan hotel customers' perspectives. Stillwater: Oklahoma State University.
Cite this page
Hotel Brand Standards, Loyalty and More. Essay Example on Hospitality Business.. (2019, Jun 25). Retrieved from https://speedypaper.com/essays/hotel-brand-standards-loyalty-amp-more
Request Removal
If you are the original author of this essay and no longer wish to have it published on the SpeedyPaper website, please click below to request its removal: