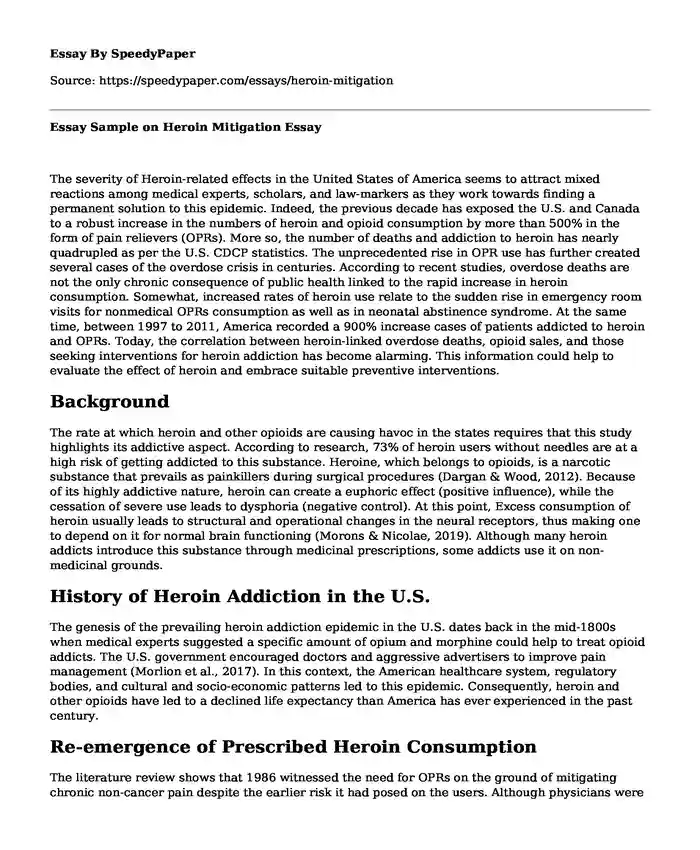 The severity of Heroin-related effects in the United States of America seems to attract mixed reactions among medical experts, scholars, and law-markers as they work towards finding a permanent solution to this epidemic. Indeed, the previous decade has exposed the U.S. and Canada to a robust increase in the numbers of heroin and opioid consumption by more than 500% in the form of pain relievers (OPRs). More so, the number of deaths and addiction to heroin has nearly quadrupled as per the U.S. CDCP statistics. The unprecedented rise in OPR use has further created several cases of the overdose crisis in centuries. According to recent studies, overdose deaths are not the only chronic consequence of public health linked to the rapid increase in heroin consumption. Somewhat, increased rates of heroin use relate to the sudden rise in emergency room visits for nonmedical OPRs consumption as well as in neonatal abstinence syndrome. At the same time, between 1997 to 2011, America recorded a 900% increase cases of patients addicted to heroin and OPRs. Today, the correlation between heroin-linked overdose deaths, opioid sales, and those seeking interventions for heroin addiction has become alarming. This information could help to evaluate the effect of heroin and embrace suitable preventive interventions.
Background
The rate at which heroin and other opioids are causing havoc in the states requires that this study highlights its addictive aspect. According to research, 73% of heroin users without needles are at a high risk of getting addicted to this substance. Heroine, which belongs to opioids, is a narcotic substance that prevails as painkillers during surgical procedures (Dargan & Wood, 2012). Because of its highly addictive nature, heroin can create a euphoric effect (positive influence), while the cessation of severe use leads to dysphoria (negative control). At this point, Excess consumption of heroin usually leads to structural and operational changes in the neural receptors, thus making one to depend on it for normal brain functioning (Morons & Nicolae, 2019). Although many heroin addicts introduce this substance through medicinal prescriptions, some addicts use it on non-medicinal grounds.
History of Heroin Addiction in the U.S.
The genesis of the prevailing heroin addiction epidemic in the U.S. dates back in the mid-1800s when medical experts suggested a specific amount of opium and morphine could help to treat opioid addicts. The U.S. government encouraged doctors and aggressive advertisers to improve pain management (Morlion et al., 2017). In this context, the American healthcare system, regulatory bodies, and cultural and socio-economic patterns led to this epidemic. Consequently, heroin and other opioids have led to a declined life expectancy than America has ever experienced in the past century.
Re-emergence of Prescribed Heroin Consumption
The literature review shows that 1986 witnessed the need for OPRs on the ground of mitigating chronic non-cancer pain despite the earlier risk it had posed on the users. Although physicians were reluctant to embrace this concept, they took it as an option to save the situation (Gudin, 2016). According to experts, the study that led to an adoption of PROs used erroneous methods, which showed that chances that OPRs can cause addiction risk stood at 1%. Other campaigns to reduce the risks of OPRs and create long-term benefits of the same took shape. As a result, there has been an increase in rates of opioid and heroin consumption due to rapid medicinal procedures of alleviating chronic non-cancer pains as well as in reducing acute pain in hospitals (McHugh et al., 2015). According to a 2009 to 2010 reports, doctors prescribed up to 50% of 1,14 million non-surgical patients in extreme doses.
Heroin Addiction versus Morbidity and Mortality Rates
Empirical surveys have revealed that accidental heroin overdose is the prevalent cause of death among people suffering from opioid addiction. In spite of the prevalence of overdose cases in medical and nonmedical OPRs consumers who are free from heroin and opioid addiction, consistent results from the OPR overdose samples indicates that people who suffer from heroin addiction are likely to lose their lives (Dargan & Wood, 2012). According to the study carried out in West Virginia, on 295 accidental OPR overdose deaths, 80% of the participants had a history of heroin disorder. In a subsequent survey, 76% of the 254 heroin overdose in Utah said their relatives and peers raised concerns about the decedents' abuse of OPRs (Cisero, 2017). The rapid increase of heroin addiction is, therefore, the primary factor of opioid-related mortality and morbidity in the U.S and Canada.
Heroin on Life Expectancy
According to the World Bank Group, America's average life expectancy dropped from78.8 years in 2014 to 78.7 years and 78.5 in 2015 and 2017, respectively. The most affected rural areas are Appalachia, Midwest, and New England, as well as the inner city. Among the six states witnessing high rates of heroin overdose includes Kentucky, Ohio, West Virginia, Pennsylvania, Rhode Island, and New Hampshire (Skolnick, 2018). More so, the Alaska Natives or American Indians, and whites are the most likely to overuse medicinal heroin (Sklolnick, 2018). Although many men than women die of these addictions, the rates of female deaths are rising steadily.
Heroin on Health
Recent statistics from U.S. SAMHSA have revealed that more than 2 million Americans are suffering from an opioids ailment while 467,000 are embracing heroine. From this report, the rates of illicit drug use among adults aged 50-64 years have increased from 2.7 in 2002 to 6.0% and 1.1% to 3.9 of the elderly population in 2009 (Maxwell, 2011). These increments have led to raised rates of hospital admissions and deaths among overdosed patients (Skolnick, 2018). According to SAMHSA, heroin was the second largest cause of fatalities countrywide between 2010 and 2012, among other opioids such as fentanyl.
Heroin on the Economy
Concerning the economic effects, the United States is losing an annual $79 billion on this menace. According to researchers, $20 to $25 billion gets lost every year through the handling of heroin-caused emergencies. The emergency department uses about $25.275 to mitigate heroin-caused pains for one patient (Gudin, 2016). Moreover, the country is continuously losing its labor force to heroin as well as money through the criminal justice system (Mirons et al., 2019). Evidence has also shown that the cost of severe pain stands at an annual range of between $ 560-$ 630 billion.
Causes of Heroin Consumptions
The factors that have contributed to the rising rates of heroin consumption include demographics, economic marginalization, and high numbers of unemployment, education levels, health conditions, and social issues. Bearing in mind that many rural populations are suffering significant risk with this menace, it is critical to state that 48 million rural Americans are aged 65 and above years hence likely to experience the impact of opioids (Skolnick, 2018). Besides, low-income, unemployed, and illiterate rural populations are the most affected with opioid ailments and, more so, those living in rural areas that are prone to severe health conditions.
Prevention of Heroin Addiction and its Effects
American medical practitioners have suggested that prevention of Heroin addiction happens in terms of primary prevention and tertiary prevention. Concerning primary prevention, this strategy aims at preventing heroin addiction due to medical exposure to OPRs. Here, physicians have advised that reducing heroin addiction requires a conscious opioid prescription both for acute and chronic pain (Kolodny et al., 2015). Moreover, compulsory public awareness legislations could tame opioid prescriptions and reduce opioid-related risks. Secondly, many opioid-makers have restructured OPRs to reduce substance misuse via a needle or intranasal use. Alternatively, there is a need to prevent addiction from non-medial exposures to OPRs via public awareness created in a manner that it could increase the witnessed negative impact of heroin.
The secondary prevention strategy focusses on screening the patient's health status to identify and mitigate the addictive level and take appropriate measures before escalating. Here, physicians must have adequate information about OPRs prescription before using them on the patient. Tertiary prevention, on the other hand, is the treatment and rehabilitation of addicted personalities towards promoting wellness (Thomas et al., 2014). Physicians need to embrace pharmacotherapies and psychological concepts such as a residential treatment plan, 12-step treatment interventions, and mutual help schemes.
Conclusion
The severity of heroin-related impact on the American socio-economic sectors has attracted collaborative efforts among the governments and experts to work towards getting a long-lasting solution. As a result of high rates of death, ailments, huge expenditure, and loss of labor force, there need for primary, secondary, and tertiary interventions to mitigate the impact of heroin consumption.
References
Cicero TJ. Ellis, MS (2017). Understanding the demand side of the prescription opioid epidemic: does the source of opioids matter? Drug Alcohol Depend.173 (1): S4-S10. [PubMed]
Dargan PI., & Wood D.M. (2012). Recreational drug use in the Asia Pacific region: improvement in our understanding of the problem through the UNODC programs. J Med Toxicol.8 (3):295-299.

Gudin, J. (2016). Oxycodone DETERx: a novel abuse-deterrent, extended-release analgesic option for the treatment of patients with chronic pain. Pain Ther.5 (2):171-186. DOI: 10.1007/s40122-016-0062-1. [Google Scholar]
Maxwell JC. (2011). The prescription drug epidemic in the United States: a perfect storm. Drug Alcohol Rev.30 (3):264-270.
McHugh RK. Nielsen S., & Weiss, RD. (2015). Prescription drug abuse: from epidemiology to public policy.

J Substance Abuse Treat.48 (1):1-7 McHugh RK. Nielsen S., Weiss RD. Prescription drug abuse: from epidemiology to public policy. J Substance Abuse Treatment.2015; 48(1):1-7. [Google Scholar]
Mirons J., Sollenberger G. & Nicolae L. (2019). Overdosing on Regulation: How the Government Caused the Opioid Epidemic. Policy Analysis. Published by CATO Institute. 14 February. 987(34)23-25.
Morlion BJ, Mueller-Lissner SA, & Vellucci R. (2017). Oral prolonged-release naloxone for managing pain and opioid-induced constipation: A review of the evidence. Pain Practice. 10.1111/papr.12646. [PubMed]
Kolodny A., Courtwright T. D., Hwang S. C., Kreiner P., Eadie, L., J., Clark W., T., & Alexander C.G (2015). The Prescription Opioid and Heroin Crisis: A Public Health Approach to an Epidemic of Addiction. Public Health. 36:559-74. DOI: 10.1146/annurev-public health-031914-122957
Skolnick, Phil (2018). The Opioid Epidemic: Crisis and Solution. Annual Reviews. Pharmacology Toxicology. 58:143-59.
Thomas CP, Kim M, Nikitin RV, Kreiner P, Clark TW, Carrow GM. 2014. Prescriber response to unsolicited prescription drug monitoring program reports in Massachusetts. Pharmacoepidemiol. Drug Saf. 23:950-57
Cite this page
Essay Sample on Heroin Mitigation. (2023, Mar 07). Retrieved from https://speedypaper.com/essays/heroin-mitigation
Request Removal
If you are the original author of this essay and no longer wish to have it published on the SpeedyPaper website, please click below to request its removal: