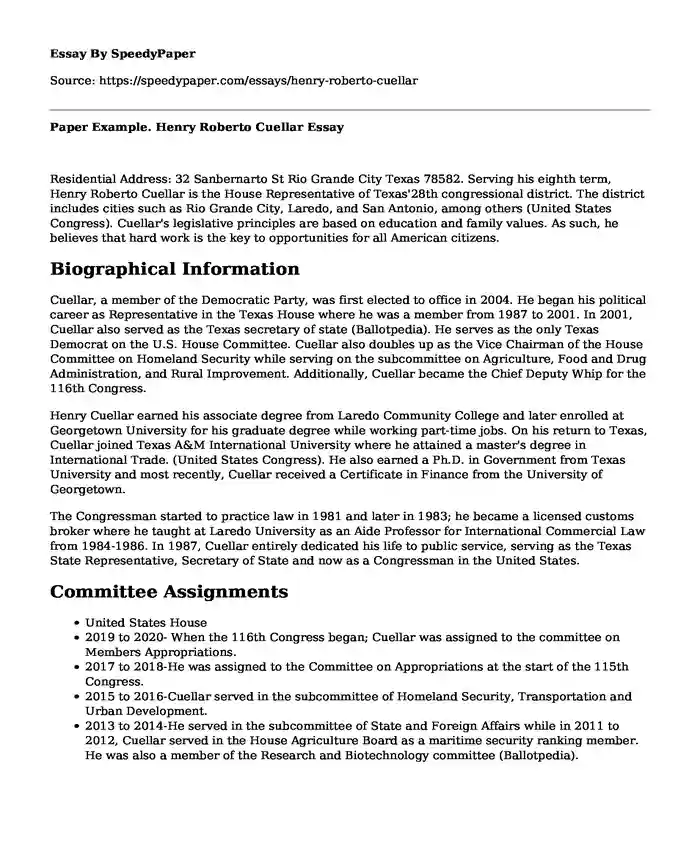 Residential Address: 32 Sanbernarto St Rio Grande City Texas 78582. Serving his eighth term, Henry Roberto Cuellar is the House Representative of Texas'28th congressional district. The district includes cities such as Rio Grande City, Laredo, and San Antonio, among others (United States Congress). Cuellar's legislative principles are based on education and family values. As such, he believes that hard work is the key to opportunities for all American citizens.
Biographical Information
Cuellar, a member of the Democratic Party, was first elected to office in 2004. He began his political career as Representative in the Texas House where he was a member from 1987 to 2001. In 2001, Cuellar also served as the Texas secretary of state (Ballotpedia). He serves as the only Texas Democrat on the U.S. House Committee. Cuellar also doubles up as the Vice Chairman of the House Committee on Homeland Security while serving on the subcommittee on Agriculture, Food and Drug Administration, and Rural Improvement. Additionally, Cuellar became the Chief Deputy Whip for the 116th Congress.
Henry Cuellar earned his associate degree from Laredo Community College and later enrolled at Georgetown University for his graduate degree while working part-time jobs. On his return to Texas, Cuellar joined Texas A&M International University where he attained a master's degree in International Trade. (United States Congress). He also earned a Ph.D. in Government from Texas University and most recently, Cuellar received a Certificate in Finance from the University of Georgetown.
The Congressman started to practice law in 1981 and later in 1983; he became a licensed customs broker where he taught at Laredo University as an Aide Professor for International Commercial Law from 1984-1986. In 1987, Cuellar entirely dedicated his life to public service, serving as the Texas State Representative, Secretary of State and now as a Congressman in the United States.
Committee Assignments
United States House
2019 to 2020- When the 116th Congress began; Cuellar was assigned to the committee on Members Appropriations.
2017 to 2018-He was assigned to the Committee on Appropriations at the start of the 115th Congress.
2015 to 2016-Cuellar served in the subcommittee of Homeland Security, Transportation and Urban Development.
2013 to 2014-He served in the subcommittee of State and Foreign Affairs while in 2011 to 2012, Cuellar served in the House Agriculture Board as a maritime security ranking member. He was also a member of the Research and Biotechnology committee (Ballotpedia).
Campaign Committee Fundraising
From 2013 to 2014, the committee raised approximately 1.5 million dollars, spent about 937 million dollars while the cash on hand was 1.3 million dollars. The top contributors during this period were Duty-Free Americas, ConocoPhillips, and Anadarko Petroleum, among other companies (OpenSecrets.org). Other top industries that were involved in funding the campaign include the oil and gas, automotive, law firms, and the health sector.
In the 2017 to 2018 report, the committee raised about 1.6 million dollars, spent 1.2 million, and the total cash at hand was about 2.5 million with zero debts (OpenSecrets.org). The top contributors were Marathon Petroleum, GEO Group, Northrop Grumman, Finance and Credit companies, law firms, and crop production companies.
In one of his e-newsletters, Cuellar is shown holding giant checks that he brought home for his district: more than 7.5 million dollars was meant for Laredo International Airport,3.6 for Web County enforcement,2.7 for Texas International University, and 1.5 for restoring Lake Mitchell ecosystem.
Overall, Henry Cuellar is a long-entrenched figure as far as politics in Texas is concerned. He represents Laredo in Congress and has earned a reputation for working closely with his constituents and opponents.
Works Cited
Ballotpedia. Henry Cuellar. n.d. https://ballotpedia.org/Henry_Cuellar.
OpenSecrets.org. Rep.Henry Cuellar-Texas District 28. n.d. https://www.opensecrets.org/members-of-congress/summary?cid=N00024978&cycle=2014&type=I.
United States Congress. Biography-Rep. Henry Cuellar. n.d. https://cuellar.house.gov/biography/.
Cite this page
Paper Example. Henry Roberto Cuellar. (2023, Jan 15). Retrieved from https://speedypaper.com/essays/henry-roberto-cuellar
Request Removal
If you are the original author of this essay and no longer wish to have it published on the SpeedyPaper website, please click below to request its removal: