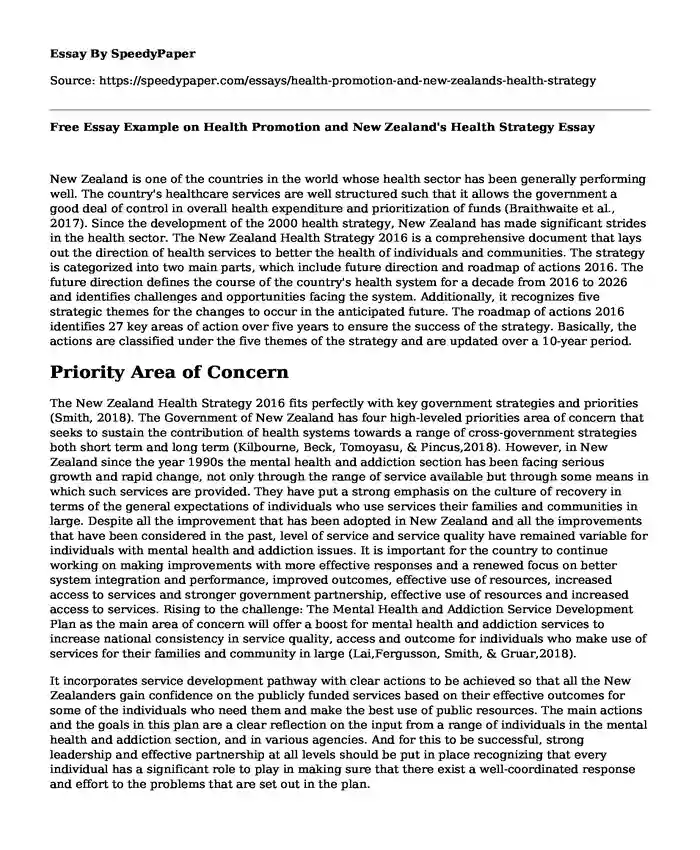 New Zealand is one of the countries in the world whose health sector has been generally performing well. The country's healthcare services are well structured such that it allows the government a good deal of control in overall health expenditure and prioritization of funds (Braithwaite et al., 2017). Since the development of the 2000 health strategy, New Zealand has made significant strides in the health sector. The New Zealand Health Strategy 2016 is a comprehensive document that lays out the direction of health services to better the health of individuals and communities. The strategy is categorized into two main parts, which include future direction and roadmap of actions 2016. The future direction defines the course of the country's health system for a decade from 2016 to 2026 and identifies challenges and opportunities facing the system. Additionally, it recognizes five strategic themes for the changes to occur in the anticipated future. The roadmap of actions 2016 identifies 27 key areas of action over five years to ensure the success of the strategy. Basically, the actions are classified under the five themes of the strategy and are updated over a 10-year period.
Priority Area of Concern
The New Zealand Health Strategy 2016 fits perfectly with key government strategies and priorities (Smith, 2018). The Government of New Zealand has four high-leveled priorities area of concern that seeks to sustain the contribution of health systems towards a range of cross-government strategies both short term and long term (Kilbourne, Beck, Tomoyasu, & Pincus,2018). However, in New Zealand since the year 1990s the mental health and addiction section has been facing serious growth and rapid change, not only through the range of service available but through some means in which such services are provided. They have put a strong emphasis on the culture of recovery in terms of the general expectations of individuals who use services their families and communities in large. Despite all the improvement that has been adopted in New Zealand and all the improvements that have been considered in the past, level of service and service quality have remained variable for individuals with mental health and addiction issues. It is important for the country to continue working on making improvements with more effective responses and a renewed focus on better system integration and performance, improved outcomes, effective use of resources, increased access to services and stronger government partnership, effective use of resources and increased access to services. Rising to the challenge: The Mental Health and Addiction Service Development Plan as the main area of concern will offer a boost for mental health and addiction services to increase national consistency in service quality, access and outcome for individuals who make use of services for their families and community in large (Lai,Fergusson, Smith, & Gruar,2018).
It incorporates service development pathway with clear actions to be achieved so that all the New Zealanders gain confidence on the publicly funded services based on their effective outcomes for some of the individuals who need them and make the best use of public resources. The main actions and the goals in this plan are a clear reflection on the input from a range of individuals in the mental health and addiction section, and in various agencies. And for this to be successful, strong leadership and effective partnership at all levels should be put in place recognizing that every individual has a significant role to play in making sure that there exist a well-coordinated response and effort to the problems that are set out in the plan.
Principles of health promotion
New Zealand's total health and disability spending are identified to be about $ 18 billion, that is about 9.5% gross domestic product (GDP), this actually covers spending in both the private, public and even the non-governmental. Notably, in New Zealand, it is very usual that the taxpayers are funding most of the health expenditure with about seven percent of the GDP, with health making 22% of the government spending. Health is a fundamental resource for everyday life. It is a state of excellent physical, mental and social well-being. In order to achieve health and wellbeing throughout, individuals in New Zeeland need a health system that knows and connects with individuals at every touch point not only when they disadvantaged or sick. The system is supposed to ensure equitable and timely access for New Zealanders to a comprehensive range of disability and health services, regardless of their ability to pay for the services (Goh,2018). Active partnership with communities and individuals at all levels, improvement of health status of those who are currently disadvantaged and coming up with high performing system in which individuals have confidence in.
The New Zealand Health Strategy, provide future direction outlining a greater level of direction for New Zealand's health system for over ten years, that is from 2016 to 2026. Through the strategy, a greater focus is made on some of the opportunities and the challenges that the system is facing so as to provide a clear description on the future that New Zealand is in great need of, including values and cultures that will work to fulfill the future(Coombs, Burgess, Dickson & McKay,2017). To achieve good health individuals must realize that health is not an objective for life but rather the realization of the need to cope with the surrounding environment (Potvin & Jones, 2011). This is known as health promotion. The Ottawa Charter for Health Promotion seeks to empower individuals to gain full control over and to improve their health. It is a landmark document that has been influential in providing guidance to the goals and concepts of health promotion as well as shaping the public health practice (Thompson, Watson & Tilford, 2018). There are three main principles of health promotion stated in the Ottawa Charter.
The three basic prerequisites namely, mediate, enable and advocate lie at the heart of the Ottawa Charter. They describe the core activities and competencies essential for promoting the health of populations. The goals of the New Zealand Health Strategy 2016 reflect some shared ideas connected to the three principles of the Ottawa Charter.
Advocate
This principle states that good health is a function of individual and social actions. Advocacy through political commitment, policy support, and social system is favorable to health systems. The statement 'All New Zealanders live well, stay well, get well' reflects the special relationship between collaborative efforts in health promotion and puts people at the forefront of the strategy. The New Zealand Health Strategy 2016 advocates for an active partnership between stakeholders and communities at all levels (Dobl, Beddoe,& Huggard,2017). It encourages practitioners in the health sector to work beyond the boundaries of health services. For instance, the health sector can collaborate with local governments to support regional and local policies and programmes with positive impacts on the health of local communities. In order to achieve health promotion, the strategy seeks to establish health systems that connect with the people anytime at all levels, not just when they need medical attention.
Mediate
Successful health requires collaboration and coordinated action by all stakeholders and individual members of the community. Practitioners in the health sector have an obligation of mediating between conflicting interests among members of the society to promote strive towards good health. The New Zealand Health Strategy 2016 acknowledges that health services can only address the needs of individuals and communities through the establishment of complementary and coordinated ways of working across the sector (Carlton, Pickering, Than, Kendall, & Greaves,2017). In terms of mediation, the word "all" in the vision statement reflects the need for an equitable and flexible health system to improve health outcomes for New Zealanders and disabled people who have long been neglected. To achieve equity there is the need for improved understanding of the different population groups.
Enable
The primary goal of health promotion is the achievement of equity in health. It acknowledges that people can only achieve full health potential through empowerment. People should be able to feel that they are in control of their lives in order to have power in making decisions that affect their lives. Discrimination and biases toward different groups of people should be discouraged given the influence on health determinants. The New Zealand Health Strategy 2016 indicates how collaboration and empowerment of individuals and population are critical in striking a balance between people s needs and health priorities (Lawrenson, McKimm, Tapsell, & Murray,2017). Strengthening community action calls for the establishment of mechanisms that enable meaningful participation of communities in decision making.
Review of Literature
The review of the literature concerning health enhancement is used to help address factors that contribute to the deterioration of health. Also, they are used in identifying ways of dealing with the issue to promote health in the most affected areas. Several experts have carried out studies which have been used to draw conclusions on the best ways to handle health-related problems. Thus, this literature review is based on the five initiatives that are outlined in the New Zealand Health Strategy as a way to promote health-related problems. Some of the themes include a people-powered, close to home, value and high performance, one team and a smart system.
People-Powered
According to Bendz, (2017), people empowerment is identified as a process that helps individuals to have control over their own lives and increases their capacity of acting on issues that they themselves identify as significant. Some of the aspects of empowerment involve self-awareness, self-efficacy, health literacy, confidence, and coping skills. In reference to Lamas, Salinas, Coquedano, Simon, & Zorrilla,(2017), patient empowerment is identified as a freedom to choose where and when one has treatment and implies that patients are supposed to retain responsibility and autonomy for decision making during the process of treatment.
According to Lamas, Salinas, Coquedano, Simon & Zorrilla,(2017), health system plays a significant role in offering individuals with the required information that they need so as to fully understand issues that are dealing with wellness and health, including how to be healthy, access to health services and managing of their own healthcare. Health literacy is the term that is used in describing individuals ability to get and understand services and basic health information so as to be informed on matters to do with health care decisions.as reported by Risling, Martinez,Young, & Thorp,(2017), in order to have a report on health care literacy, service providers are supposed to work in partnership with service users, encouraging and supporting them to be health smart.
One of the best means of empowerment is through the community is through community-based empowerment initiative where that lead to health outcomes improvement focused largely on behaviors that are measurable during the time period that is covered by intervention. According Garattini,& Padula,(2018), community action in Surfers Paradise in Australia led to increased regulation of licensed alcohol premises and the general adoption of policies and code of practices for bar staffs and consequent reduction of alcohol-related violence.
Cite this page
Free Essay Example on Health Promotion and New Zealand's Health Strategy. (2022, Jul 12). Retrieved from https://speedypaper.com/essays/health-promotion-and-new-zealands-health-strategy
Request Removal
If you are the original author of this essay and no longer wish to have it published on the SpeedyPaper website, please click below to request its removal: