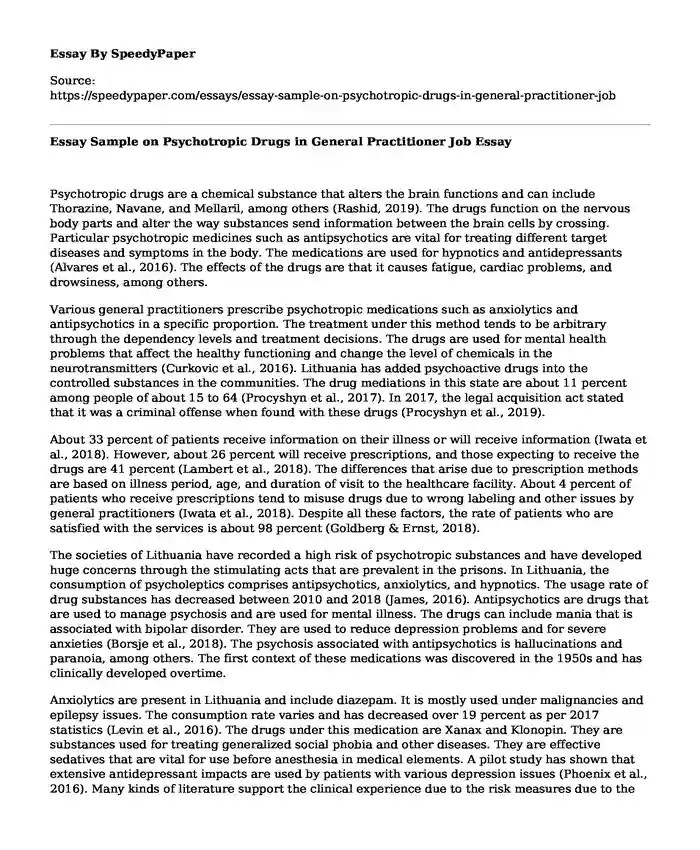 Psychotropic drugs are a chemical substance that alters the brain functions and can include Thorazine, Navane, and Mellaril, among others (Rashid, 2019). The drugs function on the nervous body parts and alter the way substances send information between the brain cells by crossing. Particular psychotropic medicines such as antipsychotics are vital for treating different target diseases and symptoms in the body. The medications are used for hypnotics and antidepressants (Alvares et al., 2016). The effects of the drugs are that it causes fatigue, cardiac problems, and drowsiness, among others.
Various general practitioners prescribe psychotropic medications such as anxiolytics and antipsychotics in a specific proportion. The treatment under this method tends to be arbitrary through the dependency levels and treatment decisions. The drugs are used for mental health problems that affect the healthy functioning and change the level of chemicals in the neurotransmitters (Curkovic et al., 2016). Lithuania has added psychoactive drugs into the controlled substances in the communities. The drug mediations in this state are about 11 percent among people of about 15 to 64 (Procyshyn et al., 2017). In 2017, the legal acquisition act stated that it was a criminal offense when found with these drugs (Procyshyn et al., 2019).
About 33 percent of patients receive information on their illness or will receive information (Iwata et al., 2018). However, about 26 percent will receive prescriptions, and those expecting to receive the drugs are 41 percent (Lambert et al., 2018). The differences that arise due to prescription methods are based on illness period, age, and duration of visit to the healthcare facility. About 4 percent of patients who receive prescriptions tend to misuse drugs due to wrong labeling and other issues by general practitioners (Iwata et al., 2018). Despite all these factors, the rate of patients who are satisfied with the services is about 98 percent (Goldberg & Ernst, 2018).
The societies of Lithuania have recorded a high risk of psychotropic substances and have developed huge concerns through the stimulating acts that are prevalent in the prisons. In Lithuania, the consumption of psycholeptics comprises antipsychotics, anxiolytics, and hypnotics. The usage rate of drug substances has decreased between 2010 and 2018 (James, 2016). Antipsychotics are drugs that are used to manage psychosis and are used for mental illness. The drugs can include mania that is associated with bipolar disorder. They are used to reduce depression problems and for severe anxieties (Borsje et al., 2018). The psychosis associated with antipsychotics is hallucinations and paranoia, among others. The first context of these medications was discovered in the 1950s and has clinically developed overtime.
Anxiolytics are present in Lithuania and include diazepam. It is mostly used under malignancies and epilepsy issues. The consumption rate varies and has decreased over 19 percent as per 2017 statistics (Levin et al., 2016). The drugs under this medication are Xanax and Klonopin. They are substances used for treating generalized social phobia and other diseases. They are effective sedatives that are vital for use before anesthesia in medical elements. A pilot study has shown that extensive antidepressant impacts are used by patients with various depression issues (Phoenix et al., 2016). Many kinds of literature support the clinical experience due to the risk measures due to the long term effects of anxiolytics. The use of this medication has been higher in Lithuania compared to Estonia (Sultan et al., 2018). Many people are known to use antidepressants and for diagnosis of depressions.
Hypnotics and sedatives are medical substances that treat patients with epilepsy, and the rate of consumption has increased over the past decade in Lithuania to about 51 percent (Tucek & Skerjanc, 2019). The side effect of this is that it causes sleep disorders among people. Some researchers have assumed that using antidepressant medications like hypnotics tend to increase the suicide rates in the region and increases anxiety. However, it is a suicide prevention mechanism since it is a treatment drug. The drugs tend to promote sleep among people and induce sedation. They tend to have fewer side effects on memory issues. It is surgical anesthesia that treats sleeplessness.
Prescribing drugs are prone to causing adverse reactions through various forms of medication. Many general practitioners prescribe psychotropic medications at a limited proportion and according to the state of the patient. They prescribe antidepressant drugs and medications that can include therapy, among others, for various disorders. Issues associated with dysfunctional prescribing by general practitioner jobs are associated with misuse and low job satisfaction rates. The tendencies associated with medication is based on actual and correct names that are dispensing of products. The psychotropic prescription varies among patients, and those known to have these conditions are about 82 percent (Lee at al., 2017).
Problems that arise due to wrong medications tend to be diverse and cause a lot of complications. Poor judgment can be associated with risky activities engagement and can lead one to use illegal drugs in the community (Townsend & Morgan, 2017). Prescribing medication needs to be accurate and precise. Many researchers have stated problems that arise due to improper prescription that alters the performance and evidence-based practices. Moreover, it can lead to criminal activities that cause addiction (Lucca et al., 2019). Prescription abuse of drugs alters the mind, and sedatives are mostly prescribed wrongly to patients. The signs associated with these acts can be poor decisions, mood change, and using more drugs than specified by the general practitioners.
The tendencies associated with prescription of drugs include tension relief, appetite reduction, and concentration improvement. The risk factors, however, are social environment exposure, addictions to other substances, and lack of sufficient knowledge and experiences on drug prescription. These factors cause a high level of dependency and addiction. Psychotropic drugs can be used by sick individuals in somatic infections and can affect the quality of life and the results associated with a mental disorder. As per the database of Agis, prescription of drugs was used as a proxy indicator of the state of the conditions using various codes of the systems (Rice et al., 2018). Patients are divided into smaller groups for sufficient research and analysis of the factors affecting them.
Various severe effects on psychotropic drugs are minimized through the prescription of drugs to help with the medical conditions. The medications prescribed by general practitioners have different functions in various patients and are categorized according to the context, ownership, and socioeconomic aspects. These factors affect the judgment of drug prescription and lead to multiple issues and tendencies. Drug prescription is rising and is confined with antidepressant medications through extensive use of drugs (Svensson et al., 2019). In primary care, there have been issues associated with psychotropic drugs and tend to be prevalent in Lithuania.
The problems that arise associated with prescribing tendencies affect the dispensing of medications and can lead to correct information on the drugs. The acts can be harmful to patients as it will affect their mental status. The issues associated with prescription tend to be irritational, inappropriate, and ineffective treatment acts. The concepts that are associated with wrong medications lead to harm and short term damage in various parts of the human body. Reducing errors in prescription can be through checking frequency dosage, monitoring drug interactions, and identifying allergies associated with certain drugs. Due to comprehensive clinical approaches to health issues, the leading prescribing indicators measure general prescription tendencies through a specific setting that is independent of particular diagnoses.
References
Alvares, G. A., Quintana, D. S., Hickie, I. B., & Guastella, A. J. (2016). Autonomic nervous system dysfunction in psychiatric disorders and the impact of psychotropic medications: a systematic review and meta-analysis. Journal of Psychiatry & Neuroscience. https://psycnet.apa.org/record/2016-21566-003
Borsje, P., Lucassen, P. L., Wetzels, R. B., Pot, A. M., & Koopmans, R. T. (2018). Neuropsychiatric symptoms and psychotropic drug use in patients with dementia in general practices. Family practice, 35(1), 22-28. https://academic.oup.com/fampra/article-abstract/35/1/22/3965242
Curkovic, M., Dodig-Curkovic, K., Petek Eric, A., Kralik, K., & Pivac, N. (2016). Psychotropic medications in older adults: a review. Psychiatria Danubina, 28(1), 0-24. https://hrcak.srce.hr/file/228090
Delbarre, A., Gagnadoux, F., Gohier, B., & Pelletier-Fleury, N. (2018). Continuous positive airway pressure therapy for obstructive sleep apnoea and psychotropic drug use: a retrospective observational matched-cohort study. Scientific reports, 8(1), 1-8. https://www.nature.com/articles/s41598-018-32142-6
Ford, A. C., Luthra, P., Tack, J., Boeckxstaens, G. E., Moayyedi, P., & Talley, N. J. (2017). Efficacy of psychotropic drugs in functional dyspepsia: systematic review and meta-analysis. Gut, 66(3), 411-420. https://gut.bmj.com/content/66/3/411.short
Goldberg, J. F., & Ernst, C. L. (2018). Managing the side effects of psychotropic medications. American Psychiatric Pub. https://books.google.com/books?hl=en&lr=&id=-2ZnDwAAQBAJ&oi=fnd&pg=PP1&dq=Psychotropic+tendencies&ots=nIXBhDbWOF&sig=ieO-CPdxL-D1Dynnvw8hBFQyI1c
Iwata, M., Iwamoto, K., Kawano, N., Kawaue, T., & Ozaki, N. (2018). Evaluation method regarding the effect of psychotropic drugs on driving performance: A literature review. Psychiatry and clinical neurosciences, 72(10), 747-773. https://onlinelibrary.wiley.com/doi/abs/10.1111/pcn.12734
James, J. (2016). Dealing with drug-seeking behavior. Australian prescriber, 39(3), 96. https://www.ncbi.nlm.nih.gov/pmc/articles/pmc4919169/
Lambert, M., Ruppelt, F., Siem, A. K., Rohenkohl, A. C., Kraft, V., Luedecke, D., ... & Gallinat, J. (2018). Comorbidity of chronic somatic diseases in patients with psychotic disorders and their influence on 4-year outcomes of integrated care treatment (ACCESS II study). Schizophrenia Research, 193, 377-383. https://www.sciencedirect.com/science/article/pii/S0920996417304474
Lee, H. G., Stull, C., & Yosipovitch, G. (2017). Psychiatric disorders and pruritus. Clinics in dermatology, 35(3), 273-280. https://www.sciencedirect.com/science/article/pii/S0738081X17300226
Levin, J. B., Krivenko, A., Howland, M., Schlachet, R., & Sajatovic, M. (2016). Medication adherence in patients with bipolar disorder: a comprehensive review. CNS drugs, 30(9), 819-835. https://link.springer.com/article/10.1007/s40263-016-0368-x
Lucca, J. M., Vamsi, A., Kurian, S. J., & Ebi, S. (2019). A prospective observational study on psychotropic drug use in non psychiatric wards. Indian journal of psychiatry, 61(5), 503. https://www.ncbi.nlm.nih.gov/pmc/articles/PMC6767827/
Phoenix, B. J., Hurd, M., & Chapman, S. A. (2016). Experience of psychiatric mental health nurse practitioners in public mental health. Nursing Administration Quarterly, 40(3), 212-224. https://www.ingentaconnect.com/content/wk/naq/2016/00000040/00000003/art00006
Cite this page
Essay Sample on Psychotropic Drugs in General Practitioner Job. (2023, May 01). Retrieved from https://speedypaper.com/essays/essay-sample-on-psychotropic-drugs-in-general-practitioner-job
Request Removal
If you are the original author of this essay and no longer wish to have it published on the SpeedyPaper website, please click below to request its removal: