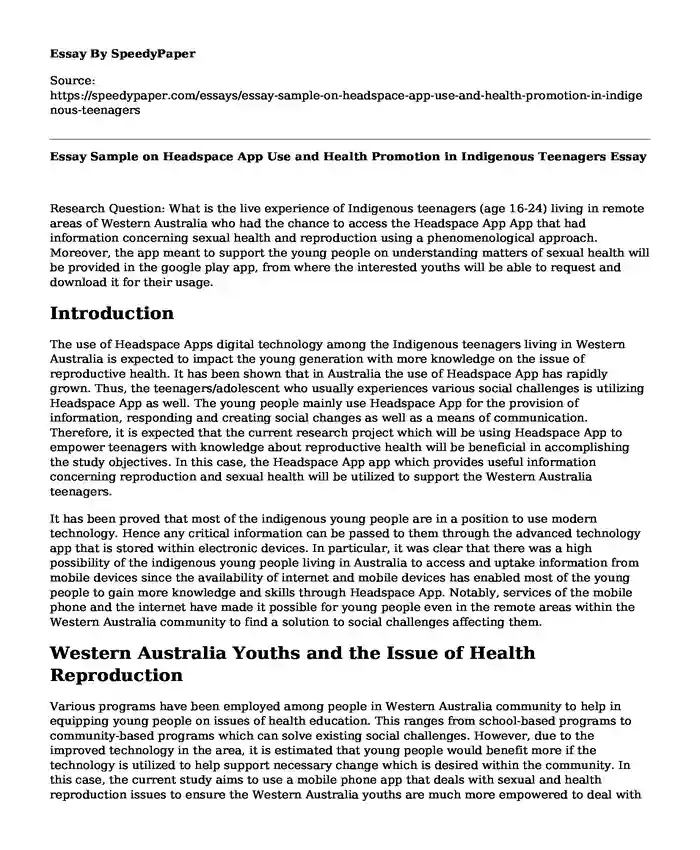 Research Question: What is the live experience of Indigenous teenagers (age 16-24) living in remote areas of Western Australia who had the chance to access the Headspace App App that had information concerning sexual health and reproduction using a phenomenological approach. Moreover, the app meant to support the young people on understanding matters of sexual health will be provided in the google play app, from where the interested youths will be able to request and download it for their usage.
Introduction
The use of Headspace Apps digital technology among the Indigenous teenagers living in Western Australia is expected to impact the young generation with more knowledge on the issue of reproductive health. It has been shown that in Australia the use of Headspace App has rapidly grown. Thus, the teenagers/adolescent who usually experiences various social challenges is utilizing Headspace App as well. The young people mainly use Headspace App for the provision of information, responding and creating social changes as well as a means of communication. Therefore, it is expected that the current research project which will be using Headspace App to empower teenagers with knowledge about reproductive health will be beneficial in accomplishing the study objectives. In this case, the Headspace App app which provides useful information concerning reproduction and sexual health will be utilized to support the Western Australia teenagers.
It has been proved that most of the indigenous young people are in a position to use modern technology. Hence any critical information can be passed to them through the advanced technology app that is stored within electronic devices. In particular, it was clear that there was a high possibility of the indigenous young people living in Australia to access and uptake information from mobile devices since the availability of internet and mobile devices has enabled most of the young people to gain more knowledge and skills through Headspace App. Notably, services of the mobile phone and the internet have made it possible for young people even in the remote areas within the Western Australia community to find a solution to social challenges affecting them.
Western Australia Youths and the Issue of Health Reproduction
Various programs have been employed among people in Western Australia community to help in equipping young people on issues of health education. This ranges from school-based programs to community-based programs which can solve existing social challenges. However, due to the improved technology in the area, it is estimated that young people would benefit more if the technology is utilized to help support necessary change which is desired within the community. In this case, the current study aims to use a mobile phone app that deals with sexual and health reproduction issues to ensure the Western Australia youths are much more empowered to deal with matters affecting them.
The health information provided through the app involves how the youths could abstain from risky sexual behaviors which exposes them to sexually transmitted diseases and early pregnancies. The abstinence interventions are meant to ensure that young people do not engage themselves in activities which could have negative consequences in their future lives. Nevertheless, the app also has information concerning the use of contraceptives and how they can safely help young people to low the risks associated with risky sexual behaviors as well as preventing early pregnancies. Moreover, the set program is presented in a way that it will help the young people to develop the culture that allows them to promote and enhance discussion of issues about contraceptives, sex, and sexuality.
The Young People, Social Network Sites and Communication About Sexual Health in Australia
Notably, there are social networks sites which are concerned with educating young people on matters of sexual health in Australia. As presented, there are many challenges and opportunities which professionals of sexual health find to as they try to engage the young people on matters of sexual health. According to a study conducted by (2013). It was noted that most of the young people living in Australia used SNS and Headspace App site to communicate about sexual health issues. In most cases, young people could discuss topics such as stigma, bullying, and privacy as associated with sexual health matters. Although useful, discussion of such issues was not all that the young people required. Thus incorporation of an effective program dealing with issues to do with sexual health among the young people was a better strategy to equip them with, more knowledge which they lacked.
According to Rice et al. (2016), the use of digital technologies and Headspace App among the young indigenous people living in Australia was a technology which could support in passing on useful information in this generation. The researchers found out that it was possible for young people to easily connect with their families and the community when they had adequate information regarding sexual health and reproduction. When having interactions with their seniors after they had acquired necessary information concerning the issue of sexual health, the young people demonstrated confidence and were willing to interact and share what they knew about the topic. As a result, discussions of sexual health issues were encouraged among the indigenous community, and this helped the teenagers and adolescents who were mainly affected by matters about sexual health.
Therefore, the current study purposed to evaluate the experiences of Indigenous teenagers (age 16-24) living in remote areas of Western Australia who had the chance to access the Headspace App that had information concerning sexual health and reproduction using a phenomenological approach. Moreover, the app meant to support the young people on understanding matters of sexual health will be provided in the google play app, from where the interested youths will be able to request and download it for their usage. Thus, provided the young people to have the internet it becomes possible for them to access the sexual health promotion app.
The Method of Study for Analysis
The study will use the phenomenological approach as a method of education. The procedure is a form of a qualitative way of research that helps to give meaning to the experiences which the young people encounter. The study will entail a comparison of the information that the teenagers had concerning reproductive health with what they were required to know concerning the same topic as provided in through the installed mobile app. This would help the researcher to understand all the possible misconceptions which the teenagers could have acquired from their indigenous community practices. All the same, the employed measure will help during follow up exercises to ensure the teenagers have the necessary information. Thus, through the approach, researchers are in a better position to familiarize themselves with the information which was there before the targeted program was implemented and compare it with the knowledge that is provided after the application is installed.
References
Brown, J. L., Gause, N. K., & Northern, N. (2016). The association between alcohol and sexual risk behaviors among college students: A review. Current addiction reports, 3(4), 349-355.
Brusse, C., Gardner, K., McAullay, D., & Dowden, M. (2014). Headspace App and mobile apps for health promotion in Australian Indigenous populations: scoping review. Journal of medical Internet research, 16(12), e280.
Evers, C. W., Albury, K., Byron, P., & Crawford, K. (2013). Young people, Headspace App, social network sites, and sexual health communication in Australia:" This is funny, you should watch it." International Journal of Communication, 7, 18.
Fredericks, B., Adams, M., & Best, O. (2014). Indigenous gendered health perspectives. In Yatdjuligin: Western Australia and Torres Strait Islander Nursing and Midwifery Care (pp. 74-86). Cambridge University Press.
Glaser, B. G., & Strauss, A. L. (2017). Discovery of grounded theory: Strategies for qualitative research. Routledge. Indigenous approaches to research
McPhail-Bell, K., Appo, N., Haymes, A., Bond, C., Brough, M., & Fredericks, B. (2017). Deadly Choices are empowering Indigenous Australians through social networking sites. Health promotion international, 33(5), 770-780.
Rice, E. S., Haynes, E., Royce, P., & Thompson, S. C. (2016). Headspace App and digital technology use among Indigenous young people in Australia: a literature review. International journal for equity in health, 15(1), 81.
Savage, J. (2009). Western Australia adolescent sexual and reproductive health programs: a review of their effectiveness and cultural acceptability. Sydney: Sax Institute, for the NSW Department of Health.
Simon, L., & Daneback, K. (2013). Adolescents' use of the internet for sex education: A thematic and critical review of the literature. International Journal of Sexual Health, 25(4), 305-319.
Starks, H., & Brown Trinidad, S. (2007). Choose your method: A comparison of phenomenology, discourse analysis, and grounded theory. Qualitative health research, 17(10), 1372-1380.
Veale, H. J., Sacks-Davis, R., Weaver, E. R., Pedrana, A. E., Stoove, M. A., & Hellard, M. E. (2015). The use of social networking platforms for sexual health promotion: identifying critical strategies for successful user engagement. BMC public health, 15(1), 85.
Wand, H., Bryant, J., Worth, H., Pitts, M., Kaldor, J. M., Delaney-Thiele, D., & Ward, J. (2018). Low education levels are associated with early age of sexual debut, drug use and risky sexual behaviors among young Indigenous Australians. Sexual health, 15(1), 68-75.
Willis, J., Anderson, I., & Morris, K. (2005). Sexual Health Promotion for Western Australia and Torres Strait Islander People, A community guide to evidence-based best practice in social and behavioral interventions. Culture, Health & Sexuality, 15.
O'Sullivan, H., Barbara, B., Maree, M., & Susan. (2016). Indigenous approaches to research. In Z. Schneider, D. Whitehead, G. LoBiondo-Wood, & J. Haber (Eds.), Nursing and Midwifery Research : Methods and Appraisal for Evidence-Based Practice (5th ed., pp. 257-276). Elsevier. Retrieved from https://www-clinicalkey-com-au.ezproxy.newcastle.edu.au/nursing/#!/content/book/3-s2.0-B9780729542302000158.
Palinkas, L. (2014). Qualitative and Mixed Methods in Mental Health Services and Implementation Research. Journal of Clinical Child and Adolescent Psychology, 43(6), 851-861.
Cope, D. (2014). Methods and meanings: Credibility and trustworthiness of qualitative research. Oncology Nursing Forum, 41(1), 89-91.
Pope, C., Ziebland, S., Mays, N. (2000). Qualitative research in health care: Analysing qualitative data. British Medical Journal, 320, 114-116.
Starks, H., & Trinidad, S. (2007). Choose Your Method: A Comparison of Phenomenology, Discourse Analysis, and Grounded Theory. Qualitative Health Research, 17(10), 1372-1380.
Cite this page
Essay Sample on Headspace App Use and Health Promotion in Indigenous Teenagers. (2022, Dec 13). Retrieved from https://speedypaper.com/essays/essay-sample-on-headspace-app-use-and-health-promotion-in-indigenous-teenagers
Request Removal
If you are the original author of this essay and no longer wish to have it published on the SpeedyPaper website, please click below to request its removal: