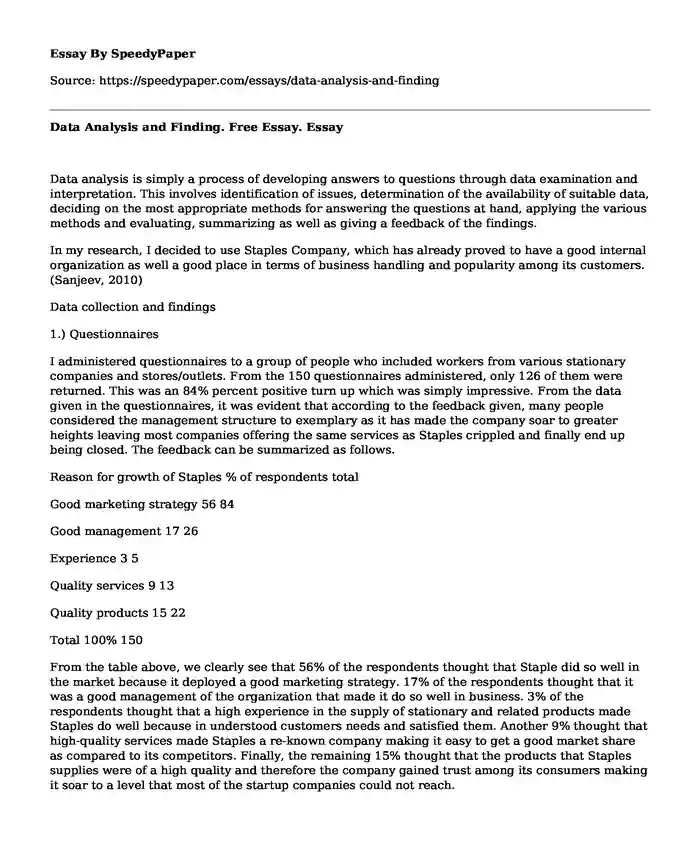 Data analysis is simply a process of developing answers to questions through data examination and interpretation. This involves identification of issues, determination of the availability of suitable data, deciding on the most appropriate methods for answering the questions at hand, applying the various methods and evaluating, summarizing as well as giving a feedback of the findings.
In my research, I decided to use Staples Company, which has already proved to have a good internal organization as well a good place in terms of business handling and popularity among its customers. (Sanjeev, 2010)
Data collection and findings
1.) Questionnaires
I administered questionnaires to a group of people who included workers from various stationary companies and stores/outlets. From the 150 questionnaires administered, only 126 of them were returned. This was an 84% percent positive turn up which was simply impressive. From the data given in the questionnaires, it was evident that according to the feedback given, many people considered the management structure to exemplary as it has made the company soar to greater heights leaving most companies offering the same services as Staples crippled and finally end up being closed. The feedback can be summarized as follows.
Reason for growth of Staples % of respondents total
Good marketing strategy 56 84
Good management 17 26
Experience 3 5
Quality services 9 13
Quality products 15 22
Total 100% 150
From the table above, we clearly see that 56% of the respondents thought that Staple did so well in the market because it deployed a good marketing strategy. 17% of the respondents thought that it was a good management of the organization that made it do so well in business. 3% of the respondents thought that a high experience in the supply of stationary and related products made Staples do well because in understood customers needs and satisfied them. Another 9% thought that high-quality services made Staples a re-known company making it easy to get a good market share as compared to its competitors. Finally, the remaining 15% thought that the products that Staples supplies were of a high quality and therefore the company gained trust among its consumers making it soar to a level that most of the startup companies could not reach.
2.) Interviews
I scheduled interviews with some members of the management of some various stationary companies as well as some employees of several other companies and the feedback was as follows. The turn up was at an incredible 92% with 6% calling to cancel their interview with me and another 2% failing to show up for the interview all together. During the interview, I asked several questions which were relevant to my study and from the feedback I got from my interviewees, 65% who were mainly administrators thought that an incredible marketing strategy and an exemplary penetration into the market made Staples thrive in business.
All my interviewees also thought that Staples was one of the companies that deployed a strategy in which it provided a wide range of services and features which were not being offered by the other competing companies. They believed that the companies not being able to bridge this gap made Staples a re-known business venture and also a huge success among its competitors.
Another 27% thought that the small startup companies had little or no experience which made them loose customers to Staples. 9% of the interviewees stated that the penetration of staples into the market covering 27 countries and with over 2000 outlets made small companies not be able to compete with this large company which had already established a good market share. Finally, 8 % of my respondents stated that Stapled did so well in business because of it was started long ago and people had already gained trust in the services and products that the company offered to its customers. This is as show bellow.
3.) Field Study
In my research, I conducted a field study which included visiting the Staples stores within my town and from my study I found out that:-
The Staples store offered a wide range of office products which included stationery, office furniture, copy and print solutions as well as technology products and services. According to my study, this made Staples the most unique store among all the ones I had visited before. This was because it was a one stop shopping center for all office equipment unlike other stores which either deal with office furniture or stationary. Staples seemed to be popular amongst customers as they seem to have everything that one could ever need in an office situation as well as offering a wide range of selection of products from standard to medium quality as well as executive or high quality products. Pattison & Low,(201)
Staples has also deployed an innovative strategy of marketing where it has also utilized the online market which has made it possible for people to check on the availability of a product before getting to the store to purchase it. Mahnken, (2012) this has made it convenient for customers to shop as they go to the store they already know that whatever they want is already available. Staples has also introduced an online platform where a customer can place an order for a product, pay for the product and it is delivered to them. This has made its competitors suffer great competition as customers find this system more convenient for them. This is especially true in the case where a customer purchases goods in bulk which will be more convenient for them to have the goods delivered to them.
From my study, Staples seemed to understand the needs of the customers and woks hard to satisfy them. This has also been pioneered by what the customers need most. A good example would be if customers buy more glass top office desks than wooden top office desks, then the company will bring in more glass top desks. This leads not only to customer satisfaction, but also more sales for the company, hence its growth.
Staples prices were also very competitive as compared to those of the other stores especially on the commodities that people purchase most. This has made staples to become the most dominant office supply and retailer as most people look for good bargains when it comes to shopping for supplies.
Staples has also implemented cost leadership strategies which have been put up in place to make sure that products and services are offered at the lowest possible prices in the market . However, King, (2010).clearly explains that some cost leadership strategies may lead to losses and drainage of profits of some of the organizations. This strategy however works whereby products whose prices the customers can compare with other stores are greatly lowered and products that are a bit hard to compare prices quite easily end up getting a higher price to compensate for the prices of the ones that were sold at a lower price. This is very true for Staples Company and from my study it is very clear that they have used this strategy for long and seems to be working well for the growth of the organization.
Summary
It is very clear from the above findings that Staples is a company which has used a combination of different management and marketing strategies to beat its competitors in the market by becoming a top market brand and gaining trust among its customers for providing efficient, high quality goods and services.
In terms of innovative strategies and good marketing, Staples deserves all credit as it has achieved all this despite the fact that the competition in the market is very high. The future of Staples in the business also seems to be promising as it has all what it takes for such a business venture to be highly successful.
For the startup companies to reach the level that Staples has reached so far, they will have to have a very superior and highly creative and innovative management and marketing strategy and at the same time making sure that the services they are offering to their clients are of high quality as well as affordable.
In conclusion, we can say that Staples has made it so far because of a good management as well as a good marketing strategy which has seen its competitors crippled.
References
Child, J. and Rodrigues, S.B. (2005) The internationalization of Chinese firms: A case for theoretical extension, Management & Organisation Review, 1 (3): 381-410.
Child, J. and Yan, Y. (2003) National and transitional effects in international joint ventures: Indications from Sino-foreign joint ventures Management International Review, 41 (1): 53-75.
Fan, Y. (2006) The globalisation of Chinese brands, Marketing Intelligence & Planning, 24 (4): 365-379.
Fan, Y. (2008) The rise of emerging multinationals and the impact on marketing, Marketing Intelligence & Planning, 26 (4): Viewpoint.
Gao, P., Woetzel, J.R., and Wu, Y. (2003) Can Chinese brands make it abroad? The Mckinsey Quarterly, Special Edition: Global directions.
Hong, S. and Wyer, R.S. (1995) Effects of Country-of-origin and Product attribute information on product evaluation: An information processing perspective, Journal of Consumer Research, 16 (2): 175-187.
Hulland, J. (1999) The effect of country-of-brand and brand name on product evaluation and consideration: a cross-country comparison, Journal of International Consumer Marketing, 11 (1): 23-40.
Interbrand (2007) Made in China: 2007 Brand Survey, online source:www.ourfishbowl.com/images/surveys/Interbrand_Made_In_China_2007.pdf, accessed 10 July 2008.
King, K. (2010). The competitive edge: advanced marketing for dietetics professionals. Philadelphia, Wolters Kluwer Health/Lippincott William & Wilkins.
Kwok, S., Uncles, M., Huang, Y. (2006) Brand Preferences and brand choices among urban Chinese consumers: An investigation of COO effects, Asia Pacific Journal of Marketing & Logistics, 18 (3).
Mahnken, T. G. (2012). Competitive strategies for the 21st century theory, history, and practice. Stanford, Calif, Stanford University Press.
Ms'12 Rio De Janeiro, & Gil-Lafuente, A. M. (2013). Decision making systems in business administration proceedings of the MS'12 international conference : Rio de Janeiro, Brazil 10-13 December 2012. Singapore, World Scientific.
Noe, R. A., & Noe, R. A. (2012). Human resource management: gaining a competitive advantage. New York, McGraw-Hill Irwin.
Paley, N. (2005). The manager's guide to competitive marketing strategies. London, Thorogood.
Pattinson, H., & Low, D. R. (2011). E-novation for competitive advantage in collaborative globalization: Technologies for emerging e-business strategies. Hershey, PA: Business Science Reference
Peterson, R.A. and Jolibert, A.J.P. (1995) A meta-analysis country-of-origin effects, Journal of International Business Studies, 26 (4): 883-901.
Ping, Deng (2007a) Investing for Strategic Resources and its rationale: The case of outward FDI from Chinese Companies, Business Horizons, 50 (1): 71-81.
Cite this page
Data Analysis and Finding. Free Essay.. (2020, Jun 10). Retrieved from https://speedypaper.com/essays/data-analysis-and-finding
Request Removal
If you are the original author of this essay and no longer wish to have it published on the SpeedyPaper website, please click below to request its removal: