B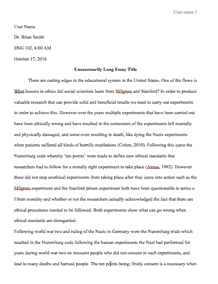 University/College:
Harvey Mudd College
This essay has been submitted by a student. This is not an example of the work written by our professional essay writers.
The nursing course had offered me with various components among them critical thinking, finding helpful resources, study skills and handling stress with much more focus dedicated to writing. As a student, these skills are highly essential in enabling me to complete my studies here at Excelsior College. The remaining part of my nursing program includes some of the critical sections such as clinical part, and without these skills, I may fail to achieve a distinction. I hope to apply study skills to do well in my remaining exams. In the clinical section, critical thinking is important in making key decisions that are lifesaving to the patients who need our services. In future, I hope to conduct research in the nursing field which will require the skill of finding the right and helpful resources. Additionally, handling stress is a skill that every student should be equipped with to make through the college life. I hope to use the skills to balance my studies and other responsibilities.
Writing skills as my primary focus is an essential skill in improving my ability to communicate well in the written language in the exams, research and in other written platforms by avoiding common grammatical errors. Nurse practitioners acquire advanced training in nursing to propel their careers a step further. The skills I have learned will help me to operate independently or under minimal supervision from a physician. In future after becoming a registered nurse (RN) practitioner, I would be able to apply the skills learned to conduct independent research especially to issues relating to women and teen health, help those facing stress by proving a way out as well as improve on my decision making. The ability to write well offers a competitive edge in the prevailing job market.
Need a paper on the same topic?
We will write it for you from scratch!
Request Removal
If you are the original author of this essay and no longer wish to have it published on the SpeedyPaper website, please click below to request its removal: