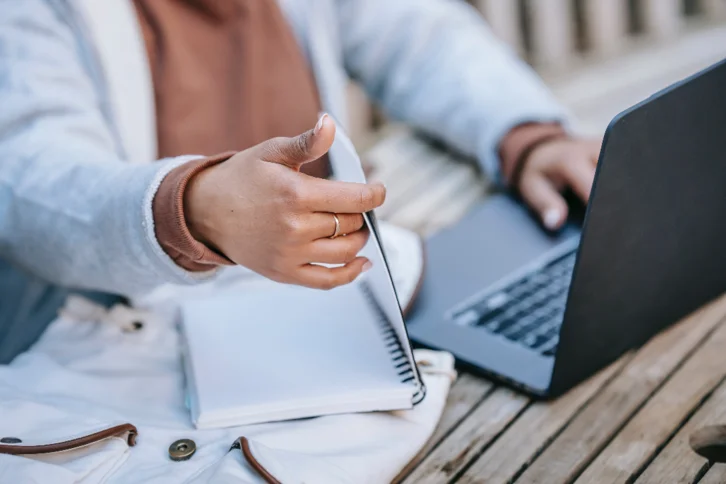 How to write a problem solution essay: comprehensive guide & topics

One of the main tasks of any college or university is to encourage students to think logically and find solutions to various problems. Young people must learn to analyze any situation and find the right path, even if they do not initially know about it. You must write at least one problem solution essay to join the general trend. But what is this assignment, and what writing steps do you need to take? First, let's check the basic definition.
What is a problem solution essay?
Any problem-solution essay is an academic paper that describes a problem in detail and visualizes its possible solutions. As a rule, such an essay may be assigned in a college composition class and involves a preliminary study of the chosen topic before starting a writing activity. Moreover, each essay on problem solving has a specific function that allows you to reach the desired result. Here are four essay features you should know about.
Visualization of a well-briefed or well-defined problem
As a rule, an essay on problem solving always reveals a specific issue or problem through visualization. A detailed description allows the audience (professor, instructor, etc.) to see how the students present the problem and how they describe it. This function is the first and most important.
Proposing a reasonable or optimal solution
The second function of any problem solution essay is to provide a reasonable or optimal solution. For example, humanity wants to fly to Mars, but the launch of colonization rockets is associated with several gravitational restrictions. By building a spaceport on the moon, humanity can reduce the operating costs of launching rockets and save fuel.
Providing a convincing and solid argument
After you have proposed a certain solution, you must show your arguments. They should be based on credible sources or be supported by the results of some kind of research. This approach will help your ideas be convincing.

Tip from SpeedyPaper
Don't add two issues in one paragraph, as this is unacceptable in most colleges!

Using proper and convincing tone
The fourth function plays no less important role than the arguments. When visualizing your position, you can use the proper tone as a weapon. The fact is that each problem solution essay is a manifesto, a visualization of your vision, and a demonstration of your ideas. If you confidently declare certain solutions, you will be able to achieve the goals of your essay.
Problem solution essay structure
Now let's talk about the problem solution essay format. As a rule, your paper should be divided into three parts: intro, body, and conclusion. Here is a detailed description of each part.
Intro
When creating a problem solution essay outline, you should carefully plan the information you put in the first paragraph. Try to outline the problem carefully. What is the key topic of your essay, and why should the problem you describe be addressed? Visualize this basis to create a solid springboard for the following paragraphs.
Brief thesis statement
This part of your problem-solving essay is one of the most important ones. Typically, your thesis statement will be the actual solution to the problem. One or two sentences will be enough to visualize all the ideas and actions.
Body paragraphs
Depending on the type of problem-solution essay and the number of words, you may have 2-4 body paragraphs. In this paper part, you should visualize the problems and their solutions.
Paragraph 1 - problem
Typically, your problem solution essay will contain at least two body paragraphs. The first one is needed to visualize the problem, its importance, and its criticality for any group of people or region.


Tip from SpeedyPaper
Don't forget smooth transitions to effectively switch from a problem to a solution!

Paragraph 2 - solution
The second paragraph should be entirely devoted to finding and visualizing a solution to the problem. Then, describe schemes, plans, and strategies to achieve the desired result. And don't forget that your problem solving essay can contain multiple problems. In this case, you will use each paragraph to present one problem and its solution.
Conclusion
The conclusion is the final part of your problem-solution essay. Briefly summarize all your ideas for problem solving and emphasize their importance. In other words, this part of the paper is the final chord to emphasize the importance of your findings.
Crucial things to remember when writing your essay
Any problem-solving essay contains must-have things that you should mention in paragraphs. Here are the details you need.
Body:



 Explain the problem you chose in detail
. You need a springboard to create a solid problem solving essay, so start by visualizing the problem. Why is it important or dangerous to anyone? What threatens anyone with this issue if people ignore it?

Propose your solution and explain your point of view
. Any problem has a solution, and you must present your version. What needs to be done to make any issue irrelevant to the community? Your idea should be based on certain research.

 Explain how your ideas can help solve that problem
. Show and justify the fact that your solution to the problem is effective. You must provide examples, describe the general concept, or cite credible sources. In any case, you should show the general algorithm so that your professor can see the course of your thoughts.

 Show why your solution is the best one (optional)
. Sometimes solutions offered by students can be the most effective. But you should use an expert or personal experience, statistics, other people's work, or examples to persuade your reader (professor).
Conclusion


Here are the things that will allow you to craft a good conclusion. Four steps are relevant to every problem-solution essay, so check them out now.
Briefly restate your thesis. This step is important for highlighting the essence of your research.
Mention the main points again. This way, you can remind readers what your problem solving essay was about.
Say how your solutions will help in controlling the problem. Highlight the key positive changes that your ideas can make. 
Do not include new ideas in the end. Instead, complete your final paragraph without adding new ideas or strategies.
As you can see, now you know more about the problem solution essay structure, and you will not go astray.
How to write a problem solution essay?
You probably want to craft your problem solving essay like a pro, so you'll need an effective strategy. Here are eight stages that you have to go through to achieve the desired result.
Pick the topic carefully
Choose problem solution essay topics that will allow you to follow all the professor's instructions relatively easily and in detail. But, again, concentrate on what you know best. The point is that arguing your ideas requires a certain level of expertise, so don't choose topics that are unclear to you.


Tip from SpeedyPaper
Check at least a few topic lists before focusing on any research area.


Think how to implement the solution you have
Surely you want to know how to write a problem solution essay. Imagine that you have a good solution. Your main task is to visualize its implementation procedure. In other words, show all the steps needed to make your idea a reality.
Craft your outline
Any problem-solving essay should have an outline, as it is a convenient springboard for a writing activity. Make a short plan and write down a couple of sentences for each part so that you understand in which direction you should move. This strategy is convenient for organizing data and preventing paper chaos.
Write a solid intro
If you decide to craft a problem-solving essay, you'd better start with a solid intro. The first part of your essay should always visualize your ideas and intentions. The first paragraph is like a movie trailer, so you must keep your audience interested. At the same time, you should be concise and not overly wordy.
Add a brief description and thesis statement
And now it's time to briefly describe the goals of your essay, create a solid thesis statement, and visualize your problem (or problems). Then, show your direction so your audience (professor) can understand your thoughts. This approach is important because you are essentially creating instructions and not talking about abstract things. So, for example, you won't describe martial arts history when you need to find an effective method of blocking a low kick.
Write the main body paragraphs
After the springboard for the main part of the essay is created, you can start writing body paragraphs. Use the first paragraph to visualize the problem and the second to demonstrate an effective solution. Use one paragraph to demonstrate one issue and its solution if you have multiple issues. Such a strategy will allow you to deal effectively with your assignment.
Conclude the essay
After the final part of your paper is completed, you should write the final paragraph. Summarize your thoughts, restate your thesis, and highlight why your solutions are effective. Your task is to gracefully end the final paragraph, showing your competence and understanding of the general topic.
Proofread your paper
As a rule, the proofreading stage is the final mission for any student. You have done well with your essay, but now you should read all the paragraphs, identifying possible grammar or spelling mistakes. Perhaps you used unclear ideas or vague wording. Finally, check your paper and try to make sure it's polished.


Tip from SpeedyPaper
Take a break before starting proofreading activities. Even 20 minutes will be enough to reduce stress and increase your concentration.
Crucial writing tips for all students
Creating a problem-solution essay might seem challenging at first. Nevertheless, by employing a few crucial writing tips, any student can make this task manageable. It all starts with the understanding of all basics. But, if you struggle, an
essay writing service
can offer a beneficial point of reference.
Lastly, proofreading is an essential step often overlooked. A fresh pair of eyes from a peer or a
college admission essay writing service
can help you polish your final draft. These services can provide valuable insights into what admissions officers are looking for.
Relevant problem solution essay examples
Finding relevant problem solving essay examples is a good idea. By seeing an example, you can avoid the problems of not knowing the writing process. Here is an example to help you move forward.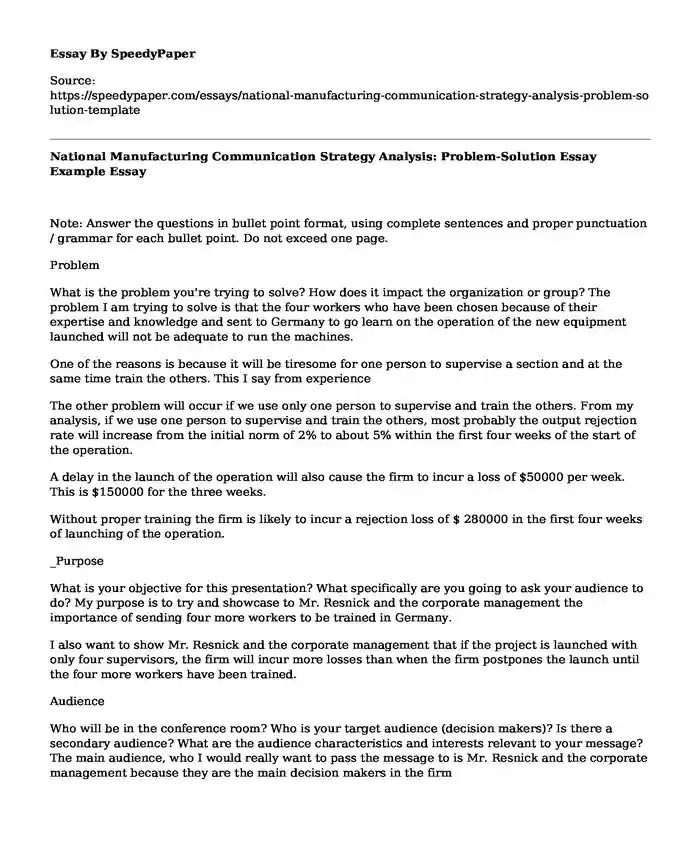 Good problem-solution essay topics for everyone
Now you know how to write your essay correctly and even got some good advice. It's time to choose a good topic. Perhaps you are not yet sure which research area you should choose. But don't worry: here are some popular topics you can use to speed up your writing process.
As you can see, all these ideas are quite interesting, and you will surely be able to get started in no time. But don't rush. Check all topics and combine ideas if you think this is the right solution. Then, you will not regret it if you start writing your assignment by expanding on one of the above topics.
Conclusion
Now you have detailed instructions, tips, and a list of topics to help you achieve the desired result. Surely you will be able to write your assignments more efficiently, so don't waste time and get to work. It will also be useful for you to know how to write a creative essay. Finally, surely your professor will ask you to write this paper to prepare you for any development.
But what if you are faced with unforeseen circumstances and are not ready to craft your papers? In this case, SpeedyPaper is always ready to help you. We guarantee high paper quality, timely delivery, affordable prices, and free revisions as an additional guarantee. So now you don't have to worry about the writing process going wrong.