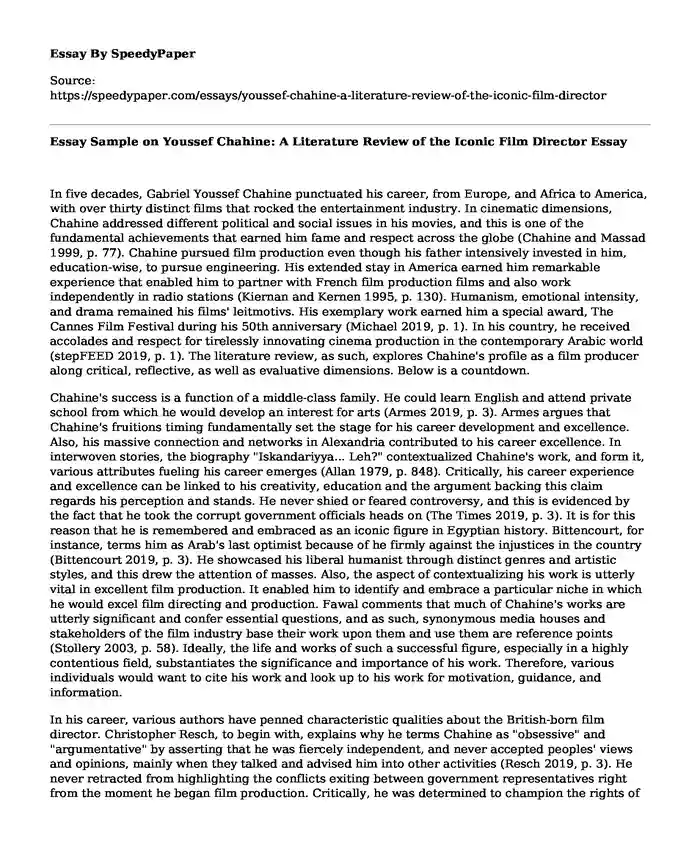 In five decades, Gabriel Youssef Chahine punctuated his career, from Europe, and Africa to America, with over thirty distinct films that rocked the entertainment industry. In cinematic dimensions, Chahine addressed different political and social issues in his movies, and this is one of the fundamental achievements that earned him fame and respect across the globe (Chahine and Massad 1999, p. 77). Chahine pursued film production even though his father intensively invested in him, education-wise, to pursue engineering. His extended stay in America earned him remarkable experience that enabled him to partner with French film production films and also work independently in radio stations (Kiernan and Kernen 1995, p. 130). Humanism, emotional intensity, and drama remained his films' leitmotivs. His exemplary work earned him a special award, The Cannes Film Festival during his 50th anniversary (Michael 2019, p. 1). In his country, he received accolades and respect for tirelessly innovating cinema production in the contemporary Arabic world (stepFEED 2019, p. 1). The literature review, as such, explores Chahine's profile as a film producer along critical, reflective, as well as evaluative dimensions. Below is a countdown.
Chahine's success is a function of a middle-class family. He could learn English and attend private school from which he would develop an interest for arts (Armes 2019, p. 3). Armes argues that Chahine's fruitions timing fundamentally set the stage for his career development and excellence. Also, his massive connection and networks in Alexandria contributed to his career excellence. In interwoven stories, the biography "Iskandariyya... Leh?" contextualized Chahine's work, and form it, various attributes fueling his career emerges (Allan 1979, p. 848). Critically, his career experience and excellence can be linked to his creativity, education and the argument backing this claim regards his perception and stands. He never shied or feared controversy, and this is evidenced by the fact that he took the corrupt government officials heads on (The Times 2019, p. 3). It is for this reason that he is remembered and embraced as an iconic figure in Egyptian history. Bittencourt, for instance, terms him as Arab's last optimist because of he firmly against the injustices in the country (Bittencourt 2019, p. 3). He showcased his liberal humanist through distinct genres and artistic styles, and this drew the attention of masses. Also, the aspect of contextualizing his work is utterly vital in excellent film production. It enabled him to identify and embrace a particular niche in which he would excel film directing and production. Fawal comments that much of Chahine's works are utterly significant and confer essential questions, and as such, synonymous media houses and stakeholders of the film industry base their work upon them and use them are reference points (Stollery 2003, p. 58). Ideally, the life and works of such a successful figure, especially in a highly contentious field, substantiates the significance and importance of his work. Therefore, various individuals would want to cite his work and look up to his work for motivation, guidance, and information.
In his career, various authors have penned characteristic qualities about the British-born film director. Christopher Resch, to begin with, explains why he terms Chahine as "obsessive" and "argumentative" by asserting that he was fiercely independent, and never accepted peoples' views and opinions, mainly when they talked and advised him into other activities (Resch 2019, p. 3). He never retracted from highlighting the conflicts exiting between government representatives right from the moment he began film production. Critically, he was determined to champion the rights of ordinary citizens because the government and state officials would never advocate for their reasons. The same quality is somewhat stressed when it is asserted that he likened "imperialism and fundamentalism" (The Guardian 2019, p. 1). In support of this argument, The Guardian cites his "boldest career moves" in which he turned out as the voice of his country, Egypt, and the Arabic world. From a reflective angle, the Guardian and Cristopher Resch elucidate Chahine's fundamental qualities through which he excelled in a competitive and complex profession. It is for such reason that he became the talisman of the Egyptian film industry, and hence the title "the pioneer of social realism" (Independent 2019, p. 1). Naturally, the qualities mentioned above substantiated his move and abilities to undertake and challenge social and political issues boldly. An excellent example of a political concern was fanaticism with which he campaigned against with utmost faith and energy. Chahine devoted himself to this fight, and it is all evident in the film "Destiny" where he postulated that using dance and songs, based on philosophical views and approaches, would significantly neutralize the effects of oppressive religious and state powers and rulership (Finke and Shichtman 2019, p. 1). It is the same film that helped him win the Canness award on his 50th anniversary (The New York Times 2019, p. 2). In an evaluation, Chahine was indeed "ultra-liberal" and "Westernized" because he was utterly conservative and embraced Egypt's traditional values. In this dimension, his works embodied the political and social perspectives in which he maintained a stance on the need and importance of justice on peasants whose lands were taken away, alongside oppressive rule (Osman 2019, p. 2). Making such moves, at that time, was tremendously risky because autocratic rulers would devour him. Even so, he never tired and retracted. Instead, his works produced remarkable outcomes. Globally, Chahine remains an iconic media personality who exploited his profession to spark reforms and changes on social and political issues. Stereotypical views and demeaning perspectives on women are excellent examples of media-related accomplishments achieved by Chahine through the films (Arsenal 2017, p. 2).
Chahine's career is characterized by significant achievements with which the aspect of daring and risk-taking stands out. "Photography and editing" are cited as Chahine's fundamental strengths, especially following the excellent display in film noir (Itpworld 2019, p. 3). The prolific film producer would set foot into the international film platform. He achieved this through the production of drama, historical epics, musicals and comedies (Encyclopaedia Britannica 2017, p. 1). The international film arena noted Chahine's works because he boldly and critically took on the Egyptian government regarding oppression and social injustices. From a reflective angle, one has to be bold and thorough in criticizing an oppressive government. In the process, the independent eye through which he viewed social and political issues substantiated his aspect of nationalism in the Arabic world (Whitaker 2019, p. 5). For championing nationalisms, Chahine is remembered as a diligent filmmaker because much of the themes in his films revolved around the quest for just and fair societies in the Arabic world. Also, Chahine's works elucidated African art and movies, which has remained unnoticed and mostly truncated (Bisschoff and Murphy 2014, p. 31). Traditionally, most of the world's population did not access African films, and this somewhat contributed to under analysis of African art, as well as an appreciation of African cinema. As David Murphy and Lizzie Bisschoff elucidate the various fragmentations of Africa's film, as well as its historical account, they indicate how contemporary filmmakers like Chahine led to the recovery of 30 of the "lost" African films (Bisschoff and Murphy 2014, p. 35). To this point, the literature review sheds light on the existence and the subsequent sidelining of Africa's film industry. Various themes and point, thus, arise. For instance, his rise to the top and partnership with European and American film producers is evidence of Africa's excellent performance. Likewise, re-imaging Africa's history provides an account of the continent's development, and it is as such that people discover Africa's "lost" historical facts (Gugler 2015, p. 250).
Adel Darwish extends the discussion to reiterate that Egypt was once a giant in film production until the collapse of the industry. However, Chahine's rise ignited its rise, as well as the pursuit of the dominance of the Arabic nation in the 1920s (Darwish 2011, p. 33). Arguably, the growth of Egypt's film industry would undoubtedly lead to cultural dominance in Arab-speaking countries because the films communicated Egypt's culture. Chahine's works also came to the limelight in the year 1967 because of his views on Arab socialism and nationalism. The most significant event that magnifies Chahine's film-making career regards the aftermath of Nasser's death in the films "Saladin the Victorious" and "The Sparrow" (Erman 2019, p. 3). Nasser's death, coupled with the implication of the Israeli-Arab war, sparked the growth of prominent Egyptian filmmakers. They would then seek international production because the international community took note of significant achievements. From evaluative and reflective points, much of Chahine's results were functions of hard work. For instance, it took him 30 years to eloquently speak French, and eventually win the Cannes award (The New York Times 2019, p. 11). Naturally, from the nature of his background, such achievements are somewhat impossibilities because of the hurdles, and thus, his success can be unquestionably be attributed to his due diligence.
The literature review ends with a multidimensional perspective regarding Youssef Chahine. The American University in Cairo hails him for daring the complicated profession because he excelled despite the prevalence of various challenges (The American University in Cairo 2019, p. 3). His works not only focused on entertainment but also conferred fundamental teachings. For instance, his political and social campaigns significantly shaped Egypt's course of history (University of Hertfordshire 2019, p. 1). In this part, the picturesque landscape of the literature deepens as it dives into a critical evaluation of his strengths and achievements as a filmmaker. In the process, particular and essential qualities like boldness and education arise, and these attributes are used to account for Chahine's success. It is undeniable that Chahine was rooting for a united and fair nation because he was rooting for nationalism and cohesion. He was at the epicenter of establishing political and social justice, and these are some of the significant factors that led to his emergence and rise into the international arena of film production. Lastly, the fact that he championed the visitation of African film remains fundamental. He drove to the rediscovery of African cinema, and subsequent appreciation.
Reference List
Allan, M. (1979). Iskandariyya... Leh?. Viewed on 31st December 2019 https://www.academia.edu/39627700/Iskandariyya...Leh_Youssef_Chahine_1979.
Armes, R. 2019. People, Literature and arts. Films and television biographies: Youssef Chahine. Viewed on 31st December 2019 https://www.encyclopedia.com/people/literature-and-arts/film-and-television-biographies/youssef-chahine.
Arsenal. 2017. Robby Muller - Master of Light. Viewed on 31st December 2019 https://www.arsenal-berlin.de/en/calendar/single-view/calendar/2019/march/05/article/7691/2796.html.
Bisschoff, L., and Murphy, D. 2014. Africa's lost classics: new histories of African cinema. London, United Kingdom: Legenda, Modern Humanities Research Association and Maney Publishing, 2014. ss2014.
Cite this page
Essay Sample on Youssef Chahine: A Literature Review of the Iconic Film Director. (2023, Mar 22). Retrieved from https://speedypaper.com/essays/youssef-chahine-a-literature-review-of-the-iconic-film-director
Request Removal
If you are the original author of this essay and no longer wish to have it published on the SpeedyPaper website, please click below to request its removal: