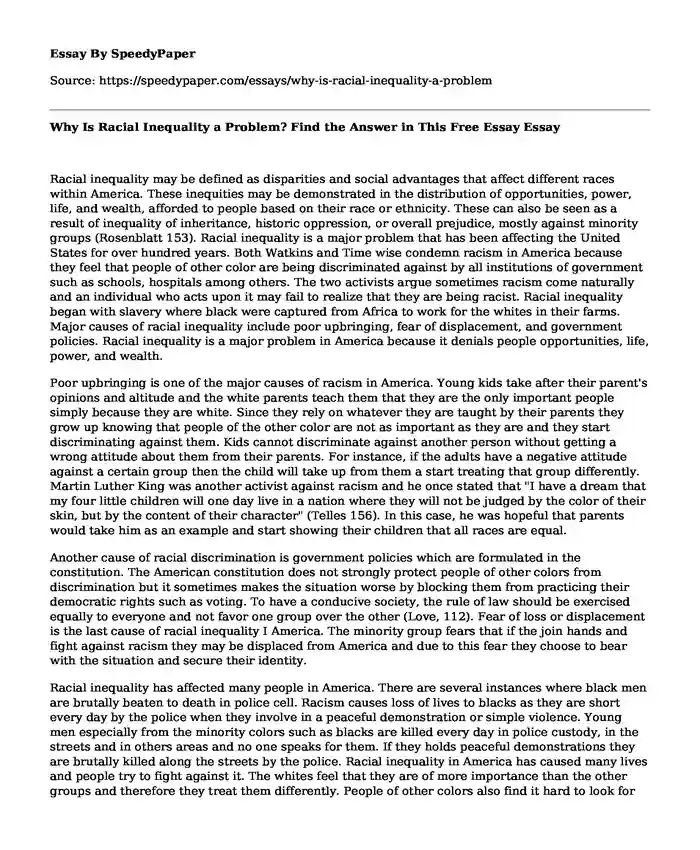 | | |
| --- | --- |
| Type of paper:  | Essay |
| Categories: | Racism |
| Pages: | 6 |
| Wordcount: | 1400 words |
Racial inequality may be defined as disparities and social advantages that affect different races within America. These inequities may be demonstrated in the distribution of opportunities, power, life, and wealth, afforded to people based on their race or ethnicity. These can also be seen as a result of inequality of inheritance, historic oppression, or overall prejudice, mostly against minority groups (Rosenblatt 153). Racial inequality is a major problem that has been affecting the United States for over hundred years. Both Watkins and Time wise condemn racism in America because they feel that people of other color are being discriminated against by all institutions of government such as schools, hospitals among others. The two activists argue sometimes racism come naturally and an individual who acts upon it may fail to realize that they are being racist. Racial inequality began with slavery where black were captured from Africa to work for the whites in their farms. Major causes of racial inequality include poor upbringing, fear of displacement, and government policies. Racial inequality is a major problem in America because it denials people opportunities, life, power, and wealth.
Poor upbringing is one of the major causes of racism in America. Young kids take after their parent's opinions and altitude and the white parents teach them that they are the only important people simply because they are white. Since they rely on whatever they are taught by their parents they grow up knowing that people of the other color are not as important as they are and they start discriminating against them. Kids cannot discriminate against another person without getting a wrong attitude about them from their parents. For instance, if the adults have a negative attitude against a certain group then the child will take up from them a start treating that group differently. Martin Luther King was another activist against racism and he once stated that "I have a dream that my four little children will one day live in a nation where they will not be judged by the color of their skin, but by the content of their character" (Telles 156). In this case, he was hopeful that parents would take him as an example and start showing their children that all races are equal.
Another cause of racial discrimination is government policies which are formulated in the constitution. The American constitution does not strongly protect people of other colors from discrimination but it sometimes makes the situation worse by blocking them from practicing their democratic rights such as voting. To have a conducive society, the rule of law should be exercised equally to everyone and not favor one group over the other (Love, 112). Fear of loss or displacement is the last cause of racial inequality I America. The minority group fears that if the join hands and fight against racism they may be displaced from America and due to this fear they choose to bear with the situation and secure their identity.
Racial inequality has affected many people in America. There are several instances where black men are brutally beaten to death in police cell. Racism causes loss of lives to blacks as they are short every day by the police when they involve in a peaceful demonstration or simple violence. Young men especially from the minority colors such as blacks are killed every day in police custody, in the streets and in others areas and no one speaks for them. If they holds peaceful demonstrations they are brutally killed along the streets by the police. Racial inequality in America has caused many lives and people try to fight against it. The whites feel that they are of more importance than the other groups and therefore they treat them differently. People of other colors also find it hard to look for employment opportunities. They continue struggling for poor paying jobs because the society reserves the well-paying ones for the white only. The minority groups remain in poverty because they cannot access employment opportunities and are denied access to social amenities such as school and hospitals.
Racial inequality has caused the minority groups unfair ruling in the judicial systems. Judges are also racist and they rule in favor of their white fellow who may be guilty and sentence a black man who is innocent. It is the reason why there are many black people in jails since police and the judges assume they are guilty before the trial (Rosenblatt 155). For instance, black men were the main targeting 1960s when the state launched a war against drugs. During the era, many African Americans were arrested and put in prison. The percentage continued to increase in 1980-1993 since they were imprisoned for longer sentences than their counterparts who were white
According to a study conducted by Green, more than 70 percent of gun crimes are black. This demonstrates that there is clear economic, geographic and racial difference in firearm violence in Miami-Dade. The black race has been neglected in this county and therefore everyone sees them as criminals. Most of the blacks are poor and do not afford to enroll in colleges and universities. They turn to gun and drugs violence as a way to find funds for their needs. Green suggests that the society should be concerned and understanding about the role poverty, race, and other social pressures. The municipal should intervene in public health to ensure that they blacks gun victims receive urgent medical services to save their lives.
The state should also make policies that concern the black wellbeing so that they may feel included in the government. Most of the black people who never got chance to attend to school lack employment opportunities because they do not have required qualifications. The state should create employment opportunities so that they would be able to cater to their needs and those of their families. The government may also come up with policies that will provide training to equip them with the required skills and knowledge. Poverty reduction programs by training the black people ways of being self-employed would helpful in reducing gun crimes. The state of Florida should lay strategies to curb structural racism.
Racism denies people of other colors their right to vote in America. Although the 14th constitution amendments (1868) granted them their right to citizenship they are not allowed to vote (Omi and Howard, 67). Whenever the blacks come out to vote they are turned away from polling stations without exercising their democratic right. The congress passed another amendment to the constitution in 1870 which state that voting should not be denied on the basis of color, or race but the state still finds ways to prevent people of other colors from voting. This is unfair treatment which no human should go through but the minority groups can do nothing about it even after they complain over the media the situation remains the same. Everyone should be allowed to vote for his/her candidate of choice without any interference.
In conclusion, racial inequality is a major problem that has been affecting the United States. Some of its main causes include poor upbringing, fear of displacement or loss of identity, the constitution among others. These inequities may be demonstrated in the distribution of opportunities, power, life, and wealth, afforded to people based on their race or ethnicity. Racial inequality is a major problem in America because it denials people opportunities, life, power, and wealth. People of color die in police custody as Watkins explains and even along the roads as police have no mercy when they notice a black violent man. To have a conducive society, the rule of law should be exercised equally to everyone and not in favor of one group over the other. Technology has spread worldwide and people are getting informed about racism every day. Education has a significant role to play to change the stereotypical perceptions that people have and helps them develop an improved understanding of the multiethnic nature of the universe.
Works Cited
Love, Erik. Islamophobia and racism in America. NYU Press, 2017:88-167
Omi, Michael, and Howard Winant. Racial formation in the United States. Routledge, 2014: 55-89.
Rosenblum. The Meaning of Difference: American Constructions of Race, Sex and Gender, Social Class, Sexual Orientation, and Disability [Paperback], 6th Edition. [VitalSource Bookshelf version]
Telles, Edward E. Race in another America: the significance of skin color in Brazil. Princeton University Press, 2014.
Cite this page
Why Is Racial Inequality a Problem? Find the Answer in This Free Essay. (2022, Apr 08). Retrieved from https://speedypaper.com/essays/why-is-racial-inequality-a-problem
Request Removal
If you are the original author of this essay and no longer wish to have it published on the SpeedyPaper website, please click below to request its removal: