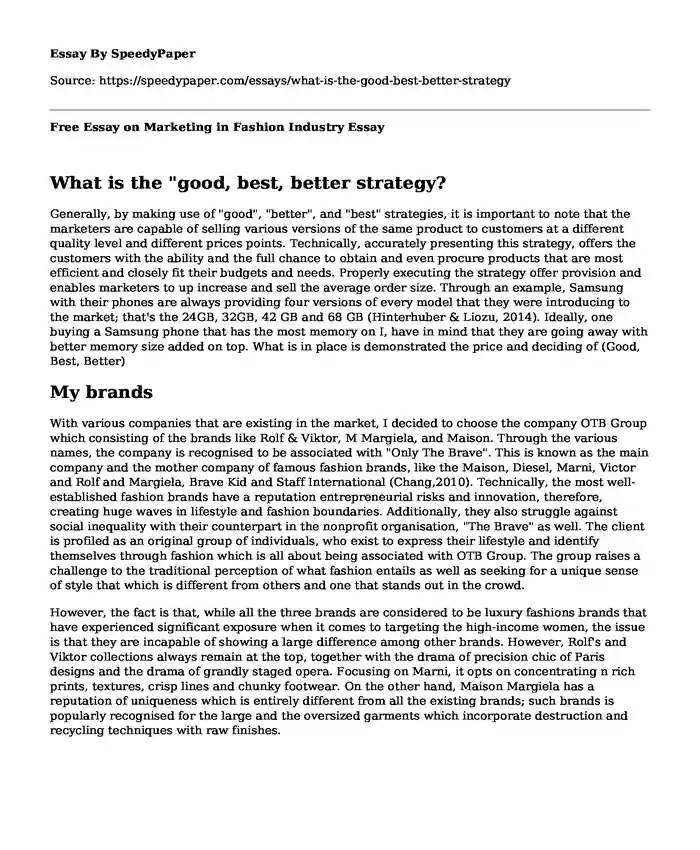 What is the "good, best, better strategy?
Generally, by making use of "good", "better", and "best" strategies, it is important to note that the marketers are capable of selling various versions of the same product to customers at a different quality level and different prices points. Technically, accurately presenting this strategy, offers the customers with the ability and the full chance to obtain and even procure products that are most efficient and closely fit their budgets and needs. Properly executing the strategy offer provision and enables marketers to up increase and sell the average order size. Through an example, Samsung with their phones are always providing four versions of every model that they were introducing to the market; that's the 24GB, 32GB, 42 GB and 68 GB (Hinterhuber & Liozu, 2014). Ideally, one buying a Samsung phone that has the most memory on I, have in mind that they are going away with better memory size added on top. What is in place is demonstrated the price and deciding of (Good, Best, Better)
My brands
With various companies that are existing in the market, I decided to choose the company OTB Group which consisting of the brands like Rolf & Viktor, M Margiela, and Maison. Through the various names, the company is recognised to be associated with "Only The Brave". This is known as the main company and the mother company of famous fashion brands, like the Maison, Diesel, Marni, Victor and Rolf and Margiela, Brave Kid and Staff International (Chang,2010). Technically, the most well-established fashion brands have a reputation entrepreneurial risks and innovation, therefore, creating huge waves in lifestyle and fashion boundaries. Additionally, they also struggle against social inequality with their counterpart in the nonprofit organisation, "The Brave" as well. The client is profiled as an original group of individuals, who exist to express their lifestyle and identify themselves through fashion which is all about being associated with OTB Group. The group raises a challenge to the traditional perception of what fashion entails as well as seeking for a unique sense of style that which is different from others and one that stands out in the crowd.
However, the fact is that, while all the three brands are considered to be luxury fashions brands that have experienced significant exposure when it comes to targeting the high-income women, the issue is that they are incapable of showing a large difference among other brands. However, Rolf's and Viktor collections always remain at the top, together with the drama of precision chic of Paris designs and the drama of grandly staged opera. Focusing on Marni, it opts on concentrating n rich prints, textures, crisp lines and chunky footwear. On the other hand, Maison Margiela has a reputation of uniqueness which is entirely different from all the existing brands; such brands is popularly recognised for the large and the oversized garments which incorporate destruction and recycling techniques with raw finishes.
The "good" element
Paying attention to the good element, the garment which is regarded as "good" fits the description of a dark grey sweatshirt with different colour patterns by Rolf and Viktor. On the other hand, the price is $ 260 when packaging and shipping cost is not incorporated. Coming and being designed in a small size, the product can be ordered from YOOX website with the sweatshirt being composed of 37% Viscose, 45% cotton and eighteen percent of polyamide, bearing a greater length of 26.72 inches. Additionally, understanding how the sweatshirts are manufactured is essential. Sweatshirt includes faux leather, flannel, no pockets, long sleeves, exact fit, no appliques and round collar. They are designed to be simple and one that can be put together with a pair of sneakers and jeans while relaxing during weekends.
According to Rolf and Victor design for a luxurious designer market and for upscale, their target market is viewed to be consisting of high-class ladies who are living in their mid-thirties and twenties, who are identified as avant-garde with sophistication and has an excellent eye for fashion and detail. She loves combining everyday clothing with elements of haute couture, as well as showing herself to the world as one of the unique and excellent clothing design which has a sophisticated eye for fashion and detail. Being that she is living in the city region, it is viewed to be having a severe passion for art and fashion, one who has achieved the higher level of higher education and a higher disposable income. From a general perspective, such will fall under the category of a "good" garment since it demonstrates a specific higher quality product that is being generated from one of the great designers. However, when a general comparison is made, what comes out is that the two garments are viewed to be having more features that consist of a fashion designed material that is from a top designer and a higher quality product. However, the other garment features themselves as materials with better quality fabrics which one can identify themselves with the price differences.
The "better" element
Ideally, garments that fit the description of "better" include asymmetric and dark navy blue sweatshirt designed and made by Marni. Its average price stands at $ 570 without the packaging, and shipping cost. To place an order, one can simply visit MyTheresa.com website to engage with the support team. The sweatshirts are manufactured in Italy, and the material is identified to be having a soft and thick hand feel. Associated with a mock neckline, a straight fit with the composition consisting of one hundred percent cotton. Being that the cloth is designed with one sleeve being longer than the other so that it can bring up a tremendous slouchy look; it is recognised to be boasting an oversized fit and a fleece lining.
The dark navy colour offers it a tremendous chic twist, which is viewed to be making it be one of the perfect outfits for something that is a little beat more gorgeous on chilly days. Pairing it with sandal heels and a pair of black pants one is good to go in achieving their regular duties. Having lots of soft feeling fabrics, Miami is necessarily one of the very feminine labels that entail great soft feeling and identified as one of the best clothes that one find them very easy to wear (Klijn, 2012). The goals and primary focus are on designing clothes that women are capable of putting on over and over, having a match of old clothes with the new clothes. According to the clothes produced by Mami, they have in the past attracted women who are not fashion driven, for examples customers from Rolf & Viktor. However, they tend to be curious to know more about the clothes. They are able and confident enough on matching and all-time mixing Marni clothes with that of their wardrobe. They have to decide on how quiet or loud their Marni look is.
Assessing the target market, it is clear that a cosmopolitan woman who travels from Europe and Asia is a target consumer of the commodity. The description involves a twenty-three to a forty-five-year-old woman who is living in an urban city, Paris or New York and have it is seriously interested in the world around her ( Mami) and has a strong love for culture, nature and art. Additionally, she has a higher income of ($3000+/-), which shows that probably she must have been working in a fashion and design industry which gives her a better background knowledge of both (Mami). Focusing on her style, it is identified that her style involves a mix of personal style, yet it's so simple. She prefers visiting a gallery opening than paying attention to a red carpet event. However, with the final presentation of Mami woman, intelligent and stylish is considered to be the last results.
These sweatshirts represent their company profile, as well as their target customers. When it comes to the general differentiation, the sweatshirt is viewed to be very simple and different with the asymmetrical sleeves. With a prediction of five years, it is one of the clothes that one will still afford to wear to a party. Considering the navy blue offering chic twist which remains comfortable and soft, the product is the material is what dominates. On the other hand, this sweater normally incorporates manual, not every individual or customer will achieve getting the long sleeve, but in the long run, will end up to fall in love with it. The reason as to why this Marni is a sweatshirt that is fitting into a better category is as a result of the 100% content. As result, the quality this sweater is perceived to be of great quality than the Rolf and Viktor sweatshirt, made of viscose, cotton and polyamide material. Given that cotton has the capability of blending uniformly with fabrics makes them less prone to wrinkles, shrinking and static. Additionally, they are not very much breathable compared to pure cotton fabric (Schubert,2015).
On the other hand, cotton is a hypoallergenic fabric, demonstrating that it was suitable for individuals with various sensitive skin and allergies.it offers soft texture, while on the other hand providing a breathable fabric in absorbing perspiration. The main reason for a sweater is that it supposed to be comfortable and soft. Otherwise one will be putting on something which is more fashionable. The pure cotton sweatshirt by Marni has a better option than the Viktor & Rolf sweatshirt due to its soft feel. However, with all the excellent material content in its possession, it cannot be compared to the level of quality that is associated with the best option Margiela and Maison sweatshirts.
The "best" element
The description of the best garment would achieve the "best" regarding quality and the material used in making it. The "best" is regarded as the printed cotton and wool sweater by Margiela Maison. Focusing on the value through pricing, it goes up to $ 1, 485, exclusion of the packaging and the shipping cost. It doesn't come cheap, but if a customer has the cash to spend on it, then it is worth it. Regarding online marketing and order placement, the sweater can be obtained from MyThersa.com website, and the orders are only imported in Italians sized 42, 40 and 38. Regarding the nature of design and natural makeup, the sweaters are made from a blend of materials from wool and cotton with 57% and 43% contents respectively. The trim composes of 35% camel hair and 52% polyamide wool with pure cotton. Technically, the sweater printer has both electric and a raw feel with an inspired print of the eighties on the front.
It is also important to note that due to the construction of the frayed hem and one-sleeve, the silhouettes gain a deconstructed and a layered look. Modification of the look can be achieved by pairing it with skinny jeans for a skirt and a more casual look with a pair of heels for a trendier look.
Margiela Maison is famously known as a French fashion house of both male and female fashion designs. The designs are viewed to be unconventional, mysterious and conceptual that forms a unique approach to handling modern elegance. Focusing on the general techniques, he prefers the application of grunge technique. For instance, recycling, raw finishes, and deconstruction. Given that Maison Margiela is not just an ordinary average fashion brand; anonymity and invisibility has played key roles development and establishment of the best brand history (Margiela & Luna,2009)
Focusing on Maison Margiela, he is demonstrated as an example of an individual who was the head of designers for over a period of twenty years, until he entirely his commitment on the brand, in 2009. However, in The Cult of Invisibility, Margiela was identified as the invisible ma...
Cite this page
Free Essay on Marketing in Fashion Industry. (2022, Mar 11). Retrieved from https://speedypaper.com/essays/what-is-the-good-best-better-strategy
Request Removal
If you are the original author of this essay and no longer wish to have it published on the SpeedyPaper website, please click below to request its removal: