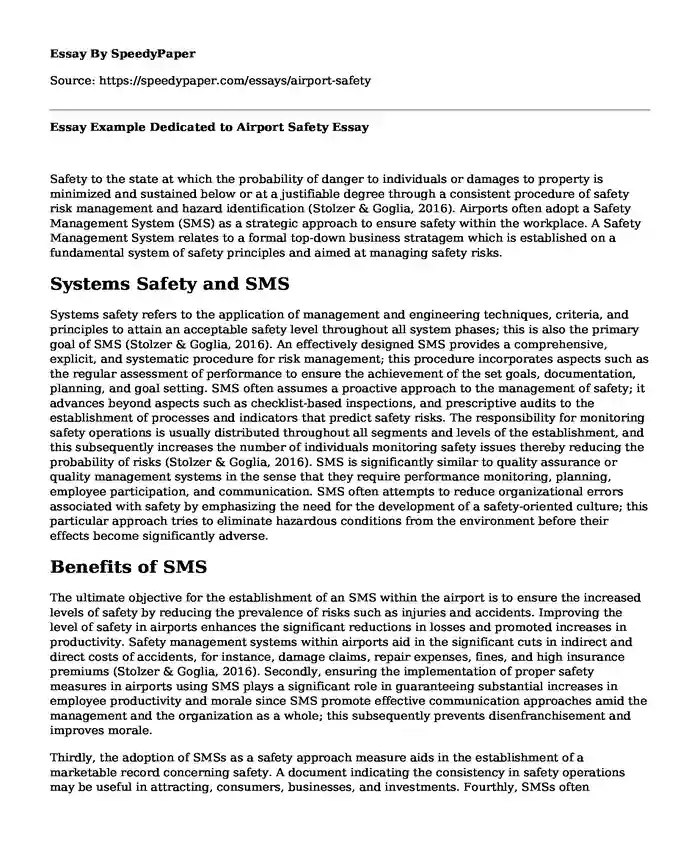 Safety to the state at which the probability of danger to individuals or damages to property is minimized and sustained below or at a justifiable degree through a consistent procedure of safety risk management and hazard identification (Stolzer & Goglia, 2016). Airports often adopt a Safety Management System (SMS) as a strategic approach to ensure safety within the workplace. A Safety Management System relates to a formal top-down business stratagem which is established on a fundamental system of safety principles and aimed at managing safety risks.
Systems Safety and SMS
Systems safety refers to the application of management and engineering techniques, criteria, and principles to attain an acceptable safety level throughout all system phases; this is also the primary goal of SMS (Stolzer & Goglia, 2016). An effectively designed SMS provides a comprehensive, explicit, and systematic procedure for risk management; this procedure incorporates aspects such as the regular assessment of performance to ensure the achievement of the set goals, documentation, planning, and goal setting. SMS often assumes a proactive approach to the management of safety; it advances beyond aspects such as checklist-based inspections, and prescriptive audits to the establishment of processes and indicators that predict safety risks. The responsibility for monitoring safety operations is usually distributed throughout all segments and levels of the establishment, and this subsequently increases the number of individuals monitoring safety issues thereby reducing the probability of risks (Stolzer & Goglia, 2016). SMS is significantly similar to quality assurance or quality management systems in the sense that they require performance monitoring, planning, employee participation, and communication. SMS often attempts to reduce organizational errors associated with safety by emphasizing the need for the development of a safety-oriented culture; this particular approach tries to eliminate hazardous conditions from the environment before their effects become significantly adverse.
Benefits of SMS
The ultimate objective for the establishment of an SMS within the airport is to ensure the increased levels of safety by reducing the prevalence of risks such as injuries and accidents. Improving the level of safety in airports enhances the significant reductions in losses and promoted increases in productivity. Safety management systems within airports aid in the significant cuts in indirect and direct costs of accidents, for instance, damage claims, repair expenses, fines, and high insurance premiums (Stolzer & Goglia, 2016). Secondly, ensuring the implementation of proper safety measures in airports using SMS plays a significant role in guaranteeing substantial increases in employee productivity and morale since SMS promote effective communication approaches amid the management and the organization as a whole; this subsequently prevents disenfranchisement and improves morale.
Thirdly, the adoption of SMSs as a safety approach measure aids in the establishment of a marketable record concerning safety. A document indicating the consistency in safety operations may be useful in attracting, consumers, businesses, and investments. Fourthly, SMSs often emphasize the logical prioritization of airport safety needs by emphasizing features such as risk mitigation approaches which offer significant impacts on safety and overall productivity (Stolzer & Goglia, 2016). Fifthly, SMSs foster the capacity of airports to comply with the legal requirements concerning safety. The criteria for airport certification usually mandate various safety standards and procedures that may be included in the company's SMS. Additionally, SMS allows the efficiencies in scheduling maintenance and resource utilization. In SMS, effective hazard reporting enhances proactive scheduling of maintenance tasks, increases the probability concerning the effective and timely maintenance performance (Stolzer & Goglia, 2016). Lastly, it ensures the continuous improvement of various airport operational procedures by allowing the incorporation of lessons learned into the system and insights on significant operations.
The Components of an Airport SMS
Safety policy
A policy statement often reflects the commitment of the airport management to safety, and it incorporates the procedures for integrating safety management principles into the organizational structure and delineates the processes necessary for the successful execution of an SMS (Stolzer & Goglia, 2016). A safety policy has the following elements:
The organization's commitment to implementing the SMS
Executives' obligation to monitor safety performance
A stipulation encouraging employees to report safety issues
The development of standards for acceptable safety-related standards and a commitment to providing the required resources.
The safety policy also delineates the effective organizational structure requires to attain and maintain the stipulated safety goals (Stolzer & Goglia, 2016). The organizational structure ought to be appropriate in complexity, size and the organization's operating environment. Safety procedures outline the procedures used to identify and remedy safety risks within the airport.
Safety Promotion
Safety promotion entails three primary features: Communication, training, and culture. Safety promotion's primary objective is to develop a culture of safety within the airport; this means that employees are liable for ensuring safety within the airport (Stolzer and Goglia, 2016). Training equips employees with the knowledge regarding the company's safety policies, practices, and procedures; it also provides employees with insights concerning their responsibilities and roles within the safety management framework. Effective communication strategies are also necessary to promote safety measures in the airport.
Safety Risk Management
Aviation is a field that faces many risks on a day-to-day basis, and therefore, it is difficult to eradicate all risks; nonetheless, risks may be minimized to an insignificant degree by using Safety Risk Management measures (Stolzer & Goglia, 2016). SRM approaches consist of risk mitigation and tracking, risk assessment, and risk identification.
Safety Assurance
The primary components of safety assurance include corrective action, external audits, and internal audits. Each department in the organization has to perform an internal audit to ensure the execution of proper procedures to attain the established safety objectives; they ought to be performed regularly (Stolzer & Goglia, 2016). External audits ought to be performed as part of the organization's safety oversight. The implementation of corrective actions takes place following the assessment of the audit results. The safety assurance department usually performs these tasks, and they ensure the resolving of the identified safety risks.
Airport Security
Airport security relates to the methods and techniques used with the aim of protecting passengers, planes, and staff within the airport from malicious/accidental harm, crimes, and other threats (Purnell, NRC, & ACRP, 2012). Airport security is an integration of material and human resources to safeguard civil aviation from illicit interferences. Illegal interference includes terrorism acts, threats to property and life, sabotage, bombing, and communication of false threats.
Airport Security Process and Equipment
Travelers are usually screened using millimeter wave scanners or/and metal detectors. Machines for detecting explosives include explosive trace-detection portal and X-ray machines. Machines used to detect explosives may be also be used for checked and carry-on baggage. These machines use gas chromatography techniques to detect the presence of volatile compounds generated by explosives (Harding, NRC, & ACRP, 2011). A recent advancement is the contentious utilization of backscatter X-rays to identify hidden explosives and weaponry on travelers. These gadgets use Compton Scattering, and they require a traveler to stand near a flat panel to generate an image of high-resolution. One backscatter scan uncovers the target amid 0.05 and 0.1 Sv of radiation (Harding, NRC, & ACRP, 2011). A standard chest x-ray' scan exposure is approximately one-hundred times high compared to that of a backscatter scan. People are usually pass through airport security screening as they advance to the aircrafts' exit gates; these areas are commonly referred to as the airside, sterile, and secure. Due to the prevalence of terror attacks, restrictions concerning the access to concourses by non-passengers has been established. Non-passengers ought to secure a gate pass to access the secure region of the airport. Restrictions concerning the public access to sensitive areas within the airport, for instance, operational spaces and airport ramps have been implemented as a security and safety measure. For example, one requires special qualifications to access the Security Identification Display Area (SIDA) (Purnell, NRC, & ACRP, 2012). Intrusion detection systems, for instance, fiber optics perimeter are another vital security measure utilized by many international airports. These systems of security foster the capacity of airport security to detect and locate any intrusion within the airport parameter by ensuring a prompt intrusion notification; this subsequently allows the security department to evaluate the threats, monitor its progress, and implement necessary security processes.
Information Management Systems at the Airport
Asset Management Systems (AMS)
The AMS includes the software-based applications employed in the scheduling and management of airport resources and assets. AMS fosters the airports capacity to track and manage their resources and assets. These systems also provide the tools necessary for evaluating the life-cycle aspects of resources; this is an invaluable function critical in attaining significant levels of efficiencies in operations (Purnell, NRC, & ACRP, 2012). The monitoring of resources (human or physical) since its purchase or implementation date to decommission or disposal dates provides cost visibility, which is an important aspect that is usually miscalculated or overlooked in operational budgeting. The AMS facilitates the scheduling, tracking, documentation, and reporting of labor-intensive duties.
Computerized Maintenance Management System (CMMS)
The CMMS is a system (software-based) utilized to foster operation efficiency in different management areas, for instance, inventory management by supporting a maintenance information database related to the operations of the organization. A CMMS promotes the capacity of the airport to offer the level of convenience and comfort required by consumers, irrespective of the airport's category and size. CMMS enhances an increased degree of efficacy in operation processes, minimizes costs related to operations, labor, and maintenance, and improves the management of inventory (Harding, NRC, & ACRP, 2011). The CMMS facilitates the integration of considerations concerning facility maintenance into one software package. Nonetheless, CMMS' effectiveness relies on the capacity of the organization to incorporate all resources that interact within the system. Thus, a CMMS operator ought to account for all inventory, equipment, and systems operated or possessed by the airport (Purnell, NRC, & ACRP, 2012). The software offers the flexibility required in tracking facility assets, for instance, network drops, HVAC controls, and electrical outlets, and equipment.
Cite this page
Essay Example Dedicated to Airport Safety. (2022, Nov 04). Retrieved from https://speedypaper.com/essays/airport-safety
Request Removal
If you are the original author of this essay and no longer wish to have it published on the SpeedyPaper website, please click below to request its removal: