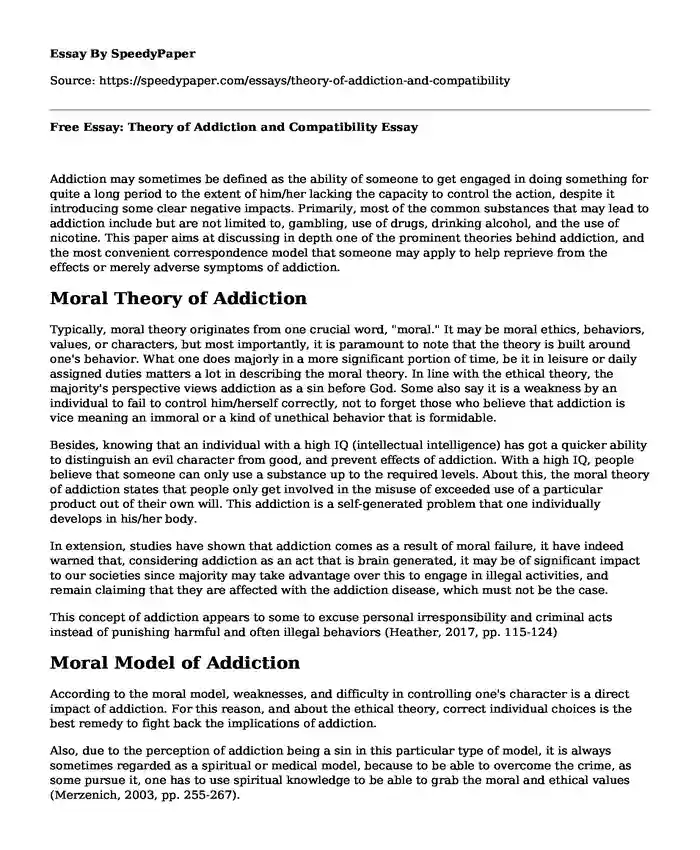 Addiction may sometimes be defined as the ability of someone to get engaged in doing something for quite a long period to the extent of him/her lacking the capacity to control the action, despite it introducing some clear negative impacts. Primarily, most of the common substances that may lead to addiction include but are not limited to, gambling, use of drugs, drinking alcohol, and the use of nicotine. This paper aims at discussing in depth one of the prominent theories behind addiction, and the most convenient correspondence model that someone may apply to help reprieve from the effects or merely adverse symptoms of addiction.
Moral Theory of Addiction
Typically, moral theory originates from one crucial word, "moral." It may be moral ethics, behaviors, values, or characters, but most importantly, it is paramount to note that the theory is built around one's behavior. What one does majorly in a more significant portion of time, be it in leisure or daily assigned duties matters a lot in describing the moral theory. In line with the ethical theory, the majority's perspective views addiction as a sin before God. Some also say it is a weakness by an individual to fail to control him/herself correctly, not to forget those who believe that addiction is vice meaning an immoral or a kind of unethical behavior that is formidable.
Besides, knowing that an individual with a high IQ (intellectual intelligence) has got a quicker ability to distinguish an evil character from good, and prevent effects of addiction. With a high IQ, people believe that someone can only use a substance up to the required levels. About this, the moral theory of addiction states that people only get involved in the misuse of exceeded use of a particular product out of their own will. This addiction is a self-generated problem that one individually develops in his/her body.
In extension, studies have shown that addiction comes as a result of moral failure, it have indeed warned that, considering addiction as an act that is brain generated, it may be of significant impact to our societies since majority may take advantage over this to engage in illegal activities, and remain claiming that they are affected with the addiction disease, which must not be the case.
This concept of addiction appears to some to excuse personal irresponsibility and criminal acts instead of punishing harmful and often illegal behaviors (Heather, 2017, pp. 115-124)
Moral Model of Addiction
According to the moral model, weaknesses, and difficulty in controlling one's character is a direct impact of addiction. For this reason, and about the ethical theory, correct individual choices is the best remedy to fight back the implications of addiction.
Also, due to the perception of addiction being a sin in this particular type of model, it is always sometimes regarded as a spiritual or medical model, because to be able to overcome the crime, as some pursue it, one has to use spiritual knowledge to be able to grab the moral and ethical values (Merzenich, 2003, pp. 255-267).
In general, the moral model proves that addiction is no longer what many people perceive it to be. Partnering together with the knowledge of the ethical theory and the moral model, addiction can be generalized as moral failure and not a mind generated, not a sin, not a vice nor a criminal. It is the failure to behave right that leads to all the successive effects.
References
Heather, N., (2017). Q: Is addiction a brain disease or a moral failing? A: Neither. Neuroethics, 10(1), 115-124.
Merzenich, M. M. (2003). Rubenstein, J. L. R., & Model of autism: increased ratio of excitation/inhibition in key neural systems. Genes, Brain and Behavior, 2(5), 255-267. Retrieved from Rubenstein, J. L. R., & Merzenich, M. M. (2003). Model of autism: increased ratio of excitation/inhibition in key neural systems. Genes, Brain and Behavior, 2(5), 255-267.
Cite this page
Free Essay: Theory of Addiction and Compatibility. (2023, Jan 20). Retrieved from https://speedypaper.com/essays/theory-of-addiction-and-compatibility
Request Removal
If you are the original author of this essay and no longer wish to have it published on the SpeedyPaper website, please click below to request its removal: