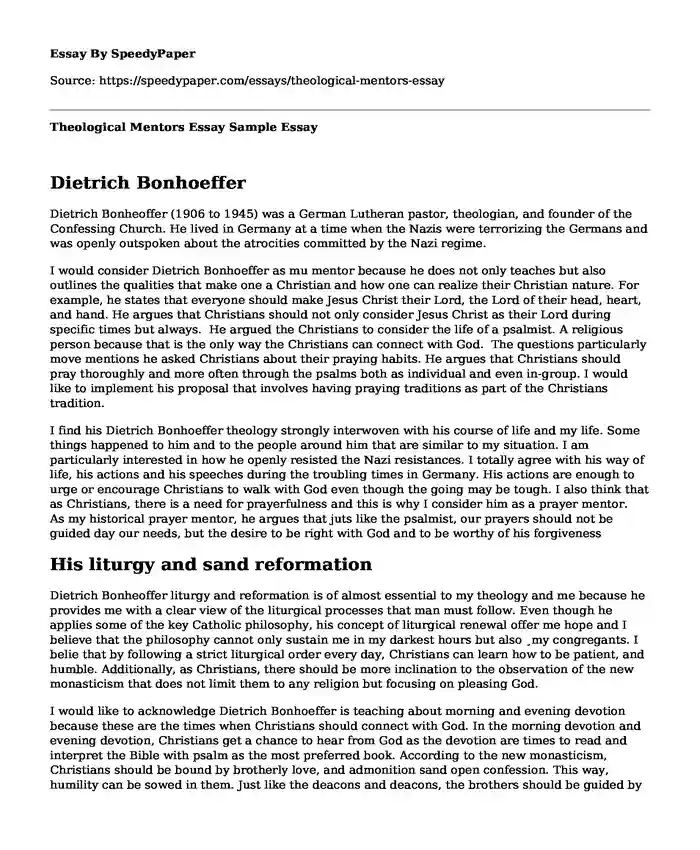 Dietrich Bonhoeffer
Dietrich Bonheoffer (1906 to 1945) was a German Lutheran pastor, theologian, and founder of the Confessing Church. He lived in Germany at a time when the Nazis were terrorizing the Germans and was openly outspoken about the atrocities committed by the Nazi regime.
I would consider Dietrich Bonhoeffer as mu mentor because he does not only teaches but also outlines the qualities that make one a Christian and how one can realize their Christian nature. For example, he states that everyone should make Jesus Christ their Lord, the Lord of their head, heart, and hand. He argues that Christians should not only consider Jesus Christ as their Lord during specific times but always. He argued the Christians to consider the life of a psalmist. A religious person because that is the only way the Christians can connect with God. The questions particularly move mentions he asked Christians about their praying habits. He argues that Christians should pray thoroughly and more often through the psalms both as individual and even in-group. I would like to implement his proposal that involves having praying traditions as part of the Christians tradition.
I find his Dietrich Bonhoeffer theology strongly interwoven with his course of life and my life. Some things happened to him and to the people around him that are similar to my situation. I am particularly interested in how he openly resisted the Nazi resistances. I totally agree with his way of life, his actions and his speeches during the troubling times in Germany. His actions are enough to urge or encourage Christians to walk with God even though the going may be tough. I also think that as Christians, there is a need for prayerfulness and this is why I consider him as a prayer mentor. As my historical prayer mentor, he argues that juts like the psalmist, our prayers should not be guided day our needs, but the desire to be right with God and to be worthy of his forgiveness
His liturgy and sand reformation
Dietrich Bonheoffer liturgy and reformation is of almost essential to my theology and me because he provides me with a clear view of the liturgical processes that man must follow. Even though he applies some of the key Catholic philosophy, his concept of liturgical renewal offer me hope and I believe that the philosophy cannot only sustain me in my darkest hours but also ¸my congregants. I belie that by following a strict liturgical order every day, Christians can learn how to be patient, and humble. Additionally, as Christians, there should be more inclination to the observation of the new monasticism that does not limit them to any religion but focusing on pleasing God.
I would like to acknowledge Dietrich Bonhoeffer is teaching about morning and evening devotion because these are the times when Christians should connect with God. In the morning devotion and evening devotion, Christians get a chance to hear from God as the devotion are times to read and interpret the Bible with psalm as the most preferred book. According to the new monasticism, Christians should be bound by brotherly love, and admonition sand open confession. This way, humility can be sowed in them. Just like the deacons and deacons, the brothers should be guided by the Bible and not by the cult the church's order guides the most churches.
Apart from him being a good player mentor, his ordering also guides theologians on a different aspect of theology practice. For example, he guides other theologians that the daily prayer should include our father, hymnal songs, and biblical verses that are interspersed with different hymns and weekly-appointed biblical texts. I find the idea of lectures very important, and I think if the lecturers are combined with chorales during the morning devotion people are not only rejuvenated to pursue their daily duties with joy but also have the strength to reject the devil and his trials. Finally, I think that Bonhoeffer's idea of the lord's super is important because it allows the brethren and sisters time to come together, merry, talk and confess. Brotherly talk is very important for a theological practice to be complete because through the supers, brothers can discuss diverse topics, and share ideas on how to live their daily lives while maintaining peace with their inner self and with God.
Finally, Bonhoeffer is my theology mentor because he is firm in his faith and has demonstrated how Christians should stand firm for the Lord and protect the kingdom of God. For example, he argued that the Psalter must be able to penetrate the Lord's Prayer and allow the Lord's Prayer to penetrate him. The Christians should be able to stand bad be counted as god's people. By being string in the Lord, the Christians can be identified with the Lord and the Lord identified with the Christians. Christian should find time to pray and not excuse not praying, and if they pray, their prayer should whole-heartedly pray through Jesus.
Conclusion
Theology requires a commitment to the word of God, and this requires one to understand the primacy of the word or the bible. Christians should understand faith and theology should be based on the scriptures. As a theologist, I believe that sticking to the ecclesiastical magisterium should be a personal decision, but sticking to the word of God is mandatory. Therefore, I cannot stick to one theologian`s teaching model, but I would select a few practices, teachings, beliefs, and argument that I feel are still relevant at this time. Because theology s a service to the church as well as the community as a whole, it is important to ensure that the texts, scriptures, as well as the programming of services, are realistic. I believe that the four theological mentors discussed above purposed that their texts would be useful to the theologian colleagues but some of their speeches and beliefs and arguments are unfavorable. I think the theological inquiry is a very important practice to pursue. I think my role and duty as a theologian is to study and teach about the mystery of God as it is revealed through Jesus Christ. I have to convince the congregants about the goodness f faith that can be enjoyed by the people in the communion of the church enjoy when they participate in the life of God. Finally, I love to teach about hope in God and not on the earthly things because above all principalities, laws, and doctrines, Gods love and hope will always prevail to mankind if their steadfastly pray and seek his kingdom first.
References
Anderson, J. (1949). Calvin, John, Commentary on the Book of Psalms. Transl.. Vol. 1 (1st ed.). Grand Rapids: Eerdmans.
Hall, D. & Hall, J. (1994). Paradigms in polity (1st ed.). Grand Rapids, Mich.: Eerdmans.
Maag, D. (2016). JOHN CALVIN: The man behind the name. John Calvin College. Retrieved 14 December 2016, from https://calvin.edu/about/history/john-calvin.html
Selderhuis, H. (2009). John Calvin (1st ed.). Downers Grove, Ill.: IVP Academic.
Merklinger, Philip M. Philosophy, Theology, And Hegel's Berlin Philosophy Of Religion, 1821-1827. 1st ed. Albany: State University of New York Press, 1993. Print.
The Protestant work ethic
Calvin repudiated the distinction between "sacred" and "secular" duty and the prevailing notion that work is unavoidable. Rather, he taught, work is a calling from God. Therefore, one glorifies God in his work by working diligently and joyfully.
Calvin did not invent capitalism, but he did teach that one of the rewards of hard work is wealth. His philosophy of work allowed capitalism to flourish where it was practiced.
Jane de Chantal
Freidrich Schleiermacher
Dietrich Bonhoeffer
B. Engaging and Writing. For each of the 4 theologians, you will write 2-3 pages explaining in a clear and informed way 1) what attracts you to this figure, 2) how she or he connects with or challenges your own theological framework, and 3) how you might continue the conversation with this figure beyond this course. The task will require you to expand your reading for each theologian you choose, somewhat beyond what's found in course texts. For example, if you chose the Lutheran theologian Paul Tillich, you would want to read a few of his sermons to get a fuller picture, since sermons often provide the best clues to a theologian's interpretation of the faith. Note: Your four theologians should not include the figure used for your spiritual journal. Cumulative Essay: Theological Mentors.
Theologians are formed by immersing themselves in the river of Christian theological tradition, by relying on theological mentors: those important voices from the past whose contributions shaped the developing saga of Christian thought. The 20th century Swiss theologian Karl Barth, for example, was indebted to both John Calvin (16th century) and Friedrich Schleiermacher (19th century). Barth spent his theological career rethinking Christian faith by reacting and responding to these two earlier thinkers, engaging and critiquing their insights in his context. In brief, theologians become theologians by apprenticing themselves to past practitioners of the faith for the sake of interpreting the faith for Christians in their time. The final essay is to identify four figures you meet in History of Christian Thought 2 whose theological insights push you to go deeper, awaken new understandings of your religious/spiritual experience, and help you wrestle with dimensions of the Christian tradition.
The Process:
A. Selecting your Four Figures. You will select one figure from Weeks 1 or 2, one from Weeks 3 or 4, one from Weeks 5 or 6, and one from Weeks 7 or 8, whose ideas somehow move or challenge you. You are picking these figures to be your 'theological mentors' and conversation partners. Choose the figures as we progress through the class so that you can begin your conversations with them.
Cite this page
Theological Mentors Essay Sample. (2018, Jan 29). Retrieved from https://speedypaper.com/essays/theological-mentors-essay
Request Removal
If you are the original author of this essay and no longer wish to have it published on the SpeedyPaper website, please click below to request its removal: