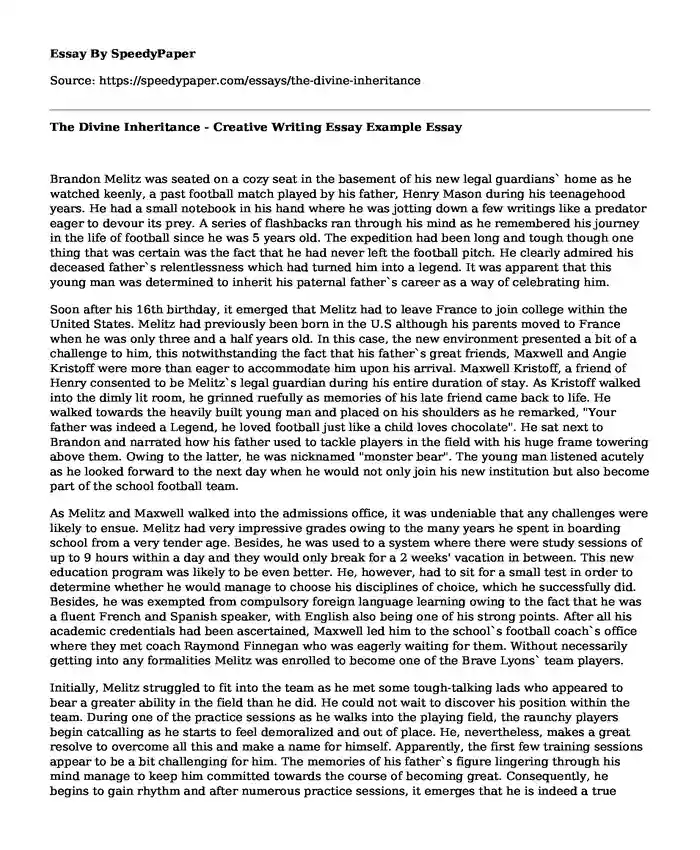 Brandon Melitz was seated on a cozy seat in the basement of his new legal guardians` home as he watched keenly, a past football match played by his father, Henry Mason during his teenagehood years. He had a small notebook in his hand where he was jotting down a few writings like a predator eager to devour its prey. A series of flashbacks ran through his mind as he remembered his journey in the life of football since he was 5 years old. The expedition had been long and tough though one thing that was certain was the fact that he had never left the football pitch. He clearly admired his deceased father`s relentlessness which had turned him into a legend. It was apparent that this young man was determined to inherit his paternal father`s career as a way of celebrating him.
Soon after his 16th birthday, it emerged that Melitz had to leave France to join college within the United States. Melitz had previously been born in the U.S although his parents moved to France when he was only three and a half years old. In this case, the new environment presented a bit of a challenge to him, this notwithstanding the fact that his father`s great friends, Maxwell and Angie Kristoff were more than eager to accommodate him upon his arrival. Maxwell Kristoff, a friend of Henry consented to be Melitz`s legal guardian during his entire duration of stay. As Kristoff walked into the dimly lit room, he grinned ruefully as memories of his late friend came back to life. He walked towards the heavily built young man and placed on his shoulders as he remarked, "Your father was indeed a Legend, he loved football just like a child loves chocolate". He sat next to Brandon and narrated how his father used to tackle players in the field with his huge frame towering above them. Owing to the latter, he was nicknamed "monster bear". The young man listened acutely as he looked forward to the next day when he would not only join his new institution but also become part of the school football team.
As Melitz and Maxwell walked into the admissions office, it was undeniable that any challenges were likely to ensue. Melitz had very impressive grades owing to the many years he spent in boarding school from a very tender age. Besides, he was used to a system where there were study sessions of up to 9 hours within a day and they would only break for a 2 weeks' vacation in between. This new education program was likely to be even better. He, however, had to sit for a small test in order to determine whether he would manage to choose his disciplines of choice, which he successfully did. Besides, he was exempted from compulsory foreign language learning owing to the fact that he was a fluent French and Spanish speaker, with English also being one of his strong points. After all his academic credentials had been ascertained, Maxwell led him to the school`s football coach`s office where they met coach Raymond Finnegan who was eagerly waiting for them. Without necessarily getting into any formalities Melitz was enrolled to become one of the Brave Lyons` team players.
Initially, Melitz struggled to fit into the team as he met some tough-talking lads who appeared to bear a greater ability in the field than he did. He could not wait to discover his position within the team. During one of the practice sessions as he walks into the playing field, the raunchy players begin catcalling as he starts to feel demoralized and out of place. He, nevertheless, makes a great resolve to overcome all this and make a name for himself. Apparently, the first few training sessions appear to be a bit challenging for him. The memories of his father`s figure lingering through his mind manage to keep him committed towards the course of becoming great. Consequently, he begins to gain rhythm and after numerous practice sessions, it emerges that he is indeed a true replica of his own father. As the new football season draws nearer, Melitz tries hard to impress the coach in order to guarantee himself a spot during the team`s first game.
As the Brave Lyons walked into the field, Melitz was high with anxiety. His moment of truth had finally arrived, and he knew quite well that many people had high expectations about him. He supposes he was going to be among the individuals who were going to play during this first game but he is perturbed when the coach decides to bench him. As he followed this game he becomes distracted by thoughts of him becoming prosperous in the final analysis. This, however, conflicts with the skepticism borne by a great majority of his team members, although he was out to prove that he was worth the while. . As he waited anxiously, the time was drawing closer to the end of the game but there was no sign that he would replace anyone in the field despite the fact that the team`s quarterback was so tired that he could not move an inch. Besides, his team was clearly conceding defeat to the Mystical Panthers. He had no option but to watch agonizingly as they were humiliated until the last whistle was blown by the referee.
When a team meeting was called, the coach was furious as he reprimanded the individuals who were solely responsible for their downfall. He stated categorically, that they had to come up with a better plan of winning the next game failure to which they would be kicked out of the completion. When this day finally arrived, Melitz was still seated on the bench. This time, however, the coach watched as their rival got a head start in the game. Trumpets were blaring loudly in the background as the team went on their break. The Lyons were behind by 5 points. The game was slowly nearing the end and so Raymond had no other option but to let Melitz join in. He called out to him and said "Move it, son, your time has come" (Hedley, 2007). This call was identical to sweet music in Melitz ears. His heart was pounding furiously as he dashed into the field with the audience cheering him repeatedly. The commentator made everyone aware that a new Lyon had just stepped into the pitch.
As the game got back in motion, the ball moved across the field changing possession between both teams. Melitz wasted no time as he demonstrated his footwork, dodging his way through the opponent`s defense much to the amazement of everyone and finally making the first score in his new found home. The opposing team realized that they could not stop him; they could only hope to contain him. This was a dream come true for him as he watched the frenzied crowd leap off the seats cheering him in jubilation. He could hear the commentator saying "Truly the ghost of monster bear is back" (Hedley, 2007). Deep within him, he held a growing conviction that this was just the beginning. His next successive scores made sure that the Lyon sailed through to the next level. At this moment, not even the coach could hide his excitement. When the match ended, his team members held him shoulder high as they moved through the field. They all knew that the Savior had finally arrived.
Analysis 1
In the aforementioned story, it is evident that Melitz had inherited his father`s gift. His new experience shows that he is committed to showcasing his natural ability in football as a way of initiating a successful career. Besides, this young lad, is an academic die hard, who is disciplined and focused. When he first joins the team, he becomes dispirited as he imagines that the rest of the team members are better than he is. Besides, practice sessions appear to be hard for him during the initial stages. The constant egoism of other players in the team makes him feel as if he does not fit the part. It is, nonetheless, apparent that one thing which keeps him going is the memory of his father.
When one`s father is a successful player in any game, everyone has high expectations that they are going to demonstrate the same ability. This situation was no different for Melitz whose constant devotion to playing shows that he was committed to the course. During the initial scenes, the reader can observe that he is hungry for success. He demonstrates his commitment by not only watching his father playing but also taking notes in order to come up with a game plan; which he does later on. Besides, he ignores all the disparaging remarks from people and focuses on what really matters. At first, even the coach appears unsure about his abilities and does not, therefore, offer him an opportunity to play during the first match, as they watch their team lose the match. This is similar to Twenty Miles where Isabel and other team members watched the game as their team lost to opponents. "We sat silent...watching our wounded team limp on" (Hedley 140). When he finally does, Melitz proves his finesse in the sport as he pushes his team to the next level of the competition, proving that he is indeed his father`s son. Similarly, Isabel had inherited her father`s skills. "Her father was a hockey legend" (Hedley 210). This further demonstrates the theme of inheritance evident in both stories.
Analysis 2
It can be observed that Brandon Melitz is identical to Isabel Norris in Cara Hedley`s Twenty Miles. The thematic commentary of inheritance is evident in both stories judging from the fact that both characters possess the same ability as that of their biological fathers. The former character manages to take after his father who was initially a football player. Similarly, Isabel also inherits the same ability from her father whom she never had a chance of meeting though it has been indicated that he played hockey. In addition, these two individuals struggle to fit into their newly acquired sport as they look forward to knowing their position within the team.
One likely observable element is the fact that both Isabel and Melitz do not necessarily struggle to fit into their respective sports. This can be explained by the fact that they had naturally inborn abilities. It was undeniable that both of them had inherited the ability from their fathers. Besides, even the people around them expect them to be as good as their fathers. Similarly, the memories that both characters have of their fathers constantly lingers through their mind. It acts as the driving force which pushes them to ultimate excellence. Despite having not known her father, Isabel had an idea of who he was. Moreover, when both Isabel and Melitz manage to join the same sports played by their fathers. They quickly become part of the team as their abilities become easily noticeable. The two characters do not disappoint as they reveal to the reader that inheritance is imminent. Based on the above-mentioned observations it can, therefore, be concluded that both Isabel and Melitz are alike in many ways. One thing that is, nonetheless, undeniable is that the two characters bear great resemblances to their fathers.
Works Cited
Hedley, Cara. Twenty Miles. Toronto: Coach House Press, 2007. Print.
Cite this page
The Divine Inheritance - Creative Writing Essay Example. (2022, Apr 15). Retrieved from https://speedypaper.com/essays/the-divine-inheritance
Request Removal
If you are the original author of this essay and no longer wish to have it published on the SpeedyPaper website, please click below to request its removal: