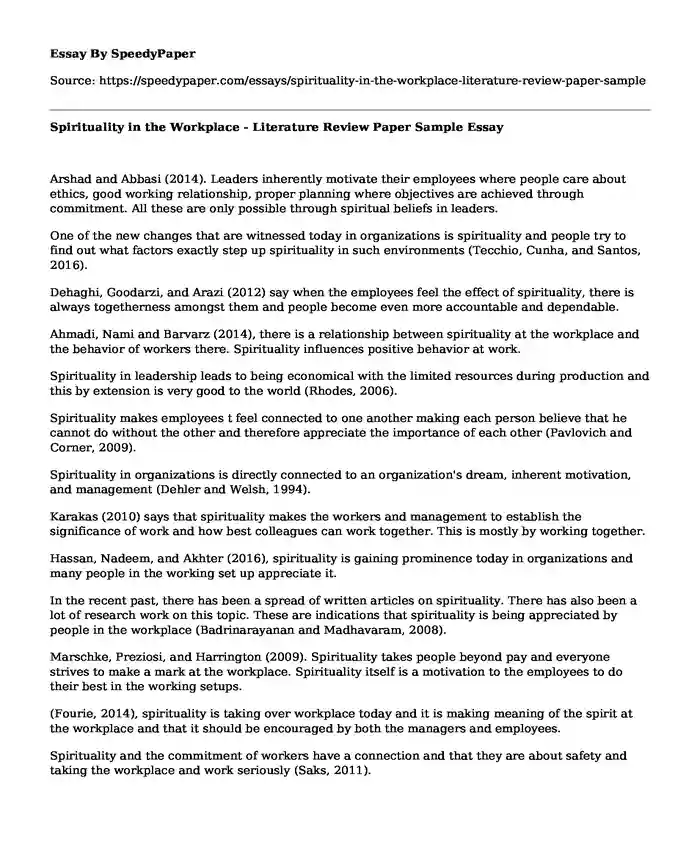 Arshad and Abbasi (2014). Leaders inherently motivate their employees where people care about ethics, good working relationship, proper planning where objectives are achieved through commitment. All these are only possible through spiritual beliefs in leaders.
One of the new changes that are witnessed today in organizations is spirituality and people try to find out what factors exactly step up spirituality in such environments (Tecchio, Cunha, and Santos, 2016).
Dehaghi, Goodarzi, and Arazi (2012) say when the employees feel the effect of spirituality, there is always togetherness amongst them and people become even more accountable and dependable.
Ahmadi, Nami and Barvarz (2014), there is a relationship between spirituality at the workplace and the behavior of workers there. Spirituality influences positive behavior at work.
Spirituality in leadership leads to being economical with the limited resources during production and this by extension is very good to the world (Rhodes, 2006).
Spirituality makes employees t feel connected to one another making each person believe that he cannot do without the other and therefore appreciate the importance of each other (Pavlovich and Corner, 2009).
Spirituality in organizations is directly connected to an organization's dream, inherent motivation, and management (Dehler and Welsh, 1994).
Karakas (2010) says that spirituality makes the workers and management to establish the significance of work and how best colleagues can work together. This is mostly by working together.
Hassan, Nadeem, and Akhter (2016), spirituality is gaining prominence today in organizations and many people in the working set up appreciate it.
In the recent past, there has been a spread of written articles on spirituality. There has also been a lot of research work on this topic. These are indications that spirituality is being appreciated by people in the workplace (Badrinarayanan and Madhavaram, 2008).
Marschke, Preziosi, and Harrington (2009). Spirituality takes people beyond pay and everyone strives to make a mark at the workplace. Spirituality itself is a motivation to the employees to do their best in the working setups.
(Fourie, 2014), spirituality is taking over workplace today and it is making meaning of the spirit at the workplace and that it should be encouraged by both the managers and employees.
Spirituality and the commitment of workers have a connection and that they are about safety and taking the workplace and work seriously (Saks, 2011).
Daniel (2014), spirituality encourages innovativeness at workplace leading to the generation of new ideas that are for the good of the organization.
Spirituality makes workers in an organization feel that they and work are one thing and this is for the overall good of the organization (Fanggida et al., 2016).
References
Ahmadi, S., Nami, Y., & Barvarz, R. (2014). The relationship between spirituality in the workplace and organizational citizenship behavior. Procedia-Social and Behavioral Sciences, 114, 262-264.
Arshad, A., & Abbasi, A. S. (2014). IMPACT OF SPIRITUAL LEADERSHIP ON ORGANIZATIONAL OUTCOMES IN POLICE DEPARTMENT OF PAKISTAN: MODERATING ROLE OF PSYCHOLOGICAL OWNERSHIP. Science International, 26(3).
Badrinarayanan, V., & Madhavaram, S. (2008). Workplace spirituality and the selling organization: A conceptual framework and research propositions. Journal of Personal Selling & Sales Management, 28(4), 421-434.
Capella, A. C. N. (2016). Agenda-setting policy: strategies and agenda denial mechanisms. Organizacoes & Sociedade, 23(79), 675-691.
Daniel, J. L. (2014). A study of the impact of workplace spirituality on employee outcomes: a comparison between us and mexican employees (Doctoral dissertation, Texas A&M International University).
Dehaghi, M. R., Goodarzi, M., & Arazi, Z. K. (2012). The effect of spiritual values on employees' organizational commitment and its models. Procedia-Social and Behavioral Sciences, 62, 159-166.
Dehler, G. E., & Welsh, M. A. (1994). Spirituality and organizational transformation: Implications for the new management paradigm. Journal of managerial psychology, 9(6), 17-26.
Fanggida, E., Rolland, E., Suryana, Y., & Efendi, N. (2016). Effect of a Spirituality Workplace on Organizational Commitment and Job Satisfaction.(Study on the Lecturer of Private Universities in the Kupang City-Indonesia). Procedia-Social and Behavioral Sciences, 219, 639-646
Fourie, M. (2014). Spirituality in the workplace: An introductory overview. In die Skriflig, 48(1), 01-08
Geaney, M. (2012). A spirituality leadership competency model: What does it take to be a spiritual leader in business. In 8th International Conference on Catholic Social Thought and Management Education (June 18-20), University of Dayton, Dayton.
Hassan, M., Bin Nadeem, A., & Akhter, A. (2016). Impact of workplace spirituality on job satisfaction: Mediating effect of trust. Cogent Business & Management, 3(1), 1189808.
Karakas, F. (2010). Spirituality and performance in organizations: A literature review. Journal of business ethics, 94(1), 89-106.
Marschke, E., Preziosi, R., & Harrington, W. (2009). Professionals and executives support a relationship between organizational commitment and spirituality in the workplace. Journal of Business & Economics Research, 7(8), 33-48.
Meng, Y. (2016). Spiritual leadership at the workplace: Perspectives and theories. Biomedical reports, 5(4), 408-412.
Naidoo, M. (2014). The potential of spiritual leadership in workplace spirituality. Koers, 79(2), 01-08.
Pavlovich, K., & Doyle Corner, P. (2009). Spiritual organizations and connectedness: the Living Nature experience. Journal of Management, Spirituality and Religion, 6(3), 209-229.
Rhodes, K. (2006). Six components of a model for workplace spirituality. Graziadio Business Report, 9 (2).
Saks, A. M. (2011). Workplace spirituality and employee engagement. Journal of management, spirituality & religion, 8(4), 317-340.
Salman, Y., Irfan, S., & Jabeen, N. (2017). Spiritual leadership in organizational context: a research gap in South Asia. South Asian Studies, 32(1), 209.
Tecchio, E. L., Cunha, C. J. C. D. A., & Santos, F. B. (2016). Spirituality in organizations?. Organizacoes & Sociedade, 23(79), 590-608.
Cite this page
Spirituality in the Workplace - Literature Review Paper Sample. (2022, Aug 24). Retrieved from https://speedypaper.com/essays/spirituality-in-the-workplace-literature-review-paper-sample
Request Removal
If you are the original author of this essay and no longer wish to have it published on the SpeedyPaper website, please click below to request its removal: