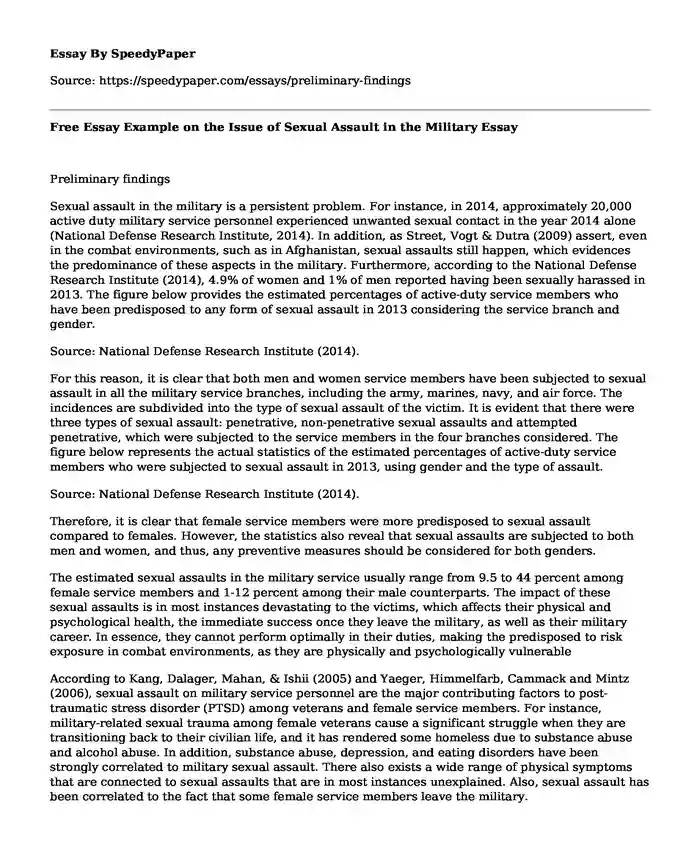 Preliminary findings
Sexual assault in the military is a persistent problem. For instance, in 2014, approximately 20,000 active duty military service personnel experienced unwanted sexual contact in the year 2014 alone (National Defense Research Institute, 2014). In addition, as Street, Vogt & Dutra (2009) assert, even in the combat environments, such as in Afghanistan, sexual assaults still happen, which evidences the predominance of these aspects in the military. Furthermore, according to the National Defense Research Institute (2014), 4.9% of women and 1% of men reported having been sexually harassed in 2013. The figure below provides the estimated percentages of active-duty service members who have been predisposed to any form of sexual assault in 2013 considering the service branch and gender.
Source: National Defense Research Institute (2014).
For this reason, it is clear that both men and women service members have been subjected to sexual assault in all the military service branches, including the army, marines, navy, and air force. The incidences are subdivided into the type of sexual assault of the victim. It is evident that there were three types of sexual assault: penetrative, non-penetrative sexual assaults and attempted penetrative, which were subjected to the service members in the four branches considered. The figure below represents the actual statistics of the estimated percentages of active-duty service members who were subjected to sexual assault in 2013, using gender and the type of assault.
Source: National Defense Research Institute (2014).
Therefore, it is clear that female service members were more predisposed to sexual assault compared to females. However, the statistics also reveal that sexual assaults are subjected to both men and women, and thus, any preventive measures should be considered for both genders.
The estimated sexual assaults in the military service usually range from 9.5 to 44 percent among female service members and 1-12 percent among their male counterparts. The impact of these sexual assaults is in most instances devastating to the victims, which affects their physical and psychological health, the immediate success once they leave the military, as well as their military career. In essence, they cannot perform optimally in their duties, making the predisposed to risk exposure in combat environments, as they are physically and psychologically vulnerable
According to Kang, Dalager, Mahan, & Ishii (2005) and Yaeger, Himmelfarb, Cammack and Mintz (2006), sexual assault on military service personnel are the major contributing factors to post-traumatic stress disorder (PTSD) among veterans and female service members. For instance, military-related sexual trauma among female veterans cause a significant struggle when they are transitioning back to their civilian life, and it has rendered some homeless due to substance abuse and alcohol abuse. In addition, substance abuse, depression, and eating disorders have been strongly correlated to military sexual assault. There also exists a wide range of physical symptoms that are connected to sexual assaults that are in most instances unexplained. Also, sexual assault has been correlated to the fact that some female service members leave the military.
Survivors of sexual assault have a high likelihood of engaging in risky behavior, including alcohol and substance abuse, high-risk HIV behavior and smoking (Cloutier, Martin & Poole, 2002). Besides, as the researchers point out, substance abuse plays a problematic role whenever assault occurs, especially for new service members, especially those aged 21, which is the age limit for drinking alcohol. However, substance abuse prior to assault is common, both for perpetrators and victims. For instance, a study by the DOD (2005) revealed that alcohol was involved in 58% of the Military Academy assault cases and 57% in the Naval Academy.
However, the only advantage of the US military is the fact that it has been transparent about the rates of sexual assault and their implications among its service members unlike the majority of other militaries around the globe. Therefore, it has been significantly easy to identify viable solutions that significantly contribute to the elimination of sexual assaults in the US military. Therefore, the focus of the US military to focus on ending the sexual assaults is very important towards protecting its service members and guaranteeing safety and health while serving in the military. In addition, positively impacts on the readiness of the service members in combat situations. Therefore, it is paramount that ending instances of sexual assault is inevitable because it is necessary to safeguard the members human rights, as well as addressing their healthcare concerns, which also promotes military readiness and increases their productivity and performance. Importantly, there has been instances if sexually hostile work environment that captures.
Recommendations
Firstly, since military commanders have clemency powers to dismiss convictions in the military courts, they should not have the final say. For instance, in 2015, Air Force Lt. Gen. Craig Franklin overturned a ruling where Lt. Col. James Wilkerson, who was guilty of aggravated assault. In another case, Air Force Lt. Gen. Susan Helms was blocked from being promoted for disregarding a captains assault conviction without explanations. For this reason, their power has to be stripped and instead have lawyers who can determine which assault cases are credible without any bias. In addition, putting in place hefty punishments for sexual offenders would discourage them from committing the crime.
As such, to put in place this policy, the Department of Defense has to be involved and the various policy makers. The policy has to be passed, and thus, it has to go through the policy formulation process. The resources needed include financial resources for paying the lawyers as they conduct investigations pertaining to matters of sexual assault. The benefits that would be attained include decreased sexual assaults and fewer instances of alcohol and substance abuse, as well as increased performance and productivity among the service members. Besides, it will not predispose them to fear to report the occurrences of the sexual crimes in the military. The recommendation is feasible as the benefits far outdo the costs. Besides, it involves less bureaucracy in putting in place the policy. To evaluate the success of this recommendation, yearly sexual assaults have to be studied and accounted for. As such, yearly studies pertaining to whether the assaults have reduced or increased will determine the effectiveness of this policy. In essence, if the assaults have reduced, then this signifies that the policy is successful.
Secondly, modification of the existing military laws and regulations that prevent assaults is paramount. For instance, the law that regulates underage drinking should be adapted from 21 to 18 years or modification of the policies regarding underage drinking should be revised and impose hefty punishments. In addition, service members who report false sexual assault report should also be punished to prevent false reporting in the future. The military need to allow psychological and emotional harm resulting from sexual assault and harassment to be used prima fascia as evidence that the victim did not give consent. As such, this would mean that the policy makers have to incorporate this in modifying the policies.
The benefits include fewer instances of sexual assault, alcohol and substance abuse. Besides, it will ensure that sexual offenses reporting is truthful and the victim does not fear reporting the issue. The implementation is feasible as it does not require capital resources, just amending the laws and regulations, which will only include the policy makers. On evaluation, sexual assault instances, as well as drug and substance abuse will be analyzed on an annual basis, if they have reduced, it signifies that the policing is a success.
Thirdly, the military reporting database and system of perpetrators of the offenses should be restructured. To implement this, begin by putting in place a single agency solely for overseeing all aspects of sexual offenses. Given the prevalence of these offenses in the military is high, interventions against the perpetrators should be given priority to bar further instances from happening. The DOD uses the Sexual Assault Incident Database to collect sexual assault information, but it should be expanded to also capture sexual harassment cases and even stalking.
The benefits include capturing all sexual offenses and keeping them in the database. In case, a perpetrator repeats offenses, hefty punishment such as dismissal from duty is implemented, which bars future offenses. Besides, it will minimize the number of offenses. The recommendation is feasible as it only involves expanding the database, which only requires manageable financial resources to cater for the additional services. The evaluation would be based on whether it can capture all instances and sexual violations. Besides, if after a year the number of these offense diminish owing to the hefty punishments, the strategy will have worked.
References
Cloutier, S., Martin, S. L., & Poole, C. (2002). Sexual assault among North Carolina women: prevalence and health risk factors. Journal of Epidemiology and Community Health, 56(4), 265271.
Department of Defense (2005, June). Report of the defense task force on sexual harassment and violence at the military service academies. Retrieved from http://www.sapr.mil/public/docs/research/high_gpo_rrc_tx.pdf
National Defense Research Institute (2014). Sexual assault and sexual harassment in the military: top-line estimates for active duty service members from the 2014-RAND military workplace study. Washington, D.C. Retrieved from http://www.rand.org/content/dam/rand/pubs/research_reports/RR800/RR870/RAND_RR870.pdf
Kang, H., Dalager, N., Mahan, C., & Ishii, E. (2005). The role of sexual assault on the risk of PTSD among Gulf War veterans. Annals of epidemiology, 15(3), 191-195.
Street, A. E., Vogt, D., & Dutra, L. (2009). A new generation of women veterans: Stressors faced by women deployed to Iraq and Afghanistan. Clinical psychology review, 29(8), 685-694.
Turchik, J. A., & Wilson, S. M. (2010). Sexual assault in the US military: A review of the literature and recommendations for the future. Aggression and violent behavior, 15(4), 267-277.
Yaeger, D., Himmelfarb, N., Cammack, A., & Mintz, J. (2006). DSMIV diagnosed posttraumatic stress disorder in women veterans with and without military sexual trauma. Journal of General Internal Medicine, 21(S3), S65-S69.
Cite this page
Free Essay Example on the Issue of Sexual Assault in the Military. (2019, Oct 28). Retrieved from https://speedypaper.com/essays/preliminary-findings
Request Removal
If you are the original author of this essay and no longer wish to have it published on the SpeedyPaper website, please click below to request its removal: