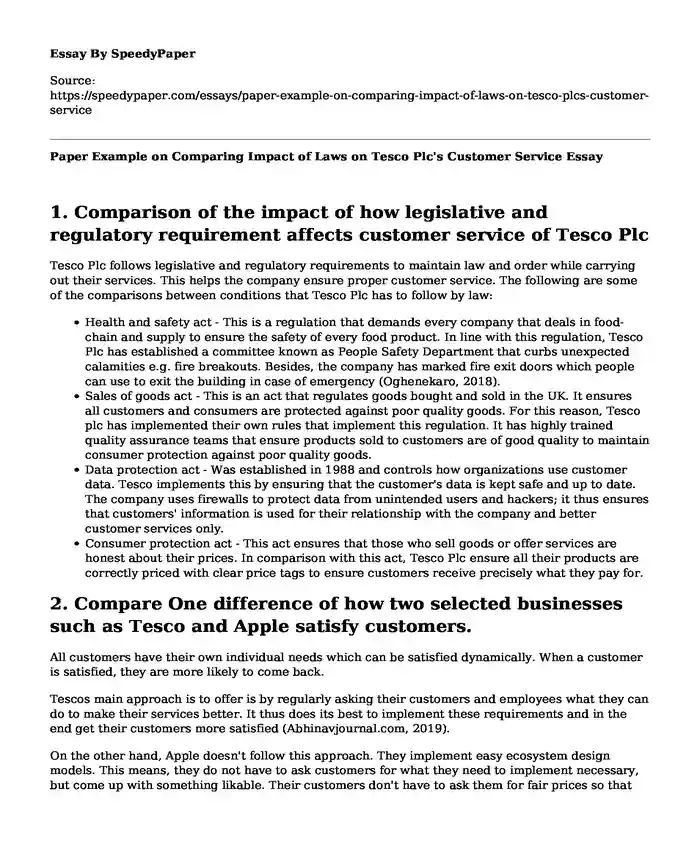 1. Comparison of the impact of how legislative and regulatory requirement affects customer service of Tesco Plc
Tesco Plc follows legislative and regulatory requirements to maintain law and order while carrying out their services. This helps the company ensure proper customer service. The following are some of the comparisons between conditions that Tesco Plc has to follow by law:
Health and safety act - This is a regulation that demands every company that deals in food-chain and supply to ensure the safety of every food product. In line with this regulation, Tesco Plc has established a committee known as People Safety Department that curbs unexpected calamities e.g. fire breakouts. Besides, the company has marked fire exit doors which people can use to exit the building in case of emergency (Oghenekaro, 2018).
Sales of goods act - This is an act that regulates goods bought and sold in the UK. It ensures all customers and consumers are protected against poor quality goods. For this reason, Tesco plc has implemented their own rules that implement this regulation. It has highly trained quality assurance teams that ensure products sold to customers are of good quality to maintain consumer protection against poor quality goods.
Data protection act - Was established in 1988 and controls how organizations use customer data. Tesco implements this by ensuring that the customer's data is kept safe and up to date. The company uses firewalls to protect data from unintended users and hackers; it thus ensures that customers' information is used for their relationship with the company and better customer services only.
Consumer protection act - This act ensures that those who sell goods or offer services are honest about their prices. In comparison with this act, Tesco Plc ensure all their products are correctly priced with clear price tags to ensure customers receive precisely what they pay for.
2. Compare One difference of how two selected businesses such as Tesco and Apple satisfy customers.
All customers have their own individual needs which can be satisfied dynamically. When a customer is satisfied, they are more likely to come back.
Tescos main approach is to offer is by regularly asking their customers and employees what they can do to make their services better. It thus does its best to implement these requirements and in the end get their customers more satisfied (Abhinavjournal.com, 2019).
On the other hand, Apple doesn't follow this approach. They implement easy ecosystem design models. This means, they do not have to ask customers for what they need to implement necessary, but come up with something likable. Their customers don't have to ask them for fair prices so that they can stay loyal like the case for Tesco (Abhinavjournal.com, 2019).
3. Effectiveness of my customer service skills and areas for improvement
High-quality customer services will help a business retain its customers, making a well-entrenched brand.
To be effective in my customer service duties, I always ensure I am well versed with the products and services offered by the company. This involves having in depth knowledge of the products and services so I can be able to answer customer questions.
My number two practical customer service skill is problem-solving skills. Every business has problems regarding customers, and I understand that these problems often need solutions. I always ensure I follow strategies laid by the company concerning a given problem. Nevertheless, sometimes lack of patience lead to rushed decisions that make the problem solving not to work appropriately. To improve my problem-solving skills, I need to learn every essential component of our products since good understanding makes finding a solution easier.
References
Abhinavjournal.com. (2019). [online] Available at: https://www.abhinavjournal.com/images/Commerce_&_Management/Jul13/1.pdf [Accessed 17 Apr. 2019].
Kim, W. (2017). The Impact of Online Reviews on Customer Satisfaction: An Application of the American Customer Satisfaction Index (ACSI). International Journal of Tourism Management and Sciences, 32(5), pp.65-78.
Oghenekaro, A. (2018). Deployment of Soft Skills for Effective Customer Service in the 21<sup>st</sup> Century Library. Journal of Computer and Communications, 06(03), pp.43-50.
Cite this page
Paper Example on Comparing Impact of Laws on Tesco Plc's Customer Service. (2022, Dec 26). Retrieved from https://speedypaper.com/essays/paper-example-on-comparing-impact-of-laws-on-tesco-plcs-customer-service
Request Removal
If you are the original author of this essay and no longer wish to have it published on the SpeedyPaper website, please click below to request its removal: