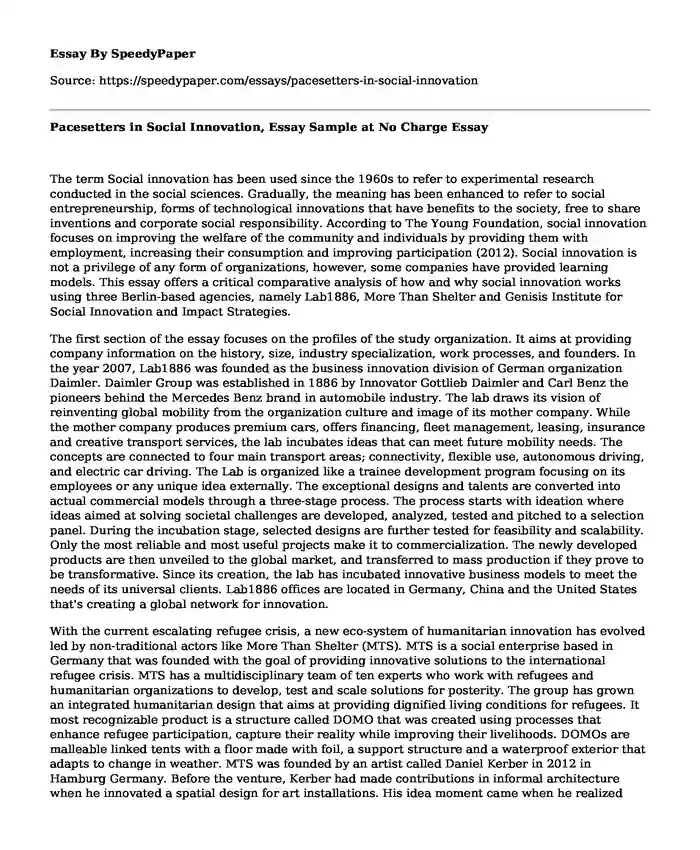 The term Social innovation has been used since the 1960s to refer to experimental research conducted in the social sciences. Gradually, the meaning has been enhanced to refer to social entrepreneurship, forms of technological innovations that have benefits to the society, free to share inventions and corporate social responsibility. According to The Young Foundation, social innovation focuses on improving the welfare of the community and individuals by providing them with employment, increasing their consumption and improving participation (2012). Social innovation is not a privilege of any form of organizations, however, some companies have provided learning models. This essay offers a critical comparative analysis of how and why social innovation works using three Berlin-based agencies, namely Lab1886, More Than Shelter and Genisis Institute for Social Innovation and Impact Strategies.
The first section of the essay focuses on the profiles of the study organization. It aims at providing company information on the history, size, industry specialization, work processes, and founders. In the year 2007, Lab1886 was founded as the business innovation division of German organization Daimler. Daimler Group was established in 1886 by Innovator Gottlieb Daimler and Carl Benz the pioneers behind the Mercedes Benz brand in automobile industry. The lab draws its vision of reinventing global mobility from the organization culture and image of its mother company. While the mother company produces premium cars, offers financing, fleet management, leasing, insurance and creative transport services, the lab incubates ideas that can meet future mobility needs. The concepts are connected to four main transport areas; connectivity, flexible use, autonomous driving, and electric car driving. The Lab is organized like a trainee development program focusing on its employees or any unique idea externally. The exceptional designs and talents are converted into actual commercial models through a three-stage process. The process starts with ideation where ideas aimed at solving societal challenges are developed, analyzed, tested and pitched to a selection panel. During the incubation stage, selected designs are further tested for feasibility and scalability. Only the most reliable and most useful projects make it to commercialization. The newly developed products are then unveiled to the global market, and transferred to mass production if they prove to be transformative. Since its creation, the lab has incubated innovative business models to meet the needs of its universal clients. Lab1886 offices are located in Germany, China and the United States that's creating a global network for innovation.
With the current escalating refugee crisis, a new eco-system of humanitarian innovation has evolved led by non-traditional actors like More Than Shelter (MTS). MTS is a social enterprise based in Germany that was founded with the goal of providing innovative solutions to the international refugee crisis. MTS has a multidisciplinary team of ten experts who work with refugees and humanitarian organizations to develop, test and scale solutions for posterity. The group has grown an integrated humanitarian design that aims at providing dignified living conditions for refugees. It most recognizable product is a structure called DOMO that was created using processes that enhance refugee participation, capture their reality while improving their livelihoods. DOMOs are malleable linked tents with a floor made with foil, a support structure and a waterproof exterior that adapts to change in weather. MTS was founded by an artist called Daniel Kerber in 2012 in Hamburg Germany. Before the venture, Kerber had made contributions in informal architecture when he innovated a spatial design for art installations. His idea moment came when he realized that refugees used standardized tents irrespective of weather conditions and seeming need for space. Notably, this made the tents less conducive for refugees and provided them with limited options to individually enhance their living conditions. MTS thus developed a different process that considered refugee input in the design of their shelter. The process accorded them the chance to alter and expand the layout of their tents while designing the community life they wished to lead. MTS also provides innovation consultancy for a humanitarian organization aimed at refining the delivery of humanitarian services, coordination of refugee camps, livelihoods creation and improved refugee integration.
Genisis Institute for Social Innovation and Impact Strategies (Genisis) was founded in 2008 as not for profit limited company. The idea to form Genisis was floated during the VISION SUMMIT by Peter Spiegel. He who now serves as the organization Chief Executive Officer. Spiegel is an accomplished writer, researcher, educationist and innovator. His vision was to create a global network of think tanks who would share and act on ideas with the potential to drive social-economic change. At the summit, a group of people decided to create the Institute with the mission of promoting entrepreneurship, business, and innovation using a social innovation model. Equally, the group was committed to promoting a culture of sharing intelligence which they called WeQ. Forthwith, the team formed an 8 member Board of Trustees to provide leadership. The institute discusses and analyses futuristic trends through expert conferences. The patterns are then presented to decision makers and inventors in all facets of the society as crucial insights for implementation. Strong networks have been initiated using an event format for the partners. The events organized include Leading Conference for Social Innovation that started in 2007, Impulse Events for New Initiatives since 2015 and Leading Conference for Education Innovations set up in 2016.
Based on a comparative analysis of the organization profiles, it is evident that though the three organizations have embraced social innovations as a pillar of their processes, they differ widely. In terms sectors, of Lab188 is in the automobile industry incubating ideas, MTS is providing shelter innovations in the humanitarian sector while Genisis is a network of innovators offering interaction platforms through conferences. Comparatively, all the companies were founded in Germany but are currently operating globally with dedicated teams drawn from diverse career fields. While Lab88 was founded as an offshoot of a parent company, MTS has an individual founder, and Genisis was established through a team effort. Each group has developed its unique methodology of work. The Lab uses an incubation model where ideas are identified, sieved, developed and implemented. MTS, on the other hand, has developed its product regarding conducive refugee shelters and refined the delivery process to capture human realities. Genisis chose a network model that uses its platforms to share ideas, postulate future trends and offer solutions.
Some factors combine to make the three companies unique in their sectors. For starters, there is the historical aspect of the organizations. All of them draw their inspiration and experience from the long history of their founders. In the case of Lab1886 it evident that they pride themselves on a proven capacity to innovate that has driven their growth and ensured they remain competitive for over a century. The founders of the main company Daimler were themselves, innovators, hence innovation has been embedded in their culture. MTS founder Keiber had vast experience in architectural designs within the informal sector. His eye for details allowed him to see an opportunity and provide a solution that mainstream organizations in the humanitarian sector had missed to see. The foundation of Genisis was in the backdrop of a conference called Vision Summit that brought global innovators on a discussion table. Drawing on the expertise and diversity of its founding team, the organization established itself as a credible network of trendsetters. Markedly, their ability to shape opinion is seen when they succeeded in convincing German Chancellor to adopt a third pillar of social innovations in policy and program considerations. As such, Genisis builds its approach on a proven model of past conferences and networks.
The ability to innovate distinguishes the three companies from other groups in their industries. Each of them is committed to remaining relevant as a solution provider for the future. The main motivation for the formation of the Lab was to provide creative products and services that can meet the need of future challenges. Their approach was to create space where they could tap into the thoughts and skills of their internal and external resource personnel as innovation solution (The Young Foundation, 2012). The result is a meticulous process that can spot the most innovative ideas, test them, support their development and introduce them to the market as transformative alternatives. As a testament to their ability to innovate, Lab1886 nurtured the car2go concept as a station independent car sharing solution. Tested with only fifty people the mobility idea is now used by more than two million people in eight countries and three continents. Genisis brands itself as a bionetwork of social pacesetter drawn from across the sector that provides solutions to future challenges. In 2011, they organized a series of workshops focused on design thinking and themed "Do not wait, Innovate". Since then, Design Thinking has become a global tool for social innovation development. MTS on its part has used new concepts, principles, and methods to provide innovative products. Through innovation consultancy, the firm is working with Oxfam in Jordan on a recycling project. The concept is premised to have refugees sell their recycled waste to Jordanian merchants to earn an income and institute contact with the host society.
Another distinct feature in the focus organizations is their focus on people. Organizations are founded by people, to serve people and hence the human link is essential for any sustainable enterprise (Boons & Ludeke-Freund, 2013). Recognizing this reality, the Daimler Company set up the Lab1886 as its premier hub to interact with people. The first point of contact with people is during ideation where potential innovators get an opportunity to present their ideas. If and when selected, the inventors are assigned mentors who provide coaching. Afterwards, the incubated plans have to be tested in the real society to ensure they meet the need of the people, only then are the models approved for production. In each process, the emphasis is on working with people to meet human needs. MTS main argument was the incorporation of the refugee creativity and knowledge in the development process in which they were the end users. Following a thought process that people understand what is best for them, Genisis is also committed to co-creation processes. Its conferences targets thousands of participants and it focuses on building human networks while advancing the WeQ approach of co-developing designs.
Each organization offers clear benefits to its clients. In the world of start-ups, innovators are faced with various challenges that include limited access to resources and inadequate market information (Boons & Ludeke-Freund, 2013). Lab1886 provides a competitive edge that combines technical experience for new ventures, financial security and the capacity of an established company. Further, the hub offers standard means of testing concepts that include expert views and technology and if they are scalable industry and product knowledge is fomented through mentoring. This support, assists the product designers to bring their models into the market expeditiously. The...
Cite this page
Pacesetters in Social Innovation, Essay Sample at No Charge. (2022, Mar 04). Retrieved from https://speedypaper.com/essays/pacesetters-in-social-innovation
Request Removal
If you are the original author of this essay and no longer wish to have it published on the SpeedyPaper website, please click below to request its removal: