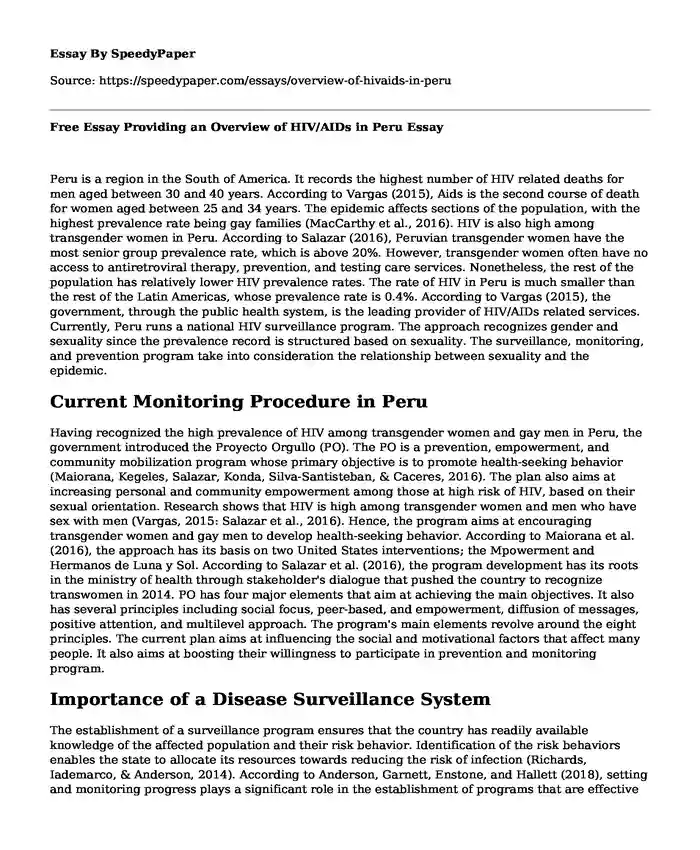 | | |
| --- | --- |
| Type of paper:  | Research paper |
| Categories: | HIV Human sexuality |
| Pages: | 7 |
| Wordcount: | 1730 words |
Peru is a region in the South of America. It records the highest number of HIV related deaths for men aged between 30 and 40 years. According to Vargas (2015), Aids is the second course of death for women aged between 25 and 34 years. The epidemic affects sections of the population, with the highest prevalence rate being gay families (MacCarthy et al., 2016). HIV is also high among transgender women in Peru. According to Salazar (2016), Peruvian transgender women have the most senior group prevalence rate, which is above 20%. However, transgender women often have no access to antiretroviral therapy, prevention, and testing care services. Nonetheless, the rest of the population has relatively lower HIV prevalence rates. The rate of HIV in Peru is much smaller than the rest of the Latin Americas, whose prevalence rate is 0.4%. According to Vargas (2015), the government, through the public health system, is the leading provider of HIV/AIDs related services. Currently, Peru runs a national HIV surveillance program. The approach recognizes gender and sexuality since the prevalence record is structured based on sexuality. The surveillance, monitoring, and prevention program take into consideration the relationship between sexuality and the epidemic.
Current Monitoring Procedure in Peru
Having recognized the high prevalence of HIV among transgender women and gay men in Peru, the government introduced the Proyecto Orgullo (PO). The PO is a prevention, empowerment, and community mobilization program whose primary objective is to promote health-seeking behavior (Maiorana, Kegeles, Salazar, Konda, Silva-Santisteban, & Caceres, 2016). The plan also aims at increasing personal and community empowerment among those at high risk of HIV, based on their sexual orientation. Research shows that HIV is high among transgender women and men who have sex with men (Vargas, 2015: Salazar et al., 2016). Hence, the program aims at encouraging transgender women and gay men to develop health-seeking behavior. According to Maiorana et al. (2016), the approach has its basis on two United States interventions; the Mpowerment and Hermanos de Luna y Sol. According to Salazar et al. (2016), the program development has its roots in the ministry of health through stakeholder's dialogue that pushed the country to recognize transwomen in 2014. PO has four major elements that aim at achieving the main objectives. It also has several principles including social focus, peer-based, and empowerment, diffusion of messages, positive attention, and multilevel approach. The program's main elements revolve around the eight principles. The current plan aims at influencing the social and motivational factors that affect many people. It also aims at boosting their willingness to participate in prevention and monitoring program.
Importance of a Disease Surveillance System
The establishment of a surveillance program ensures that the country has readily available knowledge of the affected population and their risk behavior. Identification of the risk behaviors enables the state to allocate its resources towards reducing the risk of infection (Richards, Iademarco, & Anderson, 2014). According to Anderson, Garnett, Enstone, and Hallett (2018), setting and monitoring progress plays a significant role in the establishment of programs that are effective and responsive. According to Evans, Van Gorder, Morin, Steward, Gaffney, and Charlebois (2016), the use of surveillance for infectious diseases is a proven method of enabling prevention and monitoring. However, the use of such techniques can only be useful if the stakeholders participate in the development. In Peru's case, the country has already established the groups at the highest risk of infection. They have also shown willingness to participate in prevention and monitoring programs such as the PO. Hence, Peru can use surveillance and monitoring of HIV/AIDS to increase the level of awareness of the disease. The country will benefit from developing methods for the eradication of risk factors and the establishment of prevention criteria (Fung, Tse, & Fu, 2015). As a developing country, Peru may not have enough resources to control the epidemic and an increase in the prevalence rate. Therefore, establishing surveillance and monitoring program is a future investment with significant financial returns. It has the potential to reduce future unforeseen costs of dealing with a higher prevalence rate of HIV/AIDs. It also has the potential to establish a permanent measure of eradicating the disease in the future.
Additional Special Features for Surveillance Systems
Surveillance system design and development relies heavily on available information about the specific disease or epidemic they are designed for. Therefore, changes in the disease or the risk factors may not always reflect in the surveillance on time. As a result, two unique features are necessary for the maintenance of a sufficient and essential surveillance system. These are evaluation and new technology or changes in technology. After the 2009 influenza outbreak, the World Health Organization (WHO) developed the requirement for a continuous assessment of the available influenza surveillance systems (Budgell et al., 2015). The move shows that WHO recognized the importance of incorporating the changes in the disease and its risk factors. In the Peruvian system, the government and the current program have established the people at risk and the risk factors for HIV. However, the situation on the ground may be different, and there may be newer risk factors or groups that are at a higher risk of infections. The system must continuously adopt new technology for surveillance to increase the possibility of attaining the necessary information promptly. According to Huang, Moon, and Segal (2014), active surveillance systems apply advanced information technology for reliable storage and analytical purposes. Having a good system would require massive investment in the technology used in the collection, storage, and analysis of the data collected (Bagherian, Farahbakhsh, Rabiei, Moghaddasi, & Asadi, 2017). The adoption of new and cost friendly technology could also play a significant role in surveillance. For example, social media has become increasingly useful in the communication of disease risks and intervention measures.
Challenges in Establishing Disease Surveillance in Peru
In any developing country, the biggest problem towards the establishment of a comprehensive surveillance system is the availability of resources. Developing countries have limited financial resources that they have to distribute across infrastructure development, education, and health among other needs. Thus, most of the states opt to invest in short-term measures that are often not helpful in resolving problems. Another major problem is the lack of personnel required to perform the research and to maintain the records and surveillance. According to Aguilar, Pinto, Araujo, Fajardo, Bravo, Pinillos, and Vallejos, (2016), Peru experiences disparity in the number of available specialists. The shortage problem is mainly caused by the low rate of transition of new graduates into the health system. Education of medical officials is a significant step in the fight against diseases (Errea et al., 2015). Training increases the sustainability of any health system. According to Jimenez, Bui, Mantilla, and Miranda (2017), 2020 is the nearest period that the society in Peru will be able to address the shortage in physicians. The lack of personnel can be the primary challenge for surveillance systems in developing countries. Ghana is an excellent example of one such state where there is a lack of trained staff to support the system (Adokiya, Awoonor-Williams, Beiersmann, & Muller, 2015). This case shows the situation in many developing nations
To address the problem of transition of graduates into the system, developing surveillance requirements that revolve around graduates can be very helpful. Establishing a surveillance system that incorporates graduates may motivate the government to hire this group of medical practitioners to ensure the sustainability of the system. To address the issue of funding, it is crucial to develop a surveillance system that is supported by the international community. Such a move may require the application of grants and financial support from the international community.
References
Adokiya, M. N., Awoonor-Williams, J. K., Beiersmann, C., & Muller, O. (2015). The integrated disease surveillance and response system in northern Ghana: Challenges to the core and support functions. BMC Health Services Research, 15(1), 288. doi: 10.1186/s12913-015-0960-7.
Aguilar, A., Pinto, J. A., Araujo, J., Fajardo, W., Bravo, L., Pinillos, L., &Vallejos, C. (2016). Control of cervical cancer in Peru: Current barriers and challenges for the future. Molecular and Clinical Oncology, 5(2), 241-245. doi:10.3892/mco.2016.926.
Anderson, S. J., Garnett, G. P., Enstone, J., & Hallett, T. B. (2018). The importance of local epidemic conditions in monitoring progress towards HIV epidemic control in Kenya: A modeling study. Journal of the International AIDS Society, 21(11), e25203. doi: 10.1002/jia2.25203.
Bagherian, H., Farahbakhsh, M., Rabiei, R., Moghaddasi, H., &Asadi, F. (2017). National communicable disease surveillance system: A review of information and organizational structures in developed countries. Acta Informatica Medica, 25(4), 271.doi: 10.5455/aim.2017.25.271-276.
Budgell, E., Cohen, A. L., McAnerney, J., Walaza, S., Madhi, S. A., Blumberg, L., ...& Cohen, C. (2015). Evaluation of two influenza surveillance systems in South Africa. PloS One, 10(3), e0120226.doi: 10.1371/journal.pone.0120226.
Errea, R. A., Vasquez-Rios, G., Machicado, J. D., Gallardo, M. S., Cornejo, M., Urquiaga, J. F. &Samalvides, F. (2015). Medical student knowledge of neglected tropical diseases in Peru: A cross-sectional study. PLoS Neglected Tropical Diseases, 9(11), e0004197.doi: 10.1371/journal.pntd.0004197.
Evans, D., Van Gorder, D., Morin, S. F., Steward, W. T., Gaffney, S., &Charlebois, E. D. (2015). Acceptance of the use of HIV surveillance data for care engagement: National and local community perspectives. Journal of Acquired Immune Deficiency Syndromes (1999), 69(0 1), S31.doi: 10.1097/QAI.0000000000000573.
Fung, I. C. H., Tse, Z. T. H., & Fu, K. W. (2015). The use of social media in public health surveillance. Western Pacific Surveillance and Response Journal: WPSAR, 6(2), 3. doi: 10.5365/WPSAR.2015.6.1.019.
Huang, Y. L., Moon, J., & Segal, J. B. (2014). A comparison of active adverse event surveillance systems worldwide. Drug Safety, 37(8), 581-596. doi: 10.1007/s40264-014-0194-3.
Jimenez, M. M., Bui, A. L., Mantilla, E., & Miranda, J. J. (2017). Human resources for health in Peru: Recent trends (2007-2013) in the labor market for physicians, nurses, and midwives. Human Resources for Health, 15(1), 69. doi: 10.1186/s12960-017-0243-y
MacCarthy, S., Reisner, S., Hoffmann, M., Perez-Brumer, A., Silva-Santisteban, A., Nunn, A.,&Dourado, I. (2016). Mind the gap: Implementation challenges break the link between HIV/AIDS research and practice. Cadernos De Saudepublica, 32, e00047715. doi: 10.1590/0102-311X00047715.
Maiorana, A., Kegeles, S., Salazar, X., Konda, K., Silva-Santisteban, A., &Caceres, C. (2016). 'Proyecto Orgullo', HIV prevention, empowerment, and community mobilization intervention for gay men and transgender women in Callao/Lima, Peru. Global Public Health, 11(7-8), 1076-1092. doi: 10.1080/17441692.2016.1161814.
Richards, C. L., Iademarco, M. F., & Anderson, T. C. (2014). A new strategy for public health surveillance at CDC: Improving national surveillance activ...
Cite this page
Free Essay Providing an Overview of HIV/AIDs in Peru. (2022, Nov 07). Retrieved from https://speedypaper.com/essays/overview-of-hivaids-in-peru
Request Removal
If you are the original author of this essay and no longer wish to have it published on the SpeedyPaper website, please click below to request its removal: