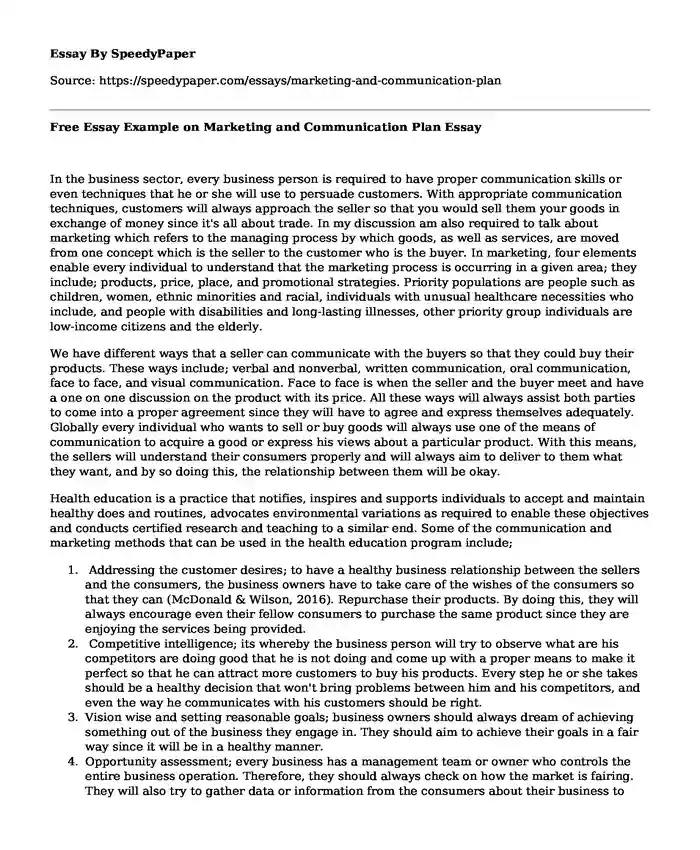 In the business sector, every business person is required to have proper communication skills or even techniques that he or she will use to persuade customers. With appropriate communication techniques, customers will always approach the seller so that you would sell them your goods in exchange of money since it's all about trade. In my discussion am also required to talk about marketing which refers to the managing process by which goods, as well as services, are moved from one concept which is the seller to the customer who is the buyer. In marketing, four elements enable every individual to understand that the marketing process is occurring in a given area; they include; products, price, place, and promotional strategies. Priority populations are people such as children, women, ethnic minorities and racial, individuals with unusual healthcare necessities who include, and people with disabilities and long-lasting illnesses, other priority group individuals are low-income citizens and the elderly.
We have different ways that a seller can communicate with the buyers so that they could buy their products. These ways include; verbal and nonverbal, written communication, oral communication, face to face, and visual communication. Face to face is when the seller and the buyer meet and have a one on one discussion on the product with its price. All these ways will always assist both parties to come into a proper agreement since they will have to agree and express themselves adequately. Globally every individual who wants to sell or buy goods will always use one of the means of communication to acquire a good or express his views about a particular product. With this means, the sellers will understand their consumers properly and will always aim to deliver to them what they want, and by so doing this, the relationship between them will be okay.
Health education is a practice that notifies, inspires and supports individuals to accept and maintain healthy does and routines, advocates environmental variations as required to enable these objectives and conducts certified research and teaching to a similar end. Some of the communication and marketing methods that can be used in the health education program include;
Addressing the customer desires; to have a healthy business relationship between the sellers and the consumers, the business owners have to take care of the wishes of the consumers so that they can (McDonald & Wilson, 2016). Repurchase their products. By doing this, they will always encourage even their fellow consumers to purchase the same product since they are enjoying the services being provided.
Competitive intelligence; its whereby the business person will try to observe what are his competitors are doing good that he is not doing and come up with a proper means to make it perfect so that he can attract more customers to buy his products. Every step he or she takes should be a healthy decision that won't bring problems between him and his competitors, and even the way he communicates with his customers should be right.
Vision wise and setting reasonable goals; business owners should always dream of achieving something out of the business they engage in. They should aim to achieve their goals in a fair way since it will be in a healthy manner.
Opportunity assessment; every business has a management team or owner who controls the entire business operation. Therefore, they should always check on how the market is fairing. They will also try to gather data or information from the consumers about their business to understand how consumers view their products.
Through this method, I will be able to understand how my business run, how the customers view the products in my business if it's a lousy view it will be unhealthy to my business, and they will evade purchasing it.
Marketing plan
I will formulate a mission statement
Describe my targets for the program
Elaborate my services to the priority population
Come up with marketing and promotional techniques
Understanding the competition
Coming up with good goals
Observe my results keenly
An example of my social media advert concerning my business on the different kinds of watches I sell to my customers. On my, Instagram handle @Steve Carter10
Conclusion
Attracting a lot of customers to purchase the products in your business requires the business owner to associate appropriately with the buyers. We do so by interacting correctly with them, and this will even enable them to encourage their friends to buy products that you sell. To meet the needs of the priority population such as the hearing and visually impaired, I will set employ people with the same disabilities whom I have explained to them about my products and deploy them to go out and advertise my products to the individuals who might have the same issues. By engaging the priority population, my products will be used by every individual without leaving a particular group out, and this will earn me more income. This will create a good relationship between me and everyone. With all this in place, my working relationship with everyone will be smooth without any problems.
References
Fan, S., Lau, R., & Zhao, J. (2015). Demystifying Big Data Analytics for Business Intelligence Through the Lens of Marketing Mix. Big Data Research, 2(1), 28-32. doi: 10.1016/j.bdr.2015.02.006
Harris, P. (2002). Marketing Plans: How to Prepare Them, How to Use Them (5th ed.)20021Malcolm McDonald. Marketing Plans: How to Prepare Them, How to Use Them (5th ed.). Oxford Web sites: www.bh.com/business or www.elsevier.com: Butterworth-Heinemann/Elsevier Science 2002. , ISBN: ISBN 0750656255 $26.99. European Business Review, 14(6), 450-450. doi: 10.1108/ebr.2002.14.6.450.1
Schuster, L., Kubacki, K., & Rundle-Thiele, S. (2016). Community-based social marketing: effects on social norms. Journal Of Social Marketing, 6(2), 193-210. doi: 10.1108/jsocm-06-2015-0036
Cite this page
Free Essay Example on Marketing and Communication Plan. (2023, Jan 19). Retrieved from https://speedypaper.com/essays/marketing-and-communication-plan
Request Removal
If you are the original author of this essay and no longer wish to have it published on the SpeedyPaper website, please click below to request its removal: