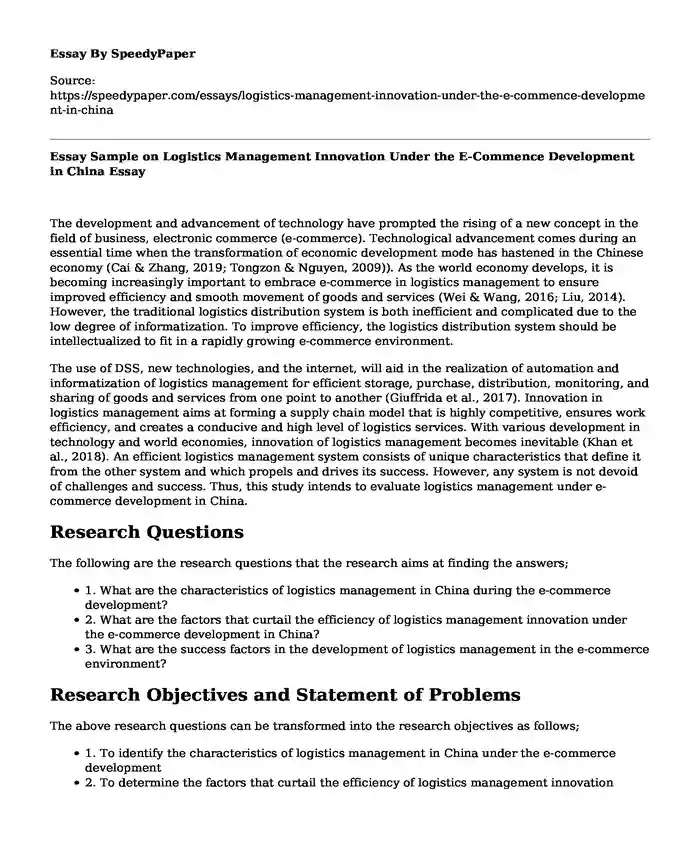 The development and advancement of technology have prompted the rising of a new concept in the field of business, electronic commerce (e-commerce). Technological advancement comes during an essential time when the transformation of economic development mode has hastened in the Chinese economy (Cai & Zhang, 2019; Tongzon & Nguyen, 2009)). As the world economy develops, it is becoming increasingly important to embrace e-commerce in logistics management to ensure improved efficiency and smooth movement of goods and services (Wei & Wang, 2016; Liu, 2014). However, the traditional logistics distribution system is both inefficient and complicated due to the low degree of informatization. To improve efficiency, the logistics distribution system should be intellectualized to fit in a rapidly growing e-commerce environment.
The use of DSS, new technologies, and the internet, will aid in the realization of automation and informatization of logistics management for efficient storage, purchase, distribution, monitoring, and sharing of goods and services from one point to another (Giuffrida et al., 2017). Innovation in logistics management aims at forming a supply chain model that is highly competitive, ensures work efficiency, and creates a conducive and high level of logistics services. With various development in technology and world economies, innovation of logistics management becomes inevitable (Khan et al., 2018). An efficient logistics management system consists of unique characteristics that define it from the other system and which propels and drives its success. However, any system is not devoid of challenges and success. Thus, this study intends to evaluate logistics management under e-commerce development in China.
Research Questions
The following are the research questions that the research aims at finding the answers;
1. What are the characteristics of logistics management in China during the e-commerce development?
2. What are the factors that curtail the efficiency of logistics management innovation under the e-commerce development in China?
3. What are the success factors in the development of logistics management in the e-commerce environment?
Research Objectives and Statement of Problems
The above research questions can be transformed into the research objectives as follows;
1. To identify the characteristics of logistics management in China under the e-commerce development
2. To determine the factors that curtail the efficiency of logistics management innovation under the e-commerce development in China
3. To evaluate the success factors in the development of logistics management under the e-commerce environment
The challenging aspect of e-commerce is the failure to adopt advanced technologies and innovations in logistics management. The current logistics techniques are not linked to the development of information technology and the Internet. Both the e-commerce and logistics management should be incongruent for effective results, and greater satisfaction of the customer needs.
Literature Review
E-Commerce, Supply Chain and Logistics Management
Electronic commerce is an area that deals with buying and selling goods online using online platforms (Yue, 2019; Lv & Weng, 2016). E-commerce is a complex field that encompasses logistics distribution because after goods have been bought, they have to be transported to the destination they are needed. Hence, logistics management and distribution are inalienable from e-commerce. It entails the use of technological capabilities such as electronic data interchange, online transaction processing, supply chain management, inventory management system, electronic funds transfer, mobile commerce, automated collection of data, and internet marketing (Li & Fan, 2020; Jingqiao, 2017). Logistics has been defined as the "part of the supply chain process that plans, implements, and controls the efficient, effective flow and storage of goods, services, and related information from the point of origin to the point of consumption to meet customer's requirements" (Manzini & Gamberini, 2008, p. 263). Logistics is, therefore, a management process that enables the successful purchase, storage, and distribution of goods and services. The key to logistics management is to satisfy customer needs and ensure the efficient flow of products and services.
Characteristics of Logistics Management
Jiang (2019) identified six characteristics of logistics management, namely function positioning, system concept, service object, nature status, and target concept. Logistics management is a joint venture among retailers, suppliers, and wholesalers. Through proper coordination, logistics management optimizes an enterprise hence strengthening the circulation of goods between enterprises to create optimal value (Zhang & Figliozzi, 2010); Panova et al., 2019). Logistics management aims to ensure improved customer service, which drives the innovation process. Researchers have identified time horizon, information, monitoring information, hominization, channel leadership, inventory management approach, networking, channel's multiple levels coordination, multifunction, mutual sharing, and cost approach as the defining characteristics of logistics management (Li & Cao, 2016).
Challenges of Logistics Management
Logistics is a precarious part of e-commerce since it can affect the final process of a transaction or purchase hence creating dissatisfaction and disappointment of customers. One of the most significant challenges of logistics management is the limitation of some goods such as liquids and electronics at some airports (Aschemann-Witzel et al., 2017). China has a high proportion of logistics costs to GDP in comparison to developed countries in the Western region. There are hence low and poor benefits arising from the logistics. According to Li and Cao (2016), challenges experienced include small logistics enterprises, a shortage of logistics management professionals, imperfect e-commerce logistics distribution systems, and government and enterprises' failure to pay enough attention to the logistics of e-commerce.
Success Factors in the Development of Logistics Management
Success factors are the factors that lead to the success of the logistics system and should hence be highly considered. Successful logistics management has to ensure the improvement of service delivery and thus enhance customer satisfaction (Giuffrida et al., 2017). Another success factor of logistics management is informatization which is the new era of e-commerce. Others include networking and innovation, which allows the realization of the intelligent processing of logistics enterprises (Li & Cao, 2016).
Significance of the Study
The findings of the study will be significant by contributing new information to the body of research in the field of logistics management. The study will provide new information that was previously unknown to the researchers. Thus, it will provide more insight in the e-commerce environment. Besides, with innovation in logistics management being a new concept under e-commerce, it will enlighten improved development in the innovations.
Research Methodology
The research methodology will be a mixed method consisting of a questionnaire and a systematic literature review.
Research Design
The study will employ a quantitative and qualitative descriptive research design. The information collected through a systematic review of the literature will be qualitative, but the data collected through the questionnaire survey method will be quantitative. Both methods will be used to describe the innovations used in logistics management under e-commerce development in China.
Sources of Data
The sources of data will be both primary and secondary. The primary data sources will include the questionnaire, while the secondary data source will be the literature materials searched during the systematic literature review.
Search Criteria and Sampling
The search for literature materials will utilize various databases, namely Google Scholar and Semantic Scholar. Literature materials will be searched using keywords such as logistics management, operation management, E-commence, and China. Sources will be excluded based on the year of publication which will include articles published between 2010 and 2020. Then a range of references will include conference papers, peer-reviewed journals and company reports.
The questionnaires will be administered to staff working in the logistics and IT departments in various companies in China that have adopted innovations in their distribution logistics.
Data Analysis and Evaluation
The analysis of data will be done through the use of Excel and SPSS software. The former will be used to clean data and make it presentable after which it will be exported to the SPSS software for descriptive analysis encompassing analysis of variance, measures of central tendencies and measures of frequency.
References
Aschemann-Witzel, J., de Hooge, I., Rohm, H., Normann, A., Bossle, M., Grønhøj, A., & Oostindjer, M. (2017). Key characteristics and success factors of supply chain initiatives tackling consumer-related food waste – A multiple case study. Journal of Cleaner Production, 155, 33-45. https://doi.org/10.1016/j.jclepro.2016.11.173

Cai, X., & Zhang, G. (2019). Innovation and reform of logistics management in an e-commerce environment. In 2019 5th International Conference on Education Technology, Management and Humanities Science (ETMHS 2019). Xi'an; Haojing College of Shaanxi University of Science & Technology. http://new.oversea.cnki.net/kcms/detail/detail.aspx?filename=JKDZ201901003274&dbcode=IPFD&dbname=IPFDTEMP&v=.
Giuffrida, M., Mangiaracina, R., Perego, A., & Tumino, A. (2017). Cross-border B2C e-commerce to Greater China and the role of logistics: a literature review. International Journal of Physical Distribution & Logistics Management, 47(9), 772-795. https://doi.org/10.1108/ijpdlm-08-2016-0241
Jiang, X. (2019). Research on enterprise logistics management innovation based on supply chain management environment. Journal of Physics: Conference Series, 1237, 022168. https://doi.org/10.1088/1742-6596/1237/2/022168

Jingqiao, Z. (2017). Study on China's e-commerce service industry: Current situation, problems and prospects. The Chinese Economy, 50(2), 119-127. https://doi.org/10.1080/10971475.2016.1227181

Khan, M., Haleem, A., & Khan, S. (2018). Defining Halal supply chain management. Supply Chain Forum: An International Journal, 19(2), 122-131. https://doi.org/10.1080/16258312.2018.1476776
Li, Y., & Fan, R. (2020). The coordination of e-commerce and logistics: A case study of Amazon.com (Undergraduate). Högskolan i Gävle.
Liu, B. (2014). Contemporary logistics in China: Assimilation and innovation. Berlin: Springer.
Lv, X., & Weng, X. (2016). Research on the development of China's express industry under the background of e-commerce. Journal of World Economic Research, 5(4), 26. https://doi.org/10.11648/j.jwer.20160504.11

Manzini, R., & Gamberini, R. (2008). Design, Management, and Control of Logistic Distribution Systems. Supply Chain, 263-289. https://doi.org/10.5772/5347

Panova, Y., Tan, A., Hilmola, O., Puvindran, M., Hongsheng, X., & Li, W. (2019). Evaluation of e-commerce location and entry to China – implications on shipping and trade. Journal of Shipping and Trade, 4(1). https://doi.org/10.1186/s41072-019-0045-6

Sandberg, E., Kihlén, T., & Abrahamsson, M. (2011). Characteristics of a logistics-based business model. Journal of Marketing Channels, 18(2),...
Cite this page
Essay Sample on Logistics Management Innovation Under the E-Commence Development in China. (2023, Aug 03). Retrieved from https://speedypaper.com/essays/logistics-management-innovation-under-the-e-commence-development-in-china
Request Removal
If you are the original author of this essay and no longer wish to have it published on the SpeedyPaper website, please click below to request its removal: