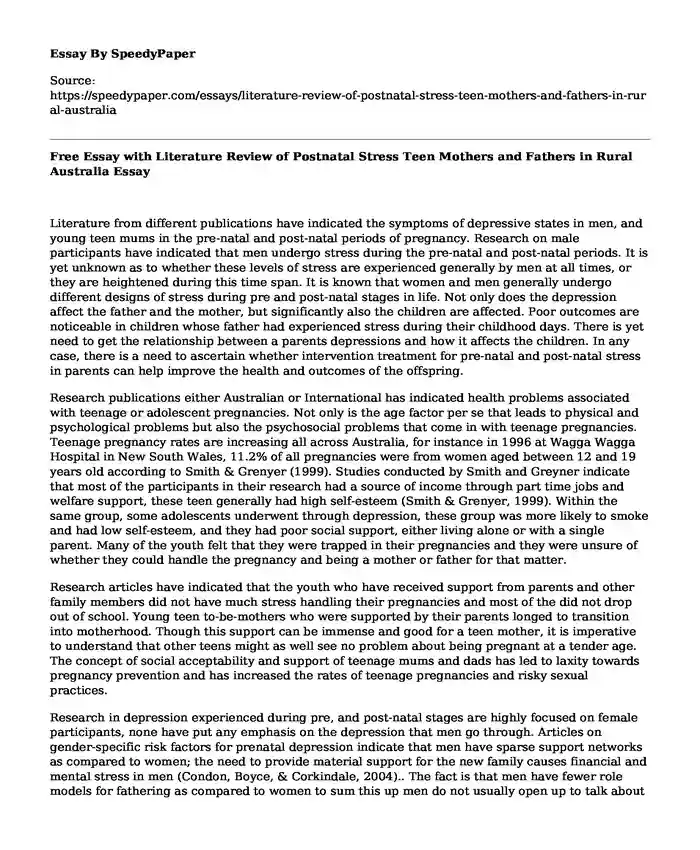 Literature from different publications have indicated the symptoms of depressive states in men, and young teen mums in the pre-natal and post-natal periods of pregnancy. Research on male participants have indicated that men undergo stress during the pre-natal and post-natal periods. It is yet unknown as to whether these levels of stress are experienced generally by men at all times, or they are heightened during this time span. It is known that women and men generally undergo different designs of stress during pre and post-natal stages in life. Not only does the depression affect the father and the mother, but significantly also the children are affected. Poor outcomes are noticeable in children whose father had experienced stress during their childhood days. There is yet need to get the relationship between a parents depressions and how it affects the children. In any case, there is a need to ascertain whether intervention treatment for pre-natal and post-natal stress in parents can help improve the health and outcomes of the offspring.
Research publications either Australian or International has indicated health problems associated with teenage or adolescent pregnancies. Not only is the age factor per se that leads to physical and psychological problems but also the psychosocial problems that come in with teenage pregnancies. Teenage pregnancy rates are increasing all across Australia, for instance in 1996 at Wagga Wagga Hospital in New South Wales, 11.2% of all pregnancies were from women aged between 12 and 19 years old according to Smith & Grenyer (1999). Studies conducted by Smith and Greyner indicate that most of the participants in their research had a source of income through part time jobs and welfare support, these teen generally had high self-esteem (Smith & Grenyer, 1999). Within the same group, some adolescents underwent through depression, these group was more likely to smoke and had low self-esteem, and they had poor social support, either living alone or with a single parent. Many of the youth felt that they were trapped in their pregnancies and they were unsure of whether they could handle the pregnancy and being a mother or father for that matter.
Research articles have indicated that the youth who have received support from parents and other family members did not have much stress handling their pregnancies and most of the did not drop out of school. Young teen to-be-mothers who were supported by their parents longed to transition into motherhood. Though this support can be immense and good for a teen mother, it is imperative to understand that other teens might as well see no problem about being pregnant at a tender age. The concept of social acceptability and support of teenage mums and dads has led to laxity towards pregnancy prevention and has increased the rates of teenage pregnancies and risky sexual practices.
Research in depression experienced during pre, and post-natal stages are highly focused on female participants, none have put any emphasis on the depression that men go through. Articles on gender-specific risk factors for prenatal depression indicate that men have sparse support networks as compared to women; the need to provide material support for the new family causes financial and mental stress in men (Condon, Boyce, & Corkindale, 2004).. The fact is that men have fewer role models for fathering as compared to women to sum this up men do not usually open up to talk about their fears and emotional problems, many resorts to alcohol and other maladaptive methods. In a study conducted by Aireias in Portugal, 54 couples were taken in for a research on perinatal and postnatal depression, on the 3rd month of pregnancy, 31.5% and 4.8% of women and men were stress respectively. On the 12th month, 37% of women were stressed while for men the statistics rose to 23.8% (Condon, Boyce, & Corkindale, 2004).
Men in early post-natal period especially first-time fathers have a clear understanding of a family functioning, though over time men experience situations in their relationship that they had not foreseen. This indicates a problem in mastery and control of family issues; this puts them at risk of not fulfilling their paternal role perfectly in the first months of parenthood. This opens up the need for counseling of young fathers on the handling and management of the new family; this can be one way of helping men avoid risky depression levels in the prenatal and post-natal stages. Pregnancy is the most stressing time for young men transitioning to parenthood; men apparently envision the repercussions of pregnancy the moment it is announced. Stress bulges right from the first day for many young men, they anticipate the changes that are going to occur once the baby is born. Pregnancy triggers may trigger a process of reappraisal of their daily activities, and it initiates unprecedented psychological changes.
Postpartum stress is uncommon among men, latest research indicates that 4-25% of men especially first-time fathers experience postpartum stress which was commonly construed to affect women only (Melrose, 2010). The readjustment of lifestyles on the arrival of a new baby not only affects women but men too. Incidences of post paternal stress have been measured over that last decade indicating that 1.2-25.5% of men undergo postpartum stress, other indicators showed that maternal depression is what triggers paternal depression. In Australia, Bria, Income, and Fedoruk in 2006 deducted from their research that many found pregnancy and postnatal experiences as overwhelming and highly stressful stages. The many reasons for this stress was the readjustment of their lifestyles, providing for the family and confusion on roles to take up contributed into making the transition to fatherhood as strenuous.
Community intervention to depression experienced by young mother and fathers in Australia is highly needed; this initiative can be spearheaded by the nursing community. The promotion of paternal mental health begins through the introduction of counseling programs for the youth, the inclusion of paternal postpartum depression as a medical issue can help kick start intervention (Buist et al., 2008). Through join a collaboration of nurses and community health leaders, the creation of awareness and making a referral to a specialist of paternal postpartum stress are significant steps towards handling this malady affecting young first-time fathers. Quantifying the depression as a disorder can help remove the stigma on men experiencing postpartum stress. The organization of postpartum depression training programs can help create community awareness of this challenge. The provision of online materials on portals can help in the dissemination of the information across different states and rural neighborhoods that are far for counseling agents to access.
There are a variant mechanism of tackling postpartum depression in both men and women community support being one of them. First-time fathers are always challenged on how to support their new families, in order to relieve them off this pressure, welfare accounts for the young parents should be set up for financial support. Though men seek out counseling far less than women, putting the information out there in online resources, magazines, and publications, in one way or the other paternal perinatal and post-natal depression can be tackled.
References
Buist, A., Austin, M., Hayes, B., Speelman, C., Bilszta, J., & Gemmill, A. et al. (2008). Postnatal mental health of women giving birth in Australia 2002a2004: findings from the beyondblue National Postnatal Depression Program. Australian And New Zealand Journal Of Psychiatry, 42(1), 66-73. http://dx.doi.org/10.1080/00048670701732749
Condon, J., Boyce, P., & Corkindale, C. (2004). The First-Time Fathers Study: a prospective study of the mental health and wellbeing of men during the transition to parenthood. Australian And New Zealand Journal Of Psychiatry, 38(1-2), 56-64. http://dx.doi.org/10.1111/j.1440-1614.2004.01298.x
Melrose, S. (2010). Paternal postpartum depression: How can nurses begin to help?. Contemporary Nurse, 34(2), 199-210. http://dx.doi.org/10.5172/conu.2010.34.2.199
Smith, M. & Grenyer, B. (1999). PSYCHOSOCIAL PROFILE OF PREGNANT ADOLESCENTS IN A LARGE AUSTRALIAN REGIONAL AREA. Australian Journal Of Rural Health, 7(1), 28-33. http://dx.doi.org/10.1046/j.1440-1584.1999.00209.x
Wee, K., Pier, C., Milgrom, J., Richardson, B., Fisher, J., & Skouteris, H. (2013). Fathers' mental health during the ante-and postnatal periods: Knowledge, recommendations and interventions. British Journal Of Midwifery, 21(5), 342-353. http://dx.doi.org/10.12968/bjom.2013.21.5.342
Cite this page
Free Essay with Literature Review of Postnatal Stress Teen Mothers and Fathers in Rural Australia. (2019, Dec 02). Retrieved from https://speedypaper.com/essays/literature-review-of-postnatal-stress-teen-mothers-and-fathers-in-rural-australia
Request Removal
If you are the original author of this essay and no longer wish to have it published on the SpeedyPaper website, please click below to request its removal: