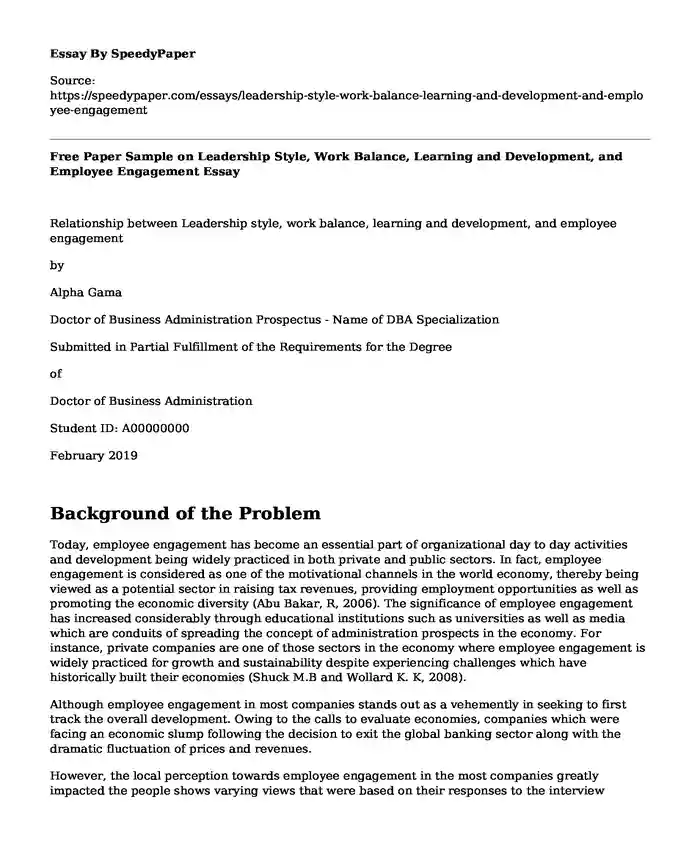 Relationship between Leadership style, work balance, learning and development, and employee engagement
by
Alpha Gama
Doctor of Business Administration Prospectus - Name of DBA Specialization
Submitted in Partial Fulfillment of the Requirements for the Degree
of
Doctor of Business Administration
Student ID: A00000000
February 2019
Background of the Problem
Today, employee engagement has become an essential part of organizational day to day activities and development being widely practiced in both private and public sectors. In fact, employee engagement is considered as one of the motivational channels in the world economy, thereby being viewed as a potential sector in raising tax revenues, providing employment opportunities as well as promoting the economic diversity (Abu Bakar, R, 2006). The significance of employee engagement has increased considerably through educational institutions such as universities as well as media which are conduits of spreading the concept of administration prospects in the economy. For instance, private companies are one of those sectors in the economy where employee engagement is widely practiced for growth and sustainability despite experiencing challenges which have historically built their economies (Shuck M.B and Wollard K. K, 2008).
Although employee engagement in most companies stands out as a vehemently in seeking to first track the overall development. Owing to the calls to evaluate economies, companies which were facing an economic slump following the decision to exit the global banking sector along with the dramatic fluctuation of prices and revenues.
However, the local perception towards employee engagement in the most companies greatly impacted the people shows varying views that were based on their responses to the interview questions (Fairlie, Paul, 2011).
While many residents laud banking sector as the new driving force behind the country's economic revamp, other contemporary views from local respondents showed that banking contributes greatly to the phenomenon of 'culturally undesirable' state. Therefore, the aspect of employee engagement in most companies has positively impacted the banking sector due to the introduction of new culture and beliefs that do not conform to the people's culture of unattached ideologies within a society (Korkmaz, Sullein, 2017).
Problem Statement
The current business organization understands that employee engagement plays a critical role to the realization of the firms both short-term and long-term goals. There is a growing body of literature that has been dedicated to understanding key factors that impact employee engagement. Most of these studies have mentioned the role of leadership style, work balance, learning, and development. These studies are driven by the need to understand how the company incurs losses due to a lack of sufficient employee engagement. However, less than half of the global organizations have mastered the skills of employee engagement. According to Liyanage (2017), there is a significant financial loss caused when employees leave jobs after few years of joining. The general statement is the high level of employee engagement is a critical factor for organization productivity and competitiveness.
Purpose Statement
The conceptualization of employee engagement has revolutionized the management of human resources over the past few tears. A growing body of literature agrees that high levels of engagement have a positive on productivity and competitiveness. However, there is insufficient literature that describes specific factors that provide the impetus for employee engagement. The purpose of this quantitative research is to describe the relationship between, and employee engagement. The area of study will be San Bernardino, California where fast food employees will be sampled.
Nature of Research
This quantitative research will be guided by a post-positivist approach to problems. The researcher will make use of both descriptive and inferential and descriptive statistical methods to help describe the population of the employee. Results and conclusion from the sample will be inferred to the broader population. The descriptive qualitative research thus ensures the efficacy of workplace practices that can be used to predict employee engagement (Liyanage., H.M , 2017).
Researchers have sought to explore and dig deeper in some of the qualitative methods between variables. One of the key emphases of correlation design type is the distribution of characteristics of the sample such as mean and standard deviation. Given the complexity of qualitative research methods, the focus of this study is to describe the effects of dependent variables: leadership style, workplace balance and learning and development on the independent variable, employee engagement. Since qualitative method seeks to explain the variables quantitatively, experimental and quasi experimental research will not be relevant and useful in deducing meaning.
Research Questions
How do leadership style, work balance, and learning and development impact the level of employee engagement in organizations?
Conceptual Framework
Talent management has gained momentum as a critical tool for development the workforce for strategic and competitive advantage. Companies shave redressed their views and paid particular attention to employee development and performance as a solution to increasing value. The conceptualization of employee engagement has revolutionized the management of human resources over the past few years (Albdour, A. A., & Altarawneh, 2014).
Developing literature conforms to the fact that high levels of engagement have a positive on productivity and competitiveness. Bakar (2008) notes thatemployees are hardworking and vigorous. Engagement refers to the satisfaction and involvement of individuals at work and describes they intimate involvement with the work. Harte et al. found that when employees are engaged, they tend to be more emotionally attached to other workers ad remain vigilant to their teams. For engagement to take place, employees must understand what is expected from them, have the right resources to defectively complete assignments, feel they contribute to the company's' development and take part in opportunities meant for career growth (Metzler J. M, 2006).
Even though employees are more productive, less likely to leave the organization, profitable and healthier when fully engaged. Shuck and Wollard (2008) further showed that engagement is on a steady decline, even when businesses consider employees among the priorities fortheir organizations. To help drive the much-needed participation in an organization. Northouse (2014) noted the role of leaders as the critical payers. Efficient transformational leadership style is not only able to influence employees towards a target direction, but also able to impact change and motivation (Abu Bakar, R, 2006).
References
Abu Bakar, R. (2006). Understanding Factors Influencing Employee Engagement. Study of the Financial Sector in Malasia, 12-34.
Albdour, A. A., & Altarawneh. (2014). Employee Engagement and Organizational Commitment . International Journal of Business, 19-92.
Allen, J., Turner, A., & Turner, J. (2018). Employee Performance and Engagement for Performance Improvement. Performance Improvement Quarterly, 30(4), 225-230.
Dr. V. Tulasi Das, D., & Ch.Vijayalakshmi, C. (2011). Employee Engagement Strategies For Enhancing Employee Competitiveness To Organizational Success. Indian Journal Of Applied Research, 1(12), 137-140.
Fairlie, P. (2011). Meaningful Work, Employee Engagement, and Other Key Employee Outcomes. Advances In Developing Human Resources, 13(4), 508-525.
Khanal, R. (2014). Concerns and Challenges of Data Integration from Objective Post-Positivist Approach and a Subjective Non-Positivist Interpretive Approach and Their Validity/Credibility Issues. Journal Of The Institute Of Engineering, 9(1).
Korkmaz, S. (2017). Study of Positivist and Post-Positivist Views based on Instructional Design Models and Learning Approaches. New Trends And Issues Proceedings On Humanities And Social Sciences, 3(3), 137-147.
Liyanage., H.M . (2017). Actors were Influencing the Employee Engagement of the Generation Y Employees. Business Accounting Journal , 4-12.
Metzler J. M. (2006). The Relationships Between Leadership Styles and Employee Engagement. Adventure Works Monthly, 34-56.
Rechanna, R., & Dr.B.Mahadevappa, D. (2011). The Conceptual Framework Of Corporate Social. Indian Journal Of Applied Research, 1(4), 40-50.
Rathee, D., & Kumar, J. (2011). Rural Marketing: A Conceptual Framework. Indian Journal Of Applied Research, 3(9), 107-109.
Shuck M.B and Wollard K. K. (2008). Employee Engagement: Motivating and Retaining Tomorrow's Workforce. . New Horizons in Adult Education and Human Resource Development, 48-53.
Cite this page
Free Paper Sample on Leadership Style, Work Balance, Learning and Development, and Employee Engagement. (2022, Mar 22). Retrieved from https://speedypaper.com/essays/leadership-style-work-balance-learning-and-development-and-employee-engagement
Request Removal
If you are the original author of this essay and no longer wish to have it published on the SpeedyPaper website, please click below to request its removal: