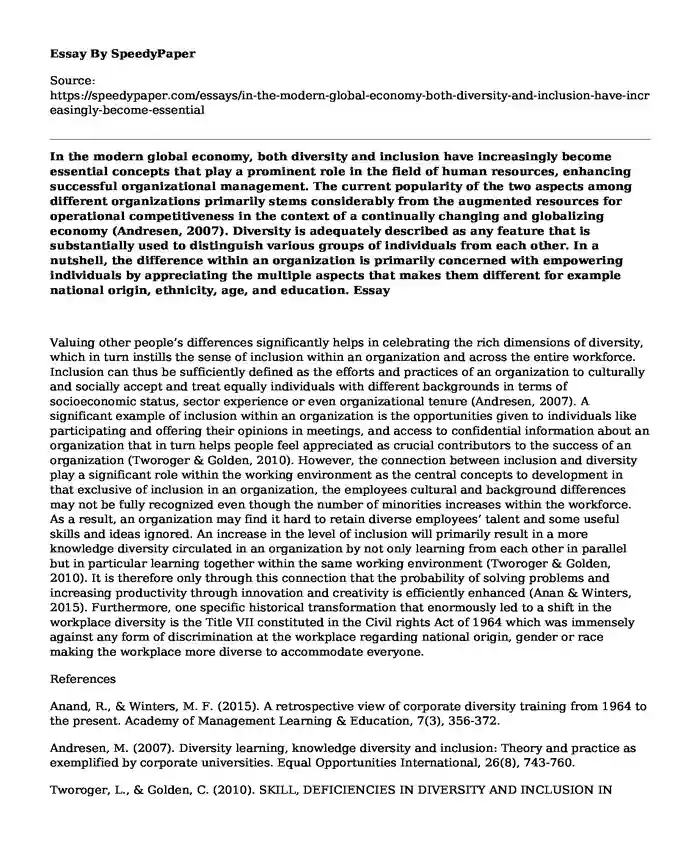 Valuing other people's differences significantly helps in celebrating the rich dimensions of diversity, which in turn instills the sense of inclusion within an organization and across the entire workforce. Inclusion can thus be sufficiently defined as the efforts and practices of an organization to culturally and socially accept and treat equally individuals with different backgrounds in terms of socioeconomic status, sector experience or even organizational tenure (Andresen, 2007). A significant example of inclusion within an organization is the opportunities given to individuals like participating and offering their opinions in meetings, and access to confidential information about an organization that in turn helps people feel appreciated as crucial contributors to the success of an organization (Tworoger & Golden, 2010). However, the connection between inclusion and diversity play a significant role within the working environment as the central concepts to development in that exclusive of inclusion in an organization, the employees cultural and background differences may not be fully recognized even though the number of minorities increases within the workforce. As a result, an organization may find it hard to retain diverse employees' talent and some useful skills and ideas ignored. An increase in the level of inclusion will primarily result in a more knowledge diversity circulated in an organization by not only learning from each other in parallel but in particular learning together within the same working environment (Tworoger & Golden, 2010). It is therefore only through this connection that the probability of solving problems and increasing productivity through innovation and creativity is efficiently enhanced (Anan & Winters, 2015). Furthermore, one specific historical transformation that enormously led to a shift in the workplace diversity is the Title VII constituted in the Civil rights Act of 1964 which was immensely against any form of discrimination at the workplace regarding national origin, gender or race making the workplace more diverse to accommodate everyone.
References
Anand, R., & Winters, M. F. (2015). A retrospective view of corporate diversity training from 1964 to the present. Academy of Management Learning & Education, 7(3), 356-372.
Andresen, M. (2007). Diversity learning, knowledge diversity and inclusion: Theory and practice as exemplified by corporate universities. Equal Opportunities International, 26(8), 743-760.
Tworoger, L., & Golden, C. (2010). SKILL, DEFICIENCIES IN DIVERSITY AND INCLUSION IN ORGANIZATIONS: DEVELOPING AN INCLUSION SKILLS MEASUREMENT. Academy of Strategic Management Journal, 9(1).
Cite this page
In the modern global economy, both diversity and inclusion have increasingly become essential concepts that play a prominent role in the field of human resources, enhancing successful organizational management. The current popularity of the two aspects among different organizations primarily stems considerably from the augmented resources for operational competitiveness in the context of a continually changing and globalizing economy (Andresen, 2007). Diversity is adequately described as any feature that is substantially used to distinguish various groups of individuals from each other. In a nutshell, the difference within an organization is primarily concerned with empowering individuals by appreciating the multiple aspects that makes them different for example national origin, ethnicity, age, and education.. (2023, Jan 10). Retrieved from https://speedypaper.com/essays/in-the-modern-global-economy-both-diversity-and-inclusion-have-increasingly-become-essential
Request Removal
If you are the original author of this essay and no longer wish to have it published on the SpeedyPaper website, please click below to request its removal: