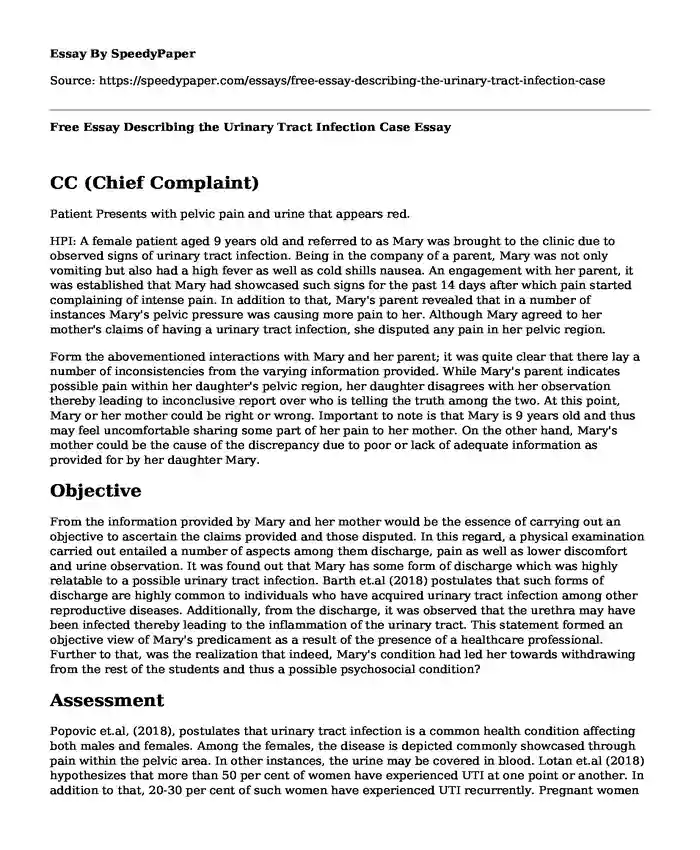 CC (Chief Complaint)
Patient Presents with pelvic pain and urine that appears red.
HPI: A female patient aged 9 years old and referred to as Mary was brought to the clinic due to observed signs of urinary tract infection. Being in the company of a parent, Mary was not only vomiting but also had a high fever as well as cold shills nausea. An engagement with her parent, it was established that Mary had showcased such signs for the past 14 days after which pain started complaining of intense pain. In addition to that, Mary's parent revealed that in a number of instances Mary's pelvic pressure was causing more pain to her. Although Mary agreed to her mother's claims of having a urinary tract infection, she disputed any pain in her pelvic region.
Form the abovementioned interactions with Mary and her parent; it was quite clear that there lay a number of inconsistencies from the varying information provided. While Mary's parent indicates possible pain within her daughter's pelvic region, her daughter disagrees with her observation thereby leading to inconclusive report over who is telling the truth among the two. At this point, Mary or her mother could be right or wrong. Important to note is that Mary is 9 years old and thus may feel uncomfortable sharing some part of her pain to her mother. On the other hand, Mary's mother could be the cause of the discrepancy due to poor or lack of adequate information as provided for by her daughter Mary.
Objective
From the information provided by Mary and her mother would be the essence of carrying out an objective to ascertain the claims provided and those disputed. In this regard, a physical examination carried out entailed a number of aspects among them discharge, pain as well as lower discomfort and urine observation. It was found out that Mary has some form of discharge which was highly relatable to a possible urinary tract infection. Barth et.al (2018) postulates that such forms of discharge are highly common to individuals who have acquired urinary tract infection among other reproductive diseases. Additionally, from the discharge, it was observed that the urethra may have been infected thereby leading to the inflammation of the urinary tract. This statement formed an objective view of Mary's predicament as a result of the presence of a healthcare professional. Further to that, was the realization that indeed, Mary's condition had led her towards withdrawing from the rest of the students and thus a possible psychosocial condition?
Assessment
Popovic et.al, (2018), postulates that urinary tract infection is a common health condition affecting both males and females. Among the females, the disease is depicted commonly showcased through pain within the pelvic area. In other instances, the urine may be covered in blood. Lotan et.al (2018) hypothesizes that more than 50 per cent of women have experienced UTI at one point or another. In addition to that, 20-30 per cent of such women have experienced UTI recurrently. Pregnant women are known to be more prone to UTI in comparison women who are not. This is drawn from the different changes that are brought by pregnancy that in turn affect the urinary tract.
Udager et.al (2018) asserts that people of all age or sex can acquire UTI although some are more susceptible than others. Despite this fact, a number of human factors or activities can increase the chances of one developing UTI. Some of these include sexually active people, poor personal hygiene kidney stones and diabetes among others.
Possible Primary Diagnosis
Vaginitis- Another common diagnosis for urinary tract infection is vaginitis which is similarly common among women. In most instances, vaginitis is caused by a sexually transmitted virus although Lotan et.al (2018) postulates that fungi can assist in its spread and transmission. Other causes of vaginitis are trichomoniasis and yeast infection among others.
Urethritis - There have been quite common similarities between urethritis and urinary tract infections. One is that they are all transmitted from one person to another in virus form. While urinary tract infections can only affect men, women can develop both urinary tract infections and urethritis. Urethritis is asymptomatic in that an individual can suffer from it without openly showcasing any symptoms.
Interstitial cystitis: - This disease is commonly revealed through painful bladder. In the same way, pain within the pelvic region is also associated with this health condition. Unlike other forms of UTI, interstitial cystitis does not have a definite treatment.
For this case, vaginitis will form the first diagnosis for this condition. This is drawn from the numerous symptoms showcased by the patient. Next would be urethritis, followed by interstitial cystitis.
Plan
Any form of diagnosis of the disease was factored and supported by the clinical observations and results (Popovic et.al, 2018). Through further testing of the urine in the laboratory, the tests results indicated on the precise diagnosis to be undertaken for this medical condition. However, there are other methods which can be applied to ensure that the right form of diagnosis is undertaken. The attainment of this accuracy is vital as it differentiates similar diseases that may have similar symptoms and clinical conditions. For this case came the tomography which is meant to accurately and correctly diagnosis an individual suffering from UTI.
Most UTI cases are commonly treated with antibiotics. However, in individuals who have a urinal concentration of 202+- 93 amoxicillin maybe administered. In this case, antibiotics will be applied for the treatment of Mary and her UTI. One of the reasons behind this choice is drawn from reports that have shown the development of resistance in using amoxicillin over the past few years. Udager et.al (2018) indicates that another alternative that can similarly be applied in place of amoxicillin is ceftriaxone and cephalexin. Ceftriaxone is commonly used for the treatment of lowering respiratory tract infections as well as UTI among other health conditions. On the other hand cephalexin is quite common in the treatment of both respiratory tract as well as UTI. The difference between these two drugs is the issue of side effects on the patients. It is through the use of these drugs that UTI can not only be controlled but also managed and treated.
Reflection Notes
Although rare, pediatric urinary tract infections are common in children. Through the various signs and symptoms, one can be able to diagnosis the disease through the right drugs such as antibiotics. However, it has been widely stated that over the years this disease has developed a number of resistance thereby making it hard not only to control but treat. Despite this, there are ongoing researches that are meant to ensure that the disease infections are reduced significantly.
References
Barth, I., Schneider, U., Grimm, T., Karl, A., Horst, D., Gaisa, N. T., ... & Garczyk, S. (2018). Progression of urothelial carcinoma in situ of the urinary bladder: A switch from luminal to basal phenotype and related therapeutic implications. Virchows Archiv, 472(5), 749-758.
Lotan, Y., Black, P. C., Caba, L., Chang, S. S., Cookson, M. S., Daneshmand, S., ... & Steinberg, G. D. (2018). Optimal Trial Design for Studying Urinary Markers in Bladder Cancer: A Collaborative Review. European Urology Oncology.
Popovic, V. B., Situm, M., Chow, C. E. T., Chan, L. S., Roje, B., & Terzic, J. (2018). The urinary microbiome associated with bladder cancer. Scientific Reports, 8(1), 12157.
Udager, A. M., McDaniel, A. S., Hovelson, D. H., Fields, K., Salami, S. S., Kaffenberger, S. D., ... & Alva, A. S. (2018). Frequent PD-L1 Protein Expression and Molecular Correlates in Urinary Bladder Squamous Cell Carcinoma. European urology, 74(4), 529-531.
Cite this page
Free Essay Describing the Urinary Tract Infection Case. (2022, Sep 12). Retrieved from https://speedypaper.com/essays/free-essay-describing-the-urinary-tract-infection-case
Request Removal
If you are the original author of this essay and no longer wish to have it published on the SpeedyPaper website, please click below to request its removal: