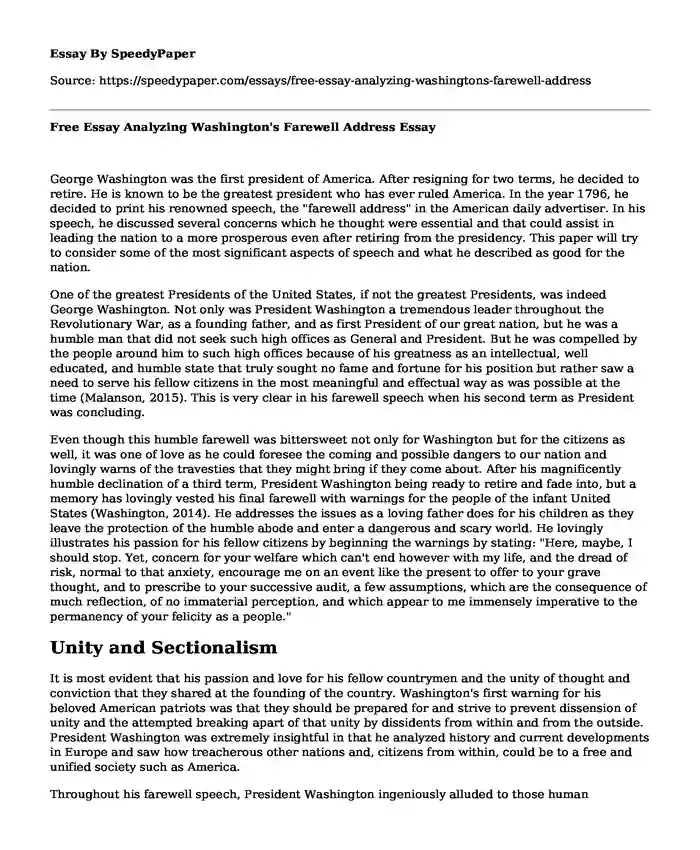 George Washington was the first president of America. After resigning for two terms, he decided to retire. He is known to be the greatest president who has ever ruled America. In the year 1796, he decided to print his renowned speech, the "farewell address" in the American daily advertiser. In his speech, he discussed several concerns which he thought were essential and that could assist in leading the nation to a more prosperous even after retiring from the presidency. This paper will try to consider some of the most significant aspects of speech and what he described as good for the nation.
One of the greatest Presidents of the United States, if not the greatest Presidents, was indeed George Washington. Not only was President Washington a tremendous leader throughout the Revolutionary War, as a founding father, and as first President of our great nation, but he was a humble man that did not seek such high offices as General and President. But he was compelled by the people around him to such high offices because of his greatness as an intellectual, well educated, and humble state that truly sought no fame and fortune for his position but rather saw a need to serve his fellow citizens in the most meaningful and effectual way as was possible at the time (Malanson, 2015). This is very clear in his farewell speech when his second term as President was concluding.
Even though this humble farewell was bittersweet not only for Washington but for the citizens as well, it was one of love as he could foresee the coming and possible dangers to our nation and lovingly warns of the travesties that they might bring if they come about. After his magnificently humble declination of a third term, President Washington being ready to retire and fade into, but a memory has lovingly vested his final farewell with warnings for the people of the infant United States (Washington, 2014). He addresses the issues as a loving father does for his children as they leave the protection of the humble abode and enter a dangerous and scary world. He lovingly illustrates his passion for his fellow citizens by beginning the warnings by stating: "Here, maybe, I should stop. Yet, concern for your welfare which can't end however with my life, and the dread of risk, normal to that anxiety, encourage me on an event like the present to offer to your grave thought, and to prescribe to your successive audit, a few assumptions, which are the consequence of much reflection, of no immaterial perception, and which appear to me immensely imperative to the permanency of your felicity as a people."
Unity and Sectionalism
It is most evident that his passion and love for his fellow countrymen and the unity of thought and conviction that they shared at the founding of the country. Washington's first warning for his beloved American patriots was that they should be prepared for and strive to prevent dissension of unity and the attempted breaking apart of that unity by dissidents from within and from the outside. President Washington was extremely insightful in that he analyzed history and current developments in Europe and saw how treacherous other nations and, citizens from within, could be to a free and unified society such as America.
Throughout his farewell speech, President Washington ingeniously alluded to those human experiments of the past that can be viewed as experience in the eye of those beholden to the failures of the past such as that of Rome and its republican form of government that fell to the tyranny of a despot and the shame that Roman citizens should have felt as a result of their sense of entitlement and complacency before and during the fall of Rome (Estes, 2016). With that in mind, the President was quite potently advising against complacency when it comes to the Union that was and is America and her people. Therefore, President Washington was looking out for the welfare of the American public from threats "foreign and domestic" with political infighting (parties and the like) as well as threats from abroad.
Foreign relations and free trade
He sought to bring light on the matter of infighting with fellow countrymen and on the threats of getting involved with "favored" and "unflavored" nations in as much that foreign entanglements are just as much a threat to the American Union as infighting. He knew that we must stay neutral as much as possible and not involve ourselves in the affairs of other nations and cultures to stay bound as one unit and not to threaten that union. Indeed, President Washington was a father to our nation who cared deeply for his fellow citizens and the unity that they represented in the great American experiment. Through this insight, passion, and compassion, the President sought to at last thought and opportunity to warn of possible tragedy and reinforce his love and thankfulness for the ability to serve the American public.
References
Estes, T. (2016). Addressing America: George Washington's Farewell and the Making of National Culture, Politics, and Diplomacy, 1796-1852.
Malanson, J. J. (2015). Addressing America: George Washington's Farewell and the Making of National Culture, Politics, and Diplomacy, 1796-1852.
Washington, G. (2014). Farewell address. September 17(1796), 173.
Cite this page
Free Essay Analyzing Washington's Farewell Address. (2022, Oct 24). Retrieved from https://speedypaper.com/essays/free-essay-analyzing-washingtons-farewell-address
Request Removal
If you are the original author of this essay and no longer wish to have it published on the SpeedyPaper website, please click below to request its removal: