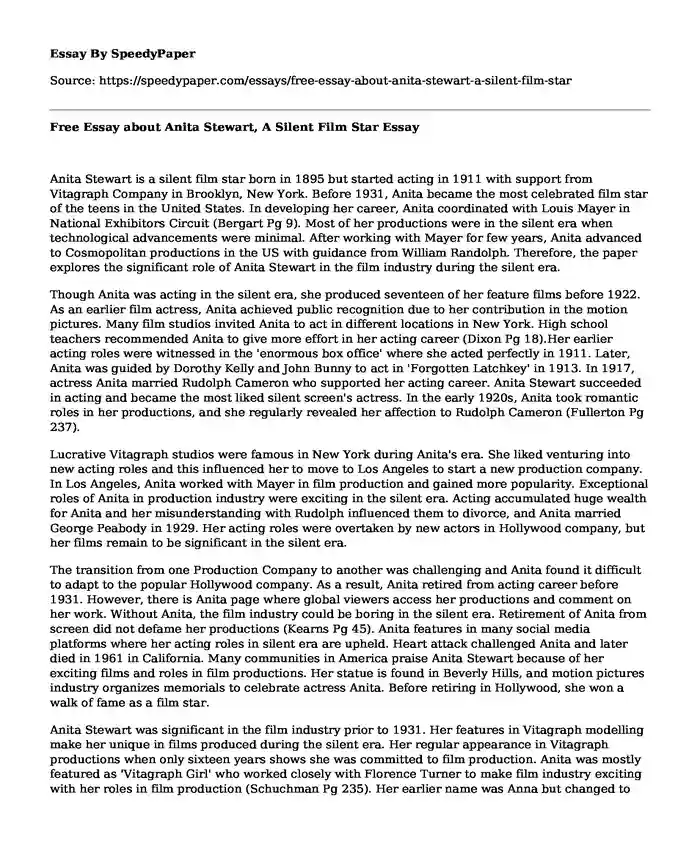 Anita Stewart is a silent film star born in 1895 but started acting in 1911 with support from Vitagraph Company in Brooklyn, New York. Before 1931, Anita became the most celebrated film star of the teens in the United States. In developing her career, Anita coordinated with Louis Mayer in National Exhibitors Circuit (Bergart Pg 9). Most of her productions were in the silent era when technological advancements were minimal. After working with Mayer for few years, Anita advanced to Cosmopolitan productions in the US with guidance from William Randolph. Therefore, the paper explores the significant role of Anita Stewart in the film industry during the silent era.
Though Anita was acting in the silent era, she produced seventeen of her feature films before 1922. As an earlier film actress, Anita achieved public recognition due to her contribution in the motion pictures. Many film studios invited Anita to act in different locations in New York. High school teachers recommended Anita to give more effort in her acting career (Dixon Pg 18).Her earlier acting roles were witnessed in the 'enormous box office' where she acted perfectly in 1911. Later, Anita was guided by Dorothy Kelly and John Bunny to act in 'Forgotten Latchkey' in 1913. In 1917, actress Anita married Rudolph Cameron who supported her acting career. Anita Stewart succeeded in acting and became the most liked silent screen's actress. In the early 1920s, Anita took romantic roles in her productions, and she regularly revealed her affection to Rudolph Cameron (Fullerton Pg 237).
Lucrative Vitagraph studios were famous in New York during Anita's era. She liked venturing into new acting roles and this influenced her to move to Los Angeles to start a new production company. In Los Angeles, Anita worked with Mayer in film production and gained more popularity. Exceptional roles of Anita in production industry were exciting in the silent era. Acting accumulated huge wealth for Anita and her misunderstanding with Rudolph influenced them to divorce, and Anita married George Peabody in 1929. Her acting roles were overtaken by new actors in Hollywood company, but her films remain to be significant in the silent era.
The transition from one Production Company to another was challenging and Anita found it difficult to adapt to the popular Hollywood company. As a result, Anita retired from acting career before 1931. However, there is Anita page where global viewers access her productions and comment on her work. Without Anita, the film industry could be boring in the silent era. Retirement of Anita from screen did not defame her productions (Kearns Pg 45). Anita features in many social media platforms where her acting roles in silent era are upheld. Heart attack challenged Anita and later died in 1961 in California. Many communities in America praise Anita Stewart because of her exciting films and roles in film productions. Her statue is found in Beverly Hills, and motion pictures industry organizes memorials to celebrate actress Anita. Before retiring in Hollywood, she won a walk of fame as a film star.
Anita Stewart was significant in the film industry prior to 1931. Her features in Vitagraph modelling make her unique in films produced during the silent era. Her regular appearance in Vitagraph productions when only sixteen years shows she was committed to film production. Anita was mostly featured as 'Vitagraph Girl' who worked closely with Florence Turner to make film industry exciting with her roles in film production (Schuchman Pg 235). Her earlier name was Anna but changed to Anita when composing the 'Song Bird of North' in 1913.
Due to Anita's successful production work, she was recognized as the daintiest actress in America during the silent era. 'Ladies World magazine' regularly featured Anita and described her as a dedicated lady who should empower all generations. Her romantic productions achieved public recognition, and new actors worked under her instructions. Anita was focused and considered the culture of people in her productions. She spent most of her salary to design custom gowns for acting (Sherbourne 16). Success in her film production work was influenced by friends who encouraged her and respected her roles in acting. Ethical rules guided her choice I participating in a film, and Anita was morally right in her film production. As a silent film star, Anita explored new environments in America to change the setting of her songs and to meet new characters who could include her in a production group (Targa Pg 11).
Los Angeles, New York and California are areas where Anita was highly celebrated in America. Her interaction with different American actors and actresses gave her an opportunity to discuss her ideas on future productions. Anita participated in composing songs, restructuring stories and giving ideas on how to produce a nice film which could attract many viewers in the future if published. Therefore, her acting started with imagining a story which could later be acted in a film (Stewart Pg 5).
Anita contributed positively to the film industry before 1931. Her romantic partner Earlie Williams when still young made the silent film more popular. The silent era Anita lived in was characterized by many ideologies and religion was respected (Stewart Pg 440). As a result, her production work was guided by doctrinal values, and this made her popular as a silent film star. She pioneered women projects in the US to empower all ladies to work on their talents. Other than acting, she produced films and started film companies in various parts of America. Anita moved and settled in new regions after a while as a way of looking for new ideas and experiences which could aid her acting career (Strupy Pg 10). She wrote 'Devil Toy' which was read widely by Literature scholars in America. Moreover, she had a role in authoring 'Murder Mystery' novel which gained prominence in America.
In conclusion, Anita Stewart was a renowned actress in America during the silent era. Her contributions are great in the silent film industry. She wrote novels, acted in different films and organized seminars to empower women in California and Los Angeles. Her acting career started while still in high school and ended after facing difficulties in the acting field.
Works Cited
Bergart R. "Anita Stewart's Canada: The Food | The Recipes | The Stories, Anita Stewart, Harper Collins, 1911, 322 pages." Cuizine: The Journal of Canadian Food Cultures, vol. 1, no. 1, 2008, p. 2-11.
Dixon. "100 Silent Films." 1911, pp. 17-21.
Fullerton, J. "Fire and Desire: Mixed-Race Movies in the Silent Era." Screen, vol. 44, no. 2, 1923, pp. 235-239.
Kearns J: A Collection of News and Information Pertaining to Silent Era Films2009185Edited by Carl Bennett. Silent Era: A Collection of News and Information Pertaining to Silent Era Films. 1999, www.silentera.com Gratis." Reference Reviews, vol. 23, no. 4, 1917, pp. 45-46.
Schuchman T. "The Silent Film Era: Silent Films, NAD Films, and the Deaf Community's Response." Sign Language Studies, vol. 4, no. 3, 1916, pp. 231-238.
Sherbourne T. "Medical Outcomes Study Social Support Survey." PsycTESTS Dataset, 1991, pp. 15-17.
Stewart J. "Illustrert Algeflora." Phycologia, vol. 20, no. 4, 1981, pp. 440-441.
Stewart W. "Measuring Functioning and Well-Being: The Medical Outcomes Study Approach." 1992, pp. 4-6.
Strupy., "Measuring Functioning and Well-Being: The Film Outcomes Study Approach." 1992, pp. 10-12.
Targa, "The Use of Cue Sheets in Italian Silent Cinema." The Sounds of Silent Films, pp. 7-11.
Cite this page
Free Essay about Anita Stewart, A Silent Film Star. (2022, Mar 29). Retrieved from https://speedypaper.com/essays/free-essay-about-anita-stewart-a-silent-film-star
Request Removal
If you are the original author of this essay and no longer wish to have it published on the SpeedyPaper website, please click below to request its removal: