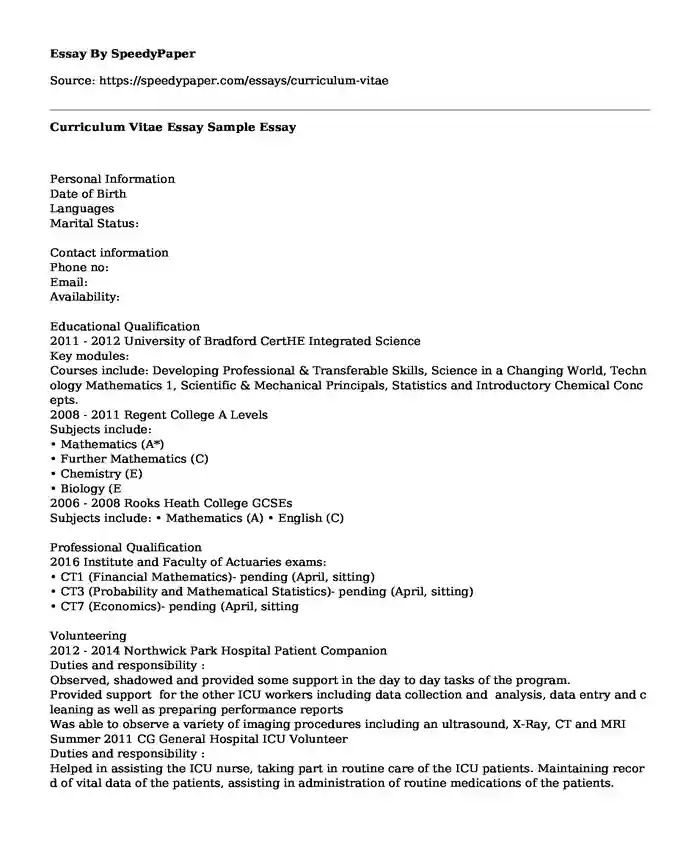 | | |
| --- | --- |
| Type of paper:  | Essay |
| Categories: | CV Personality |
| Pages: | 4 |
| Wordcount: | 881 words |
Personal Information
Date of Birth
Languages
Marital Status:

Contact information
Phone no:
Email:
Availability:

Educational Qualification
2011 - 2012 University of Bradford CertHE Integrated Science
Key modules:
Courses include: Developing Professional & Transferable Skills, Science in a Changing World, Technology Mathematics 1, Scientific & Mechanical Principals, Statistics and Introductory Chemical Concepts.
2008 - 2011 Regent College A Levels
Subjects include:
• Mathematics (A*)
• Further Mathematics (C)
• Chemistry (E)
• Biology (E
2006 - 2008 Rooks Heath College GCSEs
Subjects include: • Mathematics (A) • English (C)

Professional Qualification
2016 Institute and Faculty of Actuaries exams:
• CT1 (Financial Mathematics)- pending (April, sitting)
• CT3 (Probability and Mathematical Statistics)- pending (April, sitting)
• CT7 (Economics)- pending (April, sitting

Volunteering
2012 - 2014 Northwick Park Hospital Patient Companion
Duties and responsibility :
Observed, shadowed and provided some support in the day to day tasks of the program.
Provided support for the other ICU workers including data collection and analysis, data entry and cleaning as well as preparing performance reports
Was able to observe a variety of imaging procedures including an ultrasound, X-Ray, CT and MRI
Summer 2011 CG General Hospital ICU Volunteer
Duties and responsibility :
Helped in assisting the ICU nurse, taking part in routine care of the ICU patients. Maintaining record of vital data of the patients, assisting in administration of routine medications of the patients.

Personal Attributes
Punctual, capable of meeting deadlines, energetic, ambitious and goal oriented.
Skills and Competencies
Excellent work ethics and multitasking skills
Excellent communication skills.
Natural flair and ability to work under pressure under minimal supervision or as part of team.
Excellent problem solving, analytical and assessment skills.
Effective time management, planning and organizational skills. Accuracy and attention to detail.
Excellent computer skills with bias in Ms Office suite
Passion for success and result oriented. Eagerness to learn.
Excellent interpersonal skill and customer relations skills

Referees Available on Demand

Personal Summary
Having worked in a general ICU department in various hospitals, I have realized the importance and capability of data modeling, and computational statistics. I found spreadsheet modeling an important function in ICUs and data intensive centers as it helped in optimization and economic reasoning. I would like to word in challenging environment where I can develop professional skills in wide range of disciplines including data extraction and manipulation, spreadsheet modeling, data preparation and quantitative analysis, system development and testing.
Career Objective
To work in a large organization as an actuarial apprentice in a challenging work environment that provides me with an opportunity for personal growth and career development. Apart from the ongoing continuous education and professional training, I would like work in major organization to get the much needed exposure to the current actuarial standards, and practices supported by the Institute and Faculty of Actuaries. I would like to develop further skills in modeling, forecasting, quantitative reasoning, optimization and quantitative decision making. Working as actuarial apprentice will therefore expose me to team and equipment necessary for my career development.
Cite this page
Curriculum Vitae Essay Sample. (2017, Dec 05). Retrieved from https://speedypaper.com/essays/curriculum-vitae
Request Removal
If you are the original author of this essay and no longer wish to have it published on the SpeedyPaper website, please click below to request its removal: